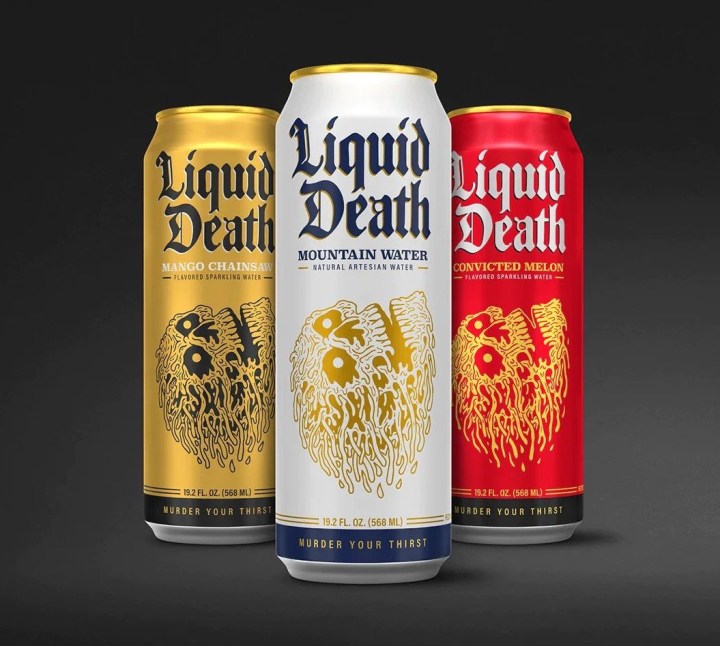 In a world obsessed with sugary beverages and wasteful packaging, Liquid Death emerges as a refreshing and eco-conscious alternative. Offering a range of beverages sourced from deep underground mountain springs, Liquid Death delivers pure hydration, electrolytes, and unique flavors you'll love.
Liquid Death's flagship product is its mountain water, sourced from a deep underground spring nestled within untouched mountains. This natural filtration process imbues the water with a crisp, clean taste that refreshes and revitalizes. As an added bonus, this mountain water naturally contains essential electrolytes, which help replenish vital minerals lost during physical activity. With prices starting at $14, you can experience the relentless flavor and unparalleled quality of Liquid Death's beverages.
Indulging in wickedly delicious concoctions
Aside from refreshing mountain water, Liquid Death also offers flavored sparkling water for those seeking a fizzy kick. Each can gives a burst of effervescence and a flavor profile that will satisfy even the most discerning taste buds. There's Convicted Melon, a refreshing blend of melons that will leave your taste buds yearning for more, and Severed Lime which offers a tangy lime sensation that cuts through your thirst with a zesty citrus zing. Indulge in Mango Chainsaw and surrender to the tropical intensity of juicy mangoes that will completely satisfy your thirst. Finally, Berry It Alive captures the essence of summer with its sinister blend of berries, offering a wickedly delicious sip in every can.
Liquid Death doesn't stop at water and sparkling water; it extends its offerings to a lineup of chilling iced teas. These carefully crafted brews are infused with unique flavors, creating a deadly combination of tea and refreshment. Grim Leafer has an invigorating blend of black tea infused with autumnal spices, creating a sinfully twisted version of traditional iced tea. Rest in Peach beckons with its tantalizing sweetness, gracefully harmonizing the delicate black tea base with the luscious essence of peach. For a twisted tribute to the classic Arnold Palmer, look no further than Armless Palmer, where black tea intertwines with a tangy hint of lemonade, creating a refreshingly wicked concoction.
By packaging its beverages in infinitely recyclable aluminum cans, the company aims to minimize its environmental footprint. Aluminum is not only lightweight, making it more energy-efficient during transportation, but it is also highly recyclable, with nearly 75% of all aluminum ever produced still in use today. Choosing Liquid Death means making a conscious choice for the planet.
The Liquid Death Country Club
Liquid Death takes their brand experience to another level with the Liquid Death Country Club. By joining the club, members unlock a range of exclusive benefits and perks. When you spend $50 on the Liquid Death web shop, you'll receive a complimentary Country Club exclusive tee, showcasing your membership in style.
As a club member, you gain access to exclusive Club-Only merchandise, ensuring that you're among the select few who can get their hands on these unique items. Additionally, you'll enjoy early access to limited edition merchandise, giving you a head start on collecting the latest and most sought-after Liquid Death products.
But that's not all – the Liquid Death Country Club grants you exclusive invites to private shows and events, providing unforgettable experiences and opportunities to connect with like-minded enthusiasts. To become a valued member of the Liquid Death Country Club, all it takes is a simple act of "selling your soul" – a whimsical phrase that, in reality, only entails providing your name and email address.
We at Hello Subscription love to discover the most fun and unique subscription boxes and share them with our readers. Say Hello is a series of articles featuring up and coming subscriptions, as well as other interesting subscriptions that our readers might love!