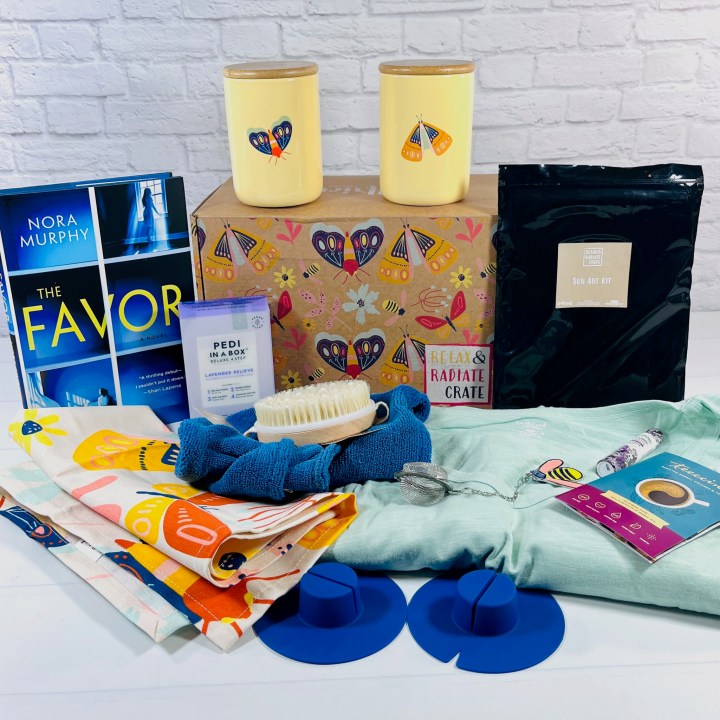 Relax & Radiate Crate is a quarterly collection of thoughtfully curated products chosen by The Girlfriend, an AARP-sponsored website specifically for Gen X women over 40, and CultureFly. Each box is $50 per quarter, and contains 7-12 unique and custom-designed home, beauty, and wellness items with a value of over $200. The items support mind, body, and soul. This is a review of the Spring 2023 Crate (the Summer Crate is scheduled to ship in July). The theme this quarter was "Savor & Soak-In", which sounds very relaxing to me!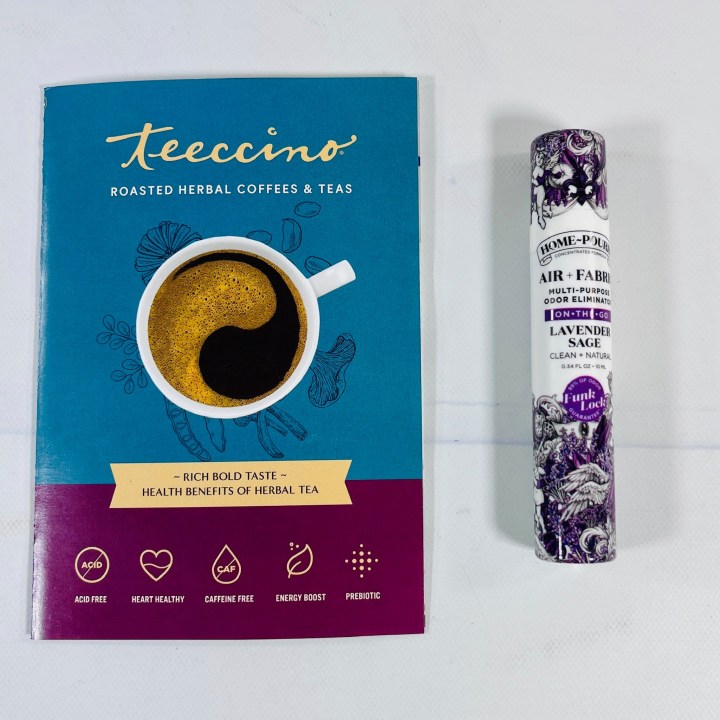 There were a couple of small items in the box – a roasted herbal tea bag and an air and fabric refresher spray.
The Favor by Nora Murphy ($16.78) Subscribers received a mystery book in their box but I must say I didn't see this one listed in the product guide but it still fits the genre. I like thrillers so I look forward to reading it this summer.
Silicone Teabag Covers I've been drinking tea for years but this is my first set of teabag covers! They are dishwasher and food safe but they don't belong in the microwave. Set one on top of a cup of tea, as shown above, with the tea bag string placed in the slits. When you are done steeping you can flip the cover over to rest your tea bag on top (in case you like to re-steep).
Voesh Pedi in a Box Ooh, I love a good pedicure but I usually pay to have this service performed but it's nice to have a kit to enjoy in my own home. It has a soak, scrub, masque, and butter and they are scented with relaxing lavender. I will try this out later this summer but what a fun treat!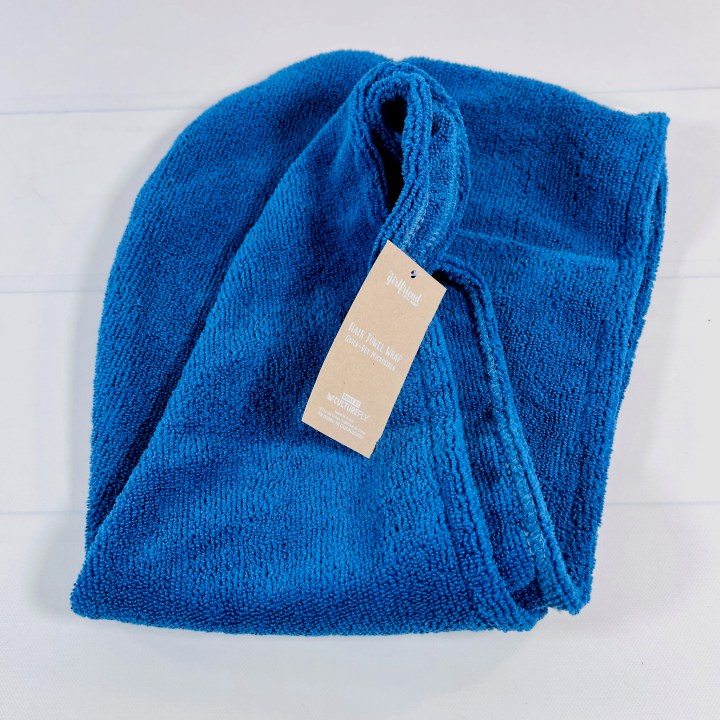 Microfiber Hair Towel Wrap This hair wrap is made of a polyester and nylon blend and has a button and loop to keep it in place while you put on makeup or sit with a sheet mask on or however you like to wear it. It absorbs extra moisture so you can quickly get to styling your hair.
Loose-Leaf Tea Infuser Some people use tea bags but others prefer loose leaf tea and this metal pod holds your tea while it steeps. It has a colorful bee charm that hangs outside of the cup, then you lift it like you might a tea tag and dump the contents into the compost pile or set it aside to re-steep.
Exfoliating & Massaging Body Brush This body brush can be used on dry skin before you shower/bathe, or you can use it while wet, the choice is yours. It has both bristles and nubs to provide exfoliation and a gentle massage and worked well.
Tea Towels We received two tea towels to add a touch of whimsy to the kitchen. These are made of viscose/cotton/lyocell and are machine washable. They measure 18″ x 23″ before washing and the design includes butterflies, moths, and bees.
Bamboo Cotton Sleep Shirt This shirt is in size 2XL and is made of bamboo "cotton". I washed it before wearing and it still fit. It was comfortable and cool and I appreciate that it doesn't have any buttons on the front since I sometimes sleep face-down. It feels similar to cotton. Subscribers are prompted to choose from sizes XS to 2XL when they sign up for the box because occasionally they send wearables.
Sun Art Kit This kit comes with special paper that is activated by sun and water. I was going to take it on an upcoming camping trip but we had to cancel due to floods in the forecast and frankly it's been very cloudy here this month so I am going to use it when we go camping in July or possibly take it on vacation to share with my grand-nephew.
Ceramic Canisters Set This set of canisters is labeled as food safe, hand wash only, and please don't place in the microwave. I think they would be good for holding tea, or coffee, maybe cookies, or small amounts of rice or pasta. They are about 4.75″ tall and 3″ across. It looks like the lids may be bamboo and there is a gasket to keep things fresh.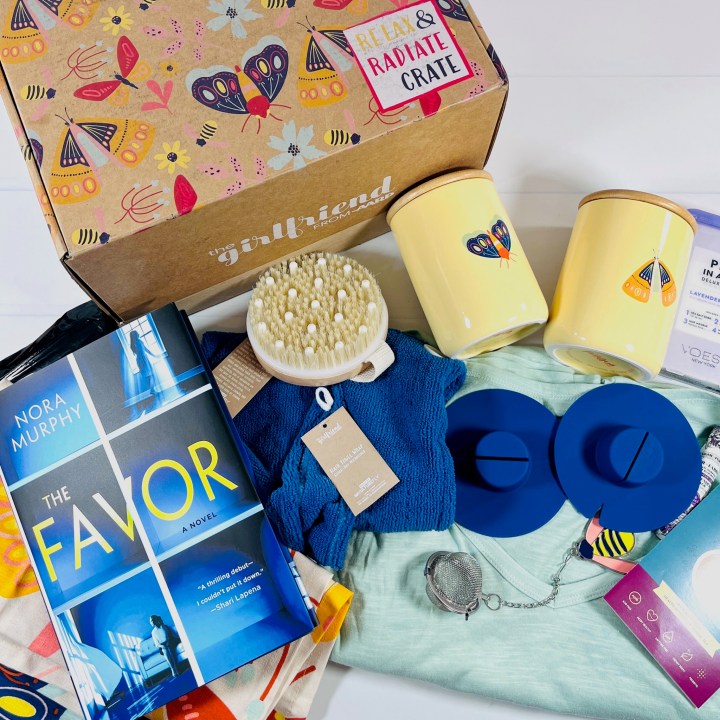 I thought the Savor & Soak-In theme for Spring 2023 was a good one! I like bees, butterflies, and yes, even moths, so the motifs on the canisters, towels, and tea infuser were fine by me. I like the sleep shirt, it is very comfortable and it can be worn with leggings if you prefer it as a workout shirt or a hanging around the house shirt. The exfoliating brush helps my skin feel invigorated, and the pedi set will come in handy for maintenance between professional visits. The rest of the items rounded out the box nicely and I am looking forward to reading the book.
Below are more box opening pictures, plus you will find the product info card and pamphlet that was included in the box.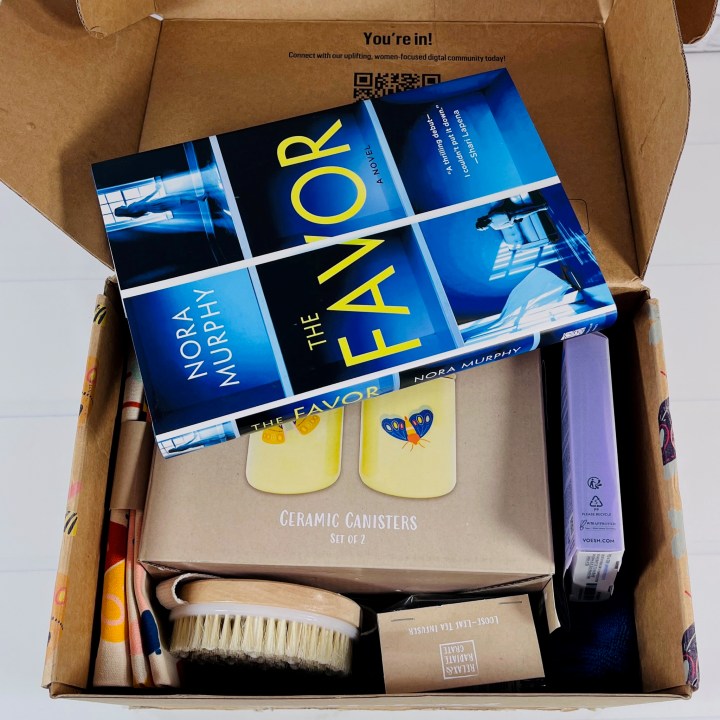 Relax & Radiate Crate is a quarterly subscription box filled with a collection of unique and custom-designed products selected to bring you comfort while nourishing your mind, body, and soul. Each seasonal box includes 7 to 12 items hand-picked by members of The Girlfriend team and community, averaging $200 or more in retail value. Each box also includes a copy of an all-new Girlfriend Mini-Magazine produced exclusively for Relax & Radiate Crate subscribers.
Relax & Radiate Crate subscribers also get access to an exclusive online community where you can connect with others, access special giveaways and offers, and provide input on upcoming crates.
Get a collection of thoughtfully curated products that'll keep you radiating your best self all year round. Each crate comes with a seasonal selection of unique and custom-designed home, beauty, and wellness items.