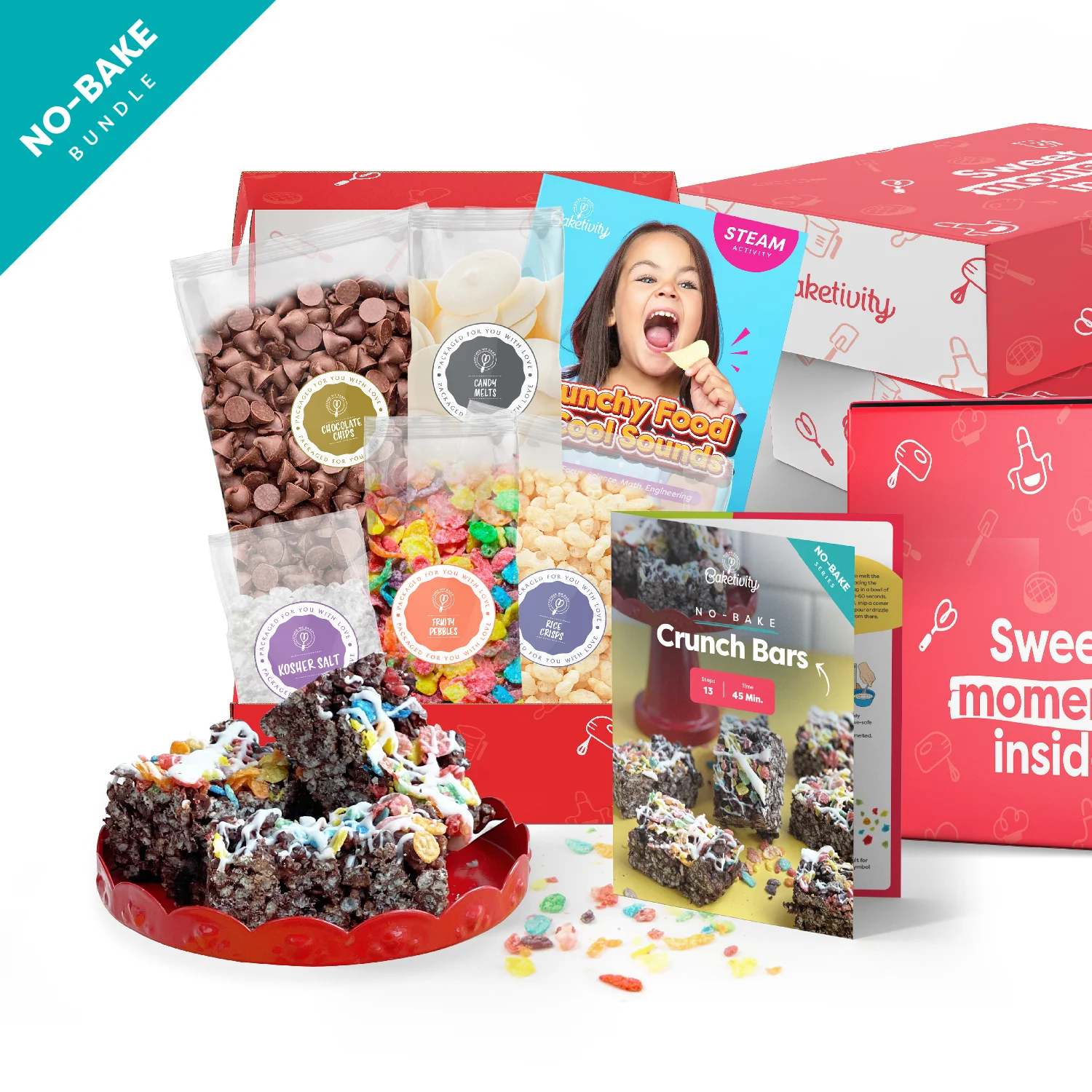 Baketivity has launched the Summer 2023 No-Bake Summer Bundle  – a no-bake summer kit that explores STEAM! Each kit is $79.99  to spend summer learning fun (non) baking techniques and advanced recipes. Boxes start shipping this June.
Get ready for the sweetest summer ever with no-bake Crunch Bars, Dessert Pizza, Galaxy Bark, and Emoji Truffles! These four unique no-bake recipes don't require any oven to create, and each one comes with a super fun STEAM lesson so that kids can learn, explore, and nibble the summer away.
Here are the recipes and activities you'll get to explore:
No-Bake Crunch Bars. Open your ears in new ways with an incredible lesson about sound that'll make biting into your crispy cereal crunch bars even more exciting! The No-Bake Crunch Bars kit yields 8-10 bars.
No-Bake Dessert Pizza. Master the art of stop motion as you make a cool pizza-cutting video and dig into your sweet pizza topped with pretzels, sprinkles, and marshmallows! The No-Bake Dessert Pizza kit yields 4 slices.
No-Bake Galaxy Bark. Get to know your galaxy and the night sky with a space-themed lesson as you enjoy your glittery, swirly, and out-of-this-world yummy galaxy bark! The No-Bake Galaxy Bark kit yields 12-15 pieces of bark.
No-Bake Emoji Truffles. Explore a fun lesson on body language and emotion as you make delicious chocolate graham cracker truffles! The No-Bake Emoji Truffles kit yields 10 truffles.
Baketivity is a monthly baking and cooking subscription box for kids. Each Baking Club box costs $34.95, and when you subscribe for a longer period (3, 6, or 12 months), you can save as much as $9 for each box. Every month, you will receive new recipes, activity booklets, and easy-peasy baking kits. It's the perfect box for mini bakers, cookie lovers, and a great way to have quality family time. There are also lots of baking kits to choose from, there are whoopie pies, pudding kits, cupcakes, cookies, cinnamon buns, and more! The Cooking Club Box is $21.95 per month, and includes cooking kits for kids and wholesome activities for the whole family.
DEAL: Not a subscriber yet? Get 10% off your first box! Use the coupon code HELLO10 at checkout.
Are you getting the Summer 2023 No-Bake Summer Bundle from Baketivity?