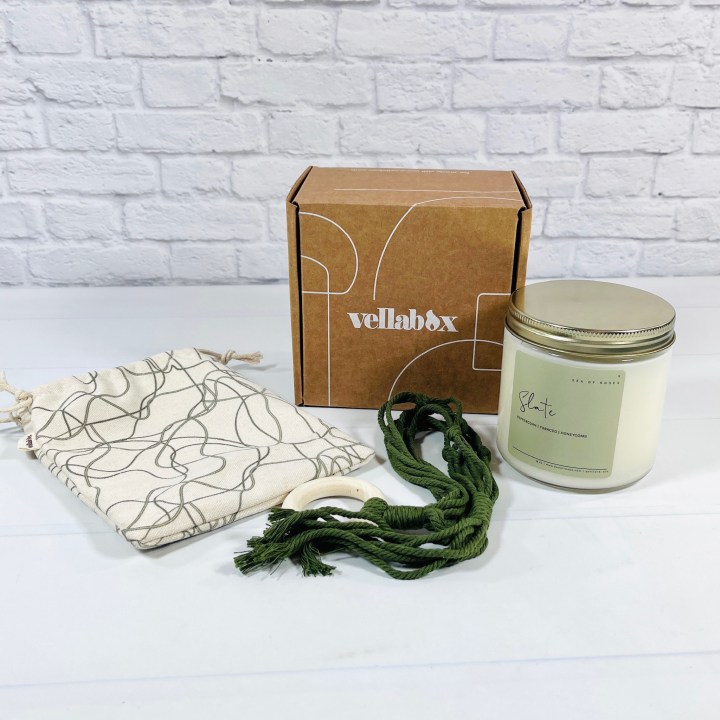 The April 2023 Vellabox is here and they sent one of three different candle scents from Sea of Roses and as we move into spring and a warm up, the candle scents reflect that change. I received the fragrance for those who are into woodsy scents (oh yeah, baby!). I also received a macramé plant hanger for the bonus item! I am reviewing The Vivere Box, which comes with a 16 ounce candle and is $38 a month.
DEAL: Save 50% on your first box! Use coupon code HELLOSUB50.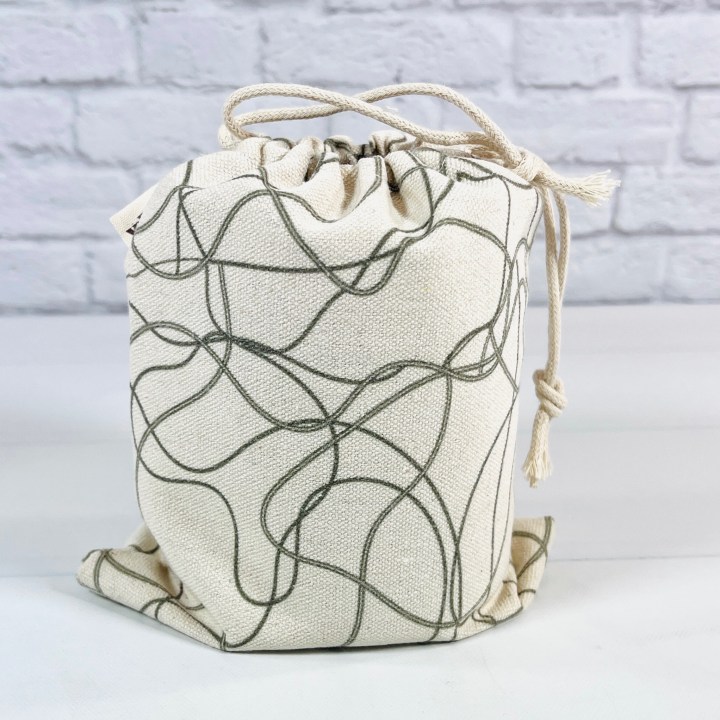 The candle comes wrapped in a reusable bag. I like the design this month! You can repurpose the bag to hold jewelry or whatever you like.
Sea Of Roses Slate Candle ($22 for an 8 ounce candle) This candle has a base of coconut and soy wax and is scented with a "perfume grade fragrance & essential oil blend". Slate has scent notes of peppercorn, tobacco, and honeycomb. I also picked up a woodsy note and I must say I really enjoyed this almost masculine take on a spring candle scent. It smells great cold but both times when I burned it (for 3 hours each time) I really couldn't detect it unless I was standing right next to it. This is a common theme with Vellabox candles and I don't dislike it because strong candles make me feel ill.
Macramé Plant Hanger by Vellabox ($12 listed value) The bonus this month was a macramé plant holder! It will fit both 8 and 16 ounce candles but of course do not put a candle in here, I just did it to show what the holder looks like. Of course, you can always repurpose the candle jar after the wax has burned away and turn it into a plant holder, or buy a small plant to fit inside until then.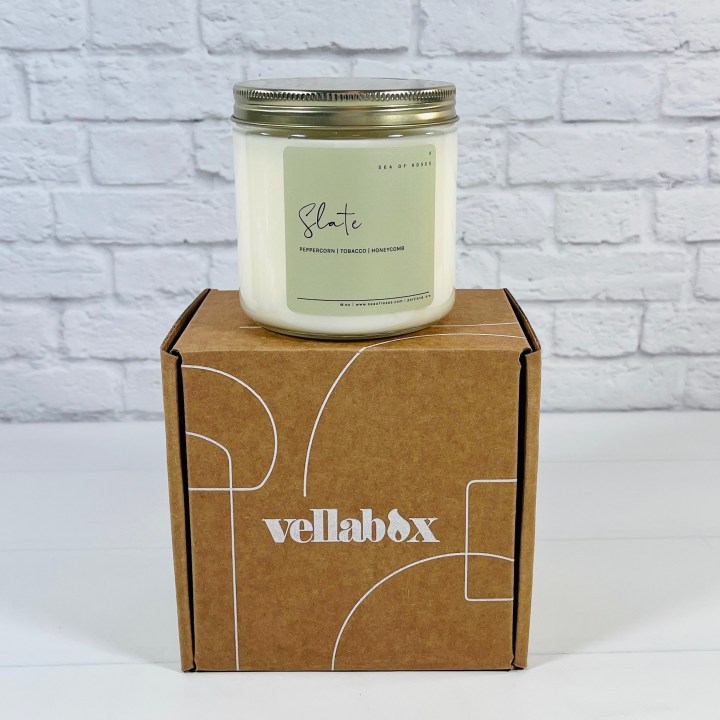 I was very excited to get the scent Slate from Vellabox and Sea of Roses! Woodsy scents are my favorite and this one was amazing and smelled wonderful cold. The throw wasn't great but that's ok because otherwise my stomach and head start to ache, so this was just right for my comfort level (it's not going to be as strong as Bath & Body Works candles). The macramé plant hanger is cute and I appreciate that it will fit an empty candle jar, which I can use as a planter (although I'll probably give the holder to my daughter, I feel like she would love this item). I think it's great that Vellabox introduces me to new-to-me candle makers each month and I love learning about the various brands each time!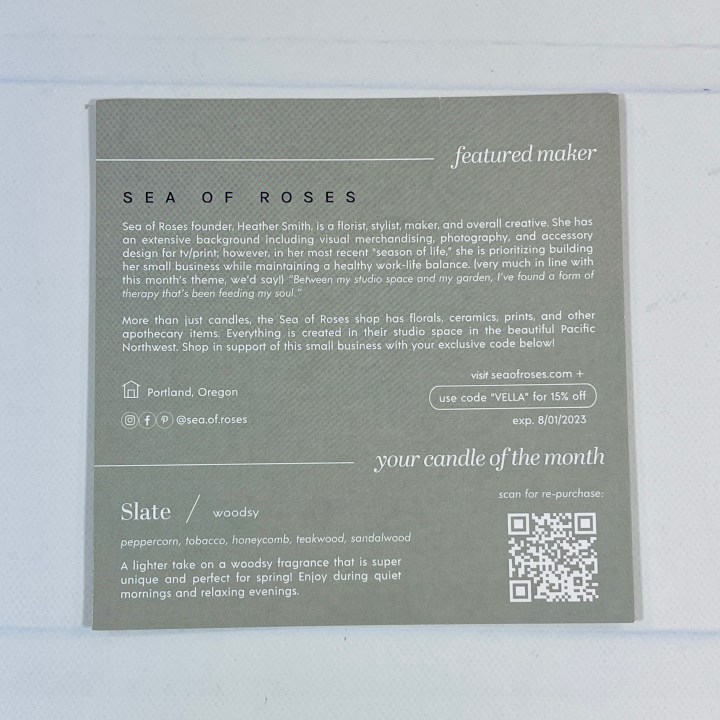 The info card lists both the candle brand and the descriptions of the items in the box.
Below are some opening pictures, and don't forget that there is a curated Spotify playlist to listen to, just scan the code or go to the Vellabox channel for more!
Vellabox is a monthly natural candle subscription box. The candles are always in seasonally inspired scents and are created by the finest American artisans. Each box features a different candle brand. The candles are from small businesses and are made of all-natural wax, cotton braided wicks, and premium fragrance oils. Vellabox also includes a surprise lifestyle gift in every box. There are three boxes to choose from based on size. When you sign up for Vellabox, you need to choose which size candle you prefer and you can also pick the scent group you prefer. You can choose from The Lucerna Box ($18) which includes a 4 oz candle monthly, The Ignis Box ($28) with an 8 oz candle monthly, and The Vivere Box ($38) with a 16 oz candle monthly. Each level receives a bonus lifestyle gift and shipping is included to the US, and all have great discounts for longer-length plans.
The Vellabox candle subscription box made the list in our picks of best home and decor subscription boxes and as a favorite affordable subscription!