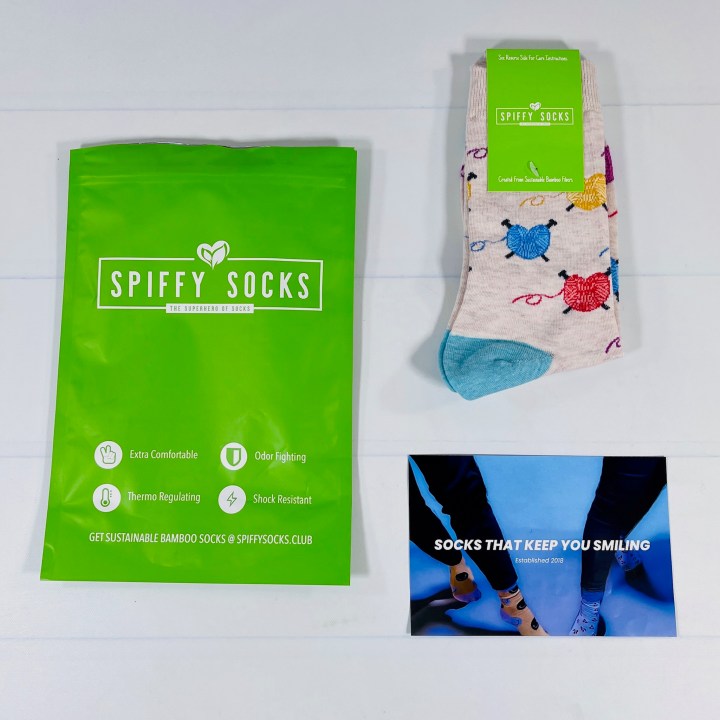 My April Spiffy Socks featured a design of heart-shaped balls of yarn! This sock subscription sends a fun pair of socks with an eye-catching pattern every month, and this one makes me think of warm and cozy blankets and sweaters (it's been cold and rainy the past few days so I'm all about keeping cozy). Keep reading to learn more about this subscription for sock lovers!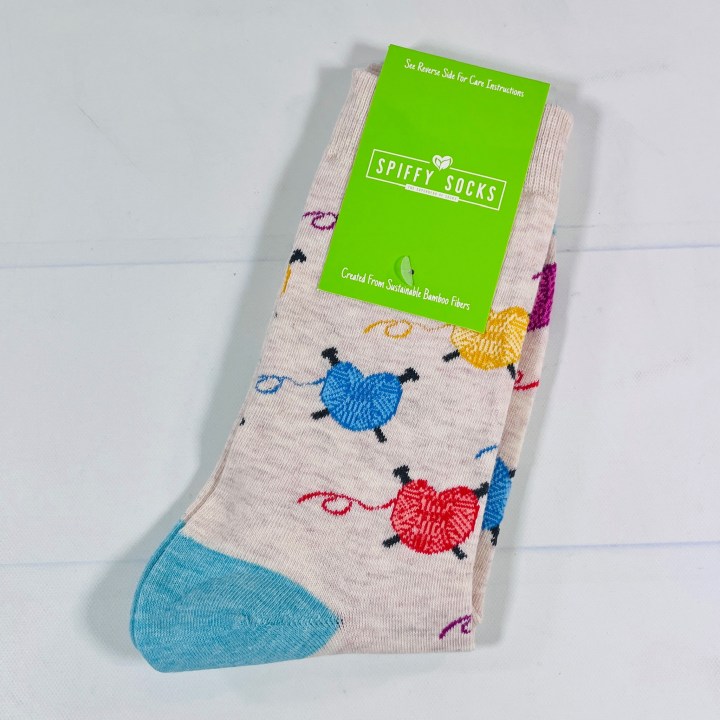 Spiffy Socks in Heart Yarn ($20) Spiffy Socks lists their socks as $20 a pair on their website. They also described this pattern as "cute and romantic" and while I think they are definitely cute, I'm not sure socks make me think of romance. This pair makes me think of curling up on the couch with a knitted blanket over my lap. Anyways, the socks are made with bamboo rayon fiber and fit women's sizes 5-11. The care instructions say to wash with cold water and to line dry but I wash on warm and throw them into the dryer — I don't have time for fussy socks and this brand has handled it fine, they still fit!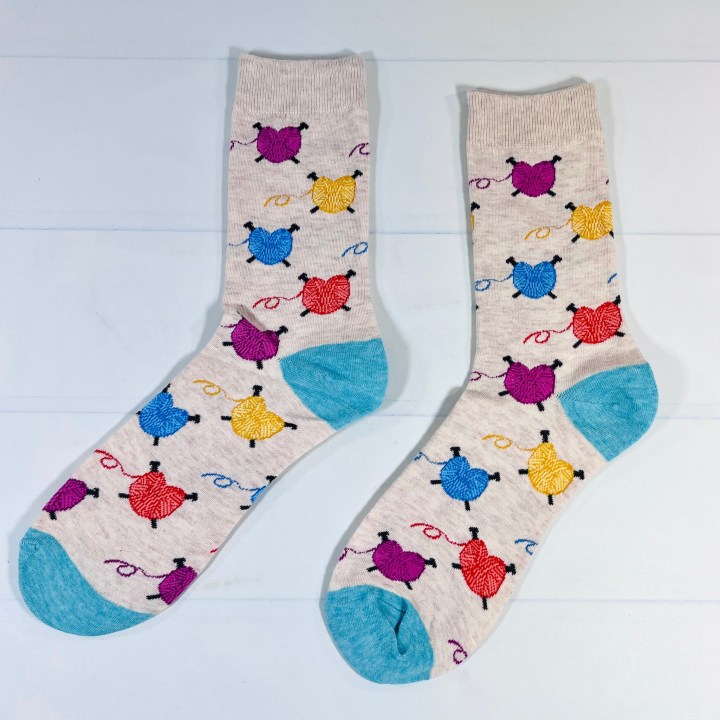 This month's featured sock has an oatmeal heather body with heart-shaped balls of yarn all over. The heels and toes are sky blue heather. I think this pattern works well for spring!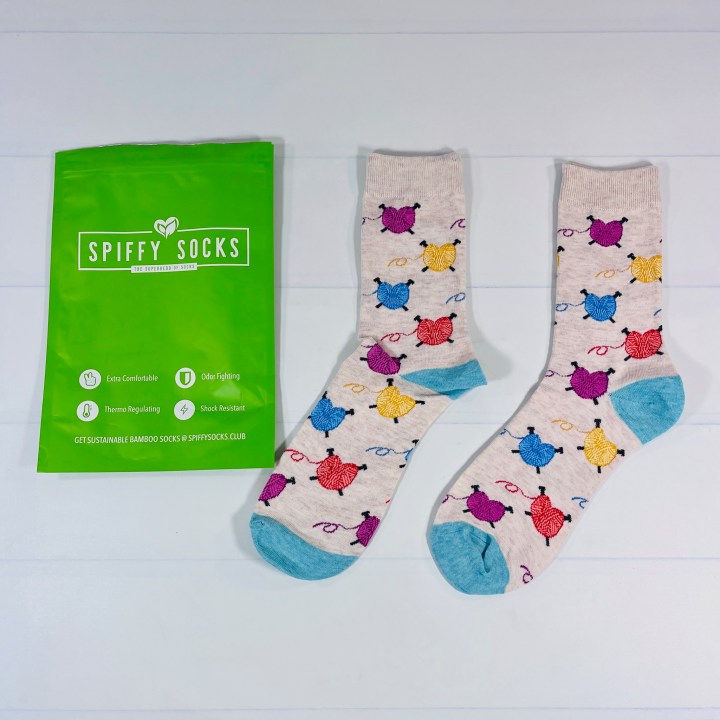 I have a wonderful collection of Spiffy Socks and my daughter and I trade off some months — she will claim patterns that make her happy and I do the same. Her roommates are into knitting and crocheting so she may want this pair, otherwise I am happy to add them to my collection and I want you to know that I reach for Spiffy Socks every day when I get dressed for work. I frequently show off my quirky and bright socks to co-workers and students and everyone loves my Spiffy Socks!
Below is an insert that was included that listed some fun ideas for spring.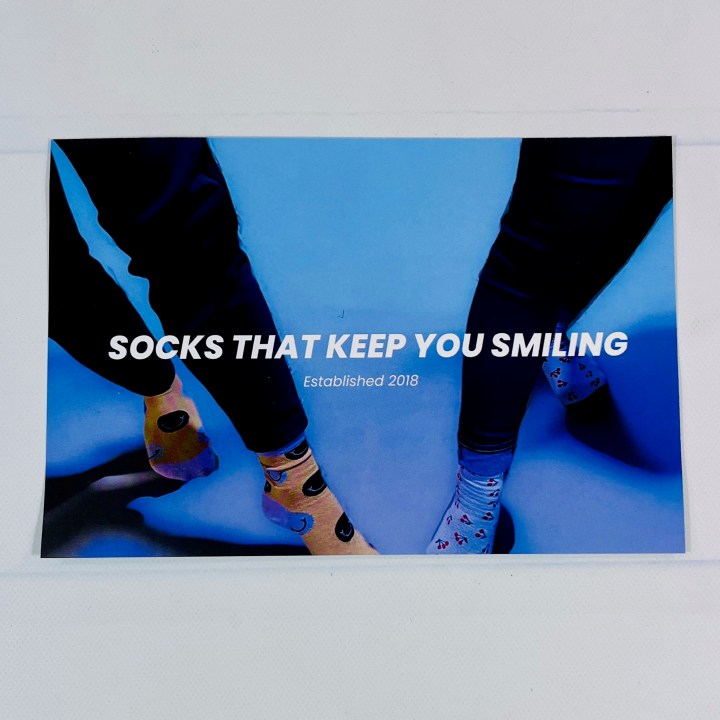 Spiffy Socks is a monthly subscription that sends snazzy socks made with bamboo fiber. They offer subscriptions for both men (sizes 6-12.5) and women (sizes 5-10) and subscriptions are $11.95 per month and even lower for longer terms. It automatically renews, but you can cancel at anytime. Shipping is free to the U.S. Spiffy's sock subscription made the list in our best sock subscription list!
Note: Order by the 31st to get the current month's box! Also, email them to make absolutely sure you get the sock of the month!