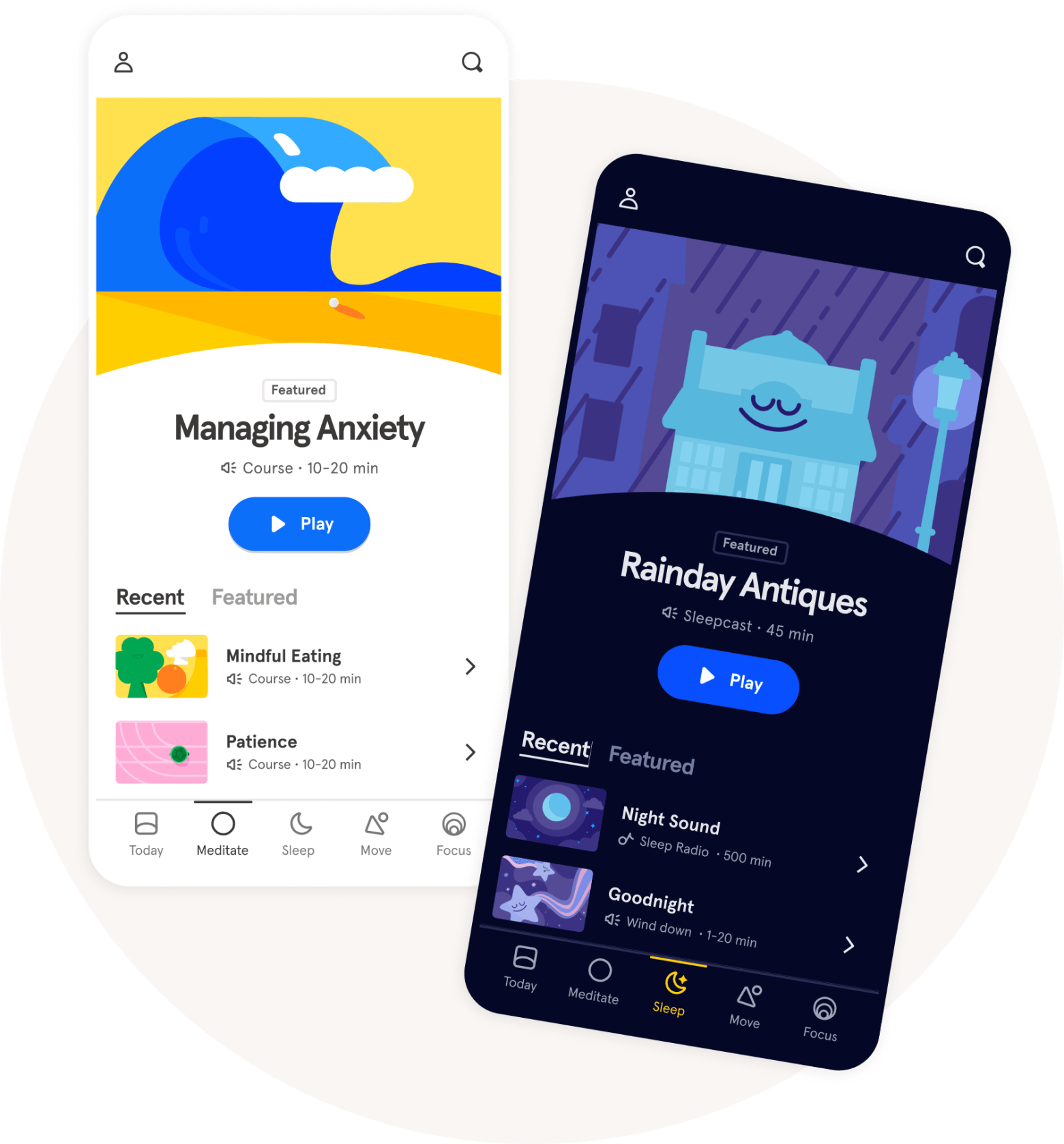 Mental health is as important as physical health. However, many of us find it hard to keep a healthy mind, especially these days when we are dealing with so much uncertainty. In addition, not all of us know exactly how to manage difficult emotions and practice different self-soothing techniques.
That is what makes Headspace a game-changer. They made mindfulness and meditation more accessible to everyone through an app, to help us maintain a good mental wellbeing. You can get an annual subscription for $69.99 every year, or a month-to-month subscription for $12.99 a month.
Mindfulness and meditation for better health
Meditation helps train your attention and awareness for a mentally clear and stable state. For it to be effective, you need to learn proper meditation techniques. Headspace is great for meditation beginners, as it gives you access to a guided meditation in a comfortable format, starting from the easiest ones and then gradually introducing leveled-up techniques. It won't take you more than 30 minutes, so you can do it no matter how busy you are.
Another important aspect of your mental and overall health is the quality of your sleep. Headspace helps you create the conditions for a restful night through breathwork and other easy-to-follow techniques. You can also listen to the podcasts, stories, or ambient sounds from the app to help you fall asleep. When you sleep better, you wake up easier and you perform better throughout the rest of the day.
While stress cannot be avoided, you can manage it through mindfulness techniques. With  Headspace, you will learn how to manage stress and anxious feelings in your day-to-day life. Mindfulness, or being fully present and engaged in the moment, also helps regulate emotions and improve self-esteem.
User-friendly mental health app
The Headspace app is pretty easy to navigate and non-intimidating, even for non-techy people. You can find the suggested playlists on the Today tab, including the community-favorite playlists like The Wake Up and Today's Meditation. If you want to join a meditation session or course, head over to the Meditate tab and learn from actual mental health experts through the feature! Have trouble sleeping? The Sleep tab gives you tons of options to help you relax at night and, most importantly, to help you develop healthy sleep habits in the long run.
Our physical health and emotional health are intertwined, like how exercising releases endorphins and helps relieve stress. On the app's Move tab, you can join mind-body fitness sessions guided by expert trainers. These sessions aim to strengthen your mind and body at the same time. Whether you're studying, working, or just relaxing, the Focus tab has sounds, music, and exercises to help you concentrate. Lastly, there's also a Search feature, which is helpful when you're looking for something specific.
Note that Headspace doesn't offer online consultation or therapy on its platform. Headspace is a useful tool or support for improving a person's mental health, but it's still best to seek professional help. Headspace also has a series on Netflix to spread more awareness about meditation and its benefits, as well as a guide to better sleep!
Visit Headspace to find out more! 
We at Hello Subscription love to discover the most fun and unique subscription boxes and share them with our readers. Say Hello is a series of articles featuring up and coming subscriptions, as well as other interesting subscriptions that our readers might love!