Looking for a unique yet thoughtful gift for moms? There's a subscription that sends tasty, healing food and drinks for moms and moms-to-be while supporting important life moments – from pregnancy and fertility to periods and postpartum to breastfeeding and menopause!
Agni is a women's brand that sends a delicious way to nourish each phase of womanhood. They work with medical advisors to create and offer teas, seasonings, and cookies made with the highest quality whole ingredients, free of gluten, GMOs, or artificial sweeteners. In short, they're vegan!
The right food and drink choices for healthy healing. Agni delivers indulgent food that tastes so good it's almost impossible to believe they're healthy, let alone healing. It combines the best guidance from ancient wisdom and modern science to bring solutions to every mother's health concern. They source organic ingredients that support health for people and the planet and partner with Medical Advisory Board to bring mothers satisfactory products for healing.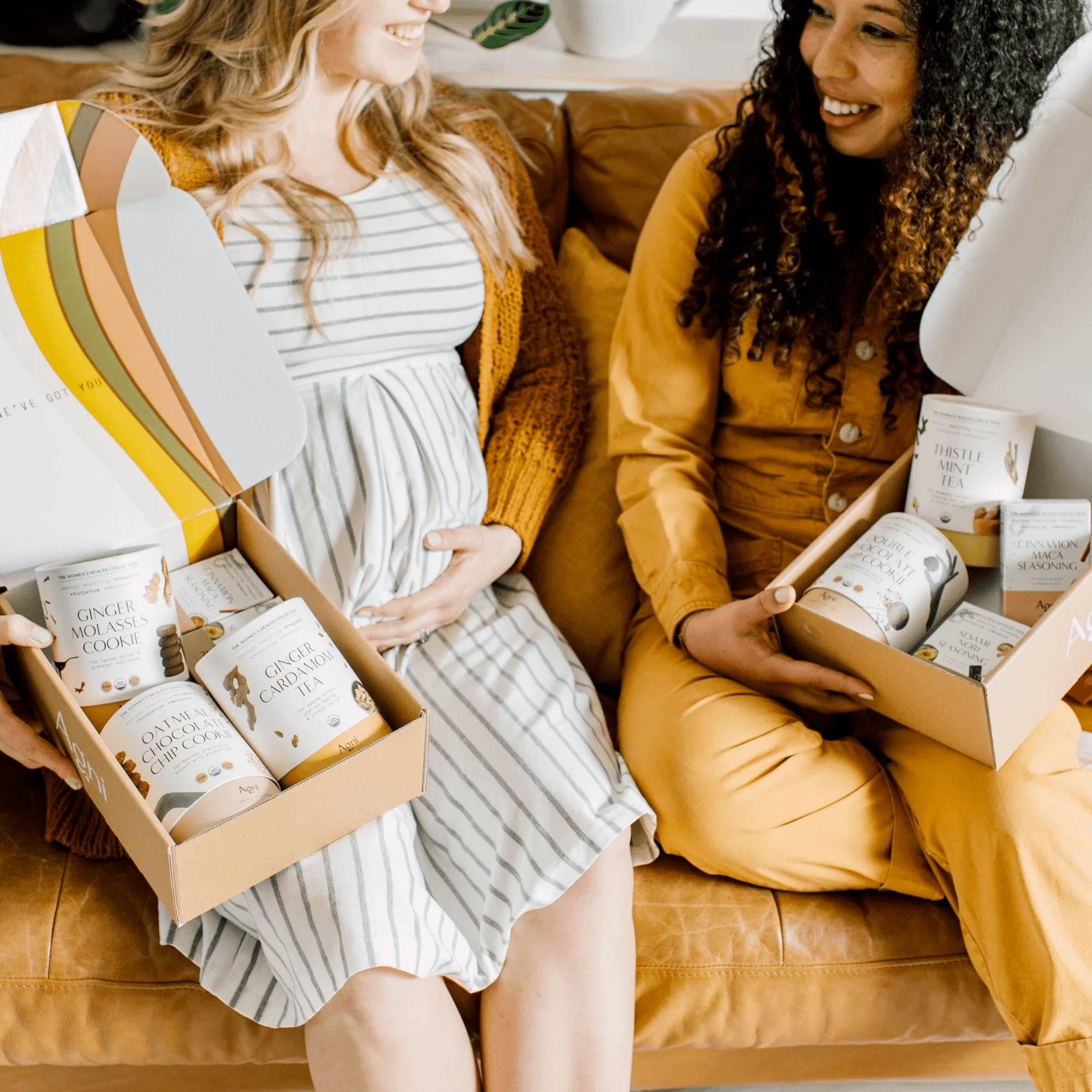 There are a variety of curated boxes available, all of which have been approved by health experts to support whichever stage of life your mama gift recipient is on! The Fertility Box to support fertility, The Mama Box for postpartum stage, The Women's Health Box for nourishment and replenishment in all stages, and Better Periods Box for balanced hormones and healthy cycles. Also available is The Seed Cycling Box to support the practice of seed cycling and The Pregnancy Box for mom-to-be! Each of these curated boxes includes a mix of products that work together to provide the intended health benefits.
Individual products include the Oatmeal Chocolate Chip Cookie for lactation support and gut health, Peppermint Chasteberry Tea for period and hormone support, Tulsi Cinnamon Tea for better sleep and more energized days, Sesame Nori Seasoning for immune health & hormone balance, Cinnamon Maca Seasoning for gut health and hormone balance, Double Chocolate Chip Cookie for hormone balance, better periods and fertility, Ginger Molasses Cookies for pregnancy, and Ginger Cardamom Teas for nausea & digestion.
All these food and drink options replenish the right nutrients at the right time to safeguard health and aid in healing at all life moments. Plus, they're shelf-stable as well!
Stumped on which curated box or individual products to gift moms? Send them a gift card to let them choose! Each gift card amounts to $25, and you can send as many as you want to give them the gift of choice. These are delivered by email and include redeem instructions with no additional fees.
Your chosen mama recipient can also take the quiz to know which boxes (or products) will support their health and healing the best! They'll give recommendations based on their answers to help them be the best version of themselves while enjoying delectable treats!
Find gift ideas and more for mom in our Mother's Day gifts and deals roundup!