The March 2023 Vellabox is here and they sent one of three different candle scents from Wax Crescent that remind us spring is right around the corner. I received the fragrance for those who are into herbal or sweet & spicy scents. I also received a corduroy bag for the bonus item! I am reviewing The Vivere Box, which comes with a 16 ounce candle and is $38 a month.
DEAL: Save 50% on your first box! Use coupon code HELLOSUB50.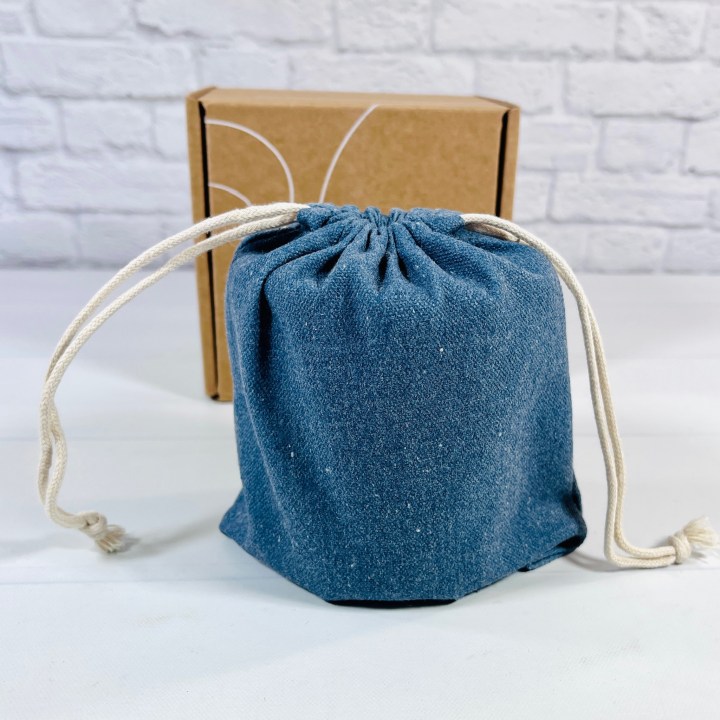 The candles always come tucked into a reusable fabric bag, and for some reason, I adore this denim version! They can be used to store trinkets, gifts, makeup, or however you wish (and feel free to comment with your ideas, I would love to hear them!).
Wax Crescent White Tea & Ginger ($24 for an 8 ounce candle) The candle I received is twice as big as those offered at Wax Crescent, although you can purchase this candle in this size at Vellabox. White Tea & Ginger is for those who picked Herbal or Sweet & Spice as their preferred scent type. The scent notes include tea, lemon, and saffron. It reminds me of tea, yes, but I also think it smells like a magnolia flower! This candle has one of the best throws I've ever encountered in a candle from Vellabox, I could smell it from the next room over and had to place it away from my seat while watching TV. I would certainly purchase from this brand again!
Bonus Item: Corduroy Bag The bonus item this month was a corduroy bag that is almost the exact same size as the bag that held my candle. It's in a neutral beige shade and has a gold tone zipper. The inside is lined with cream-colored nylon fabric and there's a Vellabox tab sewn on the side.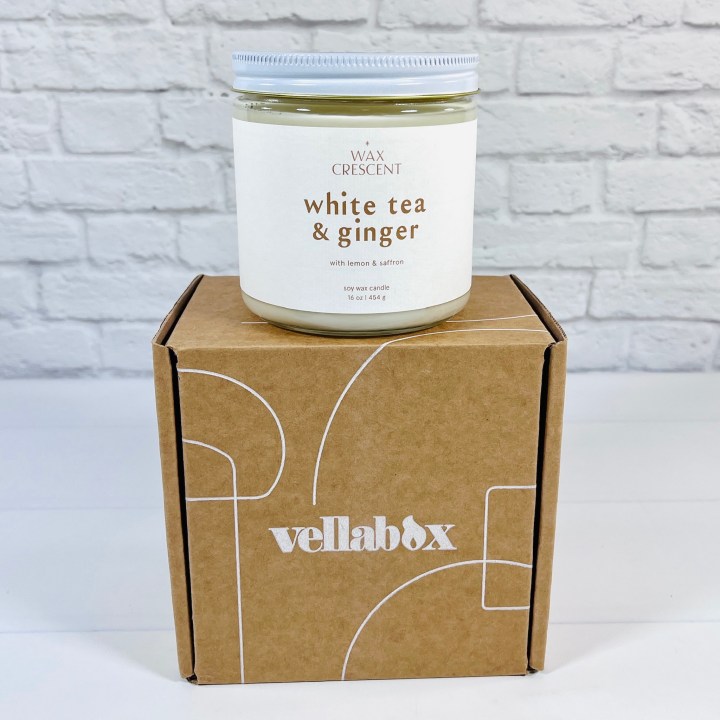 I thoroughly enjoyed my candle from Vellabox and Wax Crescent! This candle has good throw while burning, I could smell it from the adjacent rooms! I had to place it away from my seat while burning and that doesn't happen very often with this subscription, but it sure made my living room smell good, like I had a vase of fresh magnolia blossoms nearby. The scent was perfect for both spring and summer and the candle should burn for at least 50 hours. The bonus wasn't fancy but is practical and I liked the denim bag the candle came in just as much!
The info card lists both the candle brand and the descriptions of the items in the box.
There's a coordinating playlist on Spotify so check it out!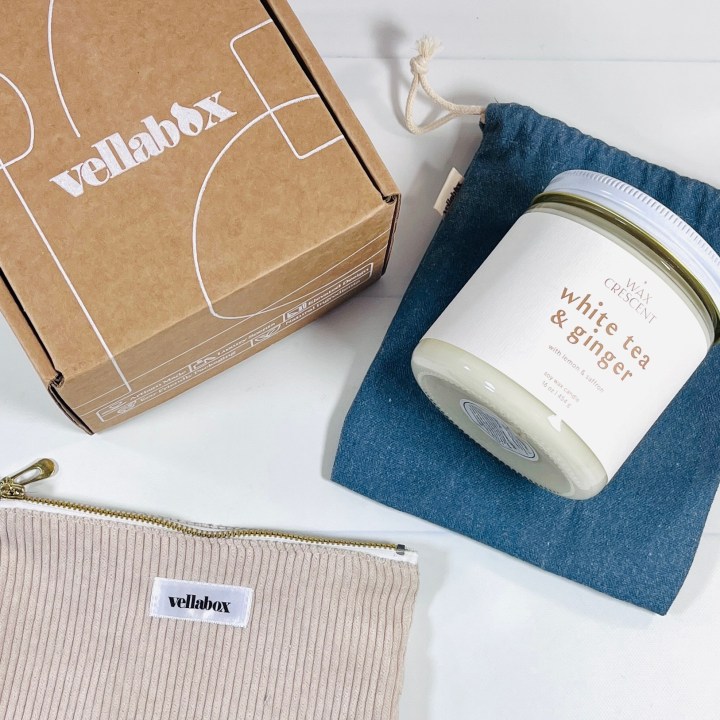 Vellabox is a monthly natural candle subscription box. The candles are always in seasonally inspired scents and are created by the finest American artisans. Each box features a different candle brand. The candles are from small businesses and are made of all-natural wax, cotton braided wicks, and premium fragrance oils. Vellabox also includes a surprise lifestyle gift in every box. There are three boxes to choose from based on size. When you sign up for Vellabox, you need to choose which size candle you prefer and you can also pick the scent group you prefer. You can choose from The Lucerna Box ($18) which includes a 4 oz candle monthly, The Ignis Box ($28) with an 8 oz candle monthly, and The Vivere Box ($38) with a 16 oz candle monthly. Each level receives a bonus lifestyle gift and shipping is included to the US, and all have great discounts for longer-length plans.
The Vellabox candle subscription box made the list in our picks of best home and decor subscription boxes and as a favorite affordable subscription!