Belgium is famous for its chocolate, but there are so much more flavors to discover in the country – and that's exactly what we found in this new Universal Yums box! From crispy chips to spiced cookies, we indulged in a variety of unique flavors and textures that made us feel like we were strolling through the streets of Brussels. If you're ready to explore the world of Belgian snacks, read our review below!
A Belgian treat based on the famous French dessert, Creme Brulee Chocolate Bonbons are the ultimate indulgence. These little balls of joy are the perfect accompaniment to your morning coffee, afternoon tea, or evening dessert. With a rich chocolate coating that gives way to a creme brulee-flavored center, every bite is a delicious harmony of flavor and texture. If you're a fan of all things sweet, you won't be able to resist these bonbons.
Violet Gummies are uniquely floral gummies with a taste that's hard to describe, but once you try them, you'll be hooked. Imagine biting into a soft and chewy gummy, only to be met with a burst of floral sweetness that's unlike anything else you've ever tasted. They hit just the right notes of sweetness and subtle florals, creating a flavor profile that's simply delightful.
Speculoos Spice Cookies are my new obsession! The perfect blend of cinnamon and nutmeg creates a warm and comforting flavor, and with every bite, I can taste the delicious balance of sweetness and spice that make these cookies so addictive. They're the ultimate comfort food, perfect for snacking on a lazy afternoon or indulging in a midnight treat.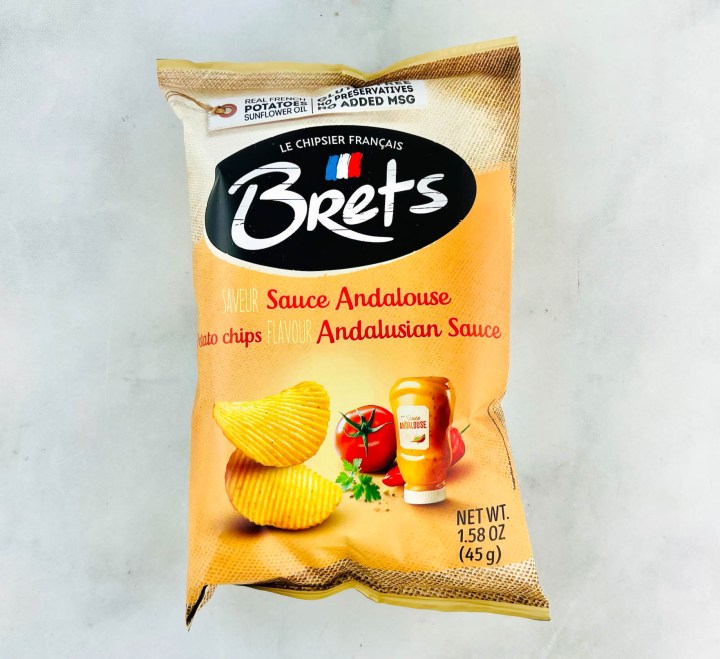 While Andalouse Sauce Potato Chips are actually made in France, they still make the cut for the Universal Yums Belgium Box thanks to their Belgian flavors! Andalouse sauce is typically made with a blend of mayonnaise, tomato paste, and roasted red peppers, and this snack's flavoring captures the bold and zesty taste perfectly. These chips are totally scrumptious, with a good amount of tanginess and spice.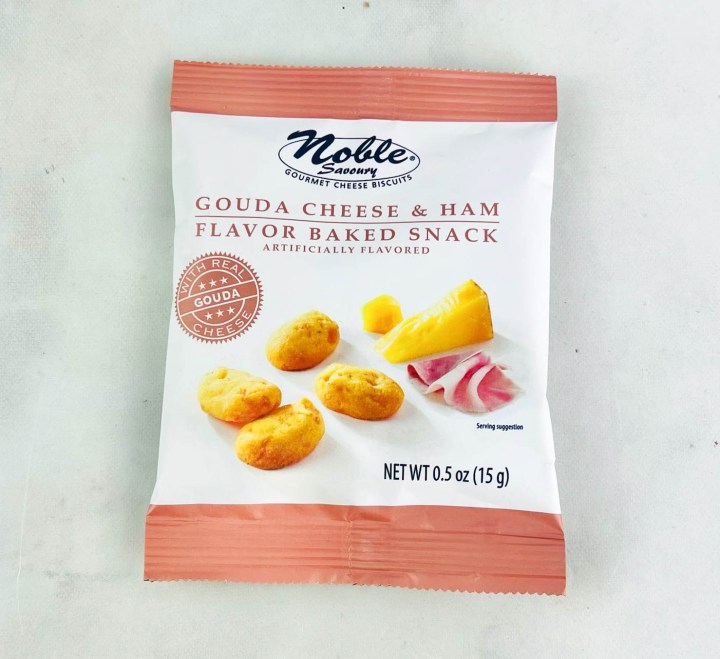 Ham & Gouda Biscuits are the perfect match for any cheese board or charcuterie platter, and with good reason. Belgians are well known for their love of all things cheese, and these biscuits are loaded with mouth-watering Gouda goodness. The addition of savory ham adds a salty punch to the already rich and creamy cheese, and with the buttery biscuit, it's a whole medley of flavors that will leave you satisfied.
Cranberry Rye Cake is a beloved Belgian breakfast classic that will have you hooked after just one slice. Made with hearty rye flour and sweetened with honey, it's like having the best of both worlds with a bread-like texture and cake-like sweetness. Meanwhile, the dried cranberries add a tangy twist to each bite. For extra indulgence, they recommend topping it off with a generous smear of creamy butter for an unbeatable flavor combination!
These Melon Hard Candies boast the unique flavors of cantaloupe and honey, which will have you dreaming of sunny days and picnics in the park. The sweetness is not overwhelming, and the honey notes add a subtle depth to the candy's flavor. It's perfect for those who crave something sweet but not cloying. Just like the violet gummies, these hard candies are crafted by a 125-year-old confectionery, so you know they have stood the test of time.
Raspberry Dark Chocolate Bar is a luscious dark chocolate ganache infused with the fruity goodness of ripe raspberries. This treat is so divine that it delicately dissolves on your tongue, transporting you to chocolate heaven. With Belgium's long-standing tradition of using only the finest ingredients and strict chocolate-making standards, it's no surprise that their chocolate stands out from the rest.
Once again, our love for cheese has been satisfied with these Cheddar Biscuits. The crumbly, buttery texture is the perfect canvas for the rich and savory cheddar cheese flavor. The depth of flavor is incredible, with hints of nuttiness and a subtle sweetness that rounds it all out. You'll be hard-pressed to resist the allure of these seriously cheesy, oven-baked biscuits. It will also make a great pairing for soup or salad!
Buttercream Truffles make a delightful surprise as the smooth, creamy filling oozes out from within the rich, velvety dark chocolate shell. The combination of dark chocolate and a delicate, frosting-like filling, topped with a dusting of cocoa will make you fall in love with this Belgian confection. These truffles are the perfect treat to enjoy after a satisfying meal, or to share with friends and loved ones during a special occasion.
With Universal Yums Belgium Box's delicious assortment of treats, it's impossible not to find something that satisfies your cravings. In this particular box, I was blown away by the Raspberry Dark Chocolate Bar, with its smooth dark chocolate ganache and burst of raspberry flavor. And the Buttercream Truffles? Don't even get me started. They were so sweet and creamy, and the cocoa dusting just took them to another level. But beyond the delicious treats, what makes the Universal Yums subscription so awesome is the adventure and surprise that comes with each box. It's like taking a trip around the world without leaving your home. You never know what new flavor or snack you might discover, and it's a great way to expand your palate and try new things!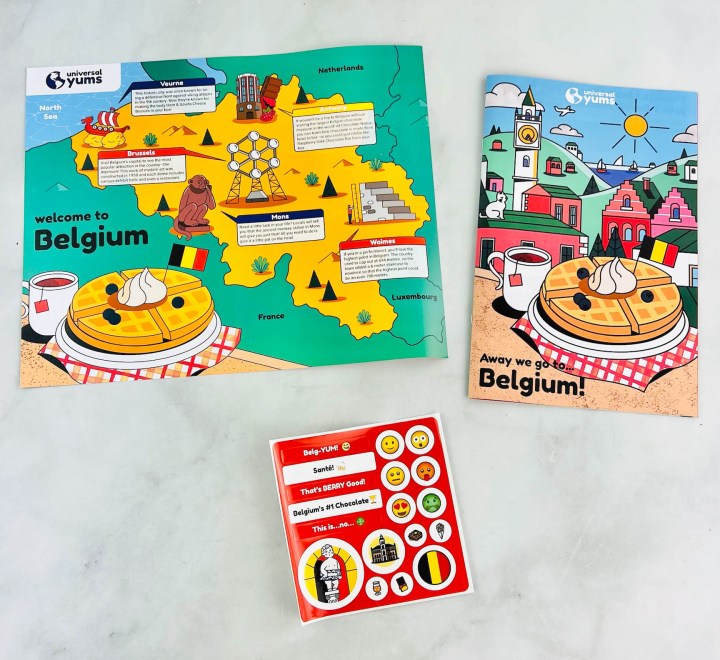 Each snack box also includes an interactive guidebook with fun facts, brief descriptions of the products in the box, a local recipe, and more! See it here: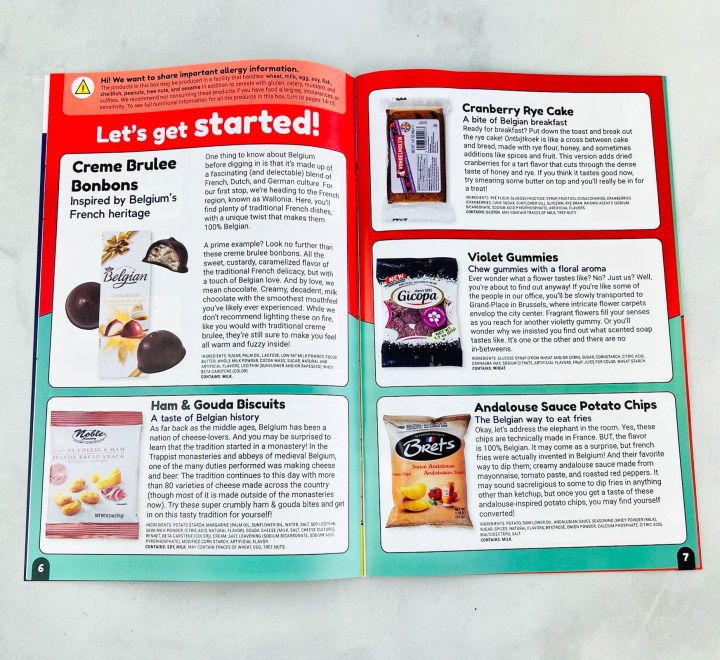 Universal Yums is an international snack subscription! Featuring a new country each month, the box contains unique and delicious snacks that are either difficult or impossible to find in US stores. They promise to always include a variety of sweet and savory snacks, all with the featured country's distinct flavors and spices. Each box also comes with an interactive guidebook containing an explanation of why they chose each snack, as well as trivia, games, recipes, and other cultural features! This monthly snack subscription has been consistently on top of our selection for the best snack subscription boxes!
There are three available box sizes:
Yum Box – 5-7 snacks plus a 12-page booklet for $17 a month
Yum Yum – 10-12 snacks plus a 16-page booklet and other bonus content for $29 a month
Super Yum Box – 19-20 snacks plus a 16-page booklet and other bonus content for $45 a month