Dog-friendly dental routine for cleaner teeth and portrait-worthy smiles
Keeping your dog's teeth clean is not entirely impossible. With a little help from BARK Bright, you can maintain your pup's pearly whites – and even enjoy paw-some perks with it!
BARK Bright Dental Kit makes dog dental care simple, easy, and enjoyable. It's a monthly subscription that brings you two teeth-cleaning essentials for dogs: dental chews and triple-enzymatic toothpaste. You have the option to choose between the Original Chews for all kinds of chewers and Durable Chews which are made long-lasting for super chewers. When used together, these products break down the debris that often causes teeth problems and bad breath in canines.
Subscriptions start at $24 a month for the Original Dental Kit and $29 for the Durable Dental Kit. For longer subscription plans, BARK Bright often offers fun gifts to make both pets and pet parents happy! It's a great way to improve a dog's oral health, giving them better smiles that you would love to capture and commemorate. Of course, using BARK Bright products also has long-term benefits, like avoiding painful and expensive dental extractions!
DEAL: Get a FREE Customized Pet Portrait from West + Willow when you sign up for a multi-month Bright plan (6 or 12 month)!
Starting at $1 a day, we can kick plaque and tartar buildup to the curb – resulting in cleaner dog teeth and fresher-smelling dog breath! It's totally stress-free as well. I apply the toothpaste, my pets chew on the dental sticks, and everyone's happy. This only needs to be done once a day and no mess is involved. I don't even need to learn any special brushing techniques anymore!
The bonus pet portrait is an ideal gift for pet parents who are simply obsessed with their fur babies. You can get it too when you sign up for a 6-month or 12-month BARK Bright subscription! It's printed on gallery-quality paper, and you can display it however you want – whether hung on a wall or added to a statement shelf. Frames are not provided but it would be a great idea to have the hand-illustrated portrait framed so you can display it for a long time.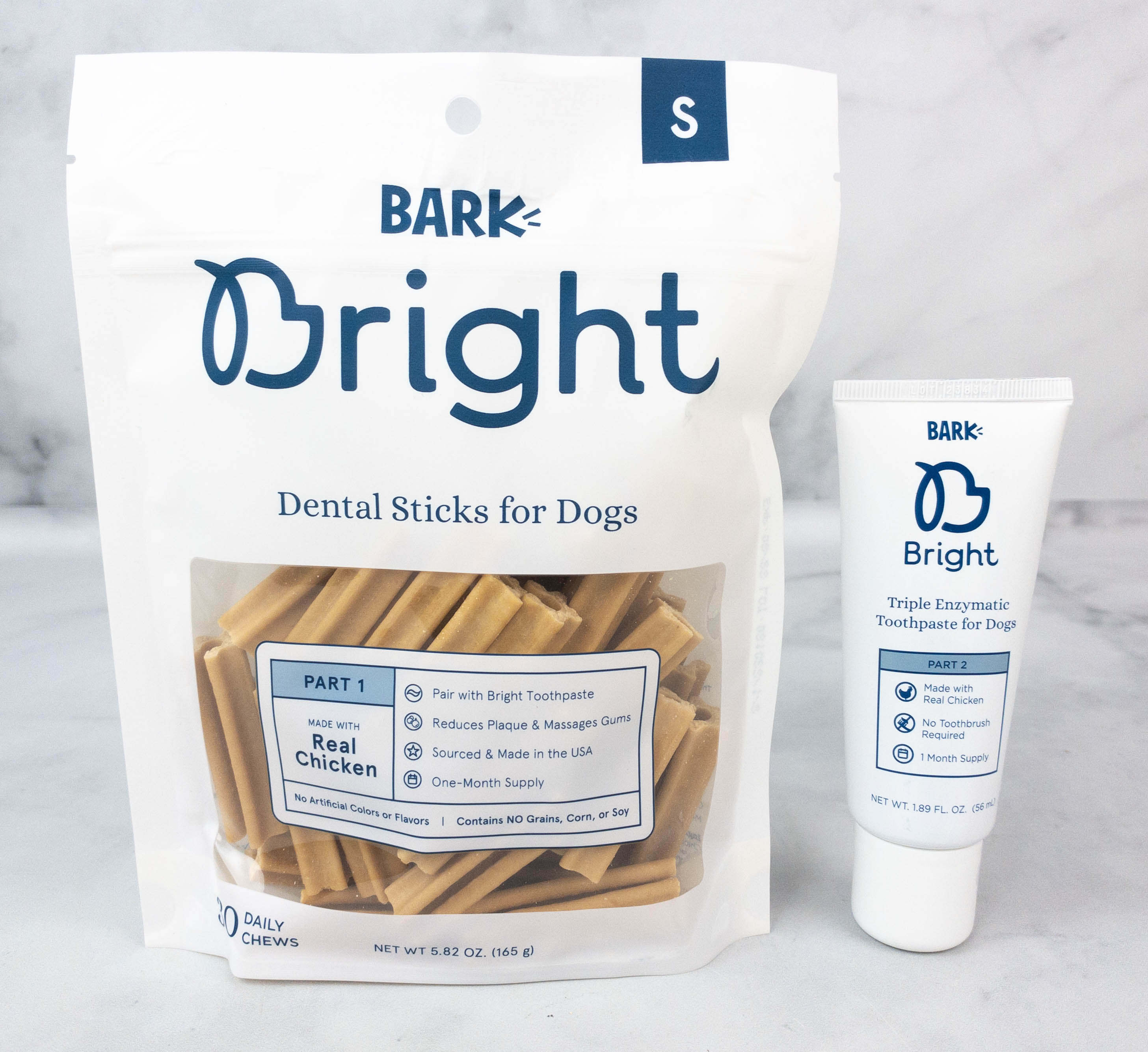 Now, what's inside a BARK Bright Dental Kit? The answer depends on the dental kit you choose based on your dog's chewing style! The Original Dental Kit includes 30 pieces of their classic, chicken-flavored dog dental chews for all kinds of chewers, while the Durable Dental Kit contains 15 pieces of mint-flavored dental chews with special nubs and ridges designed especially to satisfy heavy chewers. Both options will include a 1.89 fl. oz. triple-enzymatic dog toothpaste in an easy-to-squeeze tube, enough for a whole month of supply. These dental products for dogs don't contain grains, corn, soy, or anything artificial! With delicious flavors, your best furry friend will probably think of them as a treat instead of a way to clean their teeth.
These dental kits for dogs also come in different sizes: Small is for dogs under 20 pounds, Medium is for dogs weighing 20-50 pounds, and Large is for dogs over 50 pounds. Fret not because no matter what size your pup is, the subscription price is still the same (no extra fees)!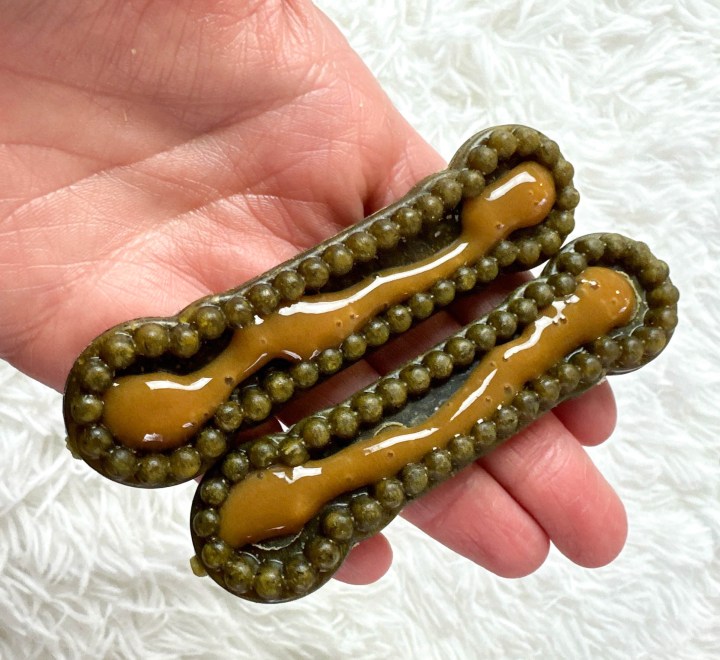 Meanwhile, the dog toothpaste contains three (yup, not one but three!) enzymes that work together to break down plaque and tartar buildup. They're called Amyloglucosidase, Glucose oxidase, and Lactoperoxidase, and they all help boost the natural self-cleaning process of dogs. Like the Original dental chews, this amazing toothpaste has a chicken flavor that dogs like.
You don't have to worry about repurchasing because you will get automatic deliveries of your pup's dental care essentials. Consistent use of BARK Bright leads to stain-free teeth and snap-worthy smiles for your dream pet portrait. Plus, chasing dogs around the house with a toothbrush in your hand will be a thing of the past!
Give your dog cleaner teeth and brighter smiles by subscribing to BARK Bright. When you sign up, you just have to provide important details like your dog's name and size, and if they have any allergies. If you're already a BARKBox or SuperChewer subscriber, you can easily add it to your existing subscription!
This is a great time to grab a dental kit for your dogs because you'll also get a FREE pet portrait from West + Willow when you sign up for a multi-month BARK Bright plan! Whether you choose the 6-month or the 12-month subscription, it's a great first step for your fur baby's proper dental care. Switching to BARK Bright means you can finally throw away the toothbrush your doggos hate. Then, after a few weeks, they can show off their healthy-looking teeth and you'll be the proudest pet parent ever!