The March 2023 My Paper Box theme was Time to Recharge and I was delighted to find crystals decorating postcards, notepads, and more. See all of it below!
DEAL: Get $5 off your first box. Use the coupon code 5OFFMYBOX.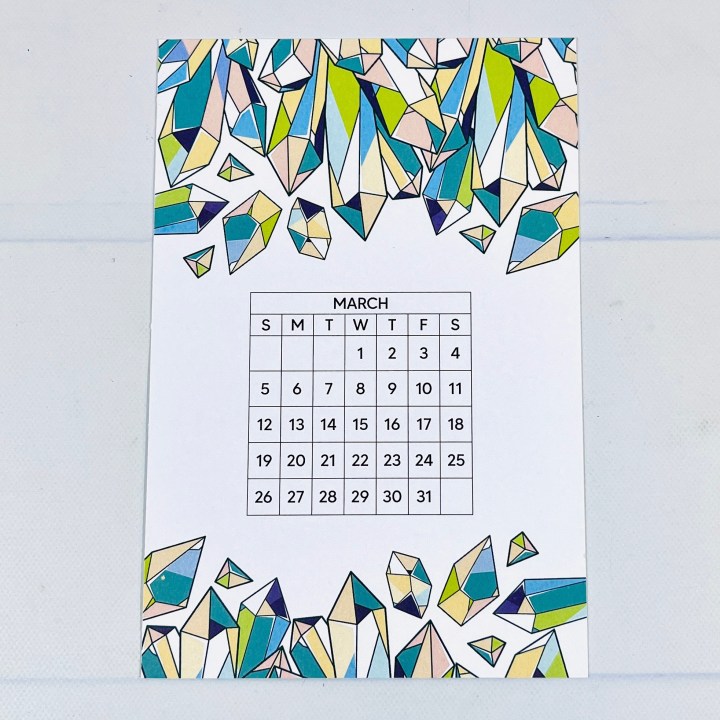 Desk Calendar One side of this 6″ x 4″ card has the month-at-a-glance, while the other lists all kinds of holidays so you can celebrate every day if you choose!
Notepads Sometimes the notepads have boxes or sections on them, like trackers, but these can be used in all the ways one might use a notepad. The larger pad on the left has no lines but crystals in the corners; the pad on the top right has crystals printed all over; the pad on the bottom right is lined and has crystals on the bottom corner. These would work well for any time of the year, not just March!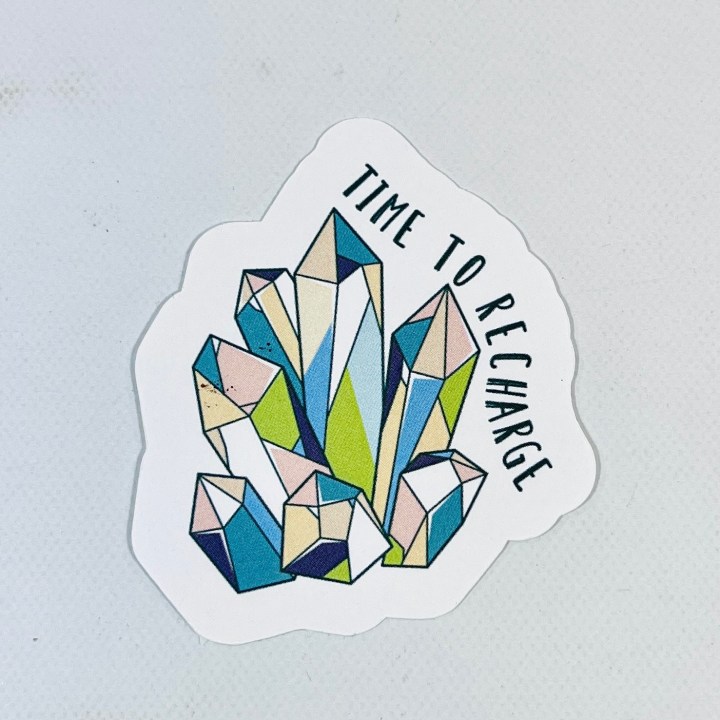 Vinyl Sticker The sticker is about 2″ tall and can be placed on a laptop, water bottle, planner, or however else you might like to use a sticker.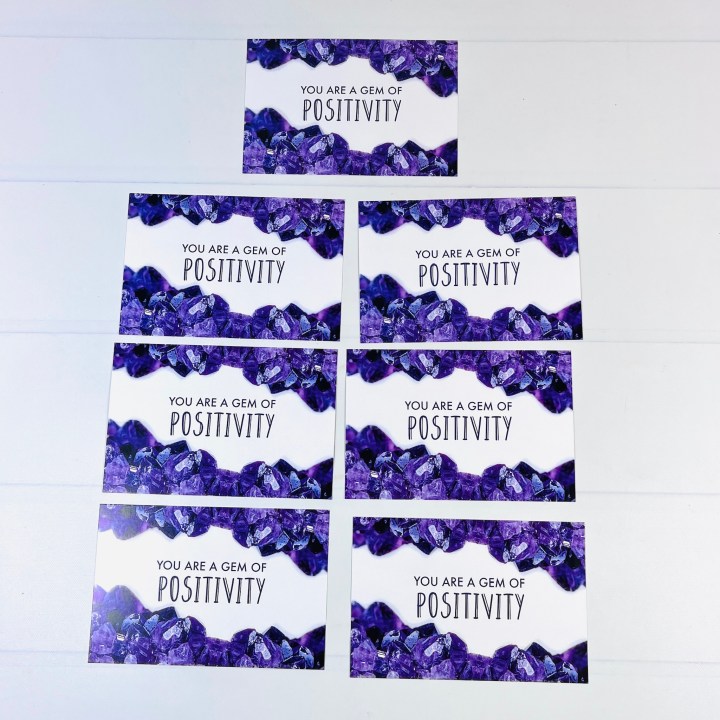 Postcards A set of seven postcard can be addressed, stamped, and sent as an encouraging note or thank you to someone special. They are 6″ x 4″. The monthly magazine shows three different designs and colors but for whatever reason, all of mine are the same so your cards may differ or maybe you will get one set of one of the three designs.
Greeting Cards A set of four greeting cards with brightly colored envelopes can be used for all kinds of occasions. The cards are 5.75″ x 4.25″ and are blank on the inside.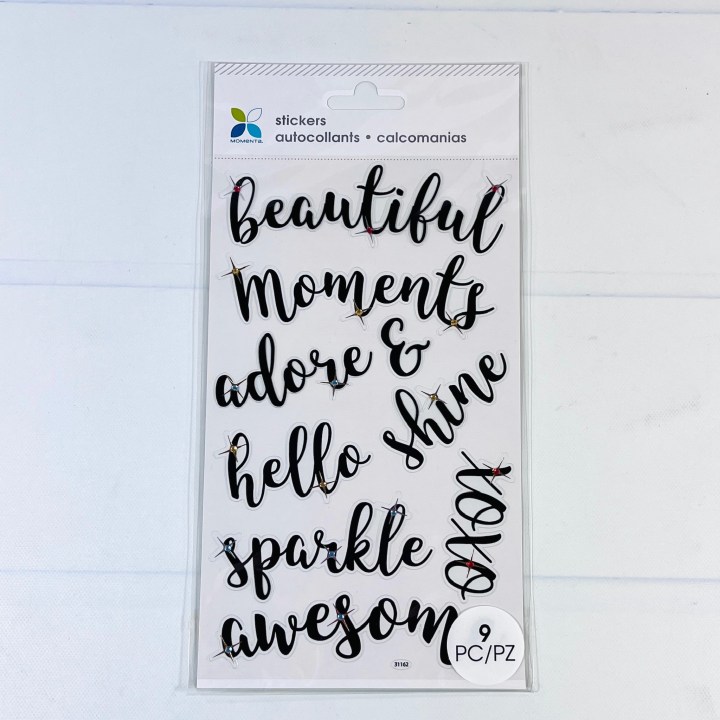 Momenta Gemstone Stickers This sheet of stickers has gemstone accent bits that add a pretty touch. They can be used however you wish but the mini magazine suggests pairing them with the cards from above.
Below is an opening picture and below that are a couple of pages from the mini magazine/brochure, which has 19 pages in all!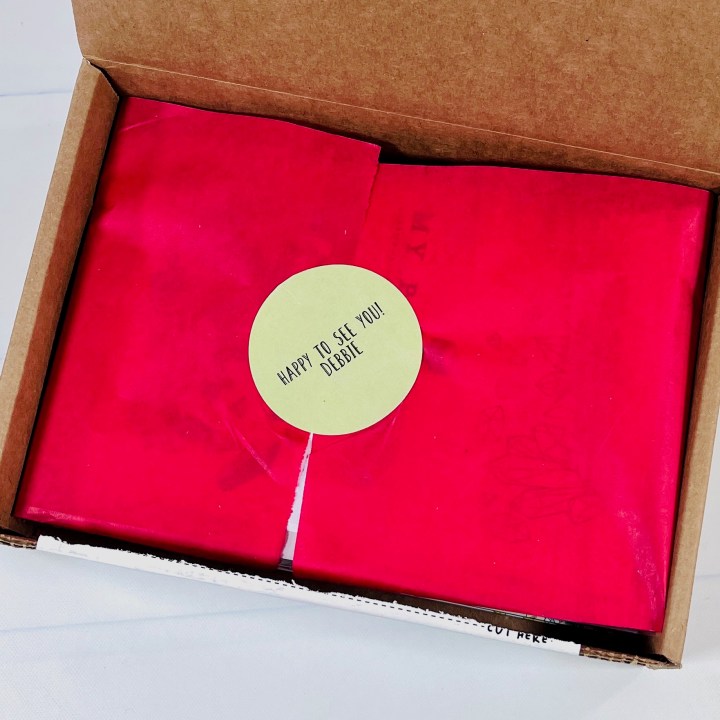 As always I found lots of lovely stationery including greeting cards, notepads, and postcards. I liked this month's designs — I think crystals are beautiful and I don't think I've ever seen that in a stationery box before! The notepads are perfect for setting out any time of the year, I love to leave them in various places around the home so I can grab one quickly when I need to make a note. I liked the stickers, both the single vinyl and the sheet of words with a gem placed here and there for extra sparkle. If you like to receive a steady supply of seasonal stationery then check out My Paper Box! Keep in mind that in addition to the Grand Box as shown, they also have a greeting card only box and a notepad only box and those designs will differ in case you want to receive all three.
My Paper Box is a monthly subscription box filled with personalized stationery! Each box will be curated to a theme and you can choose from three different levels and price points. The Mini Subscription is a collection of 3 personalized notepads and is $18 a month; The Grand Subscription comes with a Personalized Paper Box and a selection of items such as personalized notepads, cards, planners, and more and is $32 a month; The Greeting Card Subscription comes with 4 cards, envelopes, and USPS Forever stamps and is $15 a month. Each month there will be a new theme and you receive the order for the month before so you will have everything ready to go when the calendar changes. My Paper Box made it to the list of our readers' favorite stationery subscriptions!
Visit My Paper Box to subscribe and find out more about this subscription!