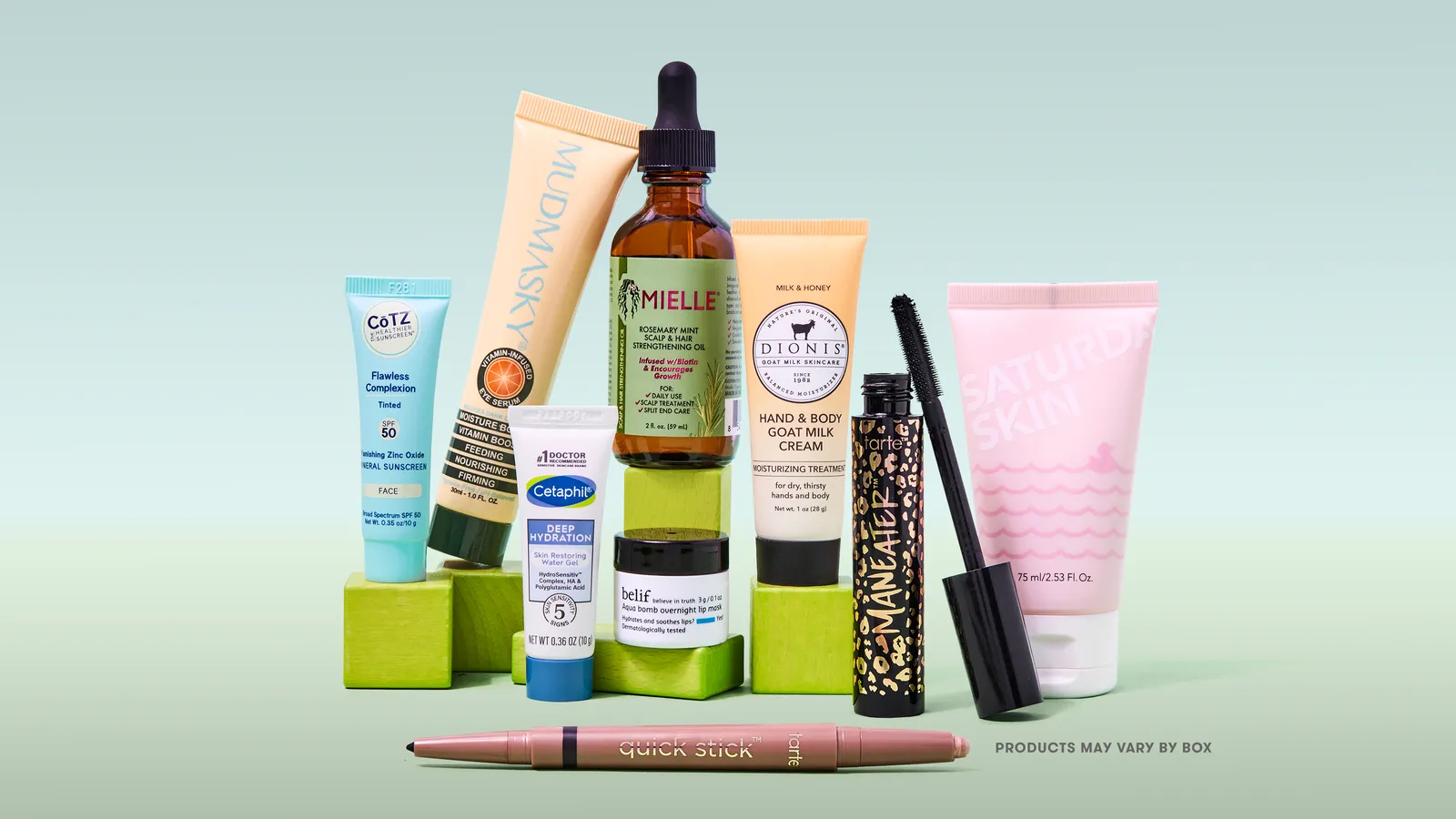 We have the possible full spoilers for the March 2023 Allure Beauty Box! FYI, Allure Beauty Box has announced that they're increasing their subscription price by April 1, 2023 due to rising global product and shipping costs. The price will increase by $2, making it $25 per month. MUST MAKE THE CHOICE BY MIDNIGHT!
I'll admit I've never been the strongest multitasker—I forget to set timers if I check emails while cooking and once I may or may not have found my phone in a truly bizarre place like the refrigerator… Fortunately, the products in this month's Beauty Box do not suffer from the same affliction. They are multitasking all-stars. Tarte's Best of Beauty Award-winning mascara lengthens, volumizes, and curls all at once. Mielle's TikTok-famous hair oil soothes scalps and disguises frayed ends while working to help promote longer hair (a lofty claim backed by studies). The heavy hitters here check all the smooth-skin, healthy-hair boxes and then some, so you can relax while your beauty routine does all the work.

– ELIZABETH SIEGEL, DEPUTY BEAUTY DIRECTOR
DEAL: New members will get your first box for just $17 + FREE Full Size Saturday Skin Refining Peel Gel ($28 value)! Just use this link to subscribe and use the coupon code LUCKY. Be sure to scroll down here and check that this offer is still available.
FYI: If you sign up via Amazon you do not get a new member gift or access to the exclusive member store.
Your March 2023 possible full spoilers! Boxes may include:
Based on your member history: TARTE Maneater™ Mascara OR TARTE Quickstick Shadow & Liner – Full Size
MUDMASKY Vitamin Infused Eye Serum – Full Size
DIONIS Hand & Body Goat Milk Cream – Travel Size
COTZ SKINCARE Flawless Complexion SPF 50 Tinted
MIELLE Rosemary Mint Scalp & Hair Strengthening Oil
BELIF Aqua Bomb Overnight Lip Mask
CETAPHIL Deep Hydration Skin Restoring Water Gel
New members get: FREE Full Size Saturday Skin Refining Peel Gel!
See the current box spoilers here!
Allure Beauty Box is $25 per month with 6 or more products in every monthly beauty box (at least 3 full size!), valued at $100+. It's a reader favorite skincare subscription.
What do you think of the Allure Beauty Box spoilers?