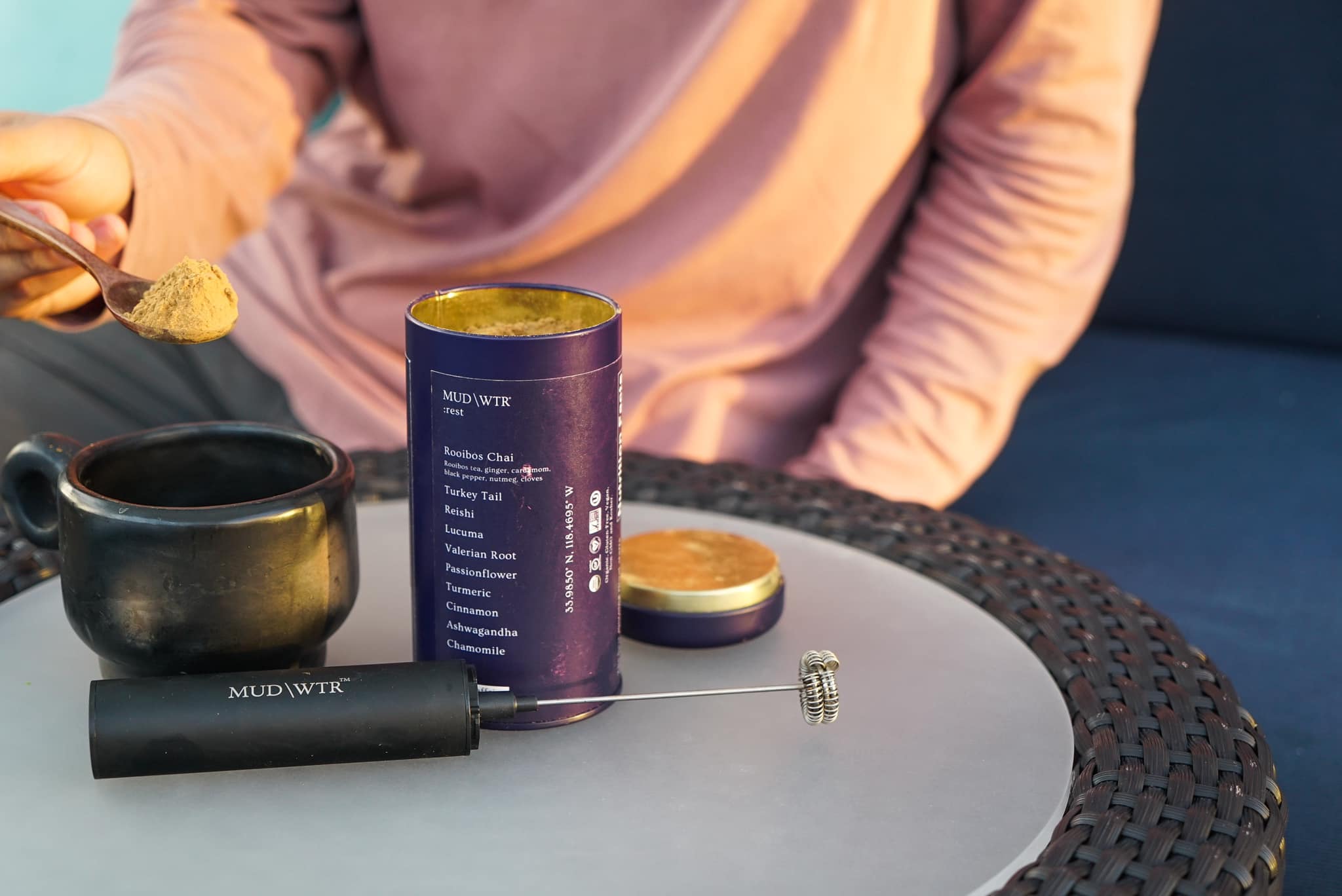 Coffee is great, but the jitters and the energy crash that come with it? Not so much. Thankfully, there are alternatives that taste good and give you the energy you need without making you feel on the edge. Introducing MUDWTR, a coffee alternative made from organic ingredients including mushrooms grown in a state-of-the-art, USDA-certified-organic indoor farm in Carlsbad, California.
MUDWTR only has 1/7th caffeine content of a 12-ounce cup of premium drip coffee. This powdered coffee alternative contains a powerful blend of chaga, reishi, lion's mane, cordyceps, and turmeric, giving you a sharp mind and improved physical performance while supporting the immune system. There's also masala chai and cacao that amps up the flavor of each comforting cup. No sugar and no sweeteners, just clean ingredients! Good news for keto-dieters: MUDWTR is keto-friendly. It's also non-GMO, gluten-free, and Whole30 certified.
Less caffeine, more energy and focus
If you want to lessen your caffeine intake or avoid caffeine dependence, switching to a coffee alternative is a good idea. Using only clean and organic ingredients, MUDWTR made an easy-to-prepare powdered drink mix that can replace your daily cup of coffee. Starter kits start at $40 and refills start at $20. US shipping is FREE.
To prepare your new favorite non-coffee drink, just take a tablespoon of the powder and put it in a mug. Then, pour in some hot water (like you're making matcha) and enjoy. You can drink it as is but you can also add creamer or some honey!
What's in a MUDWTR shipment?
Each Starter Kit contains a 30-serving tin of MUDWTR, a USB rechargeable frother, a free guidebook, a free sample of creamer, and free stickers. It's basically everything you need to start your journey toward a healthier and jitter-free life.
When you purchase refills, you will either get the Mud in a reusable and recyclable tin (30 servings)  or a recyclable bag (90 servings). MUDWTR creamer and sweetener refills come in a recyclable bag. They will also be shipped in plastic-free recyclable packaging.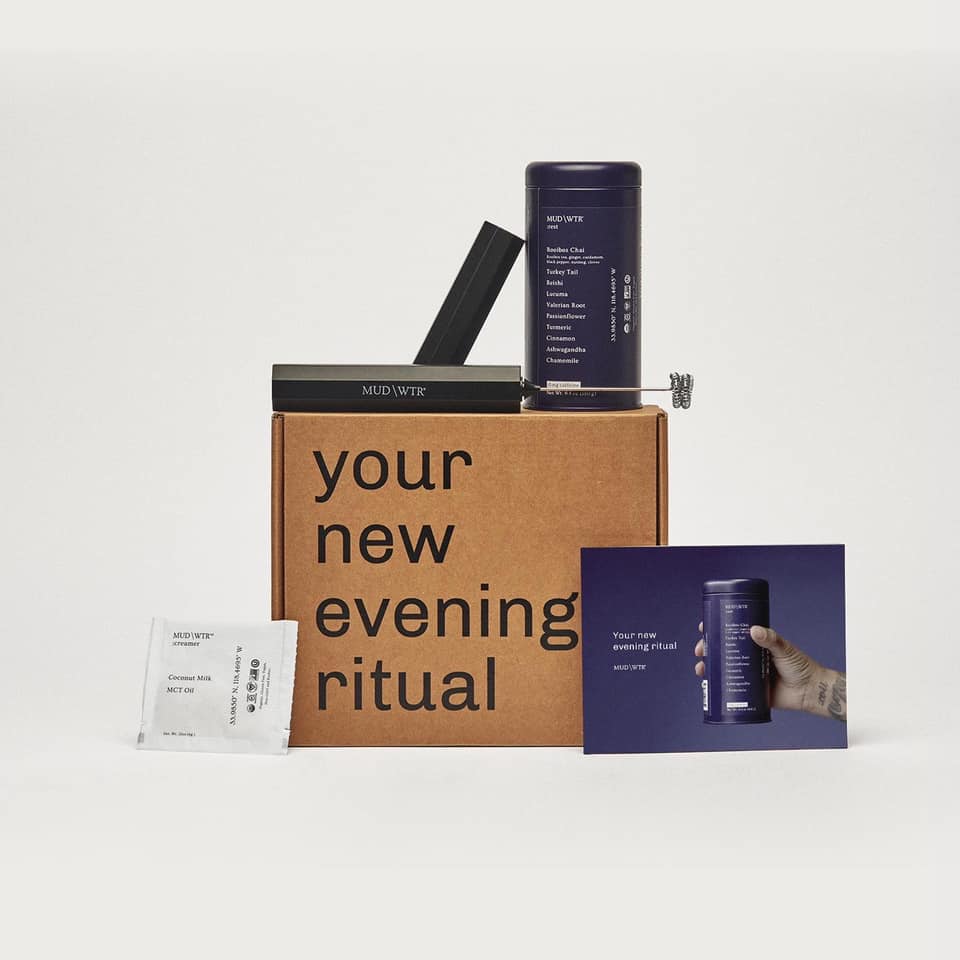 Choose between two starter kits: Morning Ritual Starter Kit (Rise) or Evening Ritual Starter Kit (Rest). Rise is a great way to start your day as it has a micro-dose of caffeine and a macro-dose of functional benefits. Meanwhile, Rest is the MUDWTR caffeine-free version, specially formulated to promote a state of calm so you can wake up feeling great the next morning. It's made with a blend of rooibos chai, turmeric, cinnamon, and a variety of functional adaptogens and herbs (ashwagandha, reishi, turkey tail, valerian root, and passionflower).
They've recently also added two more starter kits to serve more drinking preferences. The Morning Matcha Starter Kit is for matcha drinkers who want to get energy, focus, and immune support to start the day. The matcha blend is 100% organic and made with spices and mushrooms, plus naturally occurring L-theanine. Whereas, the Afternoon Ritual Starter Kit is for people who need an afternoon pick-me-up. It gives you focus, immune support, and balance without disrupting your sleep at night. This blend of turmeric, spices, mushrooms, and mycelium indeed contains zero caffeine.
MUDWTR also makes their own Creamer using coconut milk and MCT oil. This plant-based, vegan, sugar-free, and gluten-free creamer can be added to a cup of MUDWTR to turn it into a super powdered silky smooth latte. Just in case you love it sweet, they also have a Sweetener made with a blend of coconut sugar and lúcuma, an antioxidant-rich fruit. Together, they produce butterscotch and caramel tasting notes that taste perfectly with every cup of MUDWTR.
MUDWTR is an interesting substitute for coffee! It's made from a variety of organic ingredients that allows coffee and non-coffee lovers to experience the focus, energy, and immunity that we get from a normal cup of coffee but this time, without the jitters, crash, and dependency. They have specially formulated blends that you can take in the mornings and at night and enhancers like cream and sweetener so you can adjust the taste to your own preference.
Are you getting MUDWTR? Let us know your review in the comments!
We at Hello Subscription love to discover the most fun and unique subscription boxes and share them with our readers. Say Hello is a series of articles featuring up and coming subscriptions, as well as other interesting subscriptions that our readers might love!