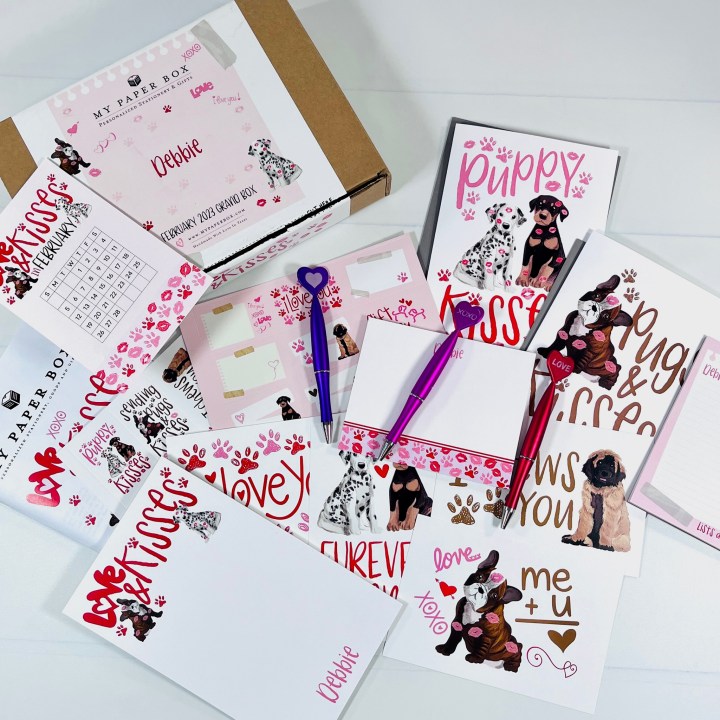 The February 2023 My Paper Box theme was Love & Kisses and each item was decorated with adorable puppies, kissy lips, and paw prints. I received seasonal notepads, postcards, pens, and more. See all of it below!
DEAL: Get $5 off your first box. Use the coupon code 5OFFMYBOX.
Desk Calendar is double-sided. One side has the month and the other has all kinds of holidays that you can celebrate but that you may have never heard of before. On February 9th you could celebrate Pizza Day or how about indulging in a special treat on February 19th, Chocolate Mint Day!
A set of four Postcards makes it easy to send a quick note to a friend or loved one. The back even had my name on it!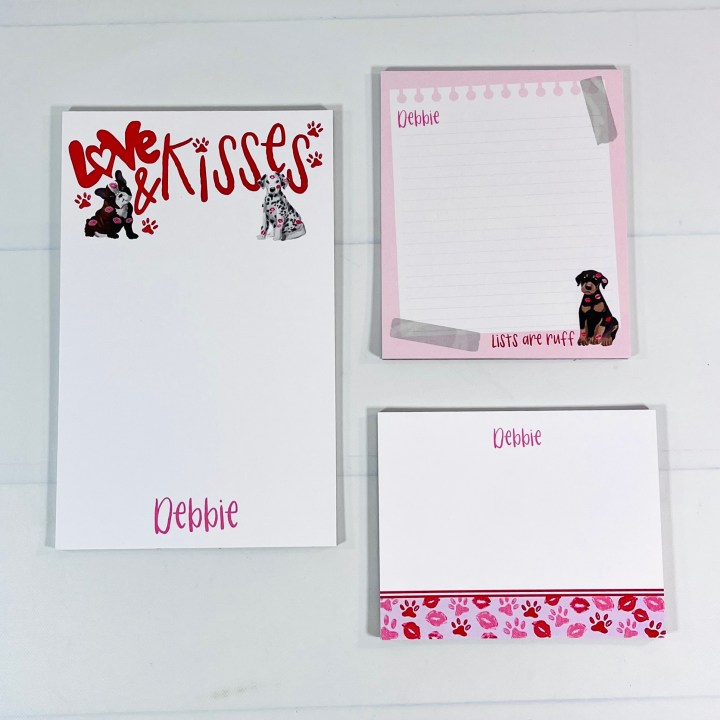 We always receive three amazing Notepads. The larger pad on the left is 8″ x 5″ and can be used for making lists or for doodling. The pad on the top right is 5.5″ x 4.5″ and is lined for those who want to write notes. The pad on the bottom right is 4″ x 5″ and has lipstick kisses and paw prints along the bottom.
Versatile Valentine Cards could also be used as gift tags if you choose. There are 18 cards total.
Greeting Cards Both of these cards are 7″ x 5″ and are blank on the inside. They came with grey envelopes that have a linen texture that I think gives it a special touch.
Lovely Pen Set There were three lightweight pens that twist at the top to reveal the writing nib. They write in black ink. This is a simple way to feel festive during a month that is dedicated to hearts and love.
I thought My Paper Box added a cute touch to a Valentine's box but without making it overly mushy. Cute puppies, what's not to love? I have been using the pens to write lists and fill in crossword puzzles and they make me smile whenever I pick them up. The cards are cool to have on hand and of course, the notepads are always welcome as I tend to make a lot of lists!
Below is an opening picture and below that are a couple of pages from the mini magazine/brochure, which has 19 pages in all!
My Paper Box is a monthly subscription box filled with personalized stationery! Each box will be curated to a theme and you can choose from three different levels and price points. The Mini Subscription is a collection of 3 personalized notepads and is $18 a month; The Grand Subscription comes with a Personalized Paper Box and a selection of items such as personalized notepads, cards, planners, and more and is $32 a month; The Greeting Card Subscription comes with 4 cards, envelopes, and USPS Forever stamps and is $15 a month. Each month there will be a new theme and you receive the order for the month before so you will have everything ready to go when the calendar changes. My Paper Box made it to the list of our readers' favorite stationery subscriptions!
Visit My Paper Box to subscribe and find out more about this subscription!