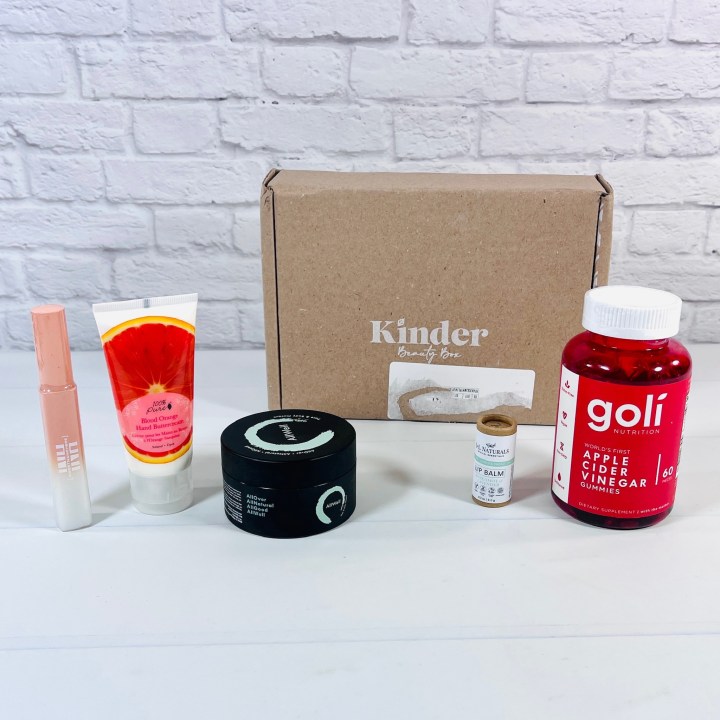 Kinder Beauty Box is a vegan beauty subscription box. This subscription sends out two variations every month and I received the Glowgetter Box for February 2023 (the other box was called the Busy Bee Box). I received a mask that can be used on the face and/or body, a hand cream, and more! The difference between the Glowgetter box and the Busy Bee box is the scent of the hand lotion and lip balm.
NOTE: Kinder Beauty is about to change their model and offer a "build your box" that will have some items (I believe it's three) chosen for everyone by Kinder, then you will get to customize (I believe it's two) other items from a short list. You will also be able to purchase add-ons that will ship with your monthly box.
DEAL: Use coupon code HELLO5 for $5 off your first order!
Goli Apple Cider Vinegar Gummies ($14.25) First up is a bottle containing 60 gummies that have apple cider vinegar, but they taste like candy instead of salad dressing. You might need a fork to get them out, they are all stuck together. The bottle smells pretty strongly of something off, like nail polish, and it made me cough with those fumes. Also, there are some hard bits that remind me of plastic but that I think is one of the ingredients. I'm not sold on the supposed benefits of ACV (and like all supplements there's a disclaimer saying the benefits haven't been evaluated or proven) but there is folic acid and B12, which may help fill in some nutritional deficiencies. The flavor is good though! This bottle expires on 4/23, but since the suggested serving size is 1-6 gummies a day, that shouldn't be a problem.
All Well Beauty Botanical Radiance Face + Body Mask ($42) Well this certainly felt good to put on — it has a thick, frosting-like consistency that was easy to spread and that left my fingers felling silky soft (and slightly oily) as I rinsed it off. Then I waited a bit, jumped in the shower, and let the water rinse it away (because it would make a mess in my sink). It could also be "rolled" off the skin although I didn't try that method, maybe next time. Again, I felt the softening effect came from the oils in the product rather than any exfoliating that may have happened while the product was sitting on my skin.
100% Pure Blood Orange Hand Buttercream ($16) Hand cream is a must all year long, but I seem to double down in the colder months. Cocoa, avocado, and shea butters plus argan oil and aloe are some of the ingredients and it's scented with essential oils. This one smells like sunny oranges and it's going into my work bag!
J&L Naturals Bergamot & Lavender Lip Balm ($5.99) This lip balm has some simple ingredients like coconut oil, EVOO, shea butter, plant wax, and essential oils. I'm not sure those oils (bergamot and lavender) are best placed on my lips but they do smell good, like a natural perfume, herbal tea, or deodorant. The balm glides on easily and yes, I can taste the oils inside my mouth. If this is bothersome then keep in mind that it can be used in other places like cuticles, elbows, the under eye area, or even as a "perfume" on wrists before bed.
Insert Name Here Quick Slick Flyaway Hair Essence ($18) I really have no need for a flyaway tamer but those who wear their hair up and away from their face will probably appreciate this product. It's similar to a mascara wand and has ingredients that help keep flyaways tamed. It smells awful but I ran my fingers through it and it smelled better once it was on my skin, like peach. Since I have no need for this on my head, I can instead use it on my brows! It didn't look or feel like there was much product on the wand but I did run it through my hair and could feel the difference, it left a waxy residue on my bangs.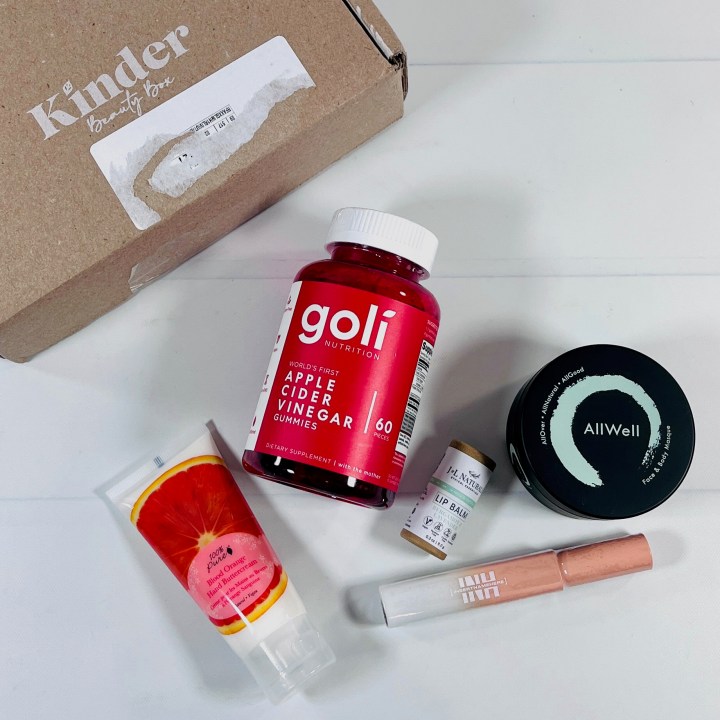 The February Kinder Beauty Box was interesting, but I'm not sure if a gummy vinegar supplement is really beauty related. The mask felt really good on my skin, I didn't experience any irritation. I would have liked the lip balm better if it was in a different flavor, because I kind of felt like I had applied natural deodorant to my lips. The flyaway tamer isn't something that I would use, but the hand lotion certainly was needed. The value was just under $100 but be sure to use (or pass along) the gummies before too long as they will expire in about two months.
Below is the product info card and box opening pics!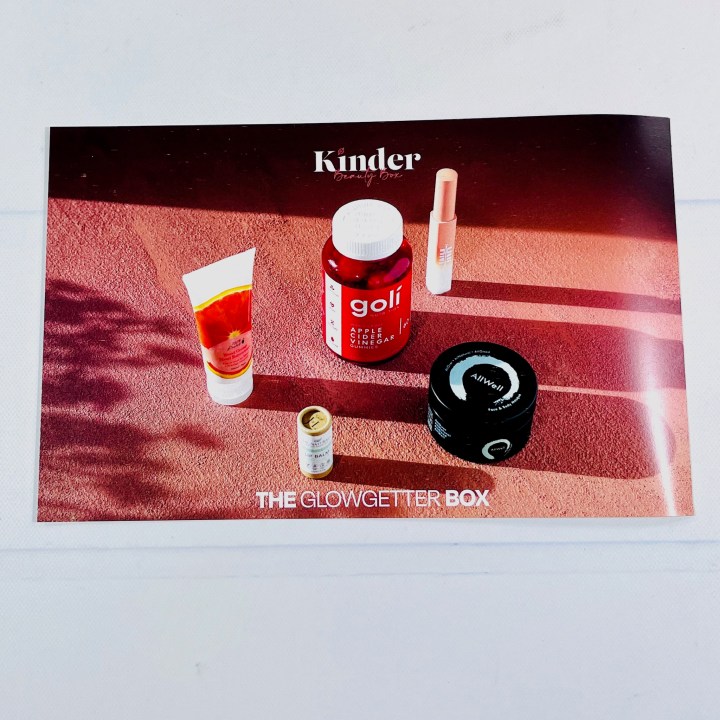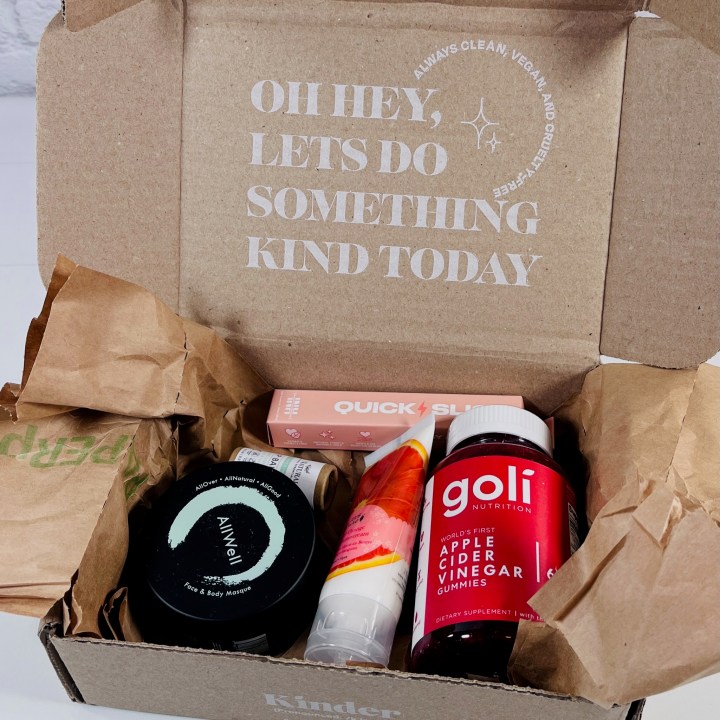 Kinder Beauty Box is a vegan and cruelty-free subscription box that sends skincare, haircare, makeup, and accessories. Each month you will receive more than $85 worth of products. The items are compassionately curated by Daniella Monet and Evanna Lynch. All Kinder Beauty Box products are guaranteed to be 100% vegan and cruelty-free. Kinder Beauty Box is $26 a month, with free shipping to the US, $5.95 elsewhere. Price drops to as low as $23 a box with a prepaid 6-month plan. Buy a multi-month plan to receive a free bonus box and to pick out which of the two monthly boxes you prefer (after the first box). A portion of all sales will go towards benefiting the founder's favorite animal rights and environmental causes.