The February 2023 BOXYCHARM theme was Treat Your Heart Out. I was super excited to receive a full-sized mascara from my favorite mascara brand, along with an under-eye serum. See all of my products below!
Keep in mind that BOXYCHARM sends many box combos so your box items and value may be different than mine. There are variations to the box – see them here.
Please note that BOXYCHARM recently announced the addition of a $1.99 handling fee to all subscriptions per monthly billing cycle, starting in October. All Annual Subscribers who renew will also see a $9.99 handling fee charge. You can read more about it here.
DEAL: Subscribe now and get a FREE gift: GROWN ALCHEMIST Anti Pollution Primer, SERAPHINE BOTANICALS Happy Hibiscus Palette – Luminizer & Blush Palette, OR SATURDAY SKIN Pretty Pop – Probiotic Power Whipped Cream, PLUS $10 credit to February Drop Shop!
Use this link and pick your FREE gift at checkout AND get your exclusive $10 Drop Shop code via email within 24 hours of subscribing.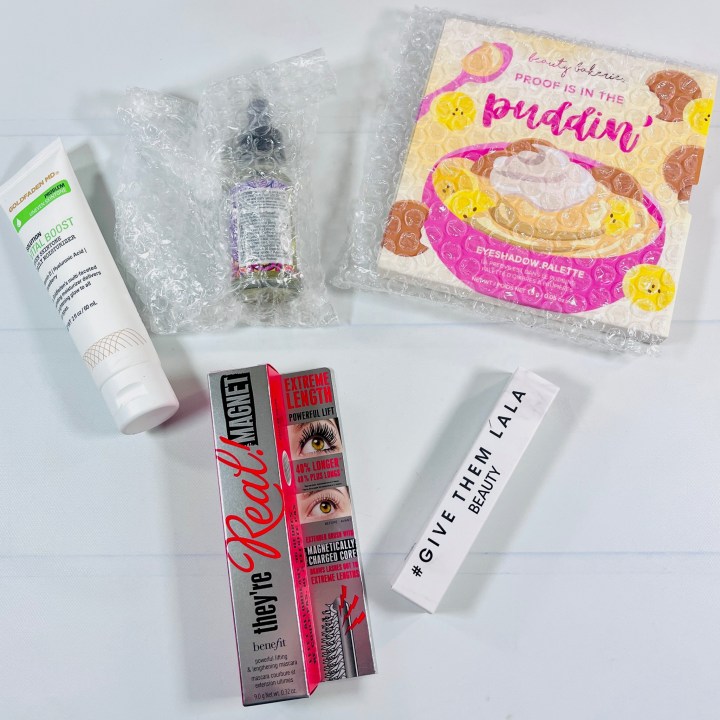 Each item came in its own box.
GoldFaden MD Vital Boost Daily Moisturizer ($85) is meant for all skin types and I almost love it, I just wish it didn't have potentially irritating grapefruit peel oil for fragrance. Some of the ingredients include jojoba oil, glycerin, hyaluronic acid, and amla fruit extract. It's supposed to brighten skin tone and provide skin with antioxidants. My skin soaked it in quickly and it left a non-greasy finish. I think I need something that's more emollient but those with skin that's less dry would probably like this a lot.
THE BETTER SKIN CO. Eye Bright Now ($38) This is a non-greasy, quick-drying serum for use in the under-eye area. It has ingredients like glycerin, green tea extract, allantoin, and hyaluronic acid to help reduce the appearance of dark circles, puffiness, and fine lines. I didn't detect any scent, not even from the lavender oil, and I think I could get used to using this twice a day.
BENEFIT COSMETICS They're Real! Magnet Extreme Lengthening Mascara Supercharged Black ($28) I see some crazy retail values for mascaras in subscription boxes but this is the only brand that I feel is worth the bucks. It's easy to apply, and the short bristles mean that I can get close to my lash line without worrying about poking my eye. I really don't think a "magnetic core" has anything to do with my lashes looking good, I consistently get good results from benefit mascara no matter which formula I use.
GIVE THEM LALA BEAUTY Hydromatte Liquid Lipstick Booty Call ($16) I received an almost identical lipstick in my Boxy Premium this month and both were not for me, with this one being the worse because it smells horrible, like burnt chemicals of some sort. I put the ingredients in an analyzer and turns out several of them were misspelled, which doesn't fill me with confidence in the brand. The color as shown on the model's lips on the website doesn't look anything at all like what was on my lips. It was opaque and the shade reminded me of the nilla wafers on the cover of the palette below. I tried to wipe it off, then used remover, and it stained my lips.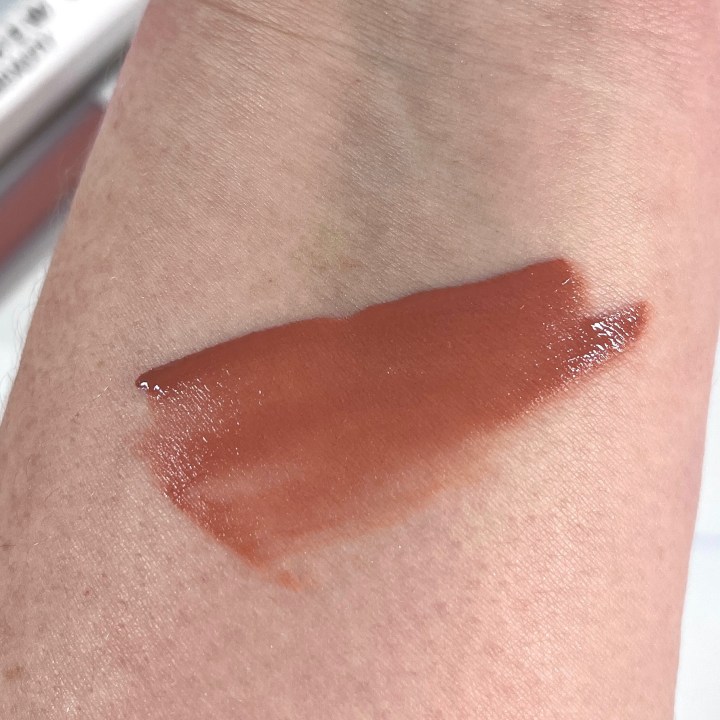 Here's the liquid lip in Booty Call.
BEAUTY BAKERIE Proof Is In the Puddin' Eyeshadow Palette ($38) This palette has four mattes and five shimmers and I was able to use it for a basic warm neutral eye look for day. Some of the colors aren't very pigmented but then again I was happy with my look. There was some fallout but about the same as other palettes. I checked it in the afternoon and my eye look was still going strong. These colors are wearable for me and I look forward to mixing and matching them in the weeks ahead.
Here's the Beauty Bakerie palette swatched!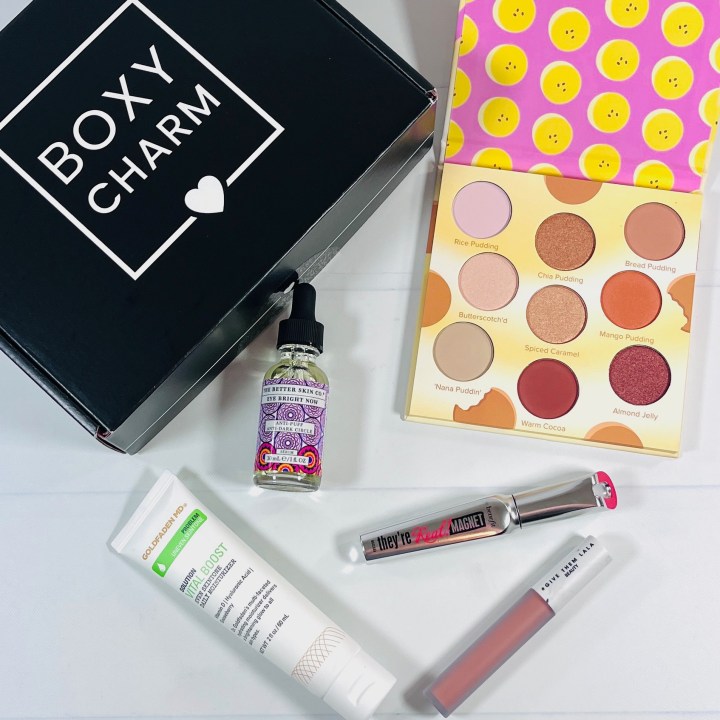 My February BOXYCHARM delivered a full-sized benefit mascara, which is my favorite mascara brand, and that one item is $28 so it's like the rest were just bonuses. The only item I truly didn't like was the liquid lip — not only was the color horrible on me, but it smelled awful and after sampling it I tossed it in the trash. I will happily keep on using the under-eye serum and the palette was fine, I will reach for it occasionally. The moisturizer was good but may be better for someone with skin that isn't as dry as mine. The value for my box combo was around $205.
Below is a box opening photo as well as the product info card.
BOXYCHARM is a makeup and beauty subscription box that sends out 5 full-size items every month. Products include makeup, skincare, and beauty tools and each box has an average value of around $175. BOXYCHARM is $27.99 a month with discounts for those who prepay for longer terms. This subscription was the top pick of our subscribers for the best makeup subscription boxes in 2022!