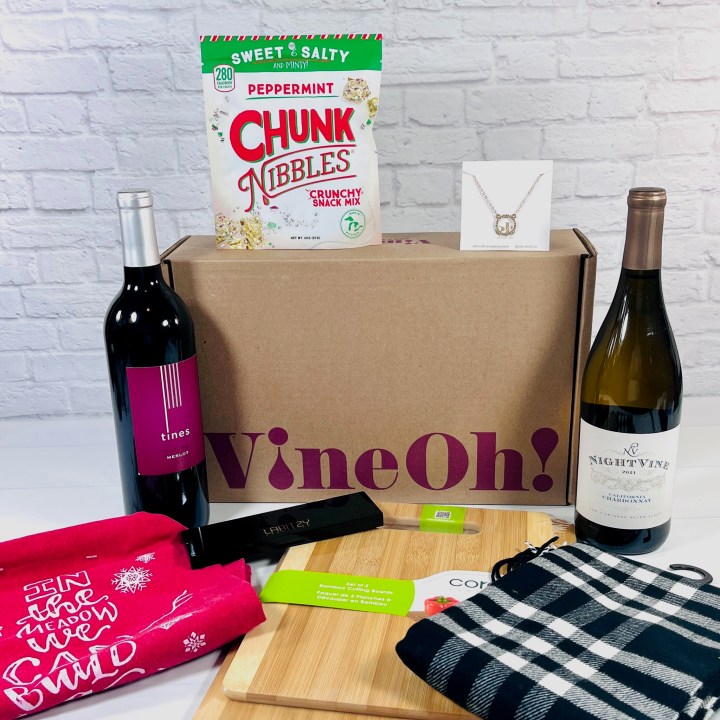 Vine Oh! is a quarterly wine and lifestyle box that aims to help women relax and recharge. The theme for this shipment was Let It Snow! Box and I want to let you know that this box is FREE, just pay $19.95 for shipping and handling and commit to buying one fully-paid box for $64.99. I believe most of these items are from previous boxes but if you haven't tried Vine Oh! before then this is a GREAT way to see what they're all about, plus, WINE! Check out my review below!
DEAL: Save $10 off + FREE extra bottle of wine + FREE shipping on your first box with coupon code HELLOWINE. For a limited time, use this same code to get an extra free bottle FOR LIFE!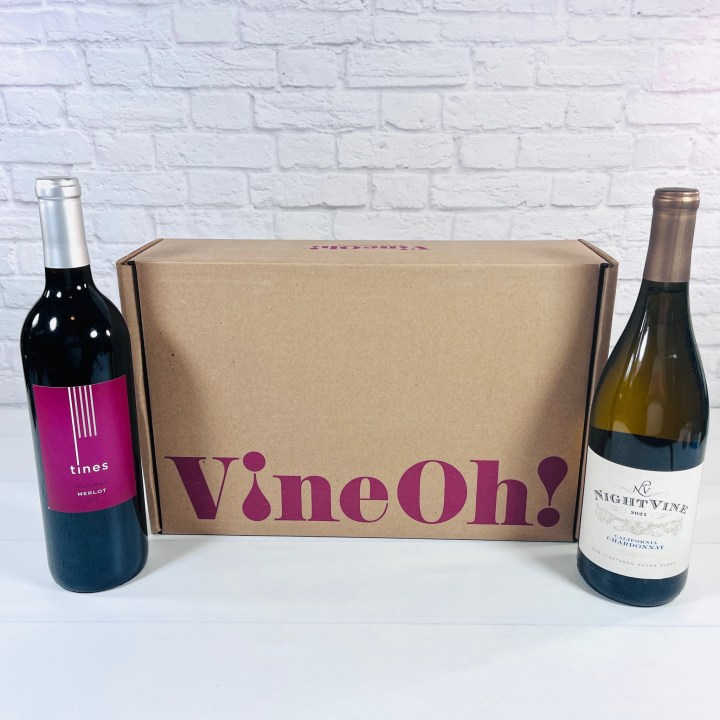 I received a larger box and inside I found the smaller one holding all of the items and below that were two bottles of wine.
I just received both of these wines in my last box so I will stick with what I said about them recently because I don't think they would have changed much over the past month:
2019 Tines California Merlot ($24) This wine is described as having "pleasant notes of dried figs, black currants and cinnamon". It's dry and full-bodied, and I detected tannins but they weren't super strong. I sense some acidity because it makes my tongue burn a bit (my tongue is very sensitive to acidic foods and drinks). It smells of ripe red fruits and although my husband will want to drink it up, I think it would be good in a pot roast recipe. Of course, it goes well with red meat as a drink, or serve it with pasta or pizza. I think that this is the first time I've ever noticed "wine legs" on the side of my glass. (Edited to add: I used the remainder of this bottle to make a pot roast type of stew and it was delicious.)
2021 Night Vine California Chardonnay ($24) This Chardonnay is fruity and I think it's a delightful wine. This one has aromas of "ripe pear, vanilla, caramel, and citrus leads to flavors of whipped sweet cream and balanced oak". It was surprisingly creamy and smooth and not as dry as I would expect. It has a medium body and acidity, it doesn't make my mouth pucker up too much. Is it buttery? I don't think so, but it sure goes down easily. Serve this with seafood or white sauced pasta dishes.
Laritzy Cosmetics Artistry Palette ($32) I remember the days when Laritzy had their own subscription box but now their beauty products show up every once in a while in other boxes. I liked this warm neutral shadow palette that had both shimmers and mattes. I used the shimmers on my lid and then swiped on some transitional shades before finding a darker brown in one of my other palettes to do the crease. The color payoff was fine for my needs and the look lasted all day long (I used a primer as the first step).
Here's the Laritzy palette swatched!
This is a repeat item from the last box so I'm going to repeat what I said previously, and then I'm going to gift this unopened bag to someone who will appreciate it more than I would. Peanuts and mint just don't go together in my world:
Chunk Nibbles Sweet & Salty Peppermint ($3.52 value) I am a big fan of peppermint flavored foods but there are some things I won't pair it with, and a couple of those things are in this snack mix. This has peanuts, pretzels, corn squares, and peppermint candy all covered in white candy coating. I'm fine with all of that except the peppermint, which doesn't seem like a good pairing with peanuts and salt. So to be clear, this would be better either without the peanuts OR without the peppermint candy, at least to my taste buds. It was sweet, salty, nutty, crunchy, and pepperminty.
EB and Co Necklace As usual, my photo-taking abilities do not do this piece of jewelry justice. It has crystal stones that shimmer much more brightly than you can see here, and the pendant is fixed into place rather than freely hanging. Unfortunately, I have somehow tangled it into a knot and cannot measure how long the chain is, but I feel like it won't fit comfortably around my rather large neck, but if I ever get it untangled then I know one of my daughters would love to wear it.
Primatives by Kathy Snowman Dish Towel (Similar towels from this brand are under $10 on Amazon) This is a cotton dish towel that is 28″ square and has a chalk-like image and lettering. I received this towel after the winter holidays but technically it is still actually winter so I may leave it on my dishwasher until Valentine's Day before storing it with the Christmas items.
Umo Lorenzo Scarf ($12.99 for similar item) I received this same item in the last box but in a different color so it's nice to have options. It's very lightweight and made of 100% acrylic with fringe on the edges. It's super soft and probably best used when there's a soft breeze in the air and not during a super cold or snowy day.
Core Bamboo Cutting Boards ($15) I received two dual-tone bamboo cutting boards that would also make great charcuterie boards. I haven't decided whether to keep them or gift them to my daughter, who is about to buy her first house! According to the tag, the wood is 100% organically grown and FDA-approved. I think they are pretty but they mustn't soak in water and the dishwasher is a no-go.
I have really enjoyed receiving Vine Oh! and this box was no exception! I know that some of these items were delivered to me previously but this box is meant for new subscribers who want to see what this subscription is all about. My husband and I have enjoyed the wines that we have received and the other products have been fun to use, with most of them being items I can use over and over again (just like in this box!). I liked everything except the snack but that is because of my taste preference, I did try it last time and the quality was good, I just don't like mint and salty things together. Once again, this is a limited edition box for new subscribers, just pay shipping and handling and commit to buying one more box at the regular rate.
Below you will find some box opening pictures.
Vine Oh! is a quarterly subscription box and one of the first wine subscription boxes to include lifestyle items for women. Each seasonal box will include 2 bottles of premium wine, plus 5-6 full-size items that are fun, rejuvenating, and delicious. Subscribers can choose their wine type preference: white wine, red wine, red & white wine, or sweet wine. Every box will have a retail value of $120 or more! Vine Oh! is $59.99 a box and shipping is free and delivered to your door.
What was your favorite item from this quarter's Vine Oh!?