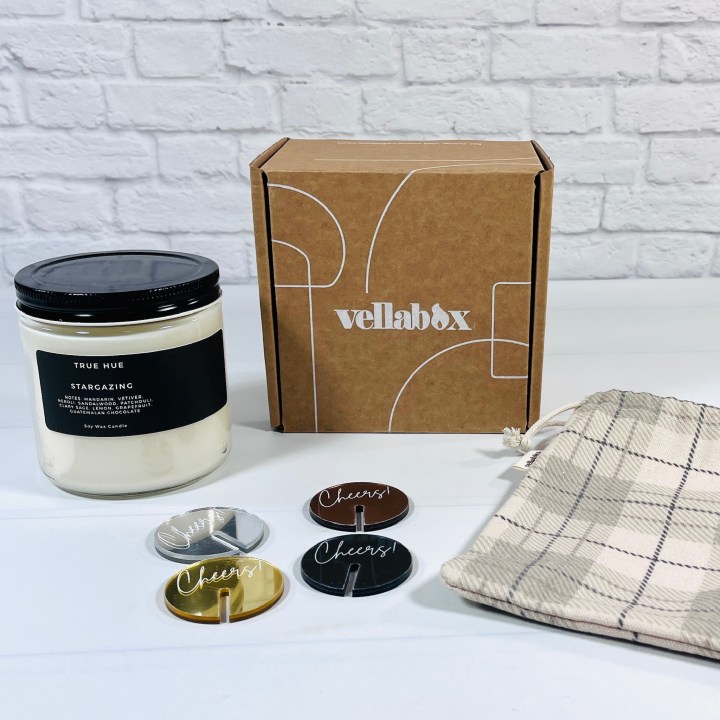 The January 2023 Vellabox is here and they sent one of three different candle scents from True Hue to help us reset and clear our minds for the new year. I received the fragrance for those who are into citrus fragrances. I also received a set of drink charms for the bonus item! I am reviewing The Vivere Box, which comes with a 16 ounce candle and is $38 a month.
DEAL: Save 50% on your first box! Use coupon code HELLOSUB50.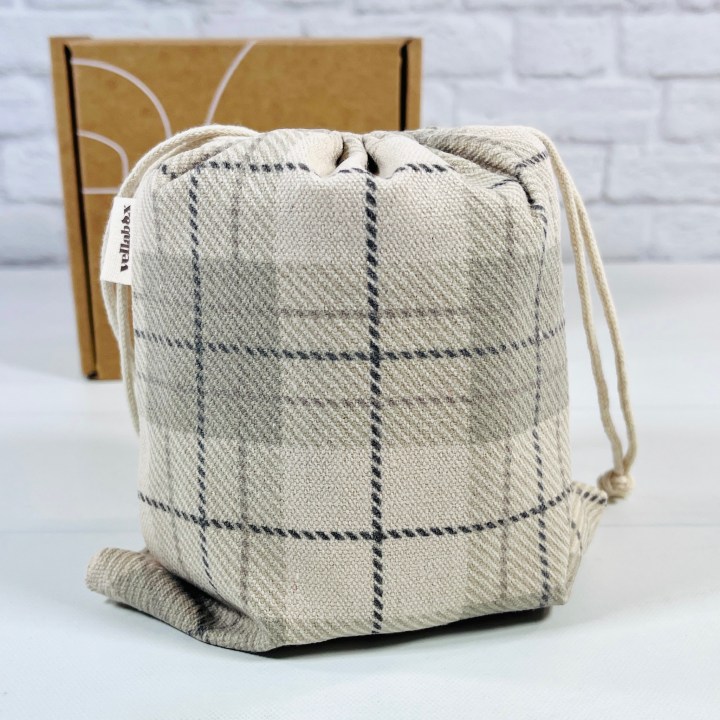 The candle came in a reusable drawstring bag. This one is the cutest, I love the plaid print!
True Hue Stargazing Soy Candle ($30 for a 7.5 ounce candle) My candle is twice the size of the candles on the True Hue website, but that's because it's specially made for Vellabox (and may look different from what you will find at True Hue). I really like the label and matching lid, it looks pretty cool on my table. This scent is for those who like citrus notes in their candle. The fragrance is a blend of mandarin oranges, sandalwood, lemon, and clary sage. There's a hint of woodiness, maybe a touch of musk. It's unisex and it was noticeable while burning, but it doesn't have a lot of hot throw. I don't expect candles from Vellabox to carry very far though, and it's good for those who prefer to not be slammed in the face with their candle scents (like me).
Cheers Drink Charms ($10 listed value) Our bonus item this month is a set of four acrylic drink charms. Please excuse my pictures, but the charms have a piece of plastic on both sides to protect them before use and I didn't remove that because I plan on gifting these to my daughter! The colors are gold, silver, bronze, and black and the charms are about 1.5″ across.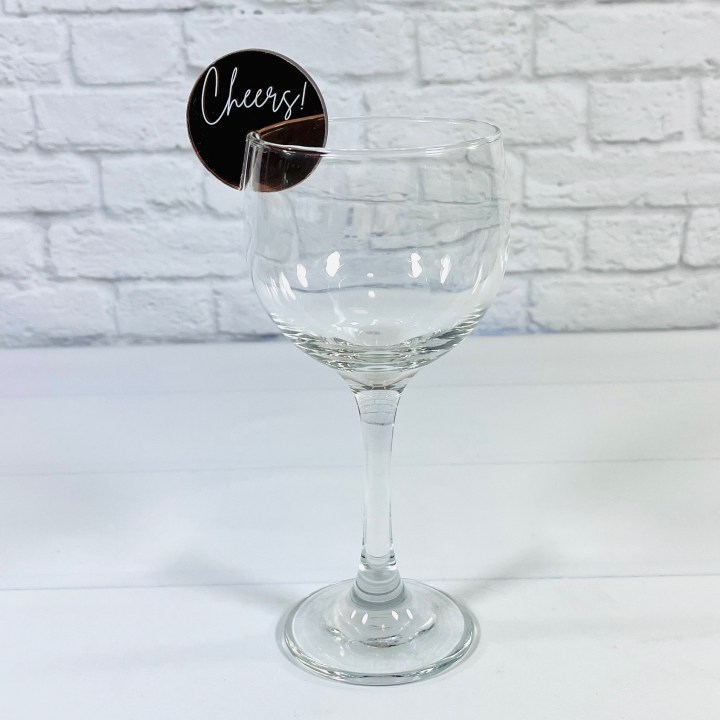 Here's one of the charms on the side of a wine glass!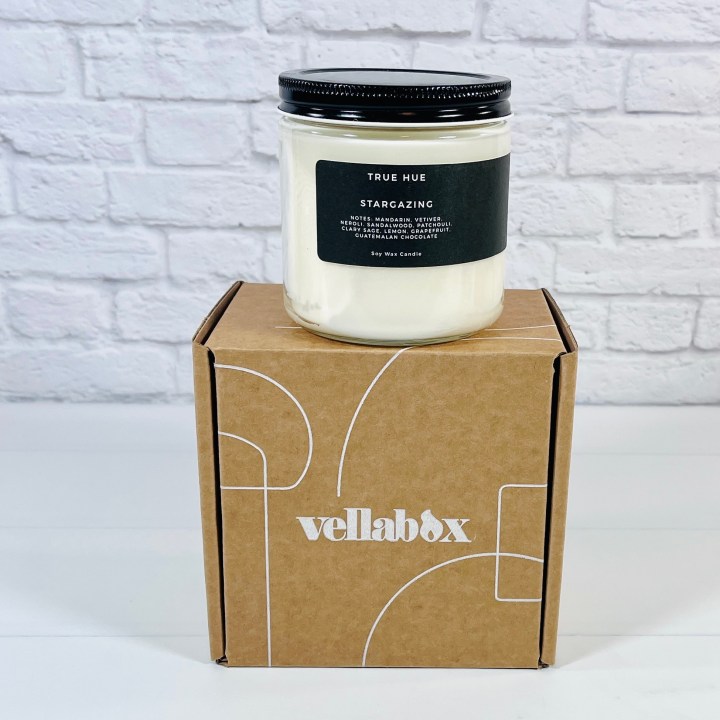 My True Hue candle from Vellabox had a lovely scent and I know I will be burning it all month long! This candle had a lively scent that would work for any time of the year, it wasn't a winter holiday-ish sort of scent — I think it was inspired by wet grass, waves on the shore, and wind blowing through shrubbery. This candle, like most of the candles sent by Vellabox, has a decent throw but isn't overwhelming, perfect for those who prefer that their candles whisper rather than shout. True Hue has other items available in this and other lovely-sounding scents and you can choose from hand and body wash, reed diffusers, room sprays, and more. The charms will go into my daughter's housewarming gift pile as I think she is more likely to entertain than I am but the candle stays with me!
The info card lists both the candle brand and the descriptions of the items in the box.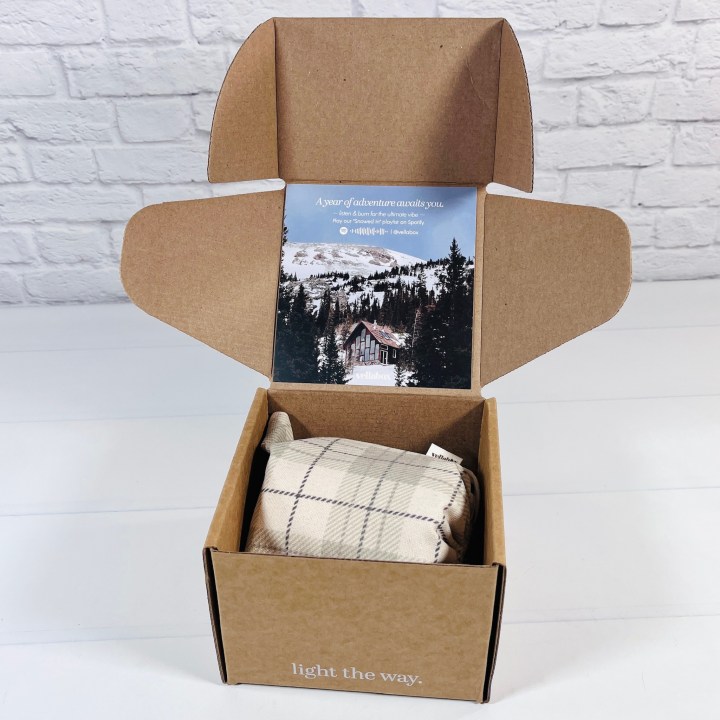 Vellabox is a monthly natural candle subscription box. The candles are always in seasonally inspired scents and are created by the finest American artisans. Each box features a different candle brand. The candles are from small businesses and are made of all-natural wax, cotton braided wicks, and premium fragrance oils. Vellabox also includes a surprise lifestyle gift in every box. There are three boxes to choose from based on size. When you sign up for Vellabox, you need to choose which size candle you prefer and you can also pick the scent group you prefer. You can choose from The Lucerna Box ($18) which includes a 4 oz candle monthly, The Ignis Box ($28) with an 8 oz candle monthly, and The Vivere Box ($38) with a 16 oz candle monthly. Each level receives a bonus lifestyle gift and shipping is included to the US, and all have great discounts for longer-length plans.
The Vellabox candle subscription box made the list in our 2022 readers' choice picks of best home and decor subscription boxes and as a favorite affordable subscription!