This December Vellabox sent one of four different candle scents, all with the winter holidays in mind. I received the fragrance for those who are into sweet + spicy fragrances. I also received an adorable reusable bowl cover! I am reviewing The Vivere Box, which comes with a 16 ounce candle and is $38 a month.
DEAL: Save 50% on your first box! Use coupon code HELLOSUB50.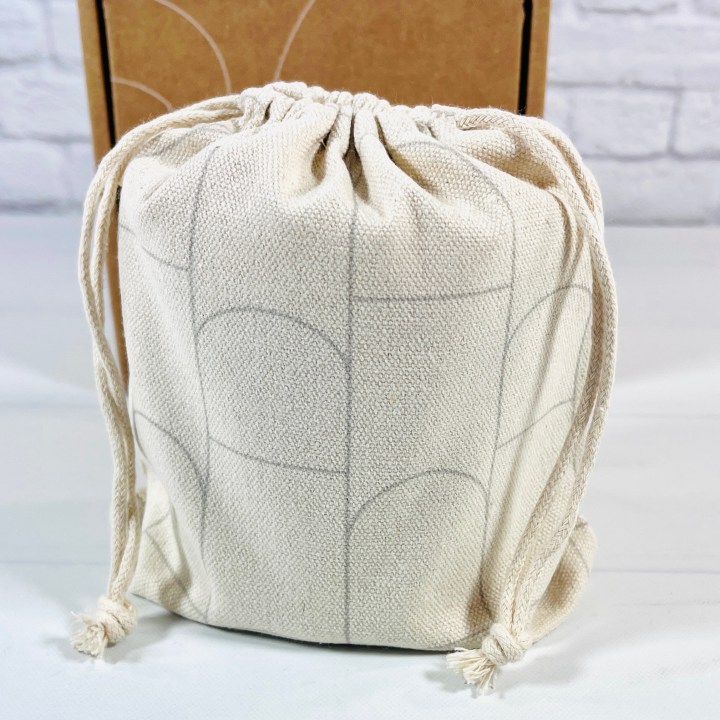 The candle comes tucked into a cozy bag. The bags can be reused to store jewelry, to hold small items, or however you wish. Please send me some new ideas if you have any!
Olive & Pine Candle Co. Gingerbread House Soy Candle (9 ounce candles from this brand are $30) I received the scent for those who prefer candles that are sweet and spicy. I believe this is a scent that is exclusive to Vellabox and they offer this size candle (16 ounces) in this scent on their website for $38. Gingerbread House has notes of ginger, sugar, cinnamon, vanilla, and nutmeg. While I'm not normally into "sweet" baking-scented candles I would make an exception for this warm, spicy scent. The fragrance was noticeable while burning and it started as soon as I lit the candle and didn't stop even after I put it out. Placing the lid back on top did the trick.
Doe a Deer Mini Bowl Cover ($14) The extra this month was a mini bowl cover! There are several prints available on the brand's website and I think this one is called Greenery. The fabric is cotton and there's a "food safe liner" inside which looks like muslin and you can wash this in the machine. This is an alternative to plastic wrap and will fit a cereal or soup bowl (as modeled in my picture) or a small loaf pan.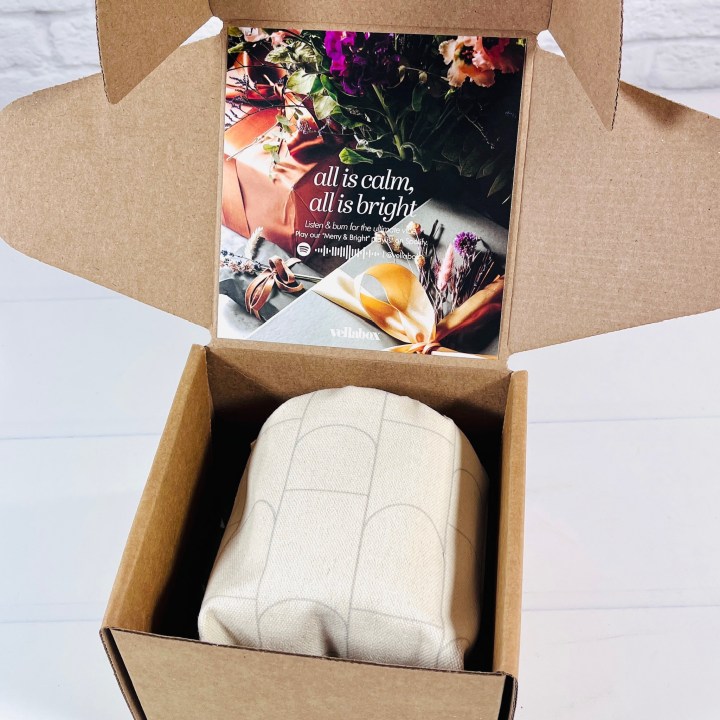 Here's a couple of box opening pictures. There's always a beautiful picture inside the lid of the box. There's even a curated Spotify playlist plus you don't have to pay for the Spotify service, and it's pretty much the only music streaming service that I use now.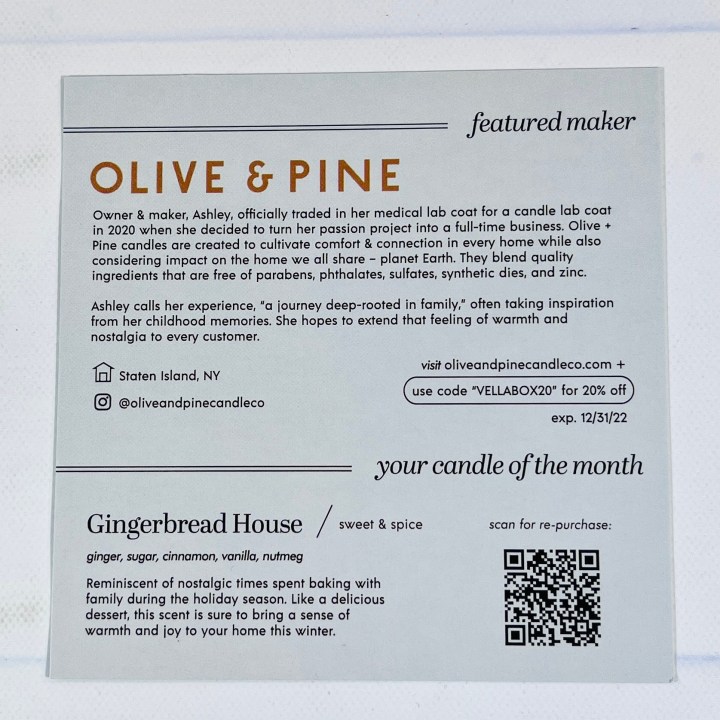 The info card lists both the candle brand and the descriptions of the items in the box.
Vellabox is a monthly natural candle subscription box. The candles are always in seasonally inspired scents and are created by the finest American artisans. Each box features a different candle brand. The candles are from small businesses and are made of all-natural wax, cotton braided wicks, and premium fragrance oils. Vellabox also includes a surprise lifestyle gift in every box. There are three boxes to choose from based on size. When you sign up for Vellabox, you need to choose which size candle you prefer and you can also pick the scent group you prefer. You can choose from The Lucerna Box ($18) which includes a 4 oz candle monthly, The Ignis Box ($28) with an 8 oz candle monthly, and The Vivere Box ($38) with a 16 oz candle monthly. Each level receives a bonus lifestyle gift and shipping is included to the US, and all have great discounts for longer-length plans.
The Vellabox candle subscription box made the list in our 2022 readers' choice picks of best home and decor subscription boxes and as a favorite affordable subscription!
What did you think of the September Vellabox? Let me know in the comments!