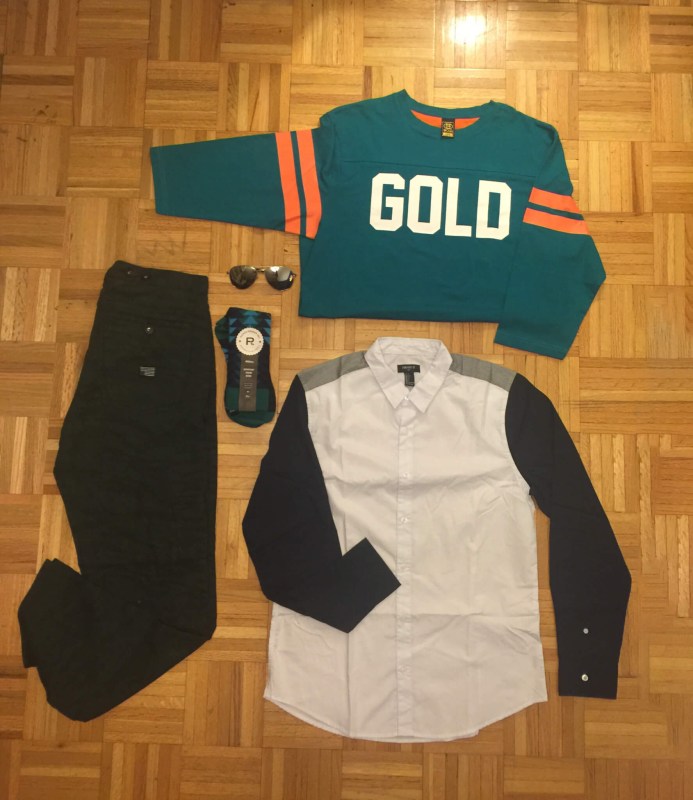 Here's everything you need to know about this clothing subscription
ThreadBeast Subscription Box Review
Shopping for clothes to fill your closet or refresh your wardrobe can be hard at times. That's the scenario if you don't like scanning shelves and racks or trying on clothes at department stores. But sometimes, it is inevitable, especially if you need new styles for whatever occasion or the new season. But thanks to modern times, shopping for fresh wardrobe pieces can now be done at home.
Clothing subscriptions such as ThreadBeast make it easy for gentlemen to shop for clothes, from tops to bottoms and accessories to shoes, in line with the latest trends. They can order online and expect their new apparel to be delivered straight to their doorstep. This clothing subscription even sends clothing pieces based on men's tastes and preferences – no second-guessing here!
And although the box is curated based on the subscriber's style, it still is loaded with the element of surprise. You get to keep everything in your shipment with no additional cost or hidden charges! Boxes are curated with you in mind, and they source clothing pieces from brands that know exactly what streetwear is!
Now, the question would be "Is it worth it?". To help you decide if it's a yes or a no, continue reading our review. We've included several FAQs to give you a good insight into this men's lifestyle subscription service!
ThreadBeast Benefits & Drawbacks
Before we proceed to the review proper, here's a peek at the advantages and disadvantages of ThreadBeast:
ThreadBeast Benefits
Delivers clothing pieces tailored to your taste and preferences
There's a short quiz that'll determine your style
Conveniently delivers on-trend apparel monthly
Includes accessories and footwear too
Four subscription plans to choose from: Basic, Essential, Premium, and Baller
Includes pieces from brands you love – Adidas, Nike, Stance, Grizzly, and more
Free shipping
ThreadBeast Drawbacks
No international shipping
Do not accept returns of any kind (exchanges are possible if it's about sizing issue)
Promo codes are only eligible for the Essential and Premium plan
Style selection is limited
It's not the subscription choice for you if you're looking for business/formal/work wear as they're into casual and sporty styles
ThreadBeast Review
Summary
ThreadBeast is a men's lifestyle subscription that sends on-trend clothing and accessories straight to your door monthly. They curate boxes and fill them with items tailored to your personal taste, preference, and even budget! A short quiz will help them determine your style. Then, a stylist will evaluate your profile and assemble a package uniquely for you. Pause a delivery or cancel the subscription – no strings attached!
My ThreadBeast Review
ThreadBeast is a monthly men's streetwear subscription service. You get your first package about two weeks after signing up. After that, your box comes every month from then on. They have four plans to choose from, for every budget. They typically come with about two times the worth of retail prices and can include premium items like heavy jackets, premium denim, limited edition collab pieces, and more. Here's a glimpse at their plans:
○ Basic Plan — $60/mo, comes with 2-3 items
○ Essential Plan — $95/mo, comes with 4-5 items
○ Premium Plan — $150/mo, comes with 6-7 items
○ Baller Plan — $290/mo, comes with 9-11 items
Ok, let's dig in! I had the Essential Plan. I received two shirts, pants, shades, and socks. This is the June 2016 box review.
GoldWheels® Goon 99 Fleece. This was my favorite out of the two shirts. It fits me well, and the sleeves are mid-length. A little heavy for the weather but doable. I love the color! The back of the shirt says Goon 99 like a Jersey.
I also like the orange band details on the sleeves as it gives the clothing a character.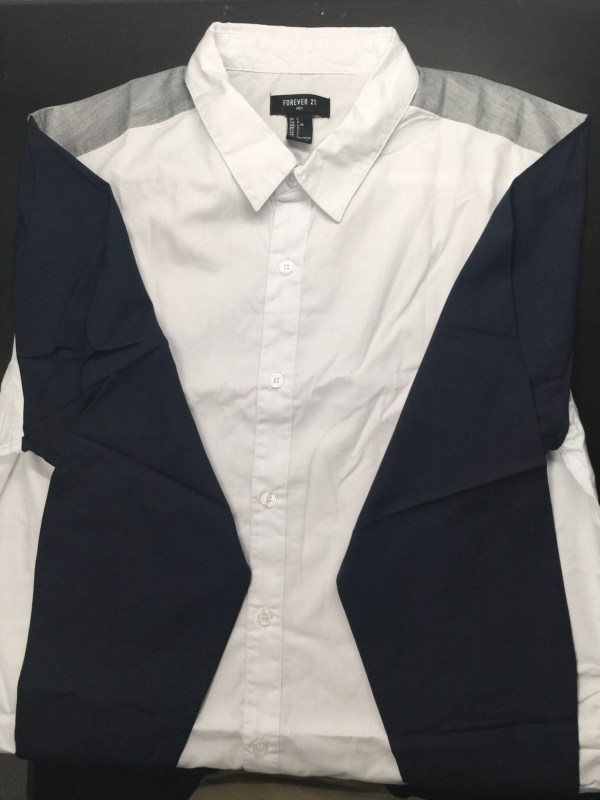 Forever 21 Colorblocked Shirt. This shirt has a tailored cut for a slim fit. I wore this shirt to work and even though I got large, it fit like a medium. I have a big chest so the buttons we're holding on for dear life. But that didn't disappoint me. Maybe I should have washed it first, but it was hot that day. Woven shirts usually make me sweat (a lot). I lifted my arm and the blue from the sleeve bled onto the white of the shirt.
No bueno 🙁
Silver Aviator Shades. I'll never turn down shades! It has a solid frame and polycarbonate lenses. It looks simple but cool.
Richer Poorer Inc Athletics Everyday Crew Sock. The color is great, just really thick. They come up to my calves and are comfortable. However, it's better worn in the winter.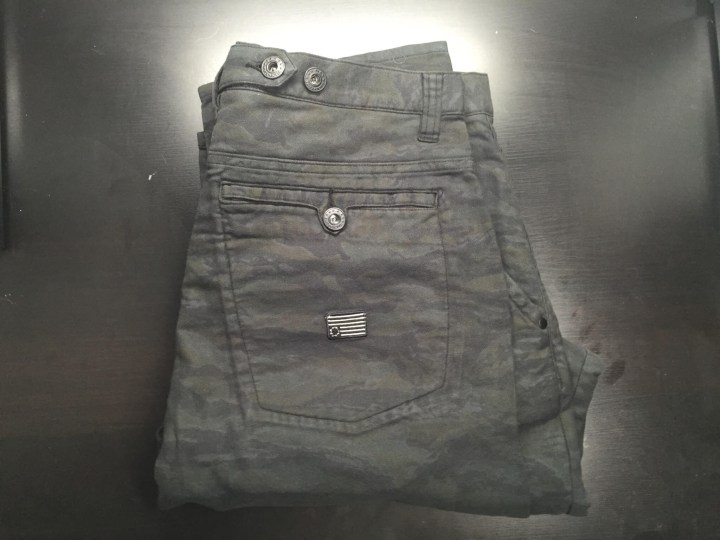 Lastly, I have here a Black Scale Camo Pants, which I can pair with the shirts I received in the box.
These are nice and comfortable! They fit well and have a relaxed fit. I like that they're not fully camo and more of a muted green, grey and black.
Is ThreadBeast Worth It?
In terms of convenience, yes! When it comes to value, still yes. ThreadBeast is a clothing subscription designed for men who are into streetwear. The process is smooth, and it only took me a minute or so to set up a subscription. They have a style quiz that helped the stylist handpick which items suit my taste and fashion sense. There are even 4 plans to choose from, so you can pick which fits your budget. Everything is brand new, and it is for you to keep. The experience is fun, and it's a convenient way to refresh my wardrobe.
I also appreciate that both shirts in my box complement the pants. Not to mention, the socks match the color of the Goon 99 shirt, although I prefer to wear the socks in the winter. Overall, I was happy with three of the five things I got. I just wish I saw more summer wear like shorts, tees, tanks, etc…
All About ThreadBeast
It is streetwear the right way! ThreadBeast makes streetwear shopping personalized and accessible. It's one less trip to the mall, giving you pieces for your unique style while saving you time.
How does ThreadBeast work?
A wardrobe refresh is made easy by ThreadBeast. This clothing subscription will first learn your style before curating a box for you. It starts with a style quiz that'll help determine your fashion sense and taste. There are 14 questions in all, and it asks about your preferred style (Anything Goes, Casual & Relaxed, or Crisp & Clean), the colors you like (Muted, Mix & Match, or Bright), your sizes, height, weight, and more.
Once done, you'll have the chance to pick the subscription plan you like. Available are the Basic (2-3 items), Essential (4-5 items), Premium (6-7 items), and Baller (9-11 items). Your answers on the quiz will then be evaluated by a personal stylist who will handpick the items and assemble a package just for you. Each box comes with tops, bottoms, accessories, premium pieces, and shoes, depending on your chosen plan.
Your unique style box includes some of men's favorite brands like Puma, Quicksilver, Herschel, Nike, Adidas, Ralph Lauren, and more! After you check out, they'll process and ship your order. What's left to do is wait for your box to be delivered, which means it's one less trip to the mall!
They also have a loyalty program where you can earn points to use for discounts, bonus items, gift cards, apparel, and accessories. The subscription doesn't acknowledge return and refund to keep their prices low. Exchange is possible if it's about a sizing issue. You can also pause delivery or cancel when you think it's time – no commitment!
How much does ThreadBeast cost?
A subscription from ThreadBeast depends on the plan you choose. It costs $60 a month for the Basic plan, $95 a month for the Essential Plan, $150 a month for the Premium Plan, and $290 a month for the Baller Plan. For Canadian subscribers, only the Basic ($55 a month) and Essential plan ($85 a month) are available (price in US dollars).
The brand takes care of all shipping and handling costs. All you have to pay is the price of the subscription. You can also get discounts off your total if you have promotion codes. One thing to take note of is that it is only eligible for the Essential and Premium plans. Everything is for you to keep – no additional cost!
Where can I buy ThreadBeast?
Getting a style box and enrolling in a subscription is smooth and easy through ThreadBeast's official website. It is user-friendly, and you can comfortably navigate the site. Just click the "Get Started" button to take the quiz. Answer everything and select your plan, and they'll curate a box uniquely for you, so you don't have to take trips to the mall. Supply them with your billing, shipping, and payment details to get it done!
Where and how does ThreadBeast ship?
As of the moment, ThreadBeast only processes and ships orders made within the United States and Canada. They don't offer international shipping at this time. They also accommodate orders from APO, FPO, and P.O. Box addresses.
They usually ship the boxes within 4-8 business days to give their stylists more time to comb through the subscriber's profile. Sometimes, it may take up to 10 days during certain seasons. Depending on your location, you can expect your package to arrive within 3-7 business days after it leaves their warehouse.
Subscribers can also see where their package is at the moment through the tracking number included in the confirmation email.
How is ThreadBeast packaged?
All your new clothing pieces, from tops to bottoms to accessories, will be delivered to your door in a simple mailer box with ThreadBeast branding. Everything is folded and wrapped with tissue paper, then sealed with a sticker. They are all neatly stacked inside the box.
If you opt for the Baller plan, which comes with shoes, your new footwear is packaged in its original box. It is sent with the mailer box (where the tops and bottoms are kept) and packed in a big carton box.
What products does ThreadBeast sell?
Since ThreadBeast is a clothing service, they offer apparel and accessories in a subscription. They fill boxes with exclusive and diverse men's streetwear in four different box sizes: Basic, Essential, Premium, and Baller. They include tops, like tees, pullovers, polo, & jackets, and bottoms, such as shorts, denim, sweatpants, & the like.
The subscription also throws in some accessories, which may include hats, sunglasses, and socks. For the Baller plan, it includes premium pieces and footwear (including sliders) from brands like New Balance, Nike, Adidas, and more!
Can I gift ThreadBeast?
If you're interested in gifting ThreadBeast to the gentleman you know of, you can! Simply click on the "Gift ThreadBeast" tab on the website's navigation bar and choose which would you like to gift. Available are the 3 Basic packages for $165, 3 Essential packages for $255, and 3 Premium packages for $395. Each of these gift cards offers a style box each month for 3 months. Or, customize an amount instead!
Thinking about trying ThreadBeast? Use promo code HELLO on the essential and premium packages to get $50 worth of bonus items on top of your first package!
Visit ThreadBeast to subscribe or find out more!
The Subscription
:
ThreadBeast
The Description
: We deliver carefully curated packages of street wear every month, all based on your style and preferences. Complete your style profile so we can get to know you. Then select one of our budget friendly plans. Your style assistant will curate a package valued at an average of $80-250+.*
The Price
: $80.00 per month