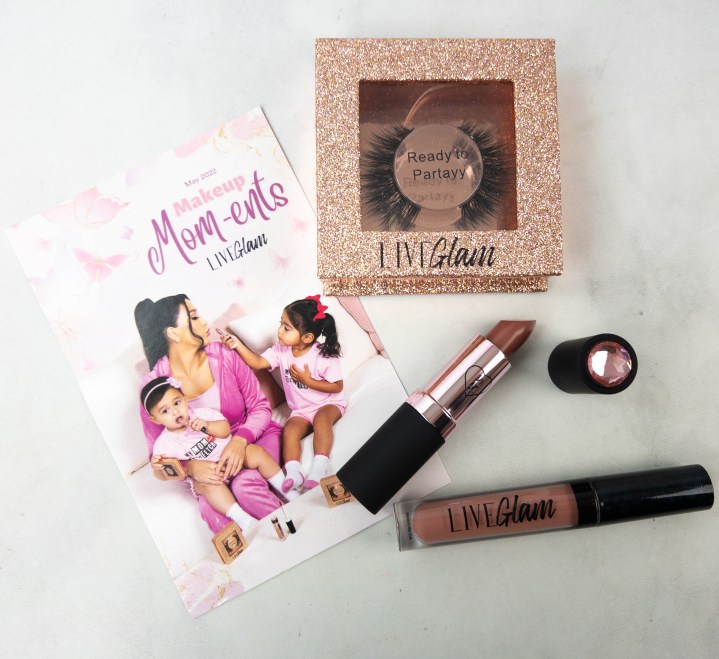 Here's everything you need to know about this beauty subscription
LiveGlam Club Subscription Review
LiveGlam is known for its bold lipsticks, striking palettes, and top-quality brushes – which is basically what every makeup lover's dream is! They previously offered individual subscriptions for their most well-loved products, but to help us live the glam life we've always imagined, they combined all of the best LiveGlam items in one monthly collection called the LiveGlam Club!
Each new collection is themed, giving you endless makeup ideas and inspiration as you explore your personal makeup style. Also, here's a piece of good news for ingredient-conscious beauty junkies: all LiveGlam products are vegan and cruelty-free!
DEAL: Pick a FREE lippie with any subscription plan during the sign-up process! Use this link to sign up and activate the deal – no coupon code required! Save 10% in the LiveGlam shop with coupon code HELLOBOXES.
LiveGlam Club Benefits & Drawbacks
LiveGlam Club Benefits
Vegan and cruelty-free products
All LiveGlam products in one package
Ability to swap items
Has a rewards system
LiveGlam Club Drawbacks
There might be a waitlist
Club packages and shop purchases ship separately
LiveGlam Club Review
Summary
LiveGlam Club is a monthly subscription of LiveGlam beauty products, including lipstick, eyeshadow, and brush. Member perks include trade options, which means they can swap out multiple items anytime before their subscription renewal date. There are also shop discounts and a rewards system where members can earn reward points and redeem their favorite products. LiveGlam makeup items are paraben-free, vegan, and cruelty-free.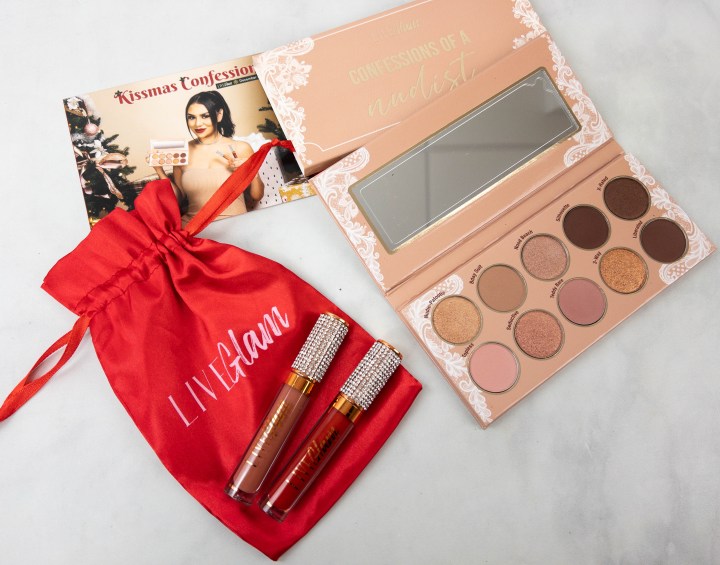 Let's take a look at some LiveGlam collections! Most monthly collections include lip products, like liquid lipsticks, glosses, lip liners, and matte lipsticks. It's great for makeup enthusiasts who want to build their lippie collection effortlessly.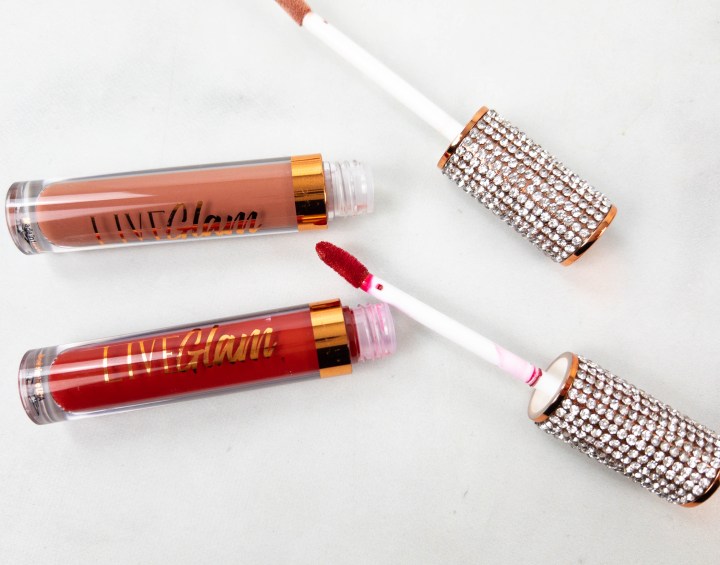 LiveGlam's lipsticks are always a stand-out because they have a good color payoff and they are not too drying. They also smell good! The lipsticks above are from the KissMas Confessions collection, which are bold and bright in time for the holidays.
The lippies are either paired with palettes or brushes and sometimes even faux mink lashes. The variety makes it fun to mix and match different products for different kinds of glam looks.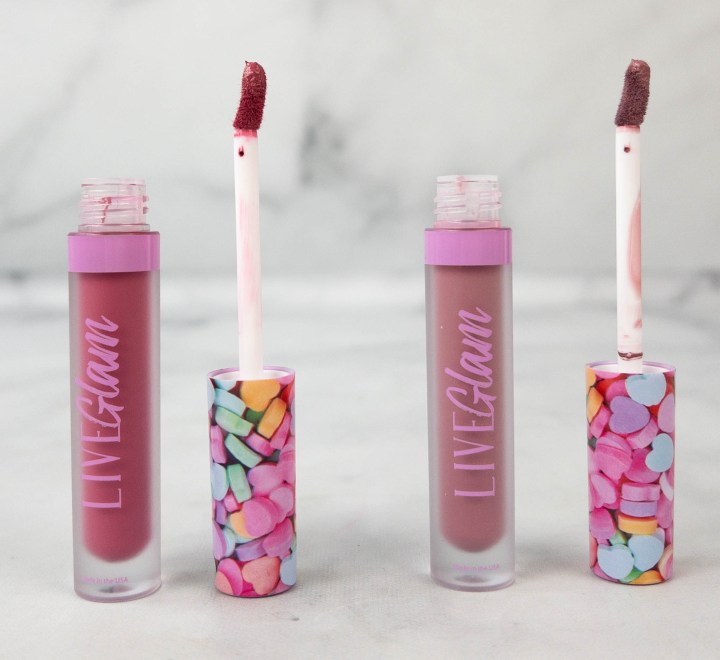 Another thing that makes LiveGlam's lip products exciting to collect is that they feature a different design every month. From cute printed designs to faux jewels on the cap, these look great when displayed!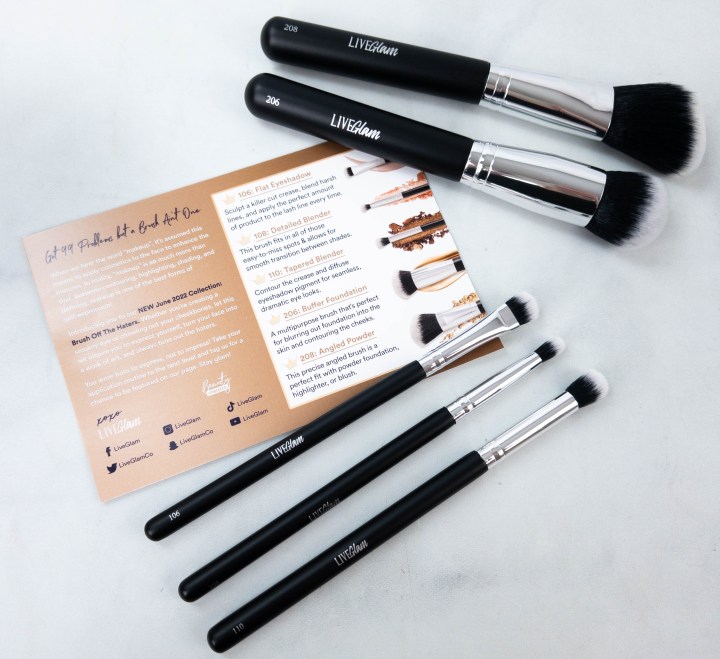 Whether you're a makeup professional or simply a makeup enthusiast, LiveGlam brushes can help you create different kinds of looks for different occasions! Some of the brushes you can look forward to in your LiveGlam Club package are blending brush, highlighting brush, eyeshadow brush, contour brush, lip brush, and foundation brush. They also come in different designs every month, from plain and neutral to colorful and glittery!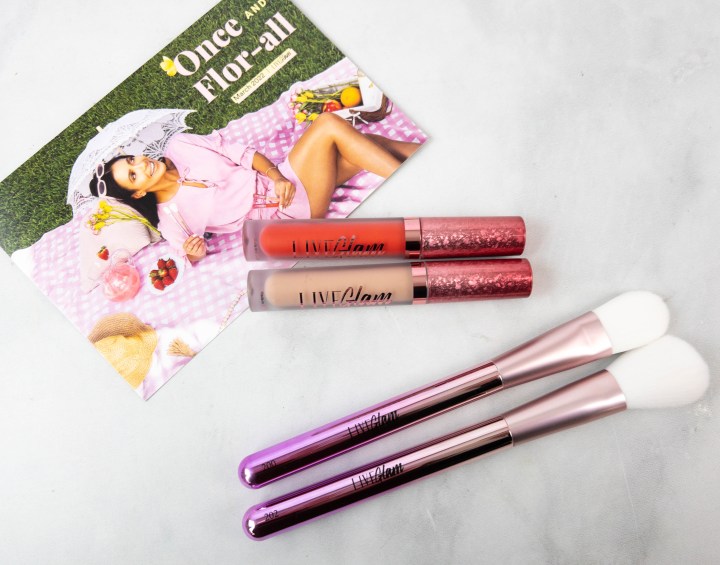 We're also living for LiveGlam themes! Whether season-related or holiday-related, they never run out of creativity on matching lippies and palettes with what's currently in. Pictured above is the Once and Flor-All collection, which included spring-friendly colors.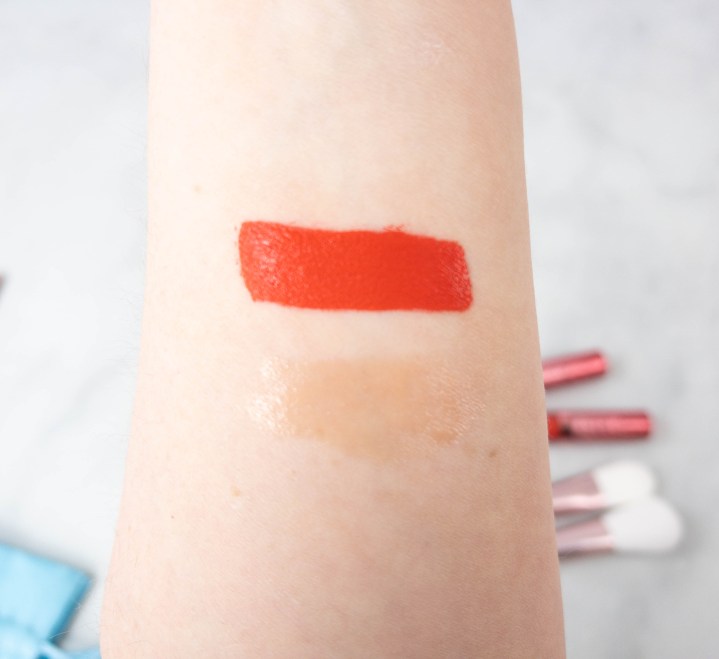 Here's a sample swatch of the lip products from the Once and Flor-All collection! Above is a tangelo rose matte shade for a pop of color, and below is a nude gloss for a no-makeup look. Both are gorgeous! Whether bold or neutrals, LiveGlam doesn't disappoint.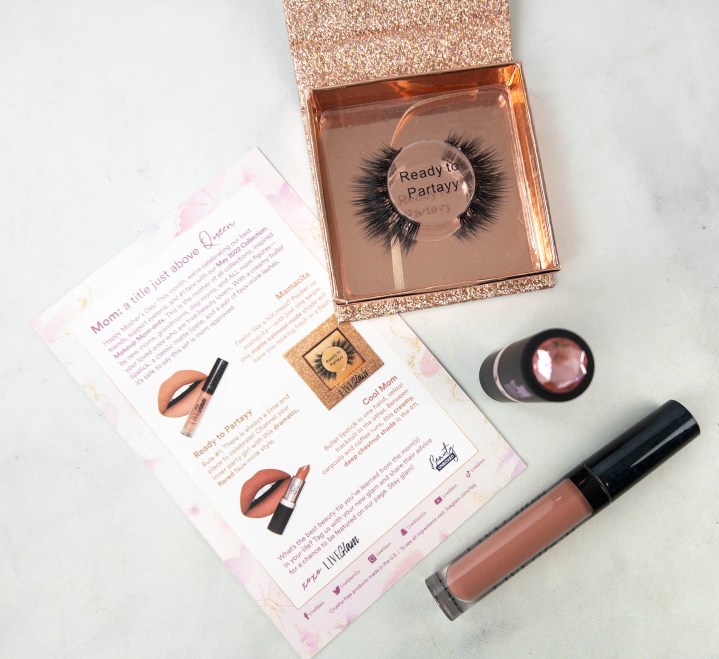 You can also count on LiveGlam if you want to celebrate the glamorous women in your life. For instance, they released a glam mom-inspired collection for Mother's Day. They put a glam twist on what items moms love and enjoy, and everybody else can wear them confidently!
Is LiveGlam Club Worth it?
LiveGlam Club delivers exactly what it promises: glam products in every package! There are always new makeup items in lovely colors to look forward to every month, so if you love experimenting with makeup styles, LiveGlam Club is worth a shot. Some month's collections may not be everybody's cup of tea, but the great thing about this subscription is that you can always swap what you don't like before the deadline! Fans of LiveGlam products also now have a chance to get different kinds of LiveGlam products in one subscription instead of having to subscribe to several subscriptions at a time, which is a budget-friendly choice from this already inexpensive subscription. For someone who is just starting a makeup collection, this might also be a great opportunity to get your hands on amazing items without going over budget!
Moreover, they focus on creating products with skin-loving ingredients. This means LiveGlam only manufactures vegan, cruelty-free, paraben-free, gluten-free, phthalate-free, stress-free, and non-comedogenic products. No more worries about harsh chemicals or toxic ingredients!
All About LiveGlam Club
How Does LiveGlam Club Work?
Ready to put a touch of glam into your everyday looks? LiveGlam launches new products each month and gives LiveGlam Club Members exclusive access to them. You can look forward to themed collections which may include lip products, eyeshadow palettes, brushes, and more for a complete makeup look.
Signup is easy peasy. Click the "Begin Here" button on LiveGlam's homepage and pick your first collection. Then, select your preferred plan type: monthly plan, 6-month plan, or annual plan. Once you're done, all you have to do is to wait for the monthly shipments and enjoy the makeup products as you please. Also, don't forget to rate your monthly collections after receiving them! Four days after your package ships out, a rate option will appear on your account's Subscriptions tab. When you rate your monthly collections, your feedback helps them create products you lust for.
How much does LiveGlam Club cost?
The price of your LiveGlam Club subscription depends on the plan you choose. A month-to-month subscription plan is $21.99, while a 6-month plan is $119.94. You can also get a 12-month subscription for $239.88, with 1 month free. All subscriptions come with 100 LiveGlam Reward points every month, as well as unlimited trade and skip.
Where can I buy Liveglam Club?
LiveGlam Club is available through their official website. Their products are not available in retail stores, but they do offer retail purchases on their website, in case you're not ready to commit to a subscription.
Where and how does LiveGlam Club ship?
LiveGlam Club ships in the US and internationally, except in these countries: Austria, Belgium, Botswana, Bulgaria, Croatia, Cuba, Cyprus, Czechia, Denmark, Ecuador, Estonia, Finland, France, Germany, Greece, Guatemala, Hungary, Iran, Ireland, Italy, Latvia, Liberia, Libya, Lithuania, Luxembourg, Malta, Netherlands, Nicaragua, North Korea, Poland, Portugal, Romania, Slovakia, Slovenia, Somalia, Spain, Sudan, Sweden, Syria, Ukraine, and Yemen.
How is LiveGlam Club packaged?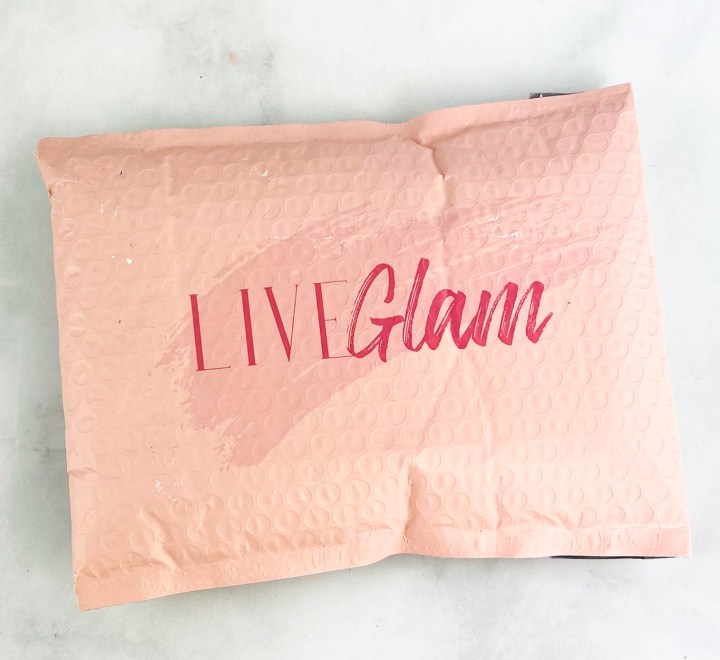 LiveGlam products arrive in a bubble mailer instead of a box. You will also get a silk bag in a different color every month with LiveGlam Lippie Club text printed on it. These reusable bags are perfect when you want to take your favorite LiveGlam items on the go.
What products does LiveGlam Club sell?
LiveGlam offers high-quality makeup products! For the lips, they have lippies, scrubs, lip liners, lip crayons, lip balms, bullet lipsticks, and lip oils. To glam up the eyes, there are faux mink lashes, palettes, and glitter eyeliners. For the eyes, they have faux mink lashes, palettes, and glitter eyeliners. Of course, there are also the widely popular LiveGlam brushes, including eye brushes, face brushes, and brush sets.
What are your favorite makeup products from LiveGlam Club?