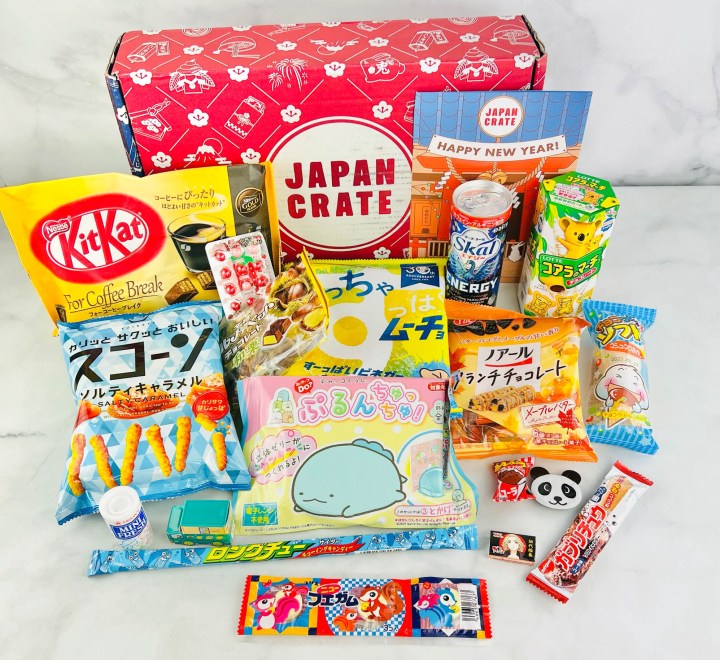 Themed HAPPY NEW YEAR, Japan Crate January 2023 brought us delicious Japanese snacks to start the year on a sweet note! There are well-known chocolate treats in the box, as well as unique goodies that we're trying for the first time. Our box even includes a yummy drink and a DIY candy kit! Read our review below to know more about this subscription box for Japanese snack lovers!
The subscription levels available for this box are the Original Box and the Premium Box. You can choose depending on how many new snacks you want to try each month! We received the Premium Box to review.
DEAL: Save $3 on your first regular or premium crate! Use coupon code HELLO.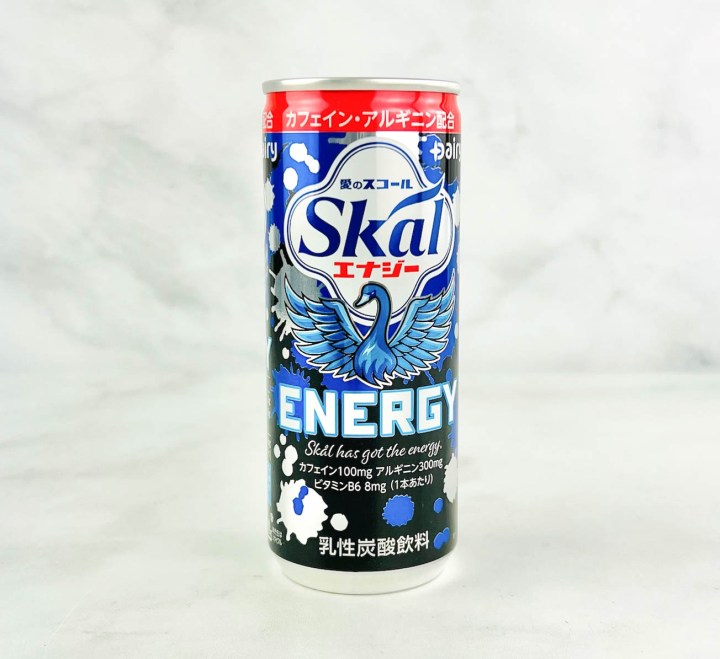 Let's start with this month's featured Japanese beverage: Skal Energy Drink! It's a lactic carbonated drink with a light and silky feel and a mixture of spices including nutmeg and cinnamon. The taste is unique and refreshing, and would be more appropriate for summer!
Koikeya Suppamucho Sour Vinegar Chips is a unique and interesting snack, ideal for your sour food cravings or as a pairing for beer! Made with GMO-free Japanese potatoes, these chips offer a satisfying crunch and a sour vinegar flavor that's truly addicting.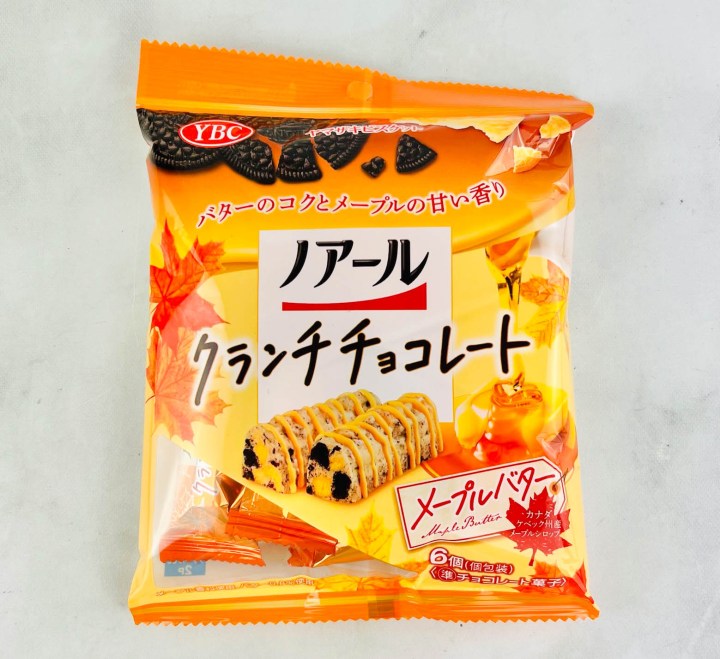 Fall has long been over, but we still can't help but love this pack of Yamazaki Biscuits Noir Biscuit Crunch Chocolate! It has a cocoa cookie base with maple chocolate made with maples from Quebec, Canada. I enjoyed the crunchiness of this treat, as well as the combination of rich flavors.
Koikeya Scone are corn snacks that come in different flavors, and the one we received from Japan Crate is Salty Caramel! It didn't disappoint with its perfect balance of saltiness and sweetness in every bite. The corn puffs were also light and crunchy. This would be something I'd reach for when I'm craving for a sweet and satisfying snack while watching a movie!
KitKat For Coffee Break is a Japan-exclusive KitKat flavor, created to match Nescafe Gold Blend instant coffee! It features KitKat's signature crunchy wafers, but this time, it has a mildly sweet chocolate coating that doesn't overpower the aroma and taste of your cup of joe. It's definitely the perfect pick-me-up and a great way to enhance your afternoon breaks!
Alphabet chocolate, or the bite-sized chocolate cubes featuring a random letter on each of them, is quite a popular treat in Japan. This time, we received these well-loved chocolates in chestnut flavor! They were sweet and nutty, definitely better than the plain chocolate variant. I like that they're individually wrapped, so I can take them on the go with me!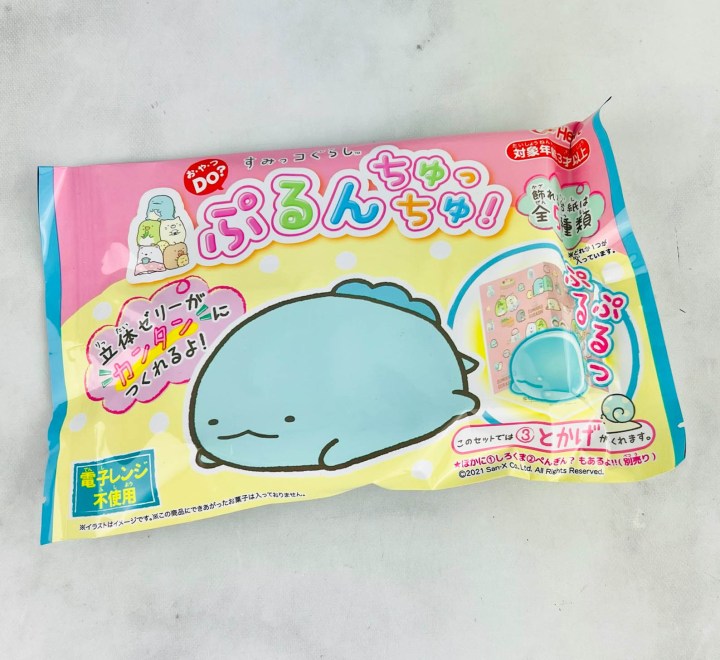 The ever-popular Sumikko Gurashi characters were present in this month's box, through this DIY candy kit called Purunchuchu Jelly. The kit includes the ingredients you need for making yummy jelly candies, as well as a tray mold where you can put them in. There are three 3 possible character-inspired designs for the jelly mold: Shirokuma, Neko, and Tokage! The kits are sent at random, so that's added fun and surprise to the box.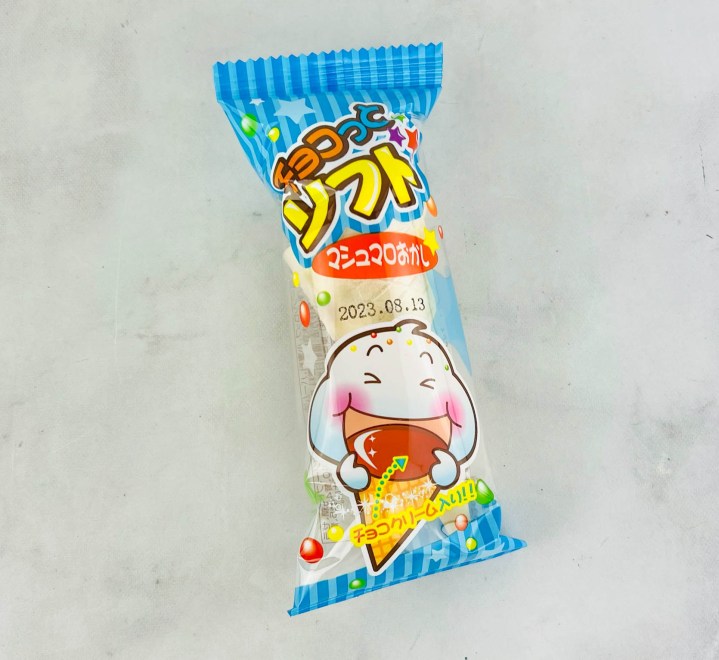 Yaokin Ice Cream Marshmallow is not real ice cream but sweet marshmallows placed in a cone! Still, it's a sweet and yummy treat that you can reward yourself with. The marshmallow is chocolate flavored and it's just the perfect dessert after a meal. You can also pair it with hot chocolate!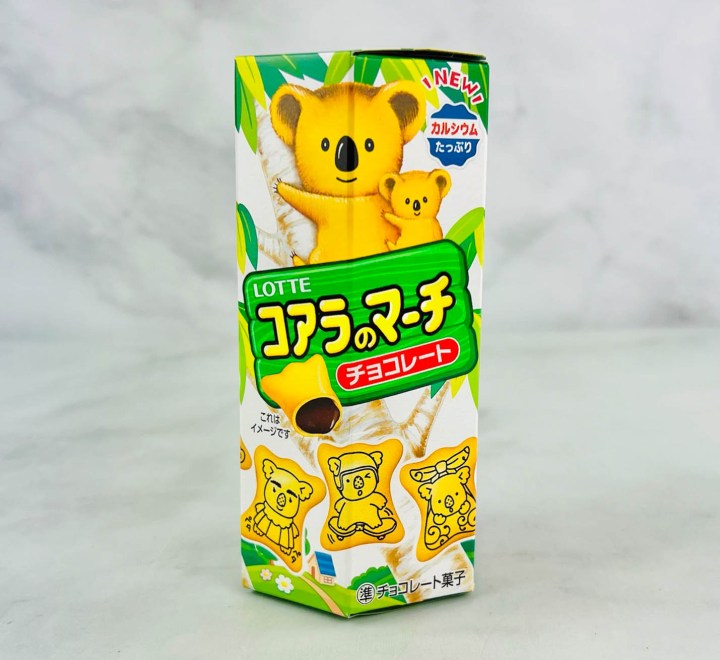 Koala's March is a classic Japanese snack featuring crisp biscuits filled with smooth chocolate filling. What makes this snack a hit is the adorable koala designs on the biscuits, showing the koalas doing fun things or wearing cute clothes – there are over 400 unique koala variations to date!
Long Chew Cider is made for both chewy candy fans and cider lovers. It's indeed long, so you may want to cut it into smaller pieces before eating. I liked its refreshing soda flavor! (In Japan, cider refers to soda drinks instead of the alcoholic beverage made with apples.)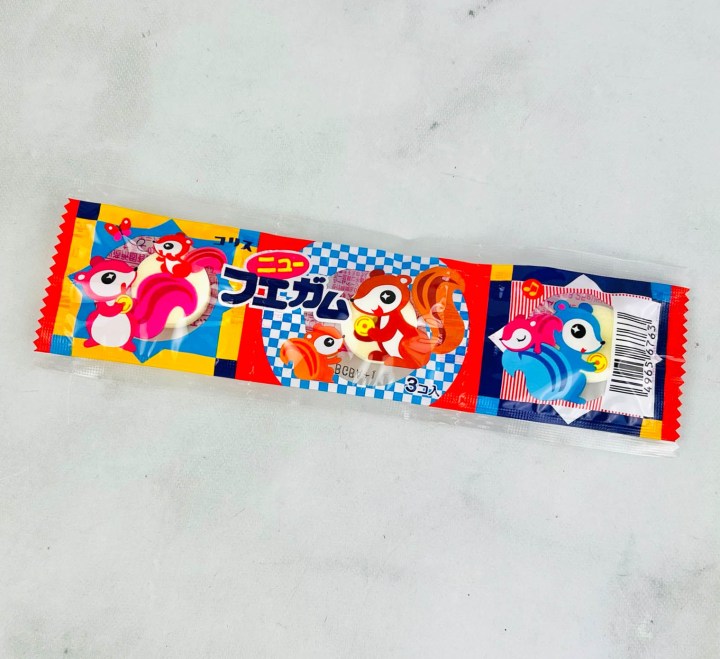 Japan never runs out of fun candies like this whistle gum. I received three of the soda-flavored gums in the box. They're yummy plus you can really make sounds using them – definitely a hit for kids and kids-at-heart.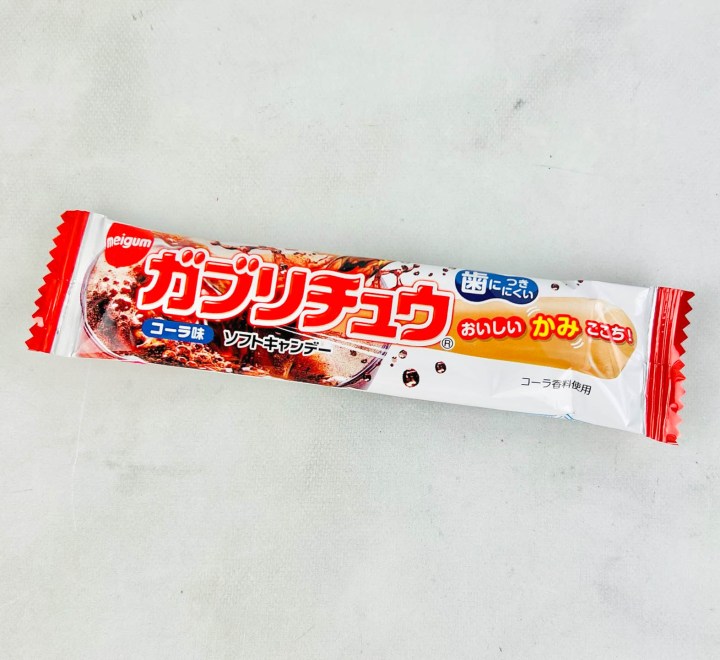 Gabrichu Soft Cola is another chewy candy to love! It's infused with a refreshing cola flavor that lasts a long time.
The strawberry mint candies arrived in a cute box that resembles a Yamato Transport delivery truck! It's a cute collectible, and kids can play with it too. The small candies taste good – mostly sweet and have no tart flavor like other strawberry-flavored treats.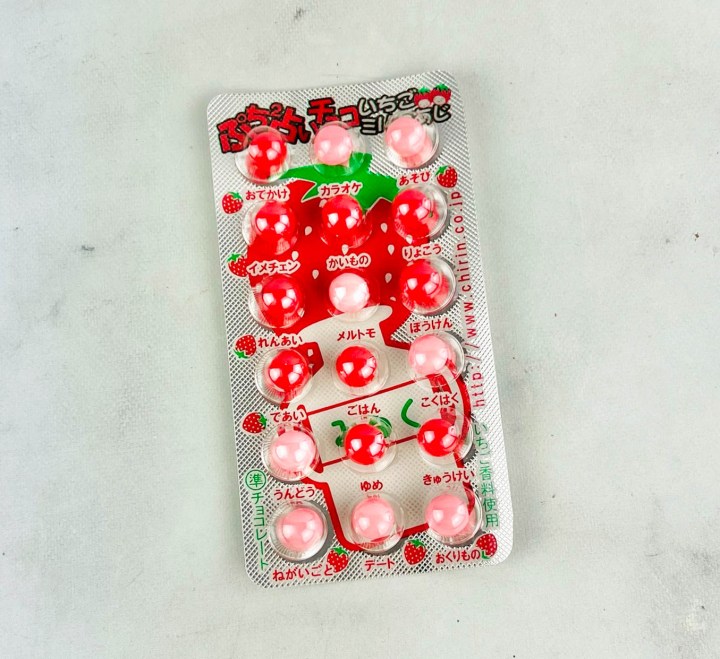 Here's another candy for strawberry lovers: Petite Fortune Strawberry Milk! Each piece is bursting with the fruity flavor of strawberry milk, and it's complemented by a delicious chocolate coating. It's also known as the fortune-telling candy because under each treat, you will find a sign that represents your luck regarding a certain aspect of your life. For instance, a double circle means great, a single circle means good, a triangle means so-so, and "x" means bad.
Here are even more candies to enjoy: Tokyo Revengers Chewing Gum featuring a random character from the series on each wrapper, Acorn Gum Cola which is a candy with gum in the middle, and Orion Mini Fresh Ramune which refers to small candy tablets oozing with a sweet and sour taste. The last one is called Panda and Piglet Mints, and you can get the mints in either a panda or a piglet-inspired packaging. I received the panda and it's so cute!
Japan Crate always brings a fun surprise for snack lovers like us! This subscription introduces us to different varieties of snacks and candies from Japan, including classic favorites and unique goodies. There were lots of chocolates in this month's box, as well as soda and cola-flavored candies. I particularly enjoyed the KitKats made to complement my daily coffee, as well as the maple butter chocolate treats. It's also awesome to discover new Japanese drinks through our box! Once again, our tastebuds have traveled all the way to Japan and we're pretty satisfied. If you're a fan of Japanese snacks or you're just up for some snacking adventure, you'd probably love this snack box too!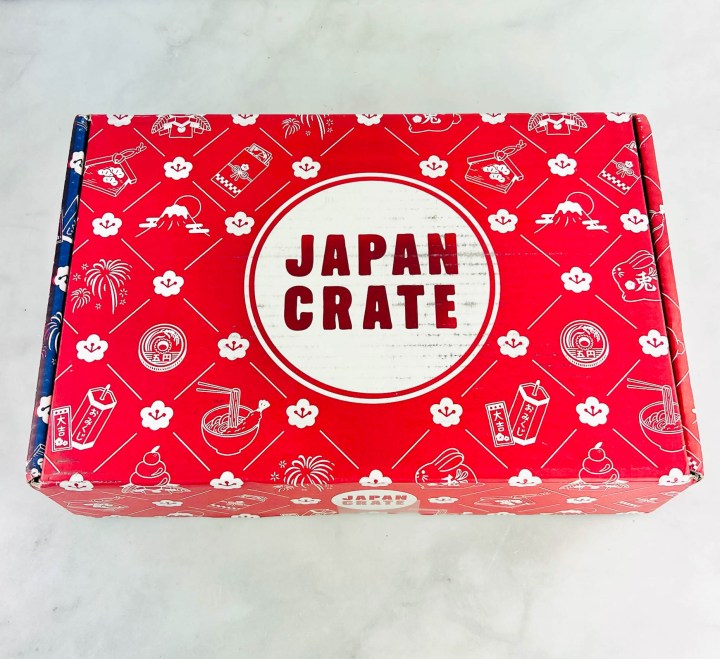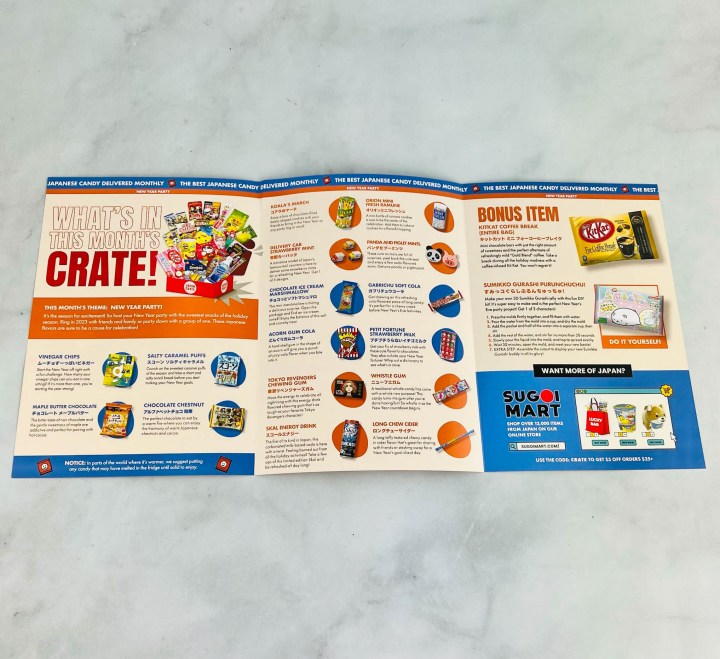 Japan Crate is a monthly subscription of Japanese candy and snacks, curated for you to "experience the excitement of Japan"! Currently, there are two subscription levels – Original ($35.95 per month) and Premium ($49.95 per month). All crates ship free from Japan to all around the world. Yes, this subscription is based in Tokyo, Japan which means you will only receive authentic Japanese snacks!
Visit Japan Crate to subscribe and find out more about this subscription!