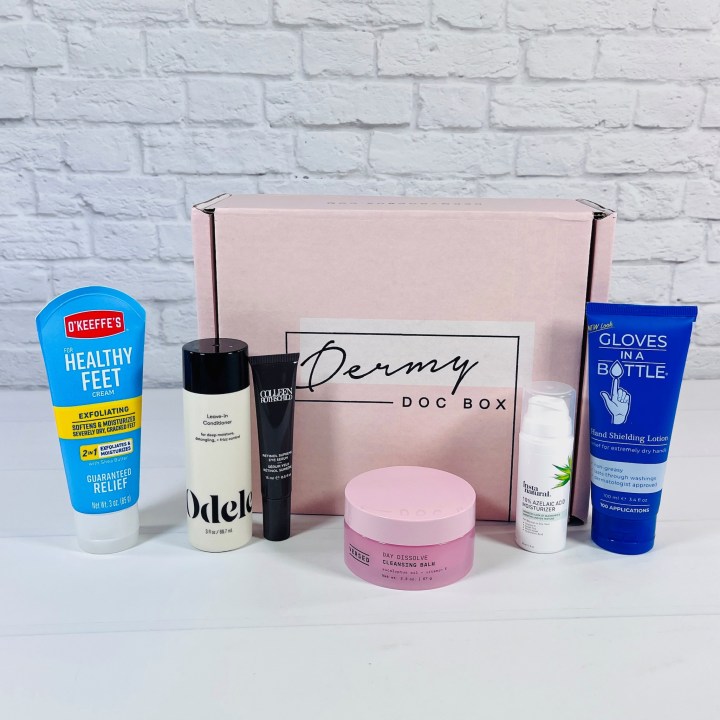 Dermy Doc Box sends a box filled with dermatologist-approved products every quarter! The Holiday 2022 box was designed to help keep dry winter skin from becoming a huge problem, with creams for hands, feet, and even hair! Read my review below and learn more about the products that were sent this season!
DEAL: Get $5 off your first box! Use coupon code HELLODERMY.
Gloves in a Bottle Gloves Shielding Moisturizer for Dry Skin ($14.30) I remember that Avon had a product called Silicone Glove and it made my hands feel weird, probably due to the dimethicone, but this lotion disappeared into my skin and didn't leave a greasy feeling behind. It is fragrance-free but I noticed a slight scent when I first applied this white creamy lotion. It's supposed to last through several hand washings and is supposed to be safe for those with sensitive skin.
O'Keefe's Healthy Feet Exfoliating Cream ($8.99) This cream is supposed to help deeply moisturize dry, cracked feet while helping dead skin gently breakdown so it can be washed off (it's not a peeling mask like Baby Foot). There is a picture showing before and after on the brand's website and I have a hard time believing it can work that well, but who knows? I guess I can give it a try for two weeks and see if it helps. I've used it a couple of times so far and it dried quickly and didn't feel greasy. I have a feeling that using a foot file every couple of days may help enhance the effects, as would soaking. It has a slight minty scent.
Odele Leave-In Conditioner ($4.50) According to the back of the bottle this conditioner is best for all hair types except mine (fine, thin, straight). I try to avoid fragrance on my scalp due to allergies and decided to try using this as an in-shower conditioner rather than leaving it on my hair. I liked the scent, which is gender-neutral and has notes that I like, like oakmoss, although I also picked up something that reminded me of green tea. It's supposed to detangle and help define curls and while I have no curls to define, it did make it easy for me to comb my hair after using.
InstaNatural 10% Azelaic Acid Moisturizer ($17.97) Here's a product for normal to oily skin and since my skin is dry I'm not the ideal user. It's supposed to clear pores and reduce blemishes, calm redness, and improve texture. It has glycerin, hyaluronic acid, cica, and witch hazel. It's a creamy lotion that has an odor that isn't too stinky. I could feel it on my skin after applying, it doesn't dry down all the way.
Colleen Rothschild Retinol Supreme Eye Serum ($75) Most eye creams tend to disappear as soon as I apply them but this serum left behind a slick feeling and I actually like that in an eye care product. It also has a cooling applicator tip that may help depuff the area. Glycerin, dimethicone, retinol, and borage oil are some of the ingredients and the serum is supposed to lock in moisture, lift and firm the area, and revitalize the under eye area.
Versed Day Dissolved Cleansing Balm ($17.99) A long time ago I used to use Noxema on my face and this cleansing balm smelled similar, with a bracing scent of eucalyptus plus clove leaf oil. It's supposed to be eye-safe, dissolve into a milky cleanser, and not leave a residue on skin. I didn't dare use it on my eyes, the smell was warning enough for my sensitive skin. The product felt oily while using and didn't turn into a milky cleanser after water was added. It also left a slick feeling on my skin. The brand says that it's loved as a first step in a double cleanse (and an alternative to single-use cleansing wipes) so I made sure to follow up with my usual product afterwards.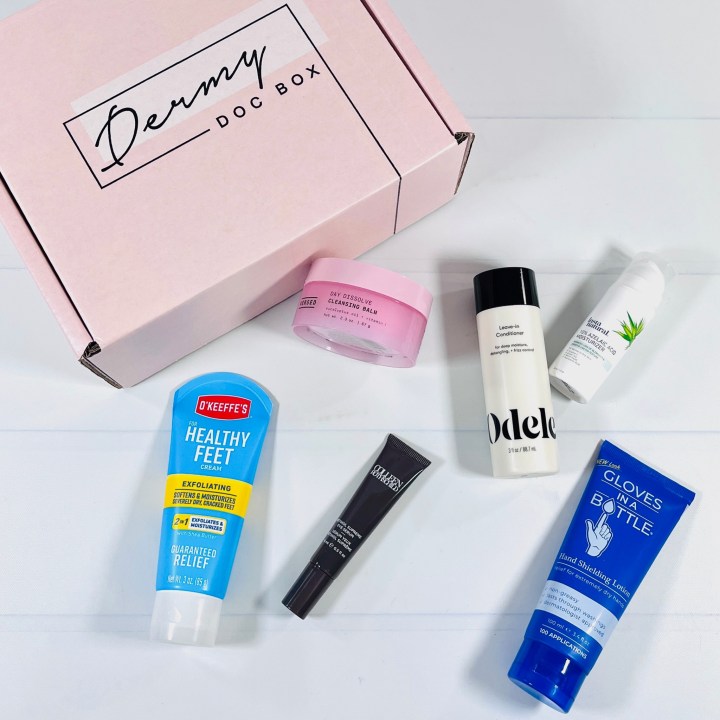 As with most subscription boxes, this one was filled with products that work for a variety of skin types and without a focus on just one type (such as acne-prone or aging skin). There is something in here for everyone but if some products don't meet your needs, then perhaps you can gift it to someone who will love it. I especially liked the under-eye serum and the foot cream, both of which are easy to add to my routine. The conditioner and azelaic acid aren't really products that I use but I can gift them to someone else. The cleansing balm and hand cream round out the box nicely and I thought the assortment was good for a winter box. This box had a retail value of around $139, with a majority of that coming from the eye serum.
There were a few cards with info and coupon codes for some of the products and brands.
Here's an opening picture. I placed the dissolvable packing peanuts in my compost pile.
This is the product info guide. Below is an info card with advice on how to deal with dry winter skin.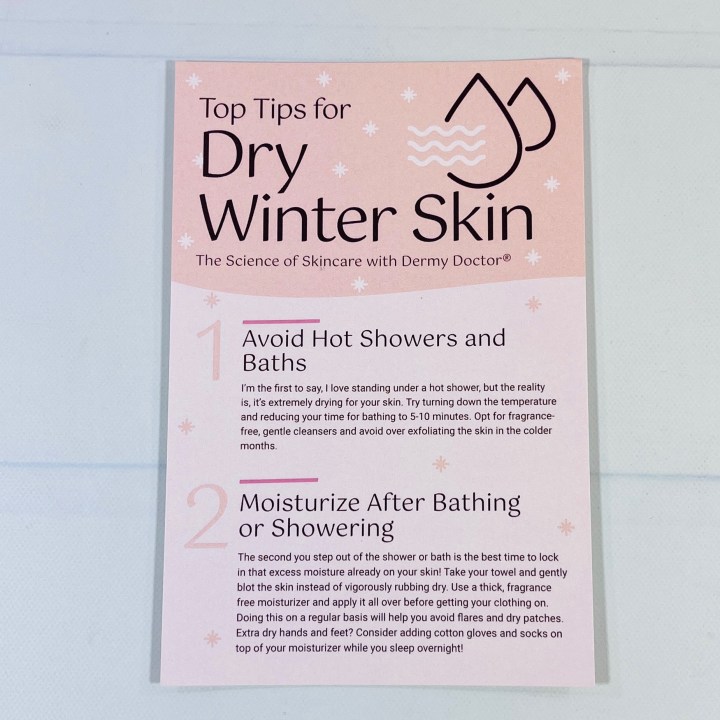 Dermy Doc Box is a quarterly subscription box full of skincare items that are curated by board-certified dermatologist, Dr. Fatima Fahs. The boxes will contain 5+ skin and haircare items and will have a value of more than $100. The brands will be both drugstore and high end and will be a combo of samples and full-sized. It's not customizable at this time but perhaps will be so in the future. Dermy Doc Box is $59.99 for a one-time purchase or subscribe and the price drops to $49.99! Shipping is free to the USA and it can be shipped to Canada for an additional fee.
What do you think of the Dermy Doc Box?