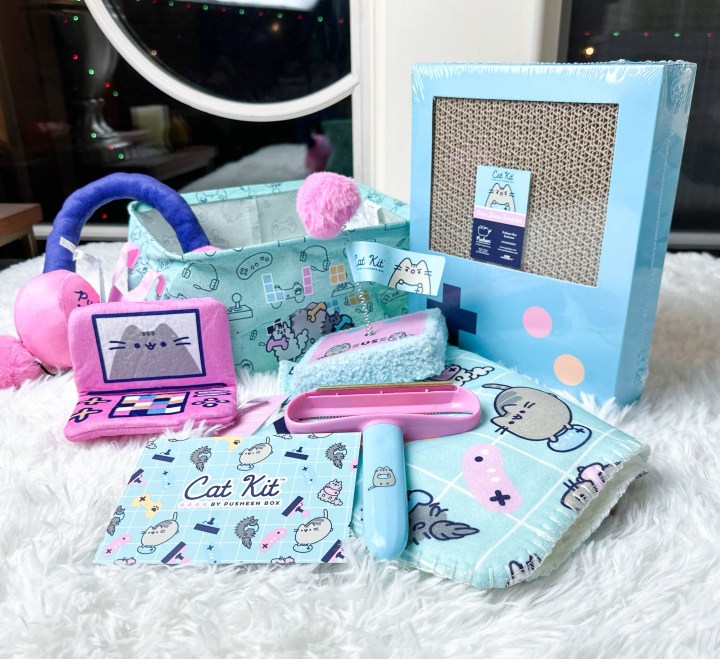 Cat Kit by Pusheen Box is a themed subscription box designed just for cats! For Winter 2022, they've sent us another amazing package to review. Themed GAMING, you can expect a collection of toys, grooming supplies, and more for cats to use, play, and enjoy in these cold winter months. I am excited to unbox this season's surprise upon seeing the box from the get-go! Scroll down to see what's included in the box.
The first item I've pulled out from the box is this Cat Hair Remover. It is supposed to be used by cat pawrents to remove fur from couches, curtains, clothes, blankets, and such. One side has plastic bristles, while the other has a grooved metal scrape/edge for removing hair more effectively (maybe even lint). The handle also features Pusheen holding a game controller, which is really cute! It's portable, allowing you to bring it even on your travels with pets.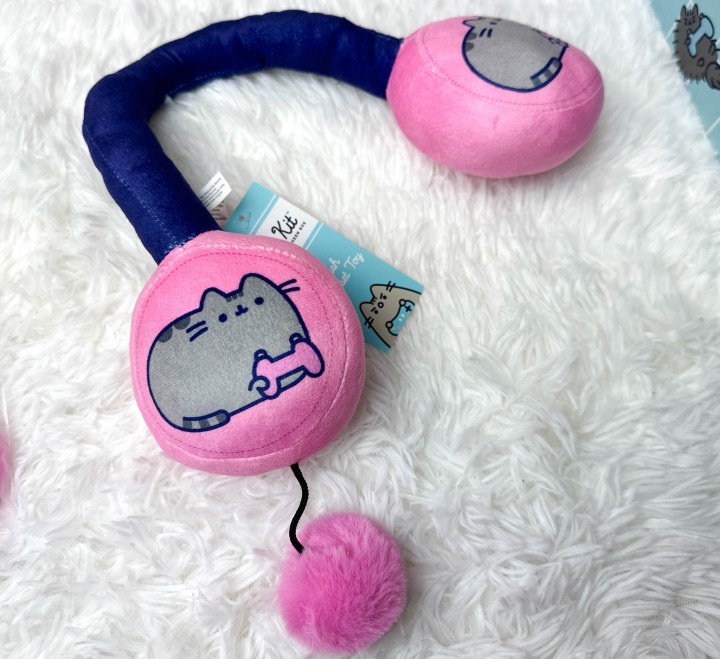 The next one is a Headphone Plush, and it's really cute! Although quite big than regular cat toys that felines can carry in their mouth, it still looks adorable. The little pompom that dangles on one end mimics a microphone, which I'm sure cats will love to play with. It's not catnip infused, so you may want to sprinkle some to get your furbaby to like it. Each ear pad even features Pusheen sitting happily with a game controller in her hands.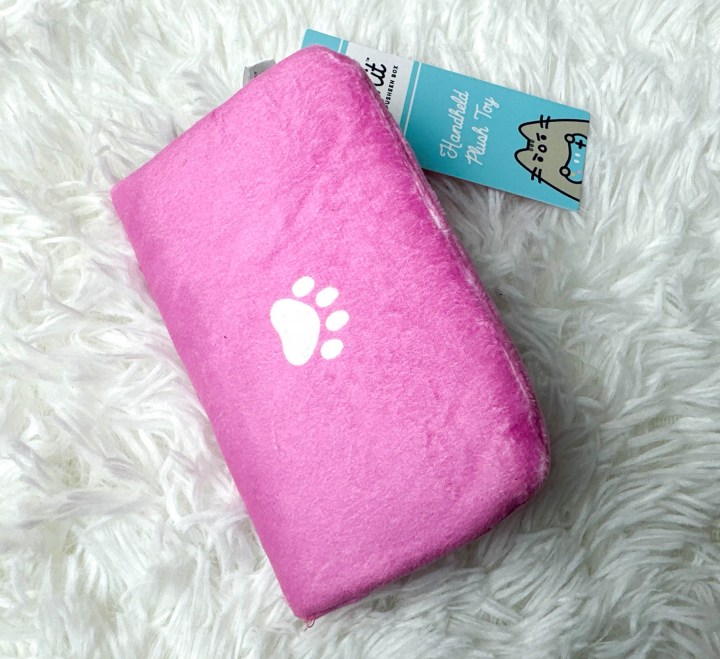 This Gaming Crinkle Toy is not just cute but super cute! It comes in the shape of a Nintendo DS and folds like it too. It has crinkle paper to attract cats to play with it for hours. I love the paw print on the outside and the controller print on the inside. You can even see Pusheen on the screen-like part of the toy. Surely this one will be a hit to cats!
Another toy in the box is this Joystick Teaser Toy. We received a similar toy back in Spring, and it's fun! It has a weighted base so it can stand and a pompom attached to a spring (designed to look like a joystick), so it can bounce and swing side to side when given a little push. The base is covered in a soft sherpa fabric and even shows Pusheen vs. Stormy on what I guess is a gaming challenge! And again, it's so cute!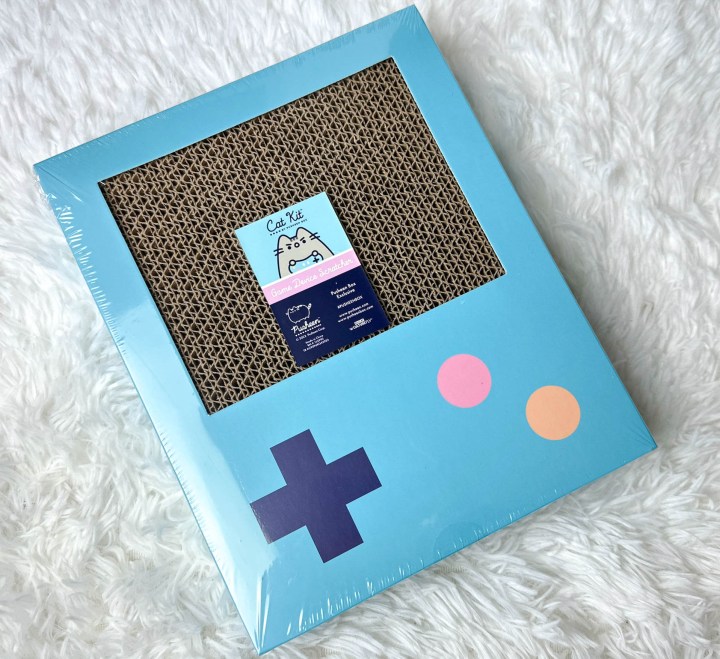 Here's one thing I'm sure cats would love in this box: Gaming Scratcher. It's nothing new that cats love some scratching, but this item made it so much fun to watch your feline friend do so. It came in an old gaming console shape box, which is just top-notch adorable! Bet cats wouldn't leave it alone and tear it off soon as you can imagine!
This Storage Basket is a nice addition to the box! It's collapsible, which means you can store it without taking up too much space when not in use. I appreciate how it can stand on its own when opened up and provides enough space to keep cat things sorted and organized. It has cute pink handles, which makes it easy to move it from one place to another. This cute basket has prints of a gaming console, headset, and joystick all around, plus colorful Tetris blocks on the front. You can also see the siblings Pusheen, Pip, and Stormy, each holding a console.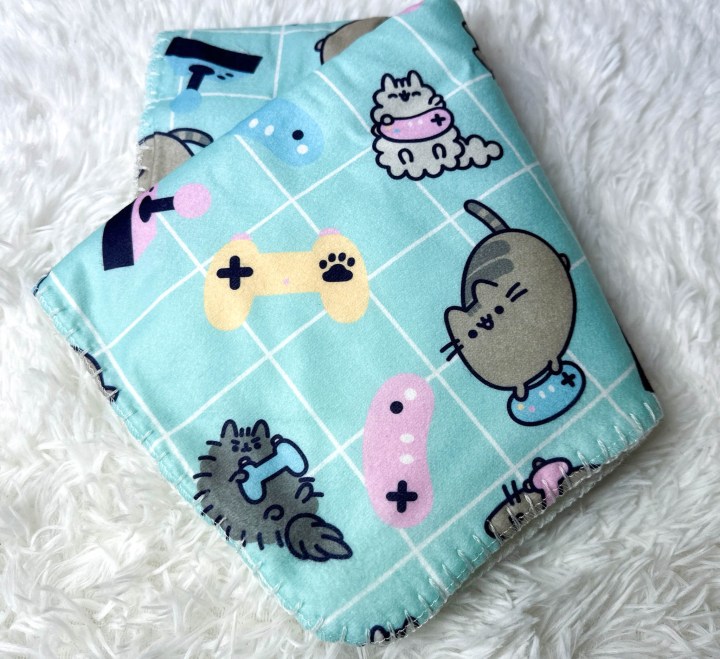 There's also a Pusheen Blanket to cap off the box. It is very useful, especially when your cat's asleep or traveling with your pet. The fabric has a soft feel and features a cute print that's the same as the box. The edges are also stitched nicely! The flip side is made of sherpa fleece material that provides the right amount of warmth for your cat during these cold winter months. It's just a little disappointing that it came small since it's really functional and fun to use.
Cat Kit By Pusheen Box included several items for the cat. There's always a good mix of fun and functional products that make the box all worth it. There are three toys, one cool scratcher, one soft and warm blanket for your furbaby, one hair remover for humans to use, and one storage basket to keep your cat's stuff organized. With just a little sprinkle of catnip on the toys, you can get your cats obsessed with playing with them. I also love the blue/pink colorway and the gaming theme of the month. Everything seems so fun not only for the cats but also for the cat ladies and gents! I also like how each seasonal box is part of the fun. It comes with perforation, allowing you to punch some holes out so your cat can play with it too! This subscription is loaded with functionality, fun, and excitement, perfect for cat families who keep searching for the most ideal cat box!
Each quarterly box also includes an info card with brief details about the items in the box. See it here:
Cat Kit by Pusheen Box is an officially licensed, quarterly subscription box packed with adorable accessories, fun toys, yummy snacks, and more for your favorite feline friend! It is a coordinated box of goodies for your cat, although some items need a human to operate. If you want Pusheen products for yourself, you can check out their sister box, Pusheen Box.
Visit Cat Kit by Pusheen Box to subscribe and find out more about this subscription!