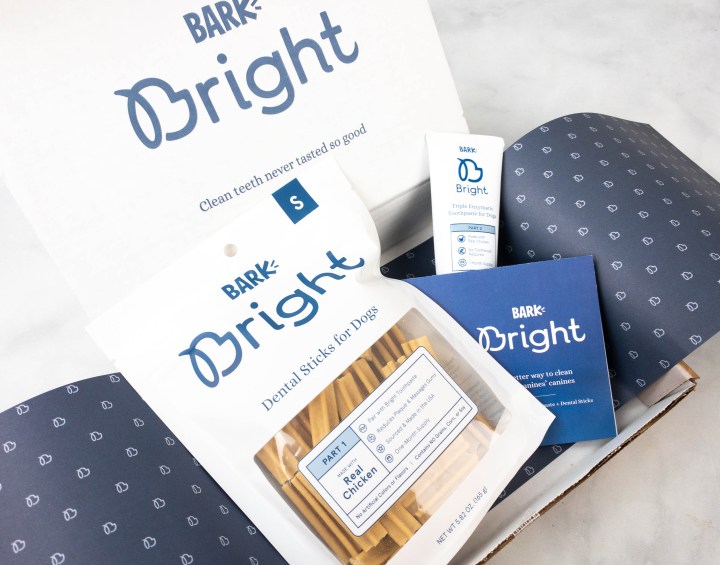 Bark Bright Dental Review
It's not just humans who need dental care, but dogs too! It may be easy for humans to treat dental diseases, but it can be challenging for our pets since they can't communicate well as we do. But, we can do something for them to help prevent plaque buildup and bad breath!
Enter Bark Bright Dental, a dental care subscription for dogs that offers a dental chew and toothpaste duo. With a powerful combination of ingredients, they work together so you can say goodbye to your dog's stinky breath and fight dental issues before it gets worse.
We're discussing everything about Bark Bright to help you learn more about taking care of your dog's dental health. Continue scrolling down for more information!
DEAL: Check for the latest special offer for Bark Bright! Use this link to get the deal.
OR Get a FREE extra month when you sign up for a 6 or 12 month subscription! No coupon needed, just use this link to get the deal.
Guide to our Bark Bright Review
Bark Bright Benefits & Drawbacks
Bark Bright Benefits
Eliminates a dog's bad breath
Helps remove plaque and tartar buildup
Offers an option for heavy chewers
No toothbrush needed – it's much easier to use
Customized to your dog's size
Available on a subscription, so you'll never run out
30-day money-back guarantee
Bark Bright Drawbacks
Some dogs aren't much of a fan of the flavor, but most are (luckily, my dogs love it!)
Only two flavors available
Not advisable for dogs with chicken allergies
No option for multiple dogs
Bark Bright Review
Performance & Effectiveness
Summary
Bark Bright is a dental subscription for dogs that helps you keep your dog's stinky breath away and break down plaque on their teeth. The Dental Kit is available as an add-on to the BarkBox or Super Chewer subscription or as a stand-alone subscription. You'll receive a month's worth of dental chews (either Original or Durable) and triple-enzymatic dog toothpaste!

My Bark Bright Review
Plaque and tartar buildup is a common problem among dogs, ours included. Bark Bright deals with it in two ways: the chew helps scrape the dog's teeth, while the active enzymes on the toothpaste break down particles that cause bad breath.
What are enzymes? They're a special type of protein that boost chemical reactions. They may be small, but they are powerful – and Bark Bright toothpaste has three of them! First is Amyloglucosidase (also known as glucoamylase) which breaks down carbohydrates in your dog's mouth and turns them into glucose. Another useful enzyme is Glucose oxidase – when mixed with oxygen and sugar, it becomes hydrogen peroxide which is a natural cleaning agent. Lastly, there's Lactoperoxidase, which reduces bad breath when it comes into contact with hydrogen peroxide. All three enzymes work together to make your dog's breath smell fresher than ever!
Also included in the box is an exclusive card from Bark Bright! There's also an info sheet from Bark Bright, featuring simple preparations and steps on how to feed the dental treats to your pups!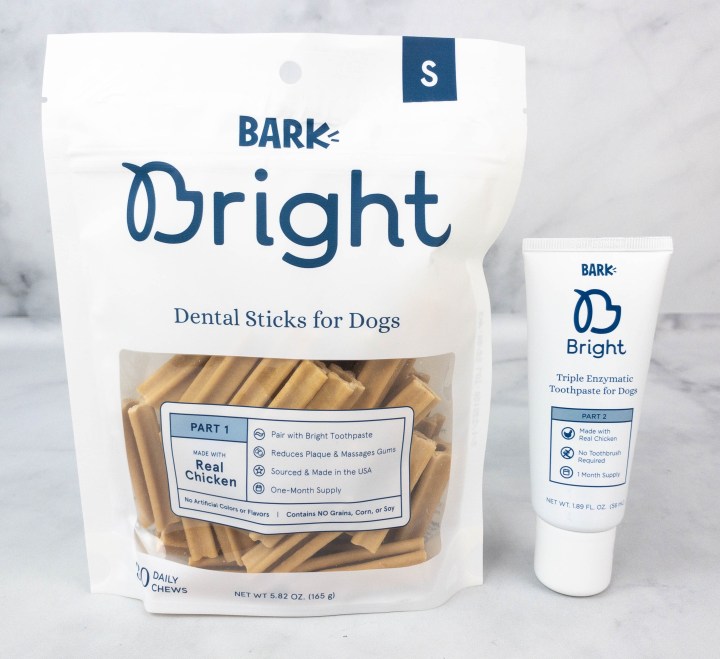 Triple Enzyme Toothpaste is a unique toothpaste made with lactose-free skim milk, glycerol, sorbitol, and chicken protein powder. This helps keep your dog's mouth healthy and smelling fresh! Each bag comes with a tube of Bark Bright's exclusive doggy toothpaste.
To be paired with the toothpaste is the Bark Bright Original Dental Chews which are made with real chicken. Each piece comes with grooves where you can put the toothpaste! These are grain and corn-free and don't contain any artificial colors or flavors either. Featured at the back of the pack are all the information you need to know about the treats including the nutritional content, ingredients, calorie info, and feeding instructions. Each bag contains 30 pieces of tough and tasty chewy treats, enough for a month of daily consumption.
P.S. Bark also offers Durable Dental Chews for heavy chewers, which are made with parsley, peppermint oil, and turmeric! If you choose this type of dental chew for your dog, you will receive 15 pieces in each bag. Aside from being made with vegetarian ingredients, what makes these Durable chews different is that they have proprietary nubs and ridges that make them last longer!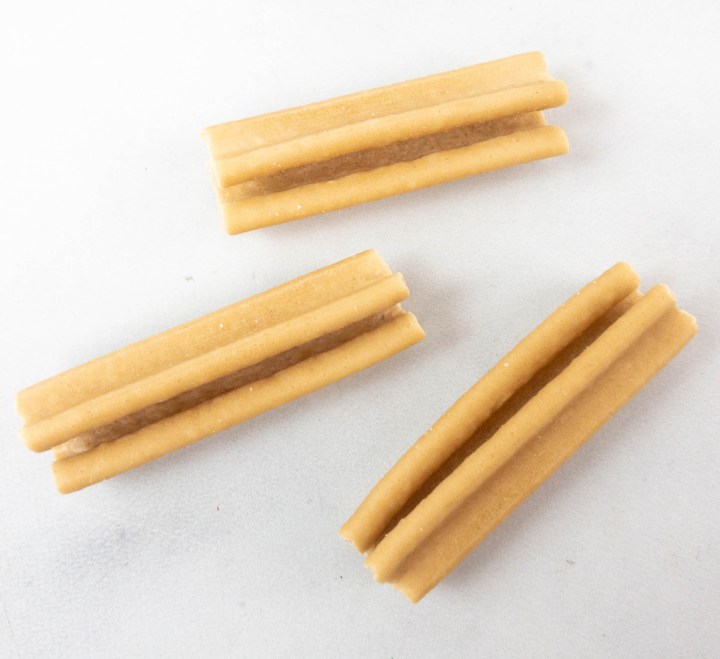 A piece of dental chew and toothpaste is all you need for your dog to have cleaner, healthier, and fresher breath. Just apply the 3-active enzyme toothpaste on a portion of the chewy stick…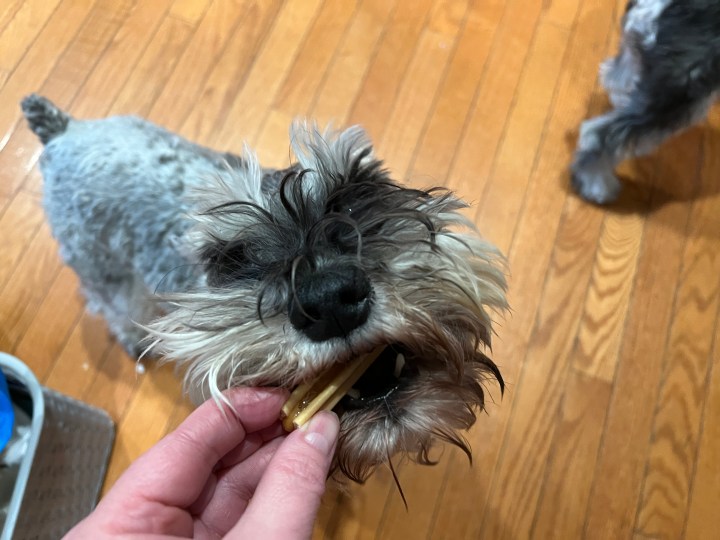 …and let your pups chomp on it! Our pup loved his yummy dental treats, and so did his baby sister!
Why is My Dog's Dental Health So Important?
Taking care of your dog's dental health is important for several reasons – but most of all their health and longevity.
First and foremost, dental disease can cause a lot of pain and discomfort for your dog. Just like in humans, plaque and tartar buildup on the teeth can lead to gingivitis and periodontitis, which can cause bleeding gums, bad breath, and tooth loss. That's painful for both dogs and your wallet.
Secondly, dental disease can also lead to more serious health problems if left untreated. Bacteria from dental infections can spread to other parts of a dog's body, such as the heart, liver, and kidneys, which can cause serious illnesses and even shorten your dog's lifespan.
Another important factor is that dental health is closely linked to overall health, if your dog's teeth are not healthy, it can lead to poor appetite, weight loss, and malnutrition.
Lastly, a healthy mouth will keep your dog's breath fresh and pleasant. It's not something that you may think about but having a dog with bad breath can be uncomfortable for both pup and parent.
Taking care of your dog's dental health is crucial to maintaining their overall well-being, comfort, and longevity. Regular teeth brushing, dental chews and regular veterinary check-ups are essential to maintain your dog's oral health and Bark Bright can play a vital role in helping maintain oral canine health.
Is Bark Bright Worth it?
Fun toys and yummy treats would definitely make your pups happy, but keeping them healthy is another thing. Bark Bright is a dog dental subscription that will not just give your dog a healthy and yummy treat, but it'll also keep your dog's breath fresher and away from various dental diseases. We loved our first Bark Bright box and we're definitely looking forward to future dental supplies for our pups!
Aside from improving a dog's health, getting into a dog dental routine can also help pet parents save money down the road. Keeping their mouths clean with Bark Bright can reduce your pet's risk for diseases that may require pricey dental extractions. Not to mention, such dental procedures could be dangerous for dogs as they require general anesthesia!
While there are other dental products for dogs available elsewhere, Bark Bright's service is great! It's convenient because it ships automatically and you no longer have to fear emptying the pack. Also, brushing a dog's teeth is a daily challenge, and this subscription made it as easy as giving a treat to your pet.
All About Bark Bright
Bark Bright helps dogs smile brightly! With their dental kit, you can get unlimited smooches from your dog minus the stinky breath.
How does Bark Bright work?
Bark Bright is a dog-approved dental care subscription. Sign up and choose a plan that best works for you and your fur baby – a monthly subscription, a 6-month subscription (most popular), or a 12-month subscription. Sometimes, if you choose a longer plan (6 or 12 months), Bark Bright offers a free gift for your dog. If you're already a subscriber of BarkBox or Super Chewer, you can add Bark Bright to your current subscription. Each dental kit includes a month's supply of dental chews and a tube of triple-enzymatic dog toothpaste.
If you need help with your subscription, you can chat with one of their team members to answer your questions. Also, in case your dog doesn't like Bark Bright, you can reach out to them for a full refund. Subscribers can also edit their plan, skip a delivery, or cancel the subscription anytime they wish.
How much does Bark Bright Cost?
The Bark Bright Original Dental Kit costs $30 per month on a monthly plan, $26 per month on a 6-month plan (most popular), and $24 per month on a 12-month plan. Meanwhile, the Bark Bright Durable Dental Kit costs $35 per month on a monthly plan, $31 per month on a 6-month plan, and $29 per month on a 12-month plan. Whether you have a small dog (3-20 lbs), medium dog (20-50 lbs), or large dog (50+ lbs), the price for the subscription is still the same regardless of the size.
It ships free when purchased as an add-on to your BarkBox or Super Chewer subscription and incurs a shipping fee if not. The delivery charge is $4.99 for shipping to the contiguous states and military & diplomatic mail and $8 for US Territories.
Where can I buy Bark Bright?
To purchase your dog's dental kit, visit Bark Bright's official website and sign up. Click the subscribe button and a short quiz will pop up. It includes questions about your dog's name, age, breed, size, and any allergies they might have. You can change sizes at any time, skip a delivery, or cancel the subscription if you wish.
Where and how does Bark Bright ship?
Currently, Bark Bright ships to the 48 contiguous states. They also cater to military and diplomatic mail, as well as US territories. Boxes are shipped within the first two weeks of the month. For orders within the contiguous US, you can expect 5-8 business days for your order to arrive, while it'll take 8-12 business days for orders outside the contiguous US. You can also locate your order through the tracking link provided in the email they sent you once your package is shipped.
How is Bark Bright packaged?
Each package will arrive in a brown mailer box with Bark Bright branding. The dental chews are kept in a resealable pouch, which helps maintain their freshness, while the toothpaste is stored in a tube. They are also wrapped in a customized Bark Bright wrapping paper.
What Products does Bark Bright sell?
Bark Bright's Dental Kit is enzyme-powered and helps ditch your dog's funky breath and plaque buildup. The Original dental chews are made with real chicken, while the Durable dental chews are made with vegetarian ingredients such as parsley, peppermint oil, and turmeric. Both chews can be paired with Bark's toothpaste which contains three active enzymes – Amyloglucosidase (AMG), Glucose oxidase (GOX), and Lactoperoxidase. The toothpaste is also water-based and won't stain any surface or fabric. Just squeeze one line of toothpaste in a dental chew's groove and give it to your dog. The chew and toothpaste work together to break up harmful microbes, scrub plaque, and helps clean your dog's mouth. Do it every day to build a healthy, tasty dental routine for your fur buddy.
What do you think of Bark Bright?