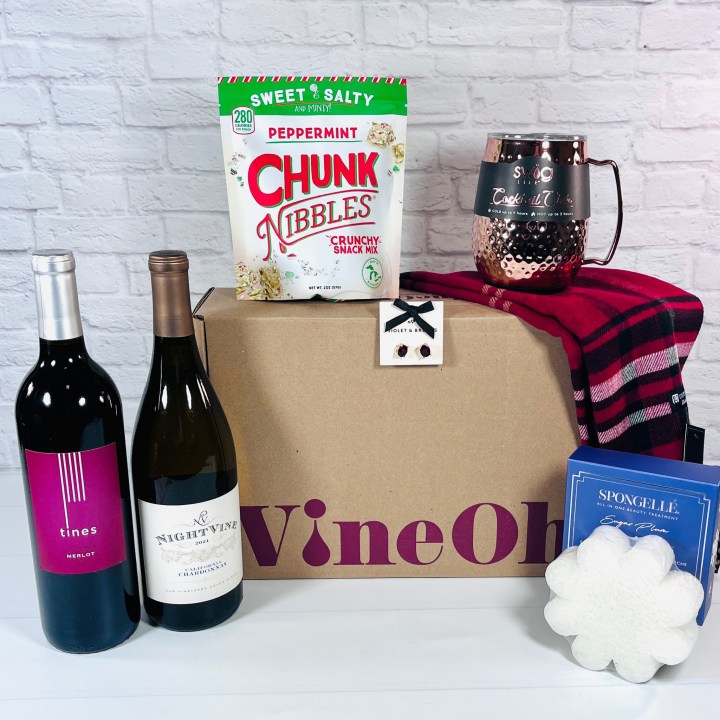 Vine Oh! is a quarterly wine and lifestyle box that aims to help women relax and recharge. The theme for this shipment was Oh! Ho Ho! Box and it had 2 wines plus a snack, a stainless drink container, and more. Check out our review below!
DEAL: Save $10 off + FREE extra bottle of wine + FREE shipping on your first box with coupon code HELLOWINE. For a limited time, use this same code to get an extra free bottle FOR LIFE!
2019 Tines California Merlot ($24) This wine is described as having "pleasant notes of dried figs, black currants and cinnamon". It's dry and full bodied, and I detected tannins but they weren't super strong.
2021 NightVine California Chardonnay ($24) This Chardonnay is fruity and I think it's a delightful wine. This one has aromas of "ripe pear, vanilla, caramel, and citrus leads to flavors of whipped sweet cream and balanced oak".
It was surprisingly creamy and smooth and not as dry as I would expect. It has a medium body and acidity, it doesn't make my mouth pucker up too much. Is it buttery? I don't think so, but it sure goes down easily. Serve this with seafood or white sauced pasta dishes.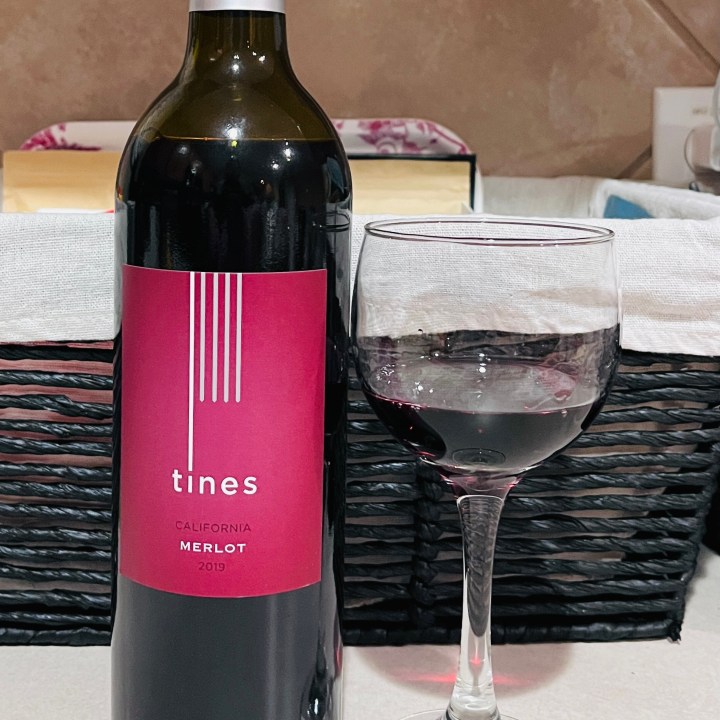 I sense some acidity because it makes my tongue burn a bit (my tongue is very sensitive to acidic foods and drinks). It smells of ripe red fruits and although my husband will want to drink it up, I think it would be good in a pot roast recipe. Of course, it goes well with red meat as a drink, or serve it with pasta or pizza. I think that this is the first time I've ever noticed "wine legs" on the side of my glass.
Seliny NY Winter Cozy Scarf ($25 listed value, color may vary) I actually received an Umo Lorenzo Scarf ($12.95) and it's made of 100% acrylic but has a "cashmere feel". I don't own any actual cashmere so I can't compare but it is velvety soft and has a subdued yet festive feel thanks to the red. I quite like it!
Spongelle Body Buff ($18) I received the scent Sugar Plum but scents may vary for this item. These are pretty fun to use. It's a sponge infused with shower gel and you can use it multiple times. It's not super scruffy but feels and smells good. This one has scent notes that include dark berries and musk and there's some floral notes in there as well. Personally, I would prefer it without the musk and flowers but I do like the sponge itself.
Swig Cocktail Club Mug ($34 for similar item) Here is another item that may come in assorted designs. I didn't see it on the Swig website. It looks like a Moscow Mule cup, with a hammered copper-colored material on the outside and stainless steel on the inside. I was actually really excited to get this mug. I just started back to work outside the home (I'm a substitute teacher) and I wanted something for my hot tea and I think this will work well, it's supposed to keep drinks hot for up to 3 hours (or cold up to 9 hours). It has a travel lid and silicone base. (Edited after trying: This isn't spill proof but it did keep my drink hot/warm for about 3 hours.)
Violet & Brooks Red Stud Earrings ($20 listed value) I could only find these earrings in a set that includes other earrings (like, 3 pairs for $48 etc.). They are made with a lead-free post, red crystal "stone", and are plated with gold and brass. I think they are super cute but unfortunately I don't have pierced ears anymore so my daughter is in for a treat!
Chunk Nibbles Sweet & Salty Peppermint ($3.52 value) I am a big fan of peppermint flavored foods but there's some things I won't pair it with, and a couple of those things are in this snack mix. This has peanuts, pretzels, corn squares, and peppermint candy all covered in white candy coating. I'm fine with all of that except the peppermint, which doesn't seem like a good pairing with peanuts and salt. So to be clear, this would be better either without the peanuts OR without the peppermint candy, at least to my taste buds. It was sweet, salty, nutty, crunchy, and pepperminty.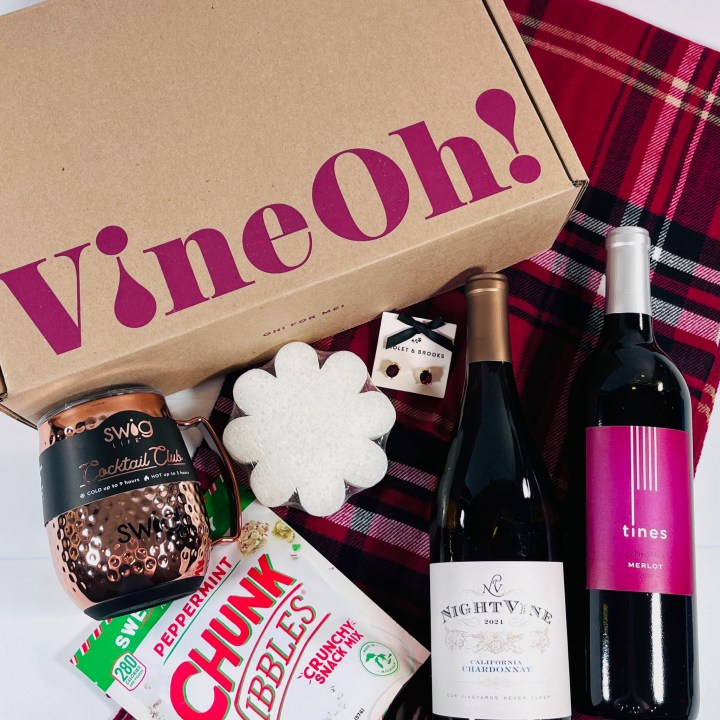 What a wonderful box from Vine Oh! I liked the theme and the cozy products inside. The mug has to be my favorite, and while I felt self-conscious about taking it into work at a high school (because it obviously looks like a drinking cup for adult beverages like a Moscow Mule), none of the teachers looked at me funny and even though I'm a sub they invited me to happy hour. My older daughter has already claimed the earrings and she loves Spongelle. Despite not liking peanuts and peppermint, I still ate the snack until it was gone. The scarf is so soft and I will use it myself, although the wine was shared with my husband.
Below you will find the product info brochure as well as some box opening pictures.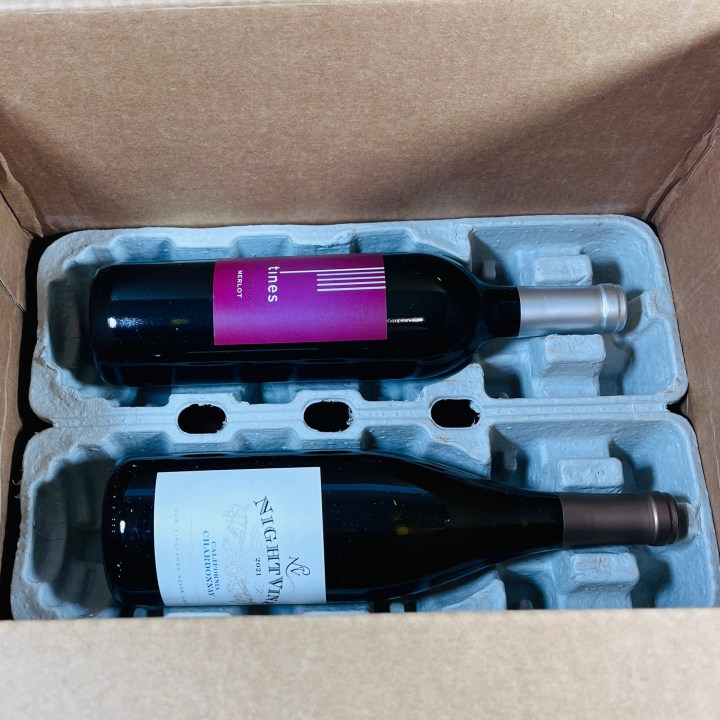 Vine Oh! is a quarterly subscription box and one of the first wine subscription boxes to include lifestyle items for women. Each seasonal box will include 2 bottles of premium wine, plus 5-6 full-size items that are fun, rejuvenating, and delicious. Subscribers can choose their wine type preference: white wine, red wine, red & white wine, or sweet wine. Every box will have a retail value of $120 or more! Vine Oh! is $59.99 a box and shipping is free and delivered to your door.
What was your favorite item from this quarter's Vine Oh?