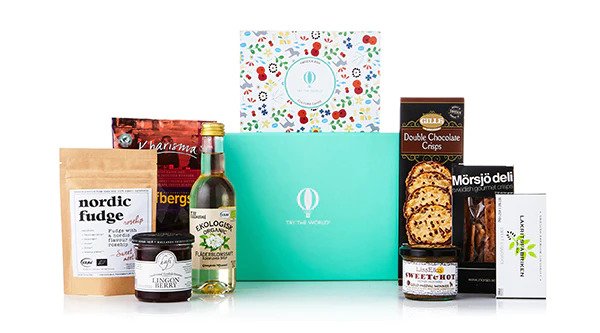 Gifts don't have to be so expensive to be appreciated. The perfect gift for any occasion is one that matches the recipient's tastes and preferences. For family or friends who love to discover new flavors and explore different cuisines, Try the World is a gift that will take their tastebuds on an adventure they will appreciate!
This monthly subscription brings the world of tasty discovery to anyone's door, making it a great gift option for adventurous eaters who like to take it big and try international treats and delicacies. There's nothing more fun and exciting than exploring places of the world with tasty gourmet goodies to find!
The gift of culinary adventure around the world. Try the World invites foodies and snack lovers alike to go on a tasty trip to various parts of the world monthly. By receiving food boxes filled with fantastic gourmet finds, they'll develop their palates and increase knowledge about different cultures. It's a unique and worthy gift for anyone who loves to travel and eat.
There are two subscription boxes you can gift: Countries box and Snacks Box. Whichever box you pick for the culinary adventurer in your life, it will be their gateway to a world of discovery through food!
What's inside each Try the World box? The Countries box gives a curated selection of gourmet foods from around the world. It includes a great mix of 7-8 gourmet treats and delicacies, such as ingredients to cook with, drinks waiting to be discovered, and snacks to try. A gift subscription costs $49 per box. Or, send 3, 6, or 12 boxes for more months of delicious surprises!
If your lucky gift recipient is interested in just snacks, the Snacks box is an ideal choice. It brings a delicious selection of all-natural snacks from across the globe. The box comes with six mouthwatering, healthy, 100% non-GMO snacks for on-the-go snacking! A single gift box of snack surprises costs $29, but you can also choose as many as 3, 6, or 12.
All products are produced by artisans or small family-owned companies around the world. They're sourced from their country of origin, giving everyone an authentic culinary experience at home. Each gift box also comes with tips, recipes, and stories, helping your recipient uncover a new taste, a new city, and a new culture!
Are you gifting the culinary adventure of Try The World?
Looking for subscription box gift ideas? See our full subscription box gift guide!