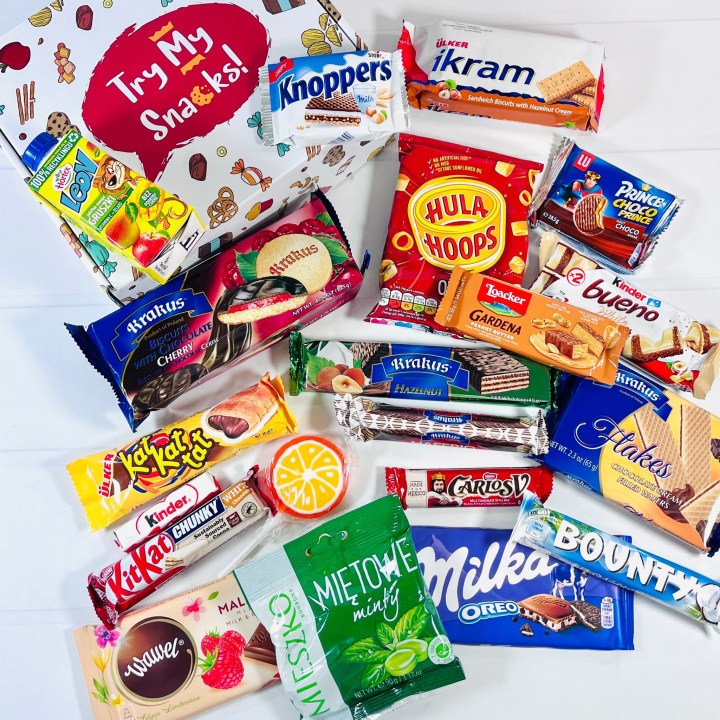 Try My Snacks sends snacks of all types and the majority comes from a featured country with others in there to round out the box. They send snacks that are sweet, salty, nutty, and may include cookies, crackers, candy, and more. They also include a book with all of the possible snacks listed along with the country of origin and there is a coin from that featured country too. This month, I'm reviewing the snacks that came in my box, and most were from POLAND! Also, this box was heavy and filled to the top!
Choco Prince This was a cookie with a chocolate crème filling covered with milk chocolate. The cookie is kind of like a generic animal cracker maybe? It was good! Product of Belgium.
CarlosV Milk Chocolate Style Bar I'm not sure what "milk chocolate style bar" means but this is Nestle milk chocolate but it doesn't taste like, say, a Hershey's milk chocolate bar. It's really mild with the faintest hint of cinnamon maybe? Product of Mexico.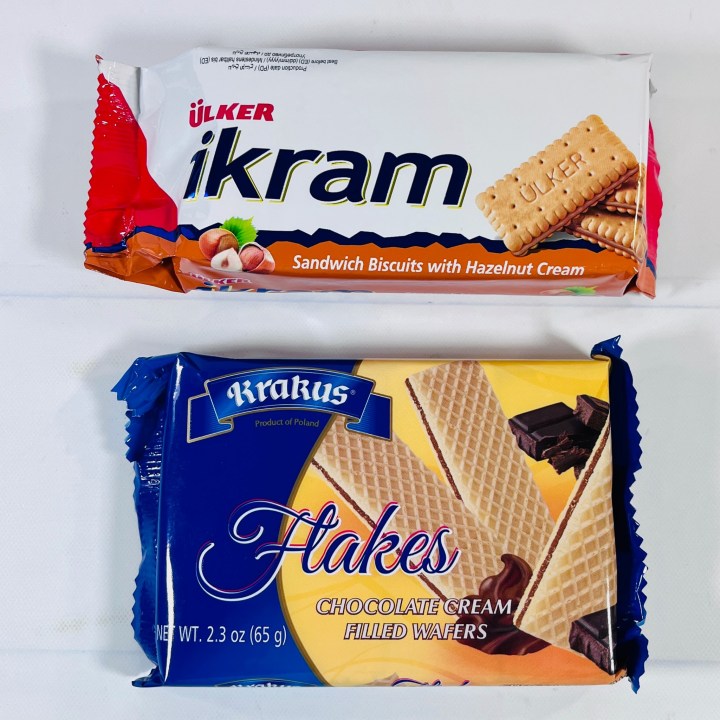 Ulker IKRAM Sandwich Biscuits These were neat. They are two cookies that sort of remind me of a Keebler Club cracker or a Ritz cracker, kind of flaky, buttery, and with a hint of sweetness. There's a chocolate hazelnut filling in between. Product of Turkey.
Krakus Flakes Chocolate Cream Filled Wafers I believe there are 6 different snacks in this box that are a slightly different version of wafer cookies with some kind of cream filling and with or without a coating of chocolate. This is the most basic of the six, as it's just a wafer with a generic chocolate cream filling. It mainly reminds me of an ice cream cone. Product of Poland.
Milka Oreo Chocolate This is one of my favorite candy bars and oddly enough I buy it whenever I'm at H-Mart, the giant Korean supermarket that specializes in Asian foods. The inside is "cream" candy with bits of crunchy Oreo cookies and it's covered in milk chocolate and a little goes a long way. Product of Germany.
Wawel Milk Chocolate Raspberry is a huge milk chocolate bar from Poland. This one is filled with a cream "yogurt" filling that reminds me of the Milka bar but it also has a bright punch of fruity flavor thanks to a raspberry jam layer.
Krakus Walfelki Orzechowe is a wafer cookie with a hazelnut filling covered in chocolate. Product of Poland.
Kat Kat Tat is puff pastry filled with hazelnut chocolate cream, which is more chocolate and less hazelnut. It crumbled as soon as I looked at it. Product of Turkey.
Knoppers This wafer bar has a layer of milky filling, hazelnut filling, and crunchy hazelnuts. I don't think you have to be a fan of hazelnuts to like this – I thought it was made with peanuts! I believe this comes from Germany.
Loacker Gardena Peanut Butter Wafer is a wafer cookie with layers of creamy peanut butter filling and covered in milk chocolate. I think Little Debbie makes something similar. From Poland.
Kinder Bueno Chocolate (Listed product. I received Kinder Bueno White) Oh my goodness, this stuff is amazing! There were two individually wrapped packs inside the larger pouch. The candy has a crisp wafer coated in white chocolate. The filling is a melty white hazelnut-flavored cream, like the filling in a Lindt Lindor.
Kinder Chocolate Bars At first I thought, hmm, they really put the milk in milk chocolate, but then I discovered that the inside is filled with a solid cream filling and then it's covered with milk chocolate. I still stand by my original assessment. Not marked with country of origin.
Bounty Coconut Bar Bounty is similar to Almond Joy, but without the almond. If it's in a blue wrapper (like mine) it is covered in milk chocolate, and if it's in a red wrapper, it's covered in dark chocolate (like a Mounds). I actually like the almond in our version, but this is less sticky, a little firmer in the middle.
KitKat White Chunky These are kind of similar to a regular KitKat, except it has three chunky rectangles that are covered with white chocolate. It was so rich I could only eat one piece at a time, so this ended up being three servings for me! From Poland.
Krakus Waferio Not much to say here except it's a wafer cookie covered in dark chocolate.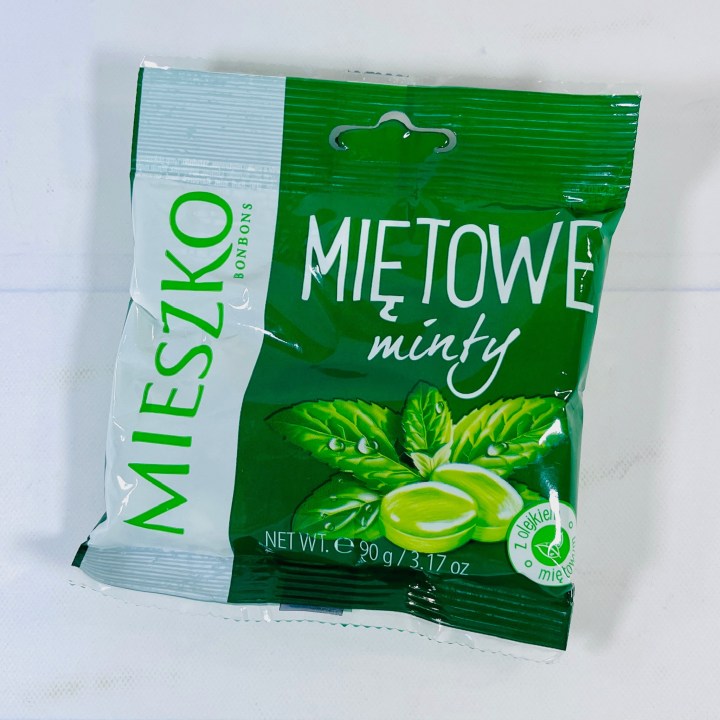 Landrinki Mietiwe Hard Candy These are green lozenge-shaped candies that taste like a striped peppermint candy. That's it, nothing else to describe. Product of Poland.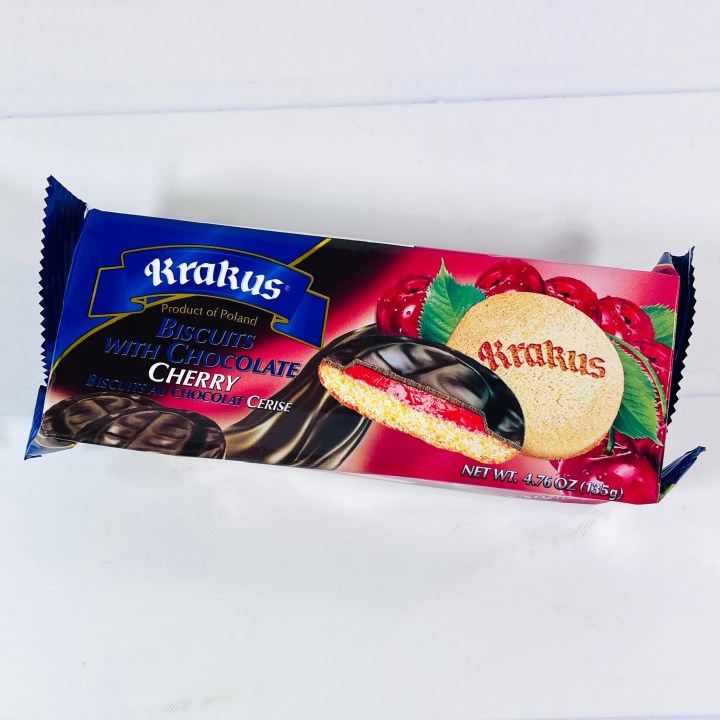 Krakus Biszkoply Cherry Biscuit These remind me of Jaffa Cakes, but instead of having an orange filling, this one has a cherry jelly filling. Otherwise, it is similar, with a soft cookie on the bottom and a layer of chocolate over the top.
Hula Hoops Chips These are similar to Pringles, a potato-ish chip, but these are round and crunchier. From the UK.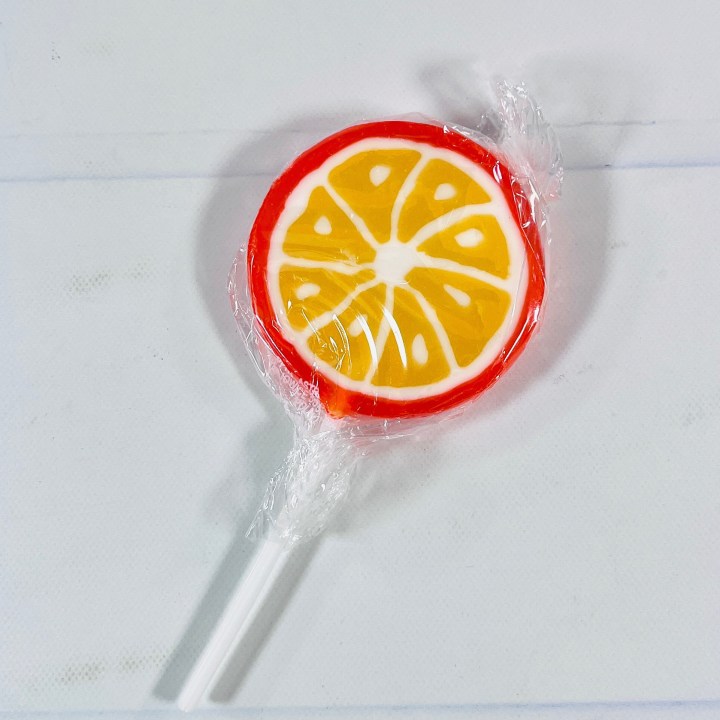 Lizak Deseniowy Lollipops My daughter will be home from college soon and I think she will get a kick out of this lollipop that if I had to guess, I think would taste like oranges.
Hortex Leon Sok Owocowy Multifruit Juice The upgraded box includes a drink and I received a fruit drink beverage, which according to Google Lens is a blend of apple, mango, and pear along with water and vitamin C (see my image above for the translation!). The added flavor is a little floral and surprising, but otherwise, it's a watered-down fruit juice and is clear, not pulpy. From Poland.
As always I enjoyed my trip to Poland and the world thanks to my latest box from Try My Snacks! This is a great way to teach your children about other countries as you can certainly dive deeper into the history, customs, and foods of the featured country (like making pierogis for dinner while listening to Chopin, or search for more recent artists on the platform of your choice). Or you can do as I did and share a treat with your partner after dinner, as some of these snacks had multiple servings (my husband liked trying new snacks too). All of the snacks were sweet except for the Hula Hoops, and there were several that were similar to each other (like those with a wafer base) or that are similar to products we have in the U.S. (like the Bounty bar). My favorites (besides the Milka Oreo) were the milk chocolate raspberry bar, Kinder Bueno White, and Kit Kat Chunky White, and I knew my daughter would like the Krakus Cherry Biscuit and sure enough, she noted that they were just like Jaffa Cakes, but with a cherry filling.
Although the featured country was Poland, you can see that the snacks may come from a host of different countries but I think the majority were from Europe. This catalog lists all of the possible snacks as well as their country of origin, although I preferred to look at the package for confirmation (but sometimes it's not that easy to tell).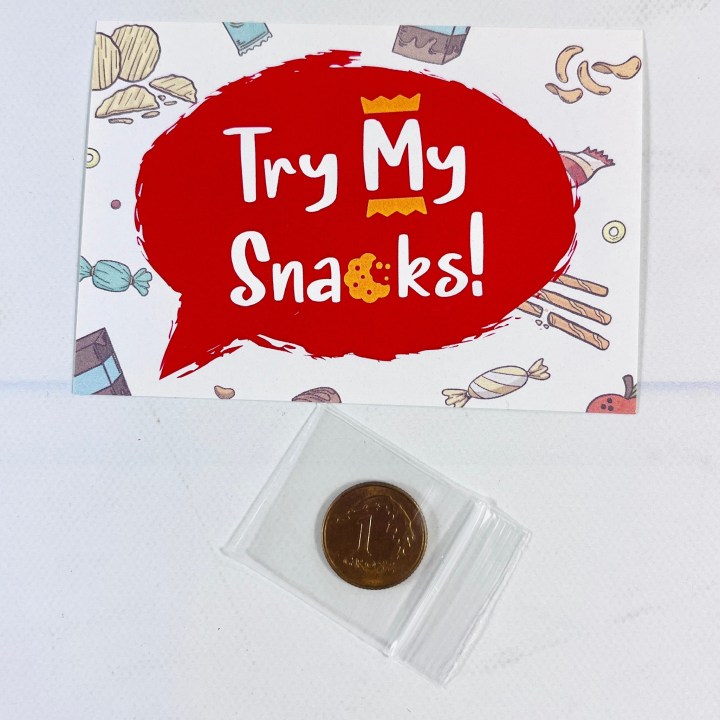 Here is a coin from Poland, and I also received a vinyl sticker. Below you will find a couple of box opening pictures and I just want to say again, this box was very heavy. It certainly had a lot of snacks!
Try My Snacks is a unique subscription box that delivers snacks from a different country every month. Each box contains anywhere from 6 – 20+ snacks per box (depending on the plan), a 12+ Page booklet that includes fun facts about the country, snack information, puzzles, and more. They also include a coin from the country in every box & offer FREE shipping to the USA. You can add on drinks too!
Any thoughts about the Try My Snacks box?
Visit Try My Snacks to subscribe or find out more!