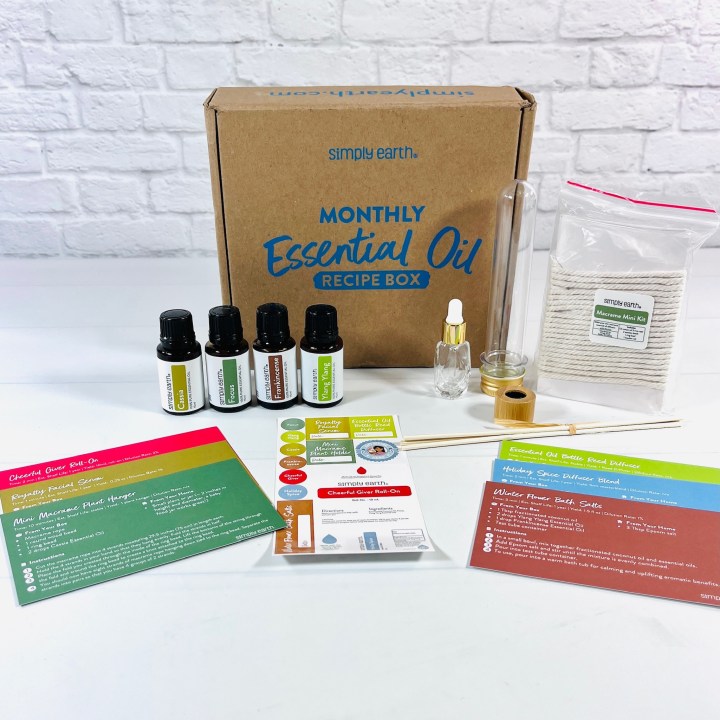 Simply Earth November 2022 Essential Oil box was themed Gift Giving! It included recipes and extras to make some gifts, which we can give to ourselves or others. There was a macramé kit, a bath salt recipe, and a bamboo diffuser kit. I also received 3 single oils and one blend to add to my collection (which I mainly use for diffusing). See what we got below!
DEALS: Receive a FREE Big Bonus Box with your first box. Deal applies automatically, just use this link to subscribe. Plus, get a $40 gift card you can use for your next box or future purchases!
Cassia Essential Oil ($11.99) is a type of cinnamon and in fact, most ground cinnamon at the store is actually cassia. It smells warm and spicy and is supposed to help increase circulation.
Focus Essential Oil ($13.99) Focus is our blend of the month and this one is supposed to help improve concentration! It contains frankincense, orange, eucalyptus, and cardamom and smells like a warm version of eucalyptus, that's the note that's strongest to my nose.
Frankincense Essential Oil ($11.99) is a resin or plant wax that can be found on a certain tree species that grows in India. It reminds me of freshly waxed wood furniture! It's supposed to help boost the immune system.
Ylang Ylang Essential Oil ($18.99) I love this scent straight up, without being mixed with anything else. It's uplifting and energizing and has such a unique floral fragrance.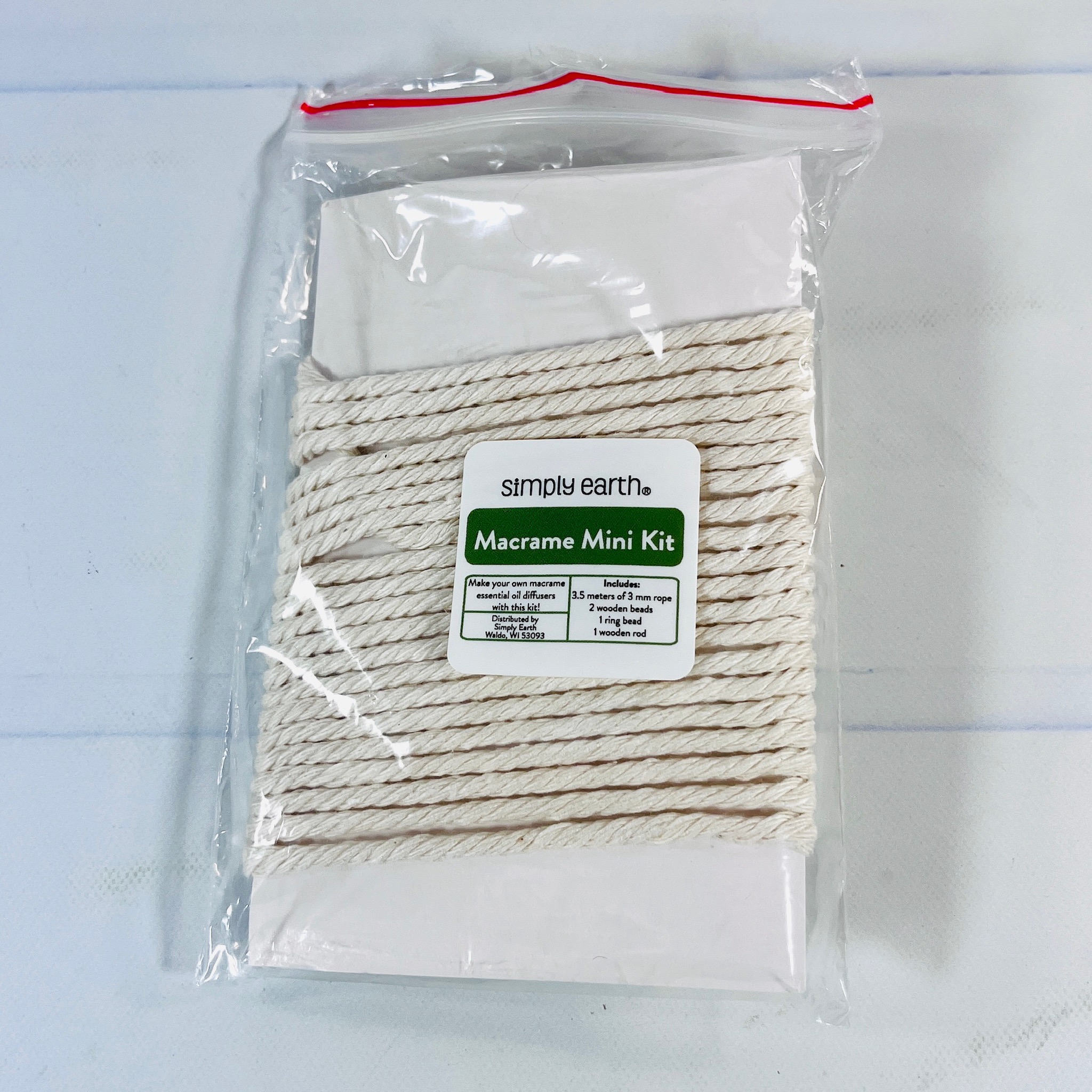 Macramé Mini Kit We're making a mini macramé plant hanger with this kit!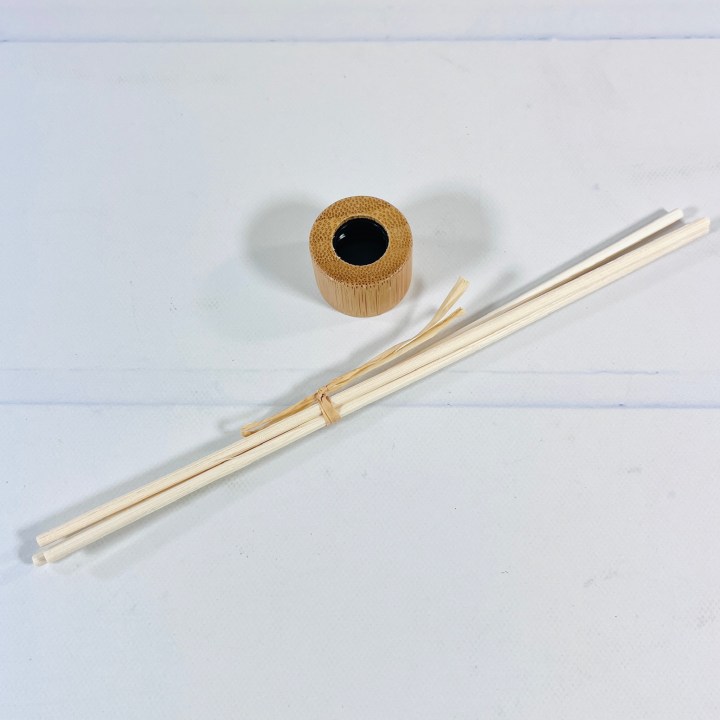 Diffuser Reeds & Cap will be paired with a small bottle from the Big Bonus Box to make a diffuser.
Test Tube will hold one of our projects.
Serum Container is so cute and has a dropper. It will hold another of our projects! You can buy a set of three different mini bottles for $6.99.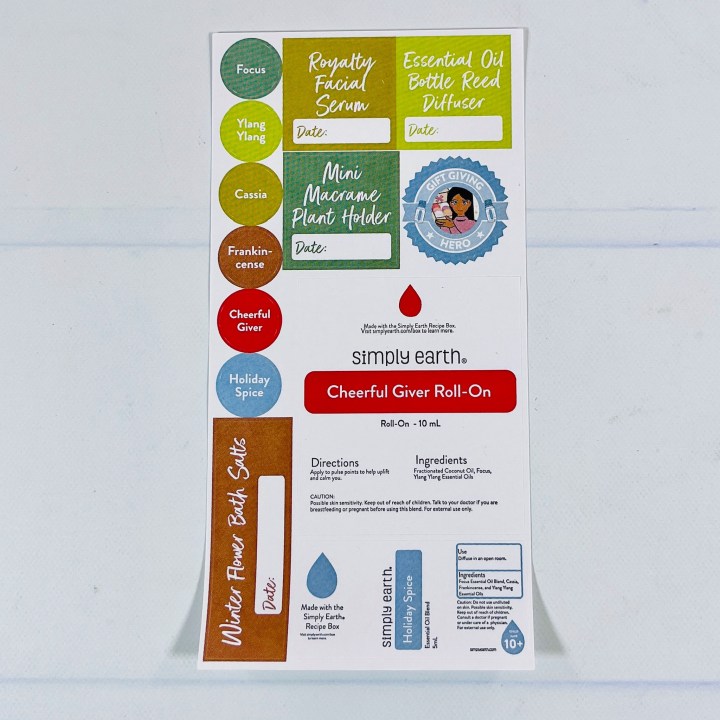 The pre-scored stickers are a cinch to use and now they have space to mark the production date.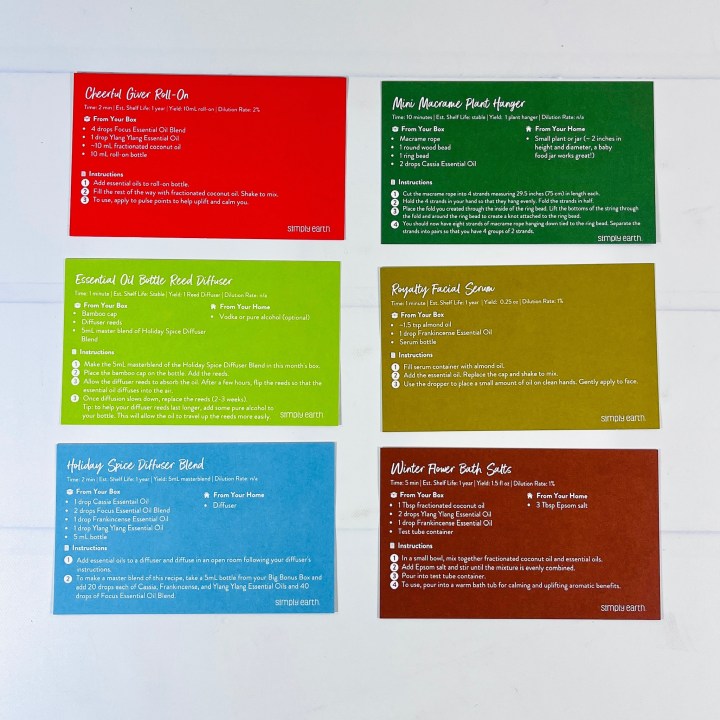 I received six recipe cards. Some of the cards have a continuation of the recipe on the back while others have useful information about the subscription.
Please keep in mind that essential oils should be diluted before using and you may need to do some extra research on what is safe to use or avoid using around young children, infants, those who are pregnant or nursing, or pets. When in doubt, check with your health care provider for advice.
Below are a few of the projects I completed with this month's recipe box and supplies!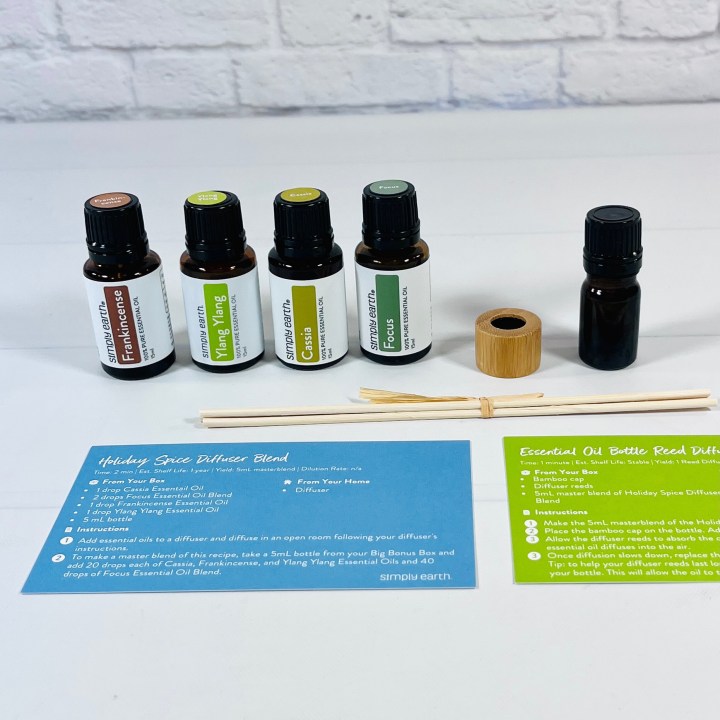 The Essential Oil Bottle Reed Diffuser was pretty quick and simple. I made a master blend of Holiday Spice Diffuser Blend and placed it in a 5ml bottle (which came in my Big Bonus Box). The instructions said to add a little alcohol so I did. Then I placed the bamboo cap on the bottle and stuck the reeds inside. The Holiday Spice blend was also used in my diffuser (see below) and I liked it better in this reed diffuser setup as the ylang ylang smelled good (it smells weird when I diffuse it). I set this above my kitchen sink and it smells lovely.
Cheerful Giver Roll-On Here is another simple recipe. I grabbed a roller ball applicator (from my Big Bonus Box) and added some essential oils and topped it off with fractionated coconut oil (yep, you guessed it, from the Big Bonus Box). I made sure to place the rollerball on top and pushed it all the way and now I have a natural scent that smells a lot like ylang ylang, so nice!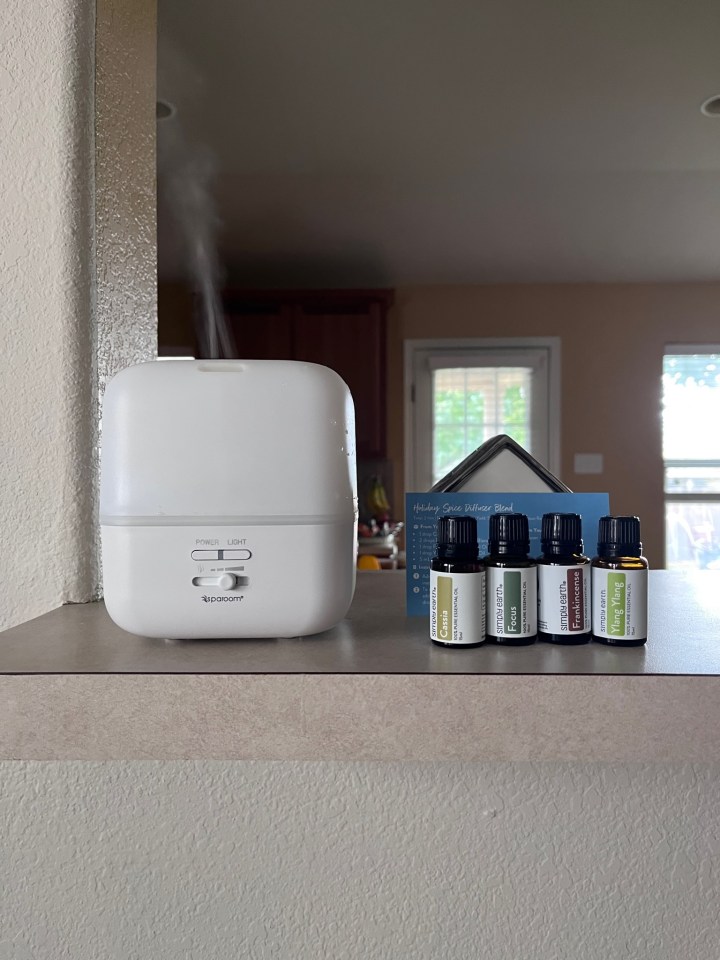 It's so easy to diffuse essential oils: just put the listed amount of oils in the diffuser, add water, and turn it on! I wasn't a fan of the Holiday Spice scent at first, mainly because while I love ylang ylang, it reminds me of Ivory Soap when it's being diffused, but once that note disappeared I could smell a blend that is perfect for the season, with lots of warm spices.
This was a fun month for Simply Earth! I especially liked the reed diffuser, it works well and the scent is perfect for the holidays. I also liked the rollerball scent, Cheerful Giver. There were a few more recipes included (for a macramé holder, bath salts, and face oil) but I have no need for those right now but I can make them fresh when the time comes (or if I get a small plant that might fit in the holder). Diffusing is the #1 way that I use essential oils, so the other projects were perfect for my needs.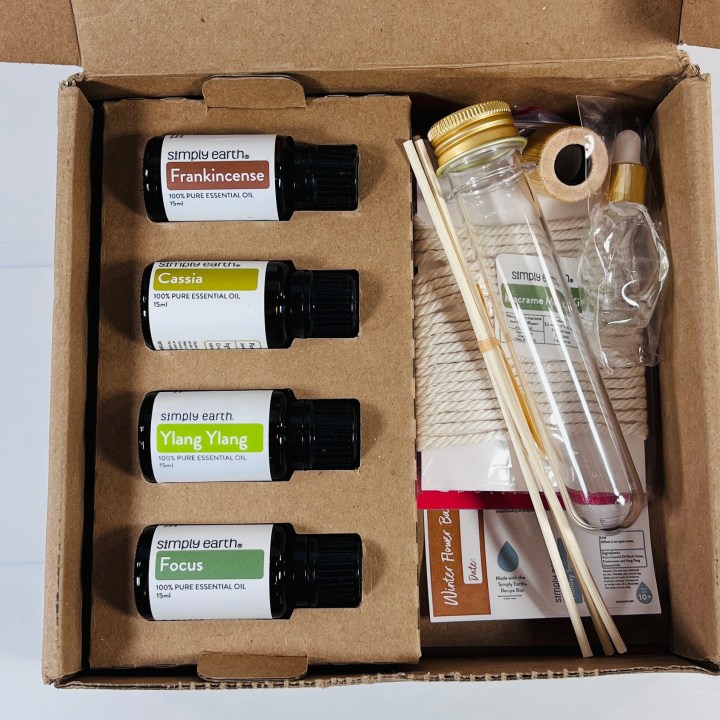 Simply Earth is a monthly subscription that sends high-quality essential oils along with recipes and ingredients to make natural beauty and home products! Each box comes with 4 essential oils, containers, extra ingredients to make the recipes, and 5 – 7 recipes on recipe cards. When you sign up (and every 6 months thereafter) you will receive a free Big Bonus Box full of extra containers and ingredients needed for the recipes, such as carrier oils and bottles. Simply Earth is $39 a month. They feel strongly about giving back and donate 13% of all profits to help end human trafficking.
Simply Earth's essential oil subscription made the list in our 2022 readers' choice best green & eco-friendly subscription list!
What do you think of the essential oils from the Simply Earth box?