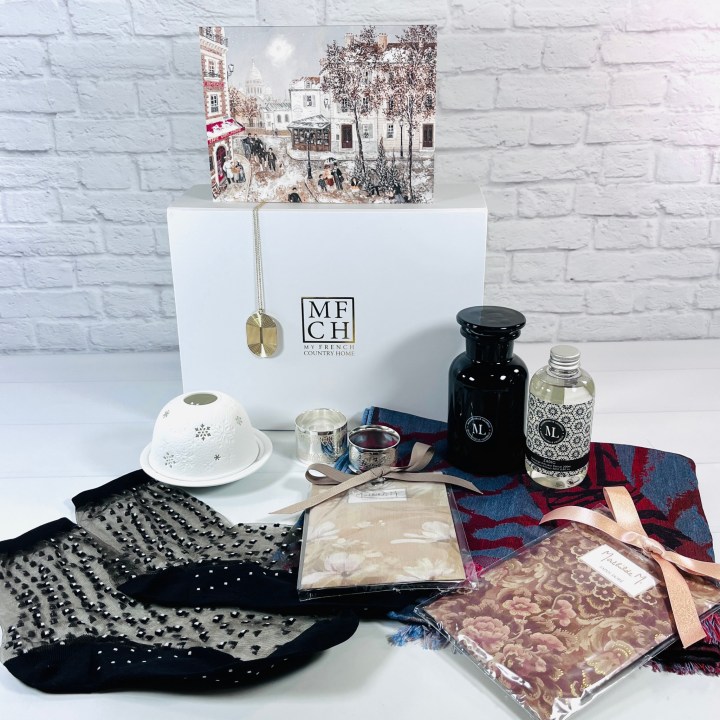 The November 2022 box from My French Country Home is here to delight us with treasures made in France! The theme was Midnight in Paris and inside this elegantly wrapped box I found a reed diffuser, a lovely necklace, and more. This is one of the fancier subscription boxes out there and they send items made exclusively in France, and in fact, it ships directly from that country too! This time around the theme was inspired by the City of Lights and you will find goodies to light up the darkest winter.
La Commanderie Candle Lamp This is a sweet piece of decor that offers a hint of light during the darkest months. It's made of porcelain and there's a plate, two tealight candles (non-scented), and a cover that has cutouts (mine are in the shapes of snowflakes but designs will vary). Perfect for those who like the warm look of a candle but who don't care for candle scents, or to use while eating dinner, no one wants to smell perfumed candles while eating.
Mademoiselle Lulubelle Diffuser (Around $63 USD) Subscribers received one of three scents and I received Zadig, an oriental fragrance with notes of amber and woods. It comes with a glass apothecary bottle, but I am having a hard time getting the stopper out in order to use it! The bottle is refillable. There was also a bottle of scent and eight reeds — you can use all of the reeds or just a few if it becomes overwhelming. The scent is supposed to last 3-4 months. If I can't get the stopper out then I guess I can always place the reeds in the bottle itself.
La Fabrique D'Echarpe Scarf (Around $66 USD) Colors and patterns may vary on this next item (mine is called denim blue and red). It's a scarf made of 70% cotton and 30% silk. It measures about 20″ x 77″ and can be dressed up or down.
Atelier St. Eustache Socks in Crescent Dunes Black (Around $22 dollars) Although these socks aren't personally my style, I just know my daughter will absolutely love them! The geometric pattern is elegant and understated and the sheerness is an interesting touch. The sole is reinforced for durability. They are a cool combo of socks and tights, but without the control top.
Lovely Day 7 Paths Necklace (Around $101 USD) I'm a full-figured plus-sized person and a lot of times I receive necklaces that are like chokers but this one was perfect for me! It has an adjustable chain and a pendant, which has 7 paths that are inspired by Japanese gardens and spiritual life. I reminds me of either a racetrack or maybe an elongated vinyl record. It's covered in 18k gold plate. It's around 25″ long and adjustable.
Antique Napkin Rings This item will vary and you may get a mismatched set but that's because they are antique silver napkin rings! They add a touch of shine to a dinner table and certainly up the elegance level.
Fabienne De La Croix Watercolor Print Each quarter we receive a print (which doubles as a card) and now I have a set of four prints from this artist. I can either frame them for a cohesive display or send them to friends in the provided envelope. It's printed on sturdy cardstock and I adore the snowy street scene with Sacré Coeur in the background, as it brings back happy memories of my visit to Paris.
Mathilde M Thank you Gift Quarterly and Yearly subscribers always receive a bonus item, and this quarter it's two elegant sachets (scents may vary)! The one on the left is called Sapin Doré and smells like a Christmas tree while the sachet on the right is called Freesia Delice and smells floral. These can go into luggage, a delicates drawer, a closet, or a car.
Here's the product info guide, it looks like a magazine!
Here are a few box opening pictures.
As always, My French Country Home Box was filled with elegant, upscale pieces that were made in France and that look lovely in my home, make me feel fancy when I use them, or that make great gifts. My favorite item in this box was the necklace, it is well-made (like all of these products) and fits me perfectly. I also appreciate the non-scented porcelain lamp and plan on using it for my Christmas dinner as well as on those cold, dark days that are infrequent in my part of the country, but that makes using them even more special to me. I'll have to ask my husband to help me open the diffuser bottle, that lid is stuck tight for now, but thankfully I have a couple of sachets that not only look upscale but they smell wonderful.
My French Country Home Box (formerly My Stylish French Box) is a quarterly lifestyle box that sends authentic and stylish items all the way from France! The box is curated by Sharon Santoni, an author and the blogger behind My French Country Home. This box is based in France and they work directly with highly coveted and timeless French brands to create a box that will help chic up your home and self. They send 6-8 items in each quarterly box. This box is $285 a quarter.
Any thoughts about My French Country Home Box? Let me know what you think of the Summer in France theme!