We have the full spoilers for the Winter 2022 Margot Elena Discovery Box, a beauty and lifestyle subscription box from the Margot Elena family of brands!
Boxes will include:
LOLLIA In Love Eau de Parfum in Classic Petals
LOLLIA Wish Mini Dusting Powder in Sugared Pastille
TOKYOMILK Pure Decadence Salt Soak in Golden Hour
TOKYOMILK Dark Soy Wax Candle in Eclipse
LIBRARY OF FLOWERS Hand Sanitizer in Citrus Garden
INFINITE SHE Ultra Lush Hand Cream in Fearless
INFINITE SHE Holiday Greeting Cards
MARGOT ELENA Beauty Within Tote Bag
Closer look: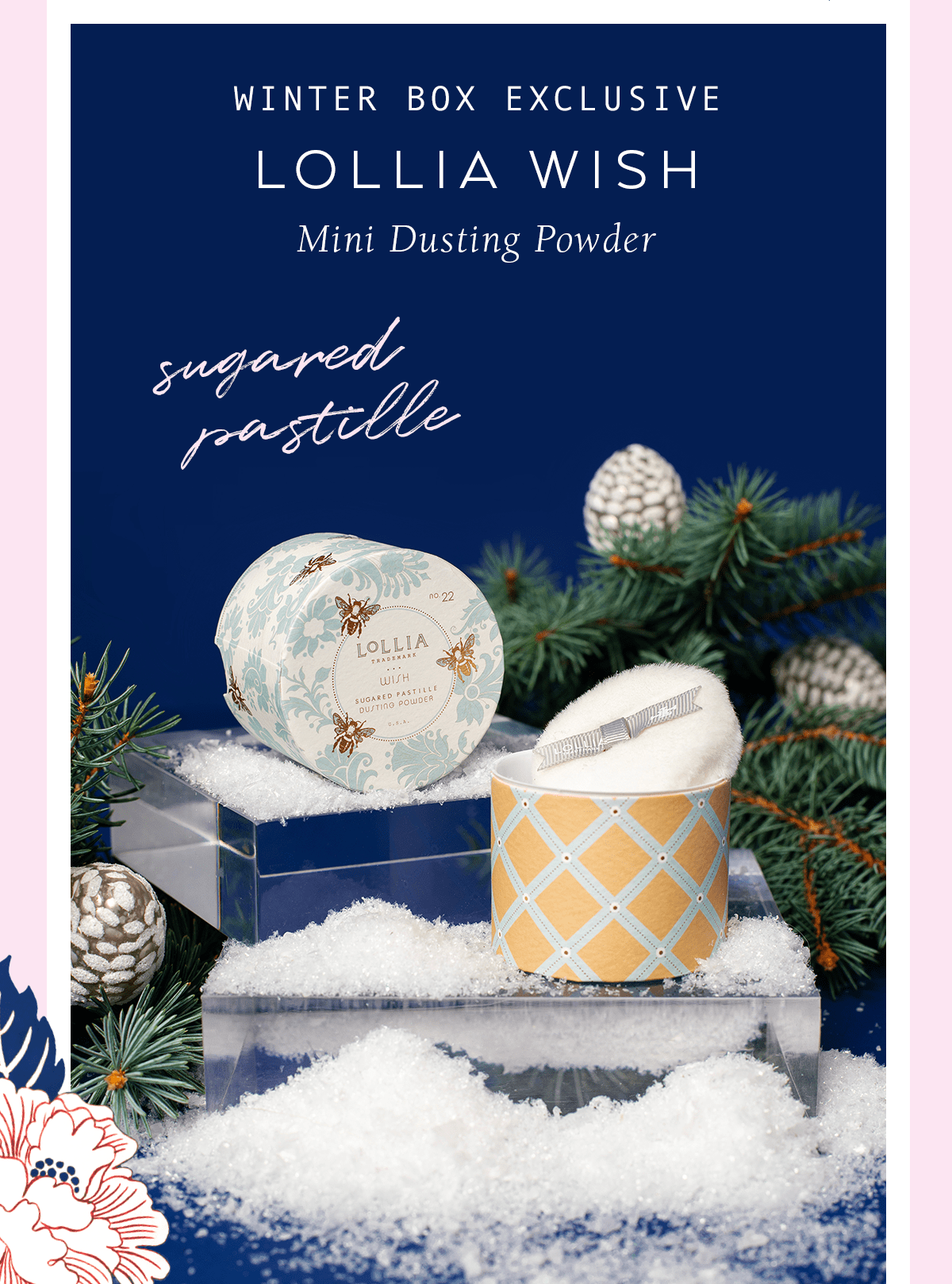 EXCLUSIVE MINI LOLLIA WISH PERFUMED DUSTING POWDER
A true hallmark of modern romantic luxury, this Exclusive Mini Lollia Wish Perfumed Dusting Powder softens & delicately scents skin with a finishing touch of beautifully elegant powder. Perfectly sized, this exquisitely designed box slips easily into your bag, always within reach tor an effortless and beautiful dusting of fragrant powder.
Golden Hour Pure Decadence Sea Salt Soak
Prepare to be transported into blissful relaxation with this rejuvenating sea salt soak. With notes of intoxicating Champagne & Citrus Zest tucked into a charming keepsake tin. Exclusive to the Winter 2022 Subscription Box.
Exclusive "Beauty Within" Tote Bag
Here it is! Teaser #2 for our Winter Subscription Box! This exclusive Margot Elena covetable tote is 100% cotton and a striking way to remember the infinite beauty that lies within. Just imagine the possibilities; perfectly sized for lunch on-the-go, library finds, or a lovely gift. Tote-ally ready for wherever the day might take you.
LOLLIA In Love EAU DE PARFUM in Classic Petal!
Teaser ##1 tor our Winter Subscription Box is here! From Lollia, an elegant escape of Love. Strikingly romantic, and as pretty as a rose-In Love No. 9 Eau de Parfum where delicate infusions of Apple Blossom kissed sweetly by Jasmine, floating upon the breath of truest Living Rose.
Margot Elena Discovery Box is a quarterly subscription box filled with $200 worth of luxuries for just $59.99 per season. See all our Margot Elena Discovery Box reviews here!
Are you getting the latest Margot Elena Discovery Box?