Lomi has is extending their Cyber Week sale through the holidays to get smarter about food waste with their home composter device! This countertop composter turns your trash into organic waste that you can use for all your indoor and outdoor plants, all at the push of a button. You can turn your wastes like fruits & veggies, animal products, food, yard waste, and all other Lomi approved products while you sleep – Lomi makes less noise than most household appliances.
To get you started with a more sustainable future, they're offering a deal on your Lomi purchase! Save up to $204 on your Lomi Home Composter! No coupon needed, just use this link to activate the deal. Ends 12/12.
Shop the Holiday sale at Lomi!
You'll notice there are a couple of deals available at Lomi and we have broken them down for you with our recommendations:
Holiday Special $426.15 (originally $529)
the Lomi compost machine
a quarterly filter subscription
starter pack of filters and pods for Lomi
Get the Special if: you want a subscription so you don't forget your refills.
Holiday VIP $580 (originally $784)
the Lomi compost machine
Lomi filter refills for 180 cycles
Pods for 90 cycles
three-year extended warranty
guided setup and priority support
Get the VIP if: you don't want a subscription and prefer to shop for your refills on your own, or if you want the peach of mind of an extended warranty.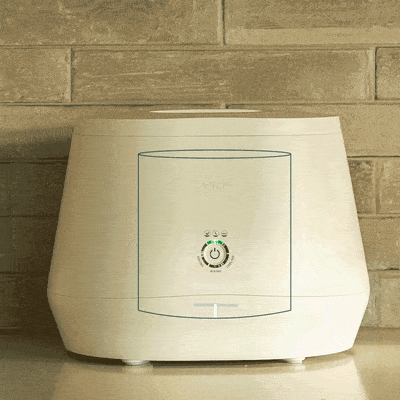 How Lomi works
Just put all of your food scraps, coffee grounds, and other Lomi approved products into your device. Next, push the button and your Lomi device will work its magic to breakdown your waste. Once done, the dirt that your Lomi makes can go into your indoor plants, your garden, or your yard.
Why do I need a Lomi?
Lomi works to make composting waste a more compact, mess-free, and speedy process. Lomi turns waste into compost, which is sort of like dirt, that is super rich in nutrients (unlike dirt!). If you're thinking that organic matter breaks down and you don't need to worry about composting your kitchen waste, unfortunately think again. In landfills, kitchen waste is one of the leading causes of greenhouse gas emissions. It's better for the environment to compost anything that can be composted, and Lomi makes it easy. And fast! As little as three hours to compost.
What are Lomi Pods?
LomiPods pack helpful microorganisms into a tiny tablet that help your composter compost. Just add a LomiPod to a Lomi Grow Mode or Lomi Approved Mode cycle (with a little bit of water) and LomiPod activates to add more soil-enhancing, plant-friendly nutrients to your Lomi dirt.