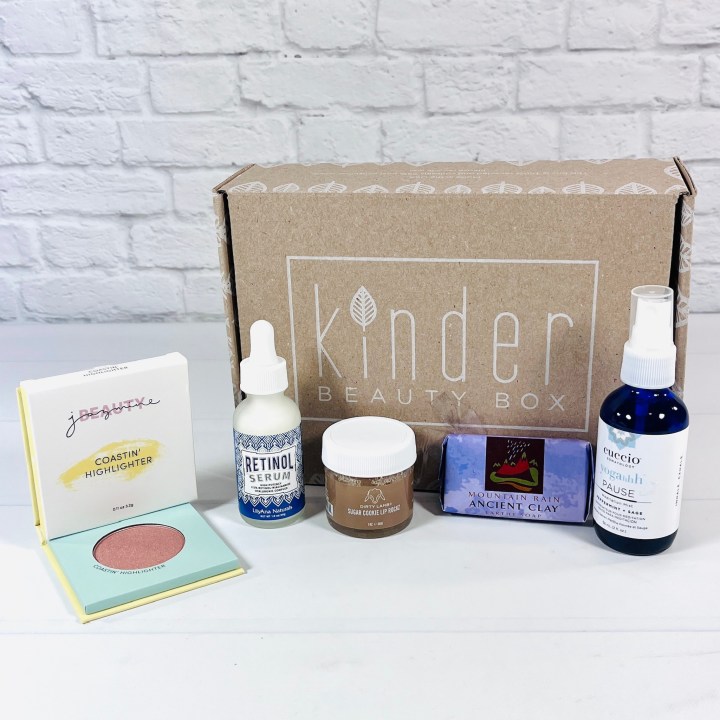 Kinder Beauty Box is a vegan beauty subscription box. This subscription sends out two variations every month and I received the THE INHALE BOX for November (the other box was called the THE EXHALE BOX). I received a calming spray, retinol serum, and more! The difference between the INHALE box and the EXHALE box is that the mini bar soap comes in a different scent and there's a hand lotion instead of a lip scrub.
DEAL: Use coupon code HELLO5 for $5 off your first order!
Cuccio Yogahhh Pause Meditation Mist in Peppermint & Sage ($32) I was happy to see that this can be used as a relaxing before bed pillow spray as well as a calming mist during the workday, and of course to enhance yoga time. It's a natural product and is scented with essential oils so it disappears almost as quickly as you can spray it so take a deep breath and say ahh as that clean burst of peppermint hits your nostrils.
LilyAna Naturals Retinol Serum ($27.99) I love trying new-to-me brands and I think LilyAna is one I've never received before. This product is supposed to boost collagen production while reducing age spots and preventing wrinkles (I'll let my sunscreen do that job). Apply nightly after cleansing and follow up with moisturizer. The serum is milky and a little thickish, and has a mild, natural scent. It isn't oily and some of the ingredients are aloe, witch hazel, and hyaluronic acid.
Dirty Lamb Sugar Cookie Lip Rockz ($24.99) I've received this before in a chocolate coconut flavor but was delighted to try sugar cookie for a change. It's really just sugar, coconut oil, sweet almond oil, and vanilla and smells good enough to eat. I massaged a small amount onto my lips for a minute or so, then wiped it off with a tissue, and finally used a warm washcloth to remove whatever was left. It left my lips feeling soft and smooth.
Mountain Rain Ancient Clay Earthy Soap ($1.25 value) This is a hotel size soap bar and gives you an idea of whether or not you want to buy a larger bar based on performance, allergy concerns, and scent. It is made with Montmorillonite clay, shea butter, coconut oil, olive oil, lavender essential oil, and fragrance. It smells like old fashioned soap plus herbs and maybe a touch of incense? I like to use bar soaps in the kitchen so that is where this will go.
Jazmine Beauty Coastin' Highlighter ($28) I think this highlighter is overpriced, considering the full-sized palette of 3 shades is $36 (and based on weight this should be around $14.40). I want shimmer in my highlighter but due to my light complexion I don't want color, and this is warm and a bit orangey once it's on my skin. I had to really buff it out once I brushed it on and it's the end of the day and I can't really see it now. The shade Coastin' is described as "radiant golden bronze".
Here's the Coastin' highlighter swatch.
I thought the INHALE theme was nice, and three of the five products certainly made me want to take a deep breath to enjoy their scents. I've started using the retinol serum on my neck and chest before bed and I like the feel of it (some products make me feel clammy and gross in that area when I wake in the middle of the night and this product didn't). I've tried the lip scrub before but this was a different flavor and seemed perfect for this time of year. I adore the scent of peppermint so the meditation mist was just what I want in that type of product, and the highlighter and bar soap rounded out the box nicely, it was a good assortment (although I would have preferred the hand lotion, I seem to use a lot of it at work).
Below is the product info card and box opening pics!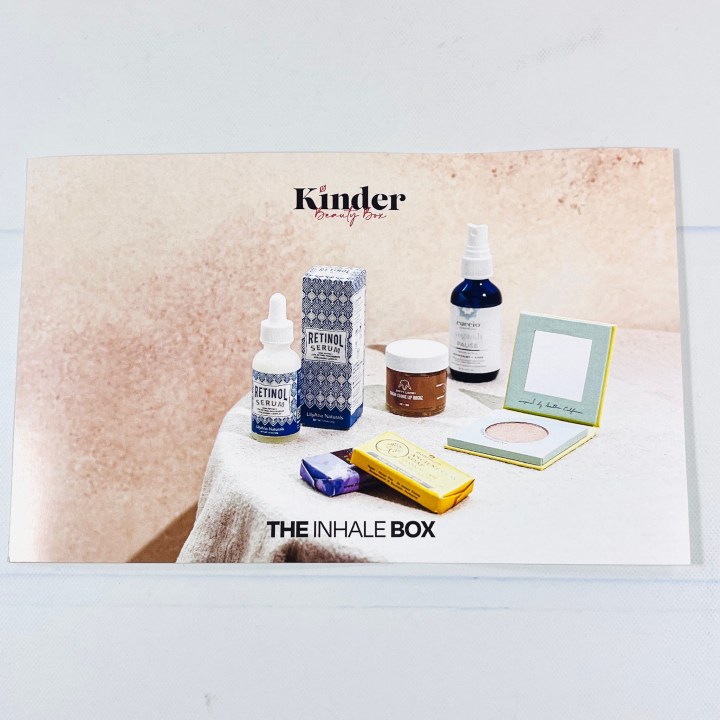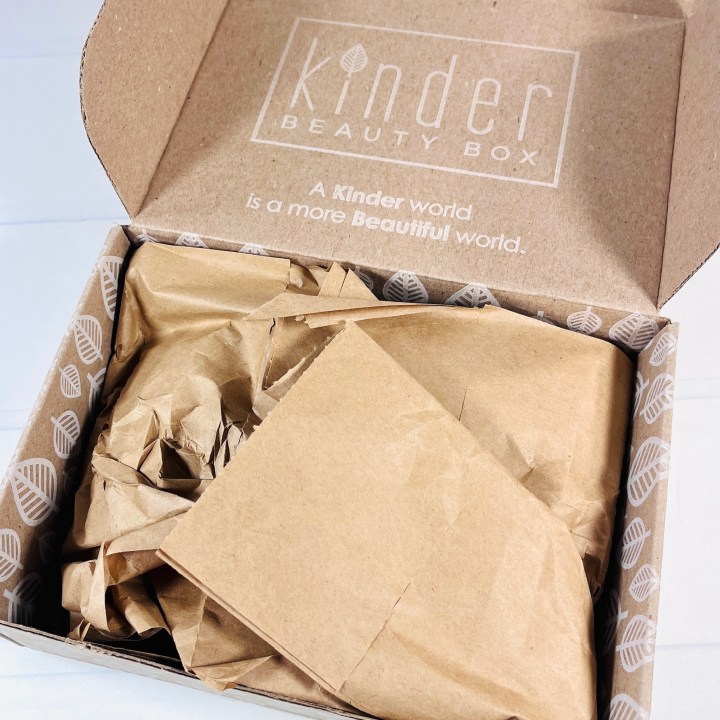 Kinder Beauty Box is a vegan and cruelty-free subscription box that sends skincare, haircare, makeup, and accessories. Each month you will receive more than $85 worth of products. The items are compassionately curated by Daniella Monet and Evanna Lynch. All Kinder Beauty Box products are guaranteed to be 100% vegan and cruelty-free. Kinder Beauty Box is $26 a month, with free shipping to the US, $5.95 elsewhere. Price drops to as low as $23 a box with a prepaid 6-month plan. Buy a multi-month plan to receive a free bonus box and to pick out which of the two monthly boxes you prefer (after the first box). A portion of all sales will go towards benefiting the founder's favorite animal rights and environmental causes.
Kinder Beauty's subscription box made the list in our 2022 readers' choice picks of best skincare subscription boxes!
What do you think of Kinder Beauty Box?