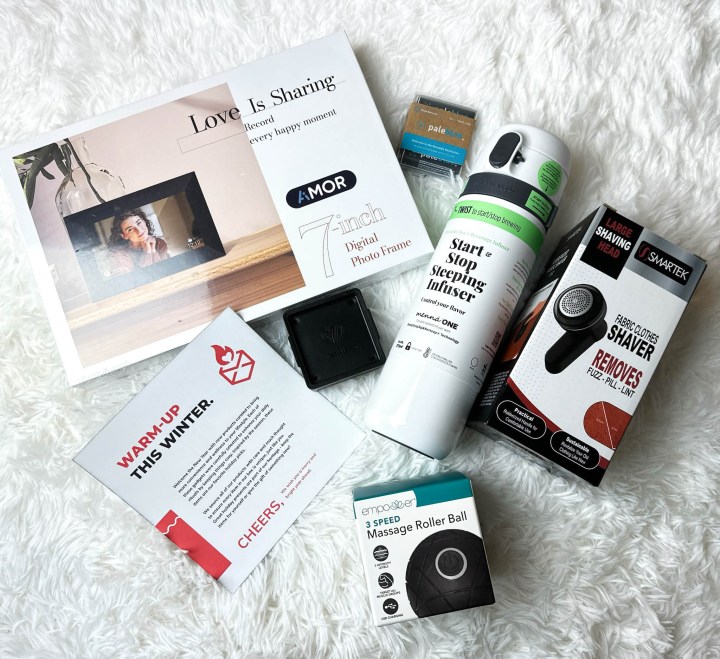 Breo Box introduces tech geeks and enthusiasts to a collection of fun and interesting gadgets every season. The Winter 2022 edition included 6 premium products, which were chosen to help elevate our lifestyle as we embark on the coldest months of the year. Check out our review below and see the latest tech items from Breo!
DEAL: Get $35 off your first box – just use this link and use the coupon code WRAP35.
It's a challenge to continue an active lifestyle during winter. To encourage us to get up and move around despite the drop in temperatures, here's an Empower Massaging Roller Ball ($49.99). It helps with pre-workout and post-workout recovery with 3 pulsating modes, which improves circulation and relieves sore muscles. You can charge it via USB and bring it even when you travel!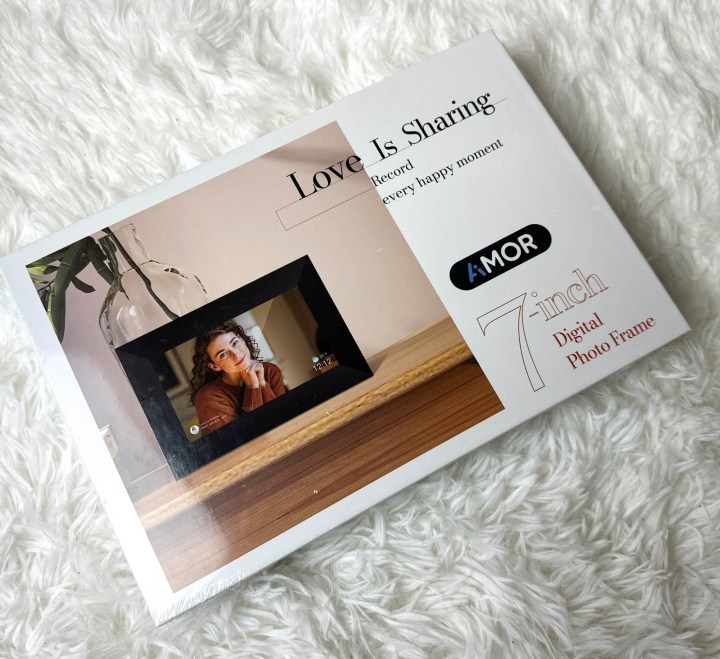 AiMOR 7″ WiFi Digital Photo Frame ($69.99) is a unique way to display your favorite family portraits or vacation photos! You just have to plug the frame in and connect it with a companion app, then you'll be able to enjoy a slideshow of photos on your device. Videos can be played on it as well! Another thing to love about this digital photo frame is its touchscreen controls. You'll be able to swipe easily through the slideshow or adjust photos according to your preferences!
We can finally say goodbye to single-use batteries and save time and money with Paleblue AA USB-C Rechargeable Batteries ($29.99). It only takes 1 hour to charge them, which is way faster compared to regular rechargeable batteries. No worries about leaking either, because these batteries work just like the ones in a smartphone. Plus, they come with a USB-C charge port, featuring an LED charging indicator. These rechargeable batteries are great for keeping gadgets juiced up when you travel, as well as for your battery-powered lights at home!
Mennä One, Start & Stop Steeping Infuser Lock Top Travel Mug ($69.99) is a must-have for tea lovers who are always on the go. It features a patented infuser basket that allows you to choose when to start or stop your tea's brewing. I like that it's double-walled, so I can keep my favorite brew hot or cold for a long time. Plus, it has a spill-proof top that prevents mess! This steeper is also dishwasher-safe and BPA-free.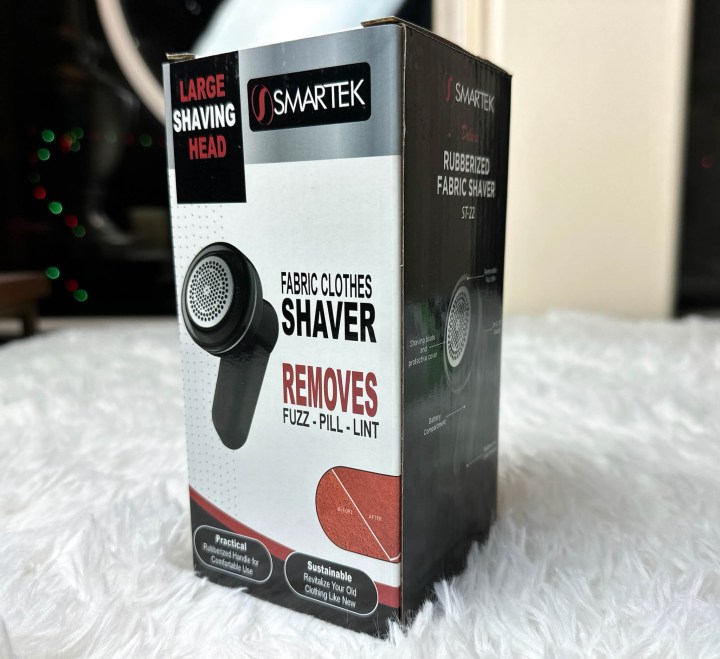 Subscribers will receive either the Smartek Fabric Shaver ($39.99) OR Coffee Cookie. For review purposes, we received both in our box.
If you want to bring out your old sweaters this winter season and make sure they look new again, you can use Smartek Fabric Shaver to neatly trim the very top fuzz from the fabrics. It's useful for reviving old garments, as it removes lint, fuzz, and pills. It works not just for clothing, but for bedding and even furniture as well! There's no mess either, as it suctions the fuzz into a detachable bin. It comes with a power cord, but it can be battery-powered as well!
Meanwhile, the Coffee Cookie is a winter must-have because it helps keep beverages warm, including coffee, milk, tea, and more. This rechargeable heating device works best with paper cups, but can also be used as a heated coaster. It features a top aluminum plate that transfers heat to the beverage. It's portable, and it's also pretty easy to use. Just plug it in, put your cup on top, and your beverage will be warm until you can finish it!
Winter is so much better with all these new gadgets from Breo Box! I'm impressed with the quality of each item, and they're all perfectly chosen to keep our everyday life more convenient especially now that the weather has gotten really colder. I love the rechargeable batteries, most especially the digital photo frame for displaying our family photos! With a total retail value of around $260, it's truly an impressive curation not just for the techie ones but also for anyone else who loves getting great value for their money!
Breo Box is a quarterly lifestyle subscription box for both men and women. Each box will contain between 6 and 9 high-quality products revolving around health & fitness, everyday lifestyle, and tech essentials. Each box is curated around the season. The box is $159 for the quarter, with free shipping in the US ($45 to Canada). For 2021, this subscription box made our reader's choice lists for best subscription box for women, best subscription box for men, and best premium subscription box!