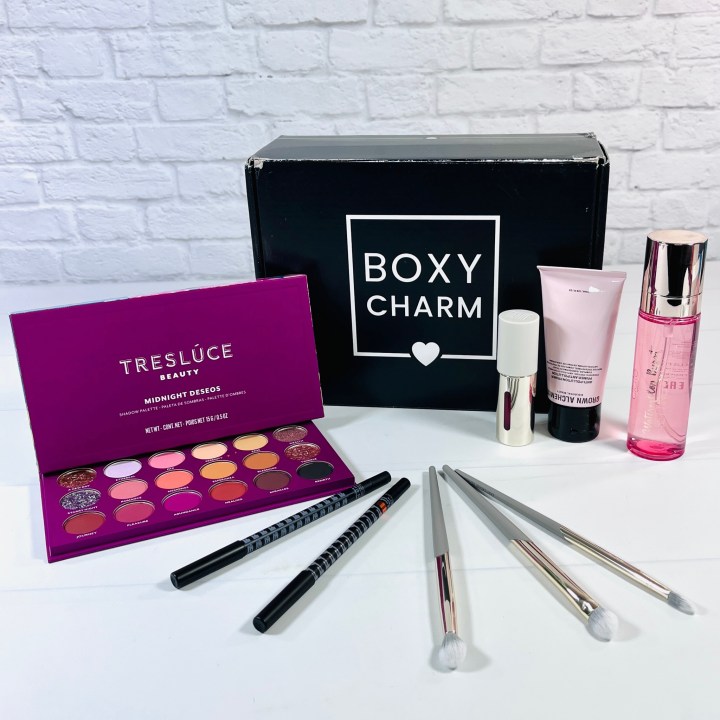 The December 2022 BOXYCHARM Premium theme was 'tis the Season (For Being Extra)! All of my items worked together to help me apply makeup and keep it there for, say, an extended night of holiday celebrations. There was a primer, setting spray, eye brushes, liners, and a shadow palette. See the specifics of what I received below!
There may be variations in the box – see the full spoilers here.
Subscribe now and get a FREE gift: Ciaté London Trend Edit Palette in Bronzed OR Olive OR Avant Skincare Blue Volcanic Stone Purifying & Antioxidising Cleansing Gel, PLUS $10 credit to December Drop Shop!
Use this link and pick your FREE gift at checkout AND get your exclusive $10 Drop Shop code via email within 24 hours of subscribing.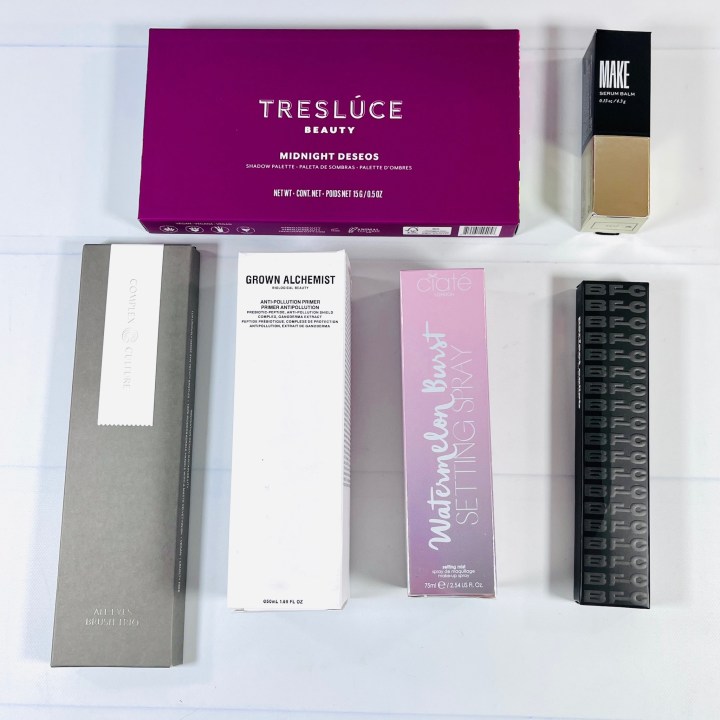 Everything came in its own box!
Grown Alchemist Anti Pollution Primer ($42) I'm not much of a primer user, mainly because after moisturizer and SPF, I don't really want anything else over the top. Yet, if I were going with how this feels on the skin, then this one is actually really nice. I also noticed that it doesn't have dimethicone or fragrance, so those are additional pluses in my book. It goes on silky smooth and leaves the skin feeling cool while it evaporates to a matte finish. It has an anti-pollution shield complex and prebiotic peptides and I saw glycerin and rose oil on the ingredients list. I used it all over my face with the exception of one cheek-to-jaw area and I must say that I didn't see any difference in the look after applying it (no blurring of pores that I could see) and at the end of the day my makeup looked the same on both sides but obviously results may vary and the brand claims that it will block against blue light damage.
Ciate London Watermelon Burst Setting Spray ($22) I don't usually use a setting spray with the exception of maybe certain eyeshadows – I'll spray the brush, dip it into shadow, and then apply. This spray goes on the face and it has the light scent of watermelons. The burst that comes out of the nozzle is rather hearty and there is a slightly tacky feeling left behind. Hmm, guess I'll stick to the shadow use.
Complex Culture Easy Eyes Trio ($40) Although this brush set is pricey (and I think we all know by now it's owned by Ipsy) it is still a good brush brand. One brush was perfect for applying shadow to the lid, another worked well for blending, and a third one helped me apply to the crease. The brushes seem sturdy and they feel well-made and I reach for them again and again.
Make Serum Balm ($26) I received the shade Pink Cerise, which was kind of a bummer because they have another shade available and I already received this one in another box recently. It's a hydrating lip balm that feels good on my lips and isn't sticky. There's not much color here but it can be worn alone or paired with matte lipstick or liner. Some of the ingredients include jojoba oil, hyaluronic acid, and avocado oil. I didn't detect any scent or flavor.
Beauty For Certain Perfect Collab ($32) Hmm, $32 seems like a steep price to pay for a blue liner that smears and a bronze liner that doesn't really show up. You're supposed to start by using the blue liner on the upper lash line and then use the bronze for the lower lash line and the inner corners. I tried it but again, the blue wouldn't stay in place and the bronze was nowhere to be seen. I've not been impressed with any of the products I've tried from this brand.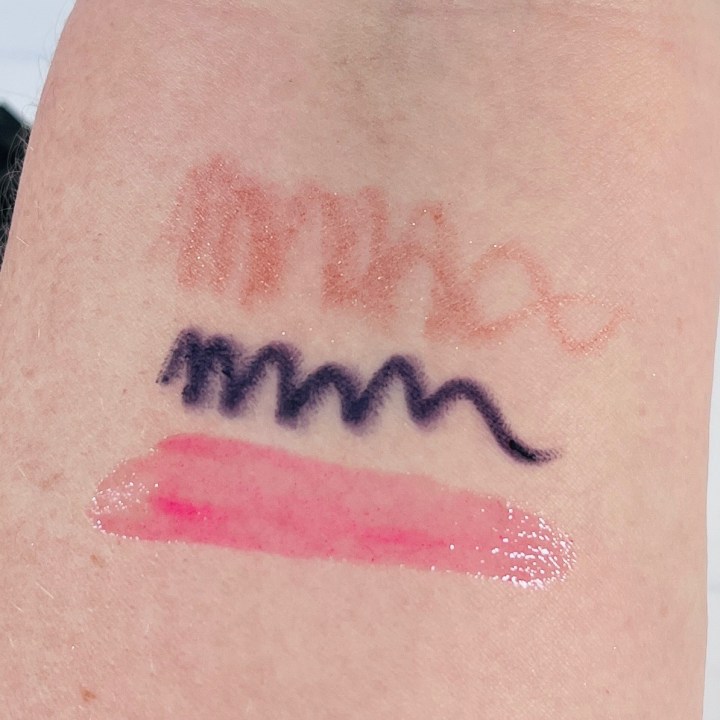 Swatched on top is the bronze liner, then blue liner, and finally serum balm.
Tresluce Beauty Midnight Deseos Shadow Palette ($35) I wanted to like this palette but it wasn't a hit with me. The brand's website says it's a combo of matte, shimmers, and metallic but I don't think there are any true shimmers, just chalky mattes and chunky metallics. The shades don't work for me either, there are just too much yellow and orange-tinged shades that don't look good on me. Finally, the metallics wouldn't stay on – I made sure to use a primer first and tried applying with a brush and with my fingers and I guess I could use a setting spray on my shadow brush first but since I don't like the colors then I'm not really motivated to try.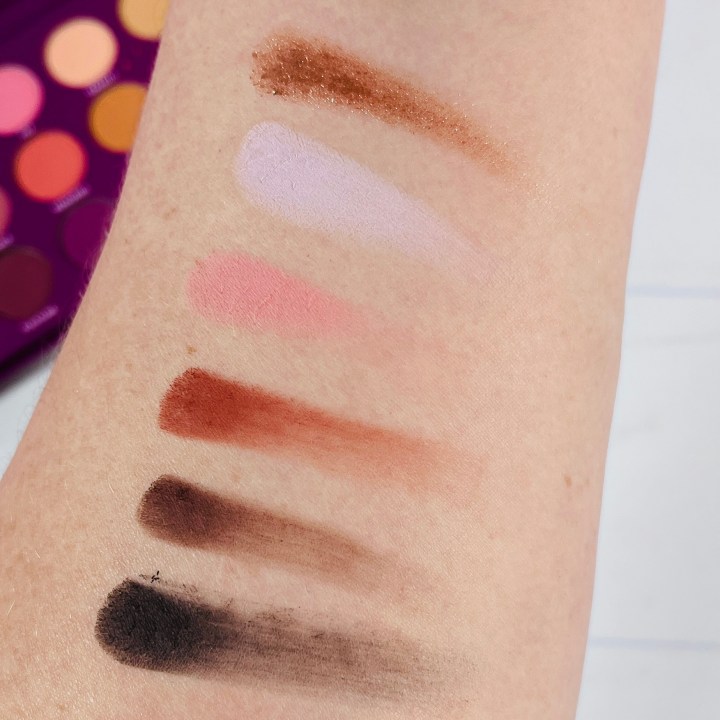 It's a lot of colors to swatch but here's A New Day, Ethereal, Paz, Healing, Miracles, and Rebirth (the first three across the top and the last three across the bottom).
While the palette in the December 2022 BOXYCHARM Premium may not have been a perfect fit for me, it actually worked well with the rest of the box. The products go together to apply makeup (primer, brushes) and help it last (setting spray). Then there were three makeup items to help me come up with various looks over the next month or even longer. The lip balm was a repeat, I wish I had received a different color, and while I may not be a fan of the BFC brand, I was happy to see something other than black eyeliner in a box for a change. The brushes are in my Caboodle to be used every day from here on out. The value for this box combo was around $197.
Below is a box opening photo as well as the product info card.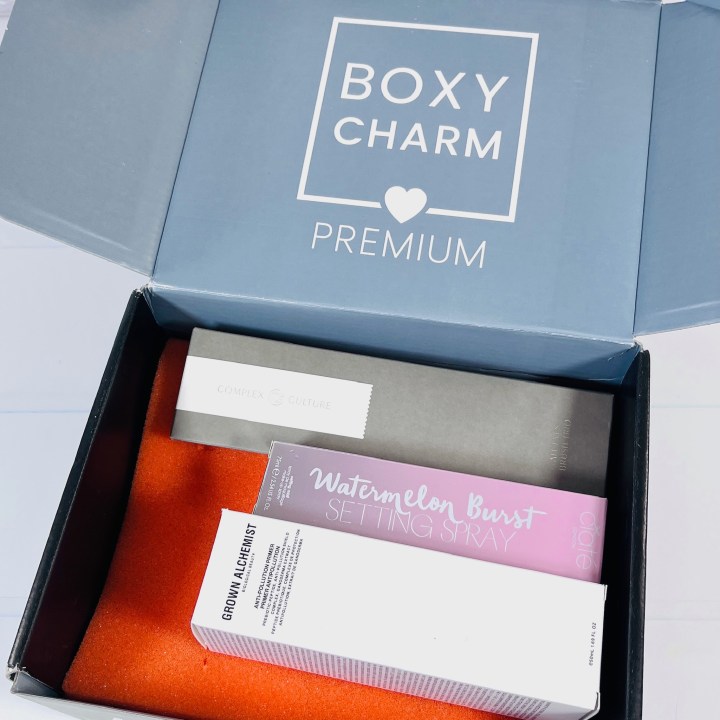 BOXYCHARM Premium is a beauty box from BOXYCHARM (who also has a base box for $27.99 a month and a BOXYLUXE upgrade option). For $39.99 per month (price drops for longer terms), you'll receive 6 items with 2 items chosen by the subscriber. They also state an average value of around $215 per box. BOXYCHARM's premium subscription box was voted by our readers as one of the best beauty subscription boxes for 2022, a best skincare box, and a best makeup subscription!
Are you subscribed to BOXYCHARM Premium? What's your favorite item?