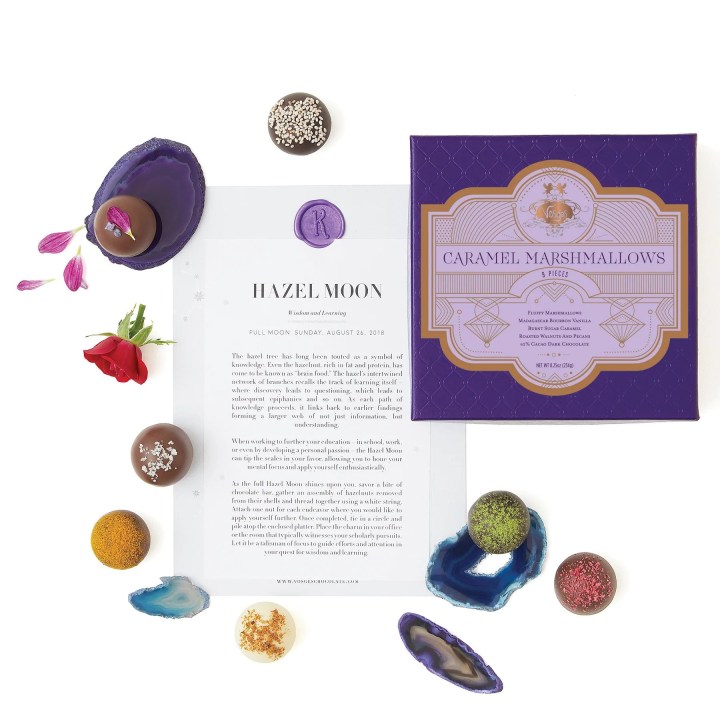 Chocolates are always a great gift idea. However, if you want to make your indulgent surprise more special, you can gift a Vosges Chocolate Lunar Club instead! This year-long subscription sends a fresh batch of chocolates on a monthly basis based on the lunar cycle. Each chocolate package will be accompanied by spiritual tools to help your recipient manifest their intentions while they enjoy their favorite treats!
Vosges aligns with celestial forces to bring your friends and loved ones a unique gift they will love. The brand's proprietary chocolate blend is made only with premium ingredients, with exotic and exciting flavors worth looking forward to!
Gift a one-of-a-kind tasting experience coupled with new spiritual knowledge. Vosges Chocolate Lunar Club is a sweet gift that keeps on giving for an entire year, with a tasting experience specific to the current moon cycle. Your recipient will receive gourmet chocolates in a box every month, which will satisfy their taste buds with unmatched flavors and their spirit with renewed energy and rich symbolism! Aside from the Vosges Haut-Chocolat chocolate collection, monthly shipments also include an information card detailing the significance of each moon cycle, as well as an intention-setting ritual.
These artisan chocolates are made only from high-quality cacao and other premium ingredients – even chocolate connoisseurs would be impressed. In fact, they source only Fair Trade or Rainforest Alliance-certified cacao, and they exclusively use organic cream and sugar. Moreover, Vosges' kitchen is powered by 100% renewable energy. As for the packaging, they use post-consumer recycled boards and biodegradable materials!
The Chocolate Lunar Club costs $900. You can also add a gift note at no extra cost. Just click the "send as a gift" button and select a digital card design to send via text or share link. It's actually great for last-minute gifting! Whether for the chocolate lover in your life, for a spiritual person you know, or for the one who is hard to shop for, you can send this luxury chocolate gift in just a few taps.
Vosges Chocolate also offers different gift sets! Can't decide what kinds of chocolates to gift? Just send a gift card through email, IM, or print (instantly or at a later date), with pre-set amounts ranging from $50-$1,000 to give them the gift of choice!
Will you be gifting a loved one the Vosges Chocolate Lunar Club?
Looking for subscription box gift ideas? Check out our full subscription box gift guide!