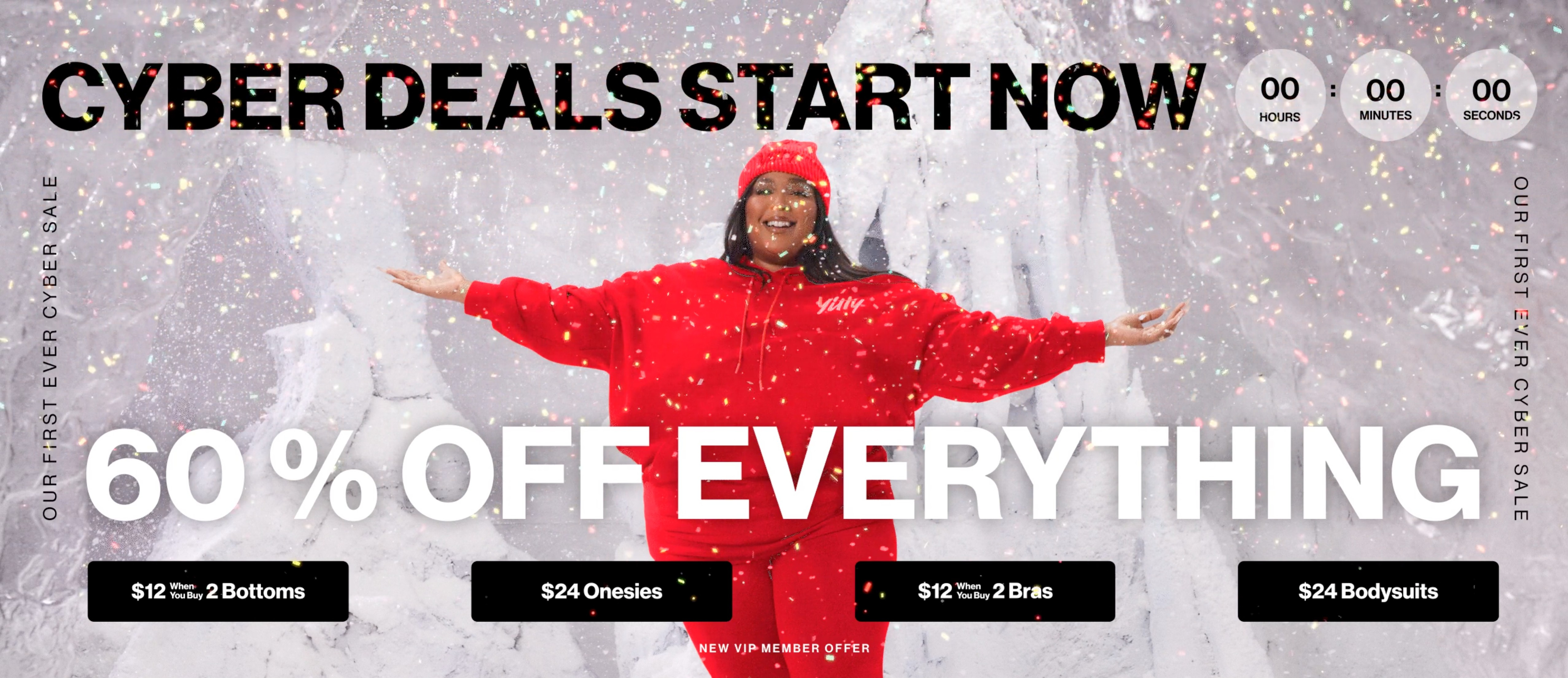 Lizzo's YITTY shapewear brand that carries sizes up to 6x has an awesome Cyber Monday sale for new members!
New members get 2 Bottoms for $24, Onesies and Bodysuits from $24, Bras and Panties 2 for $24, – no coupon code necessary, just use this link! Save 60% on everything!
What's also great is that YITTY is also sustainable – 65% of the pieces are made from recycled fibers and sent in a 100% recyclable packaging. There are 3 collections from this brand – Nearly Naked, which is close to traditional shapewear; Major Label, which is sportier and can be incorporated into athleisure wear outfits; and Mesh Me, which can be worn as a part of your OOTD or as an underwear.
Meet YITTY, the revolutionary shapewear brand co-created by three-time Grammy Award-winning artist turned fashion entrepreneur, Lizzo. Named after her childhood moniker, YITTY is Lizzo's lifelong dream come true. For nearly 3 years, she's put her heart and soul into building this game-changing, size-inclusive brand from the ground up — all based on the principles of self-love, radical inner confidence, and effortless, everyday wear.
Grab the latest shapewear designs by Yitty through Fabletics! A monthly Fabletics membership is $49.95. Members will get Monthly Member Credit, which can be redeemed for any 2-piece outfit or item up to $80, online or in-store. Any unused promotional Member Credits expire after 12 months.
How to sign-up for Yitty? Just take the Yitty style quiz, pick the shapewear you like, and provide your details, that's it. In case you need to get more, you can simply order individual items at VIP prices! Fabletics members will always save up to 20-50% on full-priced styles and get access to members-only exclusives. Skipping a month is possible if you are not interested in getting any item – just make sure to do it between the 1st and the 5th of the month.
Yitty also champions sustainability. Most of the shapewear styles they offer are made with recycled fibers, and their sustainably designed packaging is made with 100% recycled materials. They are also a certified Carbon Neutral Company!
Are you getting the Yitty Cyber Monday deal?
Be sure to check out all of the Black Friday Subscription Box Deals!