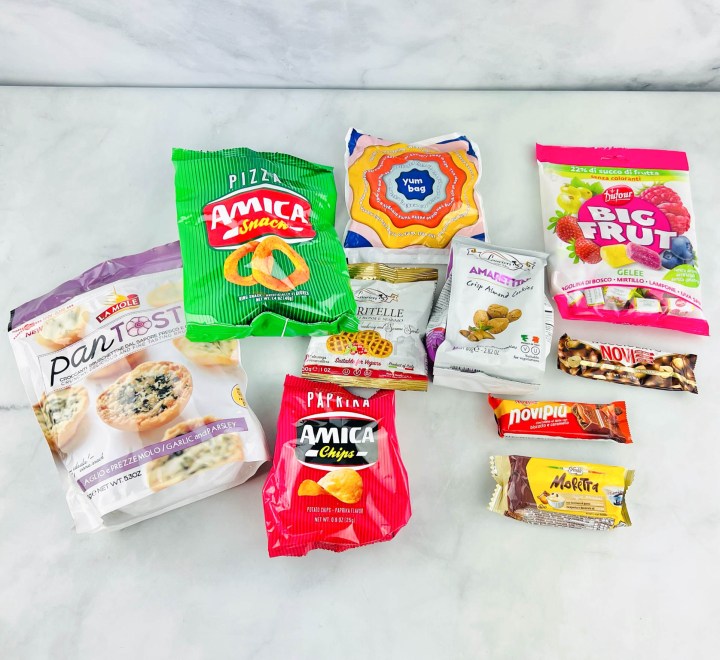 Universal Yums is a food adventure in a box! For November 2022, they introduced our taste buds to Italian snacks. There were ten goodies in our Yum Yum box, ranging from candies to chips and everything in between. Unboxing snacks we've never tried before was definitely a fun experience. Ready to discover what Italy has to offer? Scroll down and see all the snacks that will make you say delizioso!
DEAL: Save 10% on a 6+months Universal Yums subscription!! No coupon code needed, just use this link to sign up!
Our Yum Bag included two kinds of Italian candies! Also known in Italian as caramella, these candies make a nice pick-me-up or a dessert after a meal.
Sorini Salty Crunchy Popcorn offers a well-balanced sweet and salty combination. They are milk chocolate pralines, made special by salty popcorn flavored cream and popcorn crisps. The textures you'll get in one bite is amazing! There's also the Elah Millefrutti Fruit Chews, which we received in two delicious variants: peach and strawberry. I liked both, they were soft and flavorful!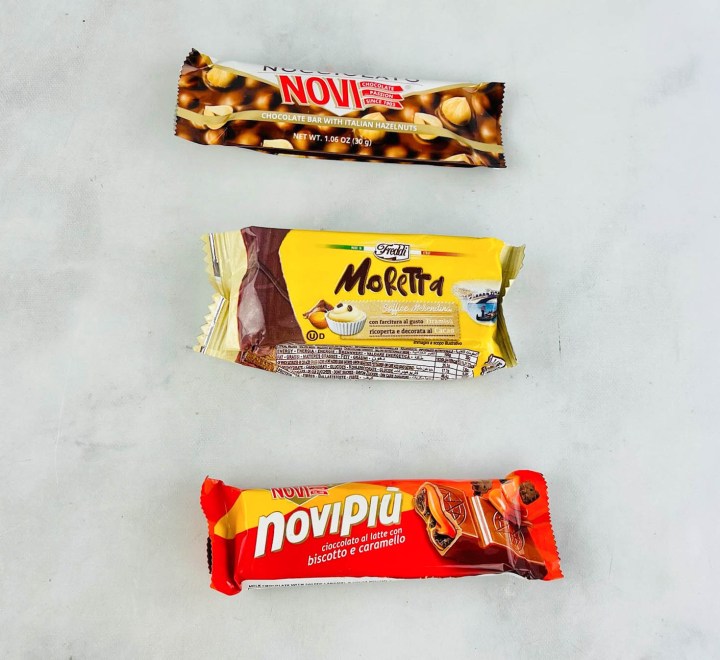 Chocolate lovers get a fair share of their favorite snacks in this month's box, starting with the Novi Chocolate Bar. It features decadent milk chocolate embedded with real hazelnuts, giving you a satisfying crunch while fulfilling your sweet tooth cravings. Ideally paired with a hot drink, Moretta Snack is a fluffy and moist chocolate cake with a rich chocolate coating, inspired by tiramisu. Another yummy treat you shouldn't miss is NoviPiu Chocolate Bar, an Italian chocolate which bursts with a salted caramel filling. It's gooey and creamy at the same time!
While we enjoyed the Italian candies in the Yum Bag, we're also thrilled to receive a whole bag of Big Frut Candies! These are fruit jellies that come in refreshing berry flavors such as blueberry, raspberry, strawberry, and gooseberry. I like how soft and juicy these were! Also, the candies are individually wrapped, so you can easily grab one and go or share them with others.
La Mole Pantosto are bruschetta bites showered with garlic and parsley! They are definitely aromatic and herbaceous, a feast of Italian flavors dancing in your mouth as you savor them. If you're into garlicky snacks, you might love this one as well. I can't wait to dip these in some marinara sauce!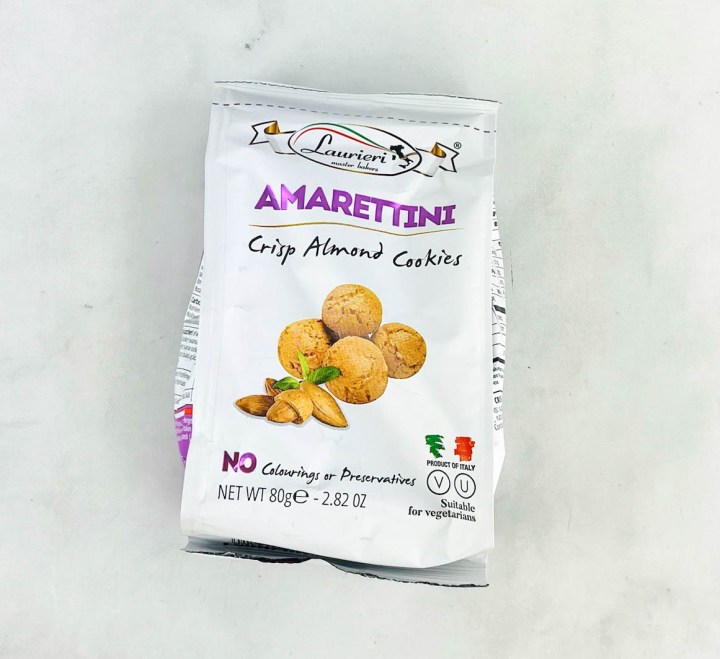 Amaretti is Italy's famous almond cookie. What we have here is the mini version, the Amarettini Crisp Almond Cookies! They may be small but they have a sweet and nutty flavor that you will love. These baked goodies are also light and airy, a perfect snack to enjoy while on the go or a tasty companion for your favorite ice cream.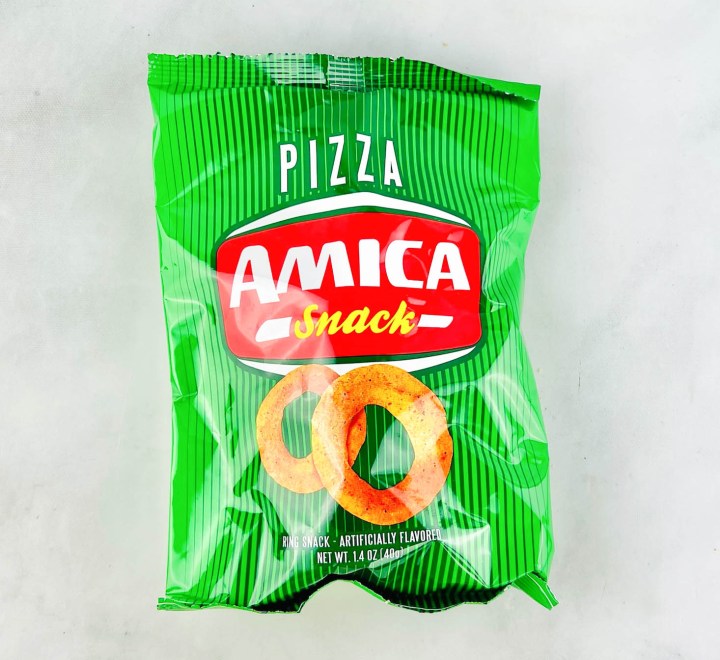 An Italian snack box isn't complete without a pizza-flavored snack! In this box, we have the Pizza Amica Snack which are actually corn rings with a puffy and crunchy texture that makes them so enjoyable to munch on.
Another snack to pair with coffee or tea is Laurieri's Miniritelle Biscuits. These small biscuits contain cranberry and sesame seeds for added flavor, and they definitely suit the fall weather. I just wish these came in a bigger bag because they're really tasty!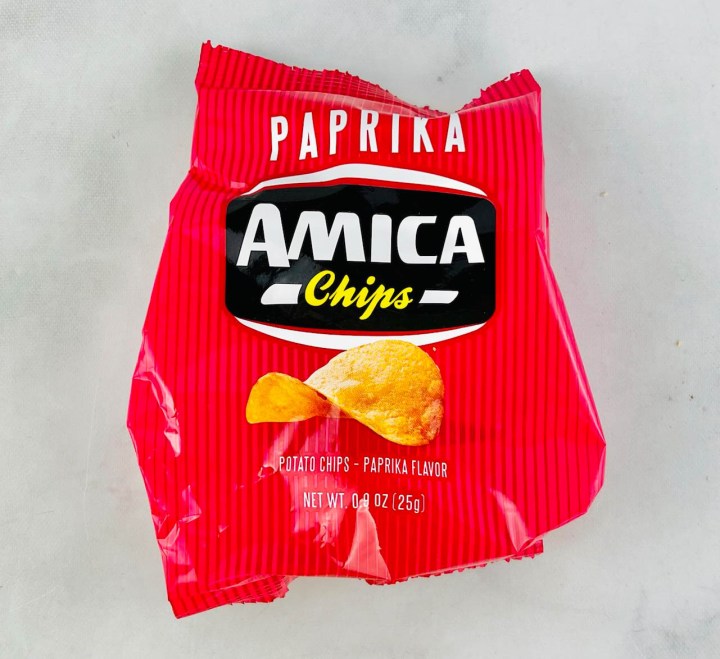 Paprika Amika Chips is made by one of Italy's top snack brands, and it's easy to love if you're a potato chip fan because it's crunchy and delicious. They didn't scrimp on the paprika flavor, that's why each bite is so zesty! Whether eaten on its own or paired with a drink, it's quite satisfying.
What a delightful box this was! Italy is a dream country for many, and being able to try new snacks from the country is just so exciting. They chose snacks that showcase unique Italian flavors, as well as well-loved snacks by locals. The variety of snacks is also great because there's something for the chocolate lover, as well as for those who like cookies, biscuits, and chips. Of course, I also liked the delicious Italian candies! Overall, this curation lived up to my expectations!
Each snack box also includes an interactive guidebook with fun facts, brief descriptions of the products in the box, a local recipe, and more! See it here: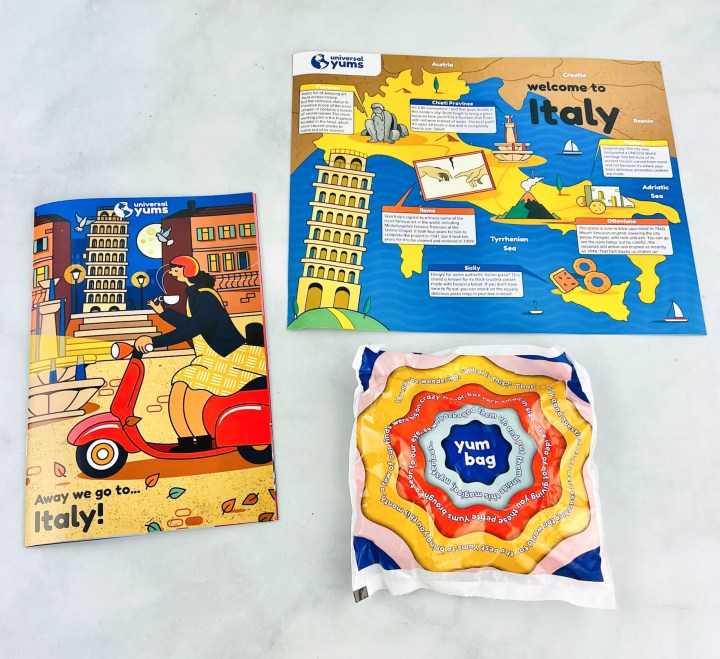 Universal Yums is an international snack subscription! Featuring a new country each month, the box contains unique and delicious snacks that are either difficult or impossible to find in US stores. They promise to always include a variety of sweet and savory snacks, all with the featured country's distinct flavors and spices. Each box also comes with an interactive guidebook containing an explanation of why they chose each snack, as well as trivia, games, recipes, and other cultural features! This monthly snack subscription is a reader favorite – it's taken top honors 3 years in a row in our reader's selections for the best snack subscription box!
There are three available box sizes:
Yum Box – 5-7 snacks plus a 12-page booklet for $17 a month
Yum Yum – 10-12 snacks plus a 16-page booklet and other bonus content for $28 a month
Super Yum Box – 19-20 snacks plus a 16-page booklet and other bonus content for $42 a month
Have you tried Universal Yums? What do you think of their snacks? Let me know your thoughts in the comments!