Trifecta Meals Review
One of the main struggles of people who try to switch to a healthy lifestyle is the time-consuming meal preparations. Aside from carefully planning weekly meals, it's also a challenge to find high-quality ingredients in groceries and to cook the food from scratch especially if one has no experience in making nutritious food – more so when you need to follow a structured diet. Trifecta, a weekly meal delivery service, solves this problem with ready-made meals. They make it easy for busy people, diet newbies, health-conscious individuals, and everybody else to eat healthy food, with great food options for paleo, keto, vegan, vegetarian, clean eating, and other diets!
With Trifecta, you reap the benefits of a healthy and balanced diet, while enjoying the modern convenience of having fully cooked meals delivered to your door. Get a meal plan that suits your lifestyle or pick your own meals – either way, you'll no longer worry about time-consuming meal preps and you'll have more time and energy for other important things.
DEAL: Get $120 off across your first 6 boxes! Use coupon code HS120.
Trifecta Benefits & Drawbacks
Trifecta Benefits
Fully-cooked meals that only require heating
Different plans for various dietary lifestyles
Customization options
USDA organic and sustainably sourced ingredients
Money-back guarantee
Trifecta Drawbacks
Only two ingredients can be excluded from your weekly menu
On the expensive side
Trifecta Review
Summary
A weekly meal delivery service, Trifecta offers chef-crafted meals for different kinds of diets ranging from keto to paleo, vegan, vegetarian, and more. These nutritious meals are made with USDA organic ingredients, and you can easily heat them up in your air fryer, oven, microwave, or stovetop. Plans start at $99.99 per week, plus shipping.

All About Trifecta
Eating the right kind of food in appropriate portions is essential to a healthy lifestyle. With weekly meal deliveries, Trifecta ensures that your diet won't be compromised and you'll get to enjoy delicious and nutritious food minus the hassle!
How does Trifecta work?
Everything Trifecta offers is calorie and portion-controlled to help you achieve your desired health goals. All meals are crafted by real chefs using GMO-free organic ingredients, grass-fed meat, and wild-caught seafood – all cooked to order, so no more food waste!
This meal subscription service is flexible! You can pick your meal plan based on the lifestyle you follow, including keto, paleo, and vegan. Just tell them how many meals you want each week, and they'll take care of the rest for you! Meal boxes are delivered right to your doorstep on autopilot, allowing you to do other important stuff.
You also have the option to skip a week or make your subscription biweekly and cancel anytime. Subscribers can even unlock free 1-on-1 guidance from their team of nutrition experts and track their progress through the app! Trifecta even has a money-back guarantee. If you aren't completely satisfied with your meals, let them know within 10 days of receiving your first order so they can process a refund of up to 7 meals.
Trifecta even has an app, where you can manage your orders and log and track your calories, as well as your workouts. The Trifecta app is available on Android and iOS.
How much does Trifecta cost?
Starting at $99.99 per delivery, you can get a Meal Plan that suits your diet or lifestyle. You can also pick your preferred meals if you opt for Meal Prep (A La Carte), which starts at $119.20 per delivery. There's a flat rate $9.99 shipping fee to all states except Alaska and Hawaii. Orders from Alaska and Hawaii will incur a $49.99 shipping fee.
Where can I buy Trifecta?
Grab wholesome meals from Trifecta's official website! Click the "Get Started" button on the upper right corner of the homepage, or take the Trifecta Meal Quiz if you're not yet sure what to get. After building your plan, head to check out and provide your details. Sign-up takes only a few minutes, then your chef-crafted meals will be delivered to your home for your convenience!
Where and how does Trifecta ship?
Trifecta delivers everywhere in the United States – yes, including Hawaii and Alaska, but with a higher shipping fee due to additional travel costs. They usually ship your meals on Fridays or Saturdays via FedEx, UPS, or GSO. The tracking information will be sent via email.
How is Trifecta packaged?
The majority of Trifecta's packaging is recyclable! The cardboard box is made with recyclable materials, while the trays are made with recyclable, food-grade plastic. Just make sure to rinse them out first before recycling them. As for the ClimaCell panels that keep the food fresh, no worries because they are not only curbside recyclable but also biodegradable since they are made with paper and plant-based components. Lastly, the Trifecta ice packs contain food-safe, water-soluble gel and the good news is that they can be reused!
What products does Trifecta sell?
Trifecta offers pre-portioned, fully-cooked meals that contain wholesome ingredients! You can choose among the available Meal Plans that cater to different dietary preferences, or opt for Meal Prep or A La Carte which lets you curate your own box.
There are 5 Meal Plans available: Clean Meal Plan, Keto Meal Plan, Paleo Meal Plan, Vegan Meal Plan, and Vegetarian Meal Plan. Clean Meal Plan doesn't include processed ingredients – only nutritious and macro-balanced meals. Meanwhile, Keto Meal Plan features meals that are low in carbs and rich in healthy fats. If you're looking for high-protein meals, Paleo Meal Plan is for you. These paleolithic meals use only fresh ingredients! Of course, they also offer Vegan Meal Plan which includes 100% plant-based meals with whole food ingredients, and Vegetarian Meal Plan which is dairy-free and 100% plant-based. Love healthy breakfasts? Trifecta now offers breakfast meals, and you can also choose to include it in your Meal Plan!
The Meal Prep or A La Crate option allows you to curate your own box. If you're picky with your food, this might be the best choice for you! They have a weekly rotating menu, so you'll never get bored with what you eat. Popular menu items include proteins like Grilled Chicken Breast, Grilled Salmon, and Grass-Fed Bison Burger, as well as vegetables like green beans, butternut squash, broccoli, and asparagus. You can even add carbohydrates like sweet potato, quinoa, and brown rice, or skip it altogether if you wish. As for Trifecta's classic meals, there's Egg Scramble and Potato Breakfast, Turkey Patty with Mixed Vegetables and Brown Rice, and more!
My Trifecta Review
With Trifecta, everyone can easily grab food that meets their dietary preferences – paleo, keto, vegan, vegetarian, and more! We tried the meal delivery service for the first time, and I was pretty excited to try all these fresh, nutrient-packed, chef-crafted meals. There were five single-serving meals in our box that only needs heating, so let's get into it.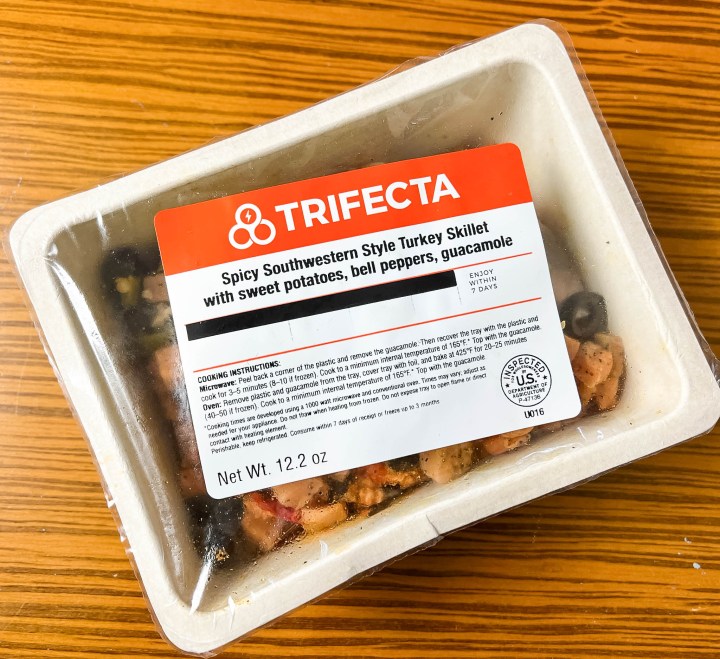 Let's start with Spicy Southwestern Style Turkey Skillet! This Mexican and Southwest-inspired dish has sweet potatoes, bell peppers, and guacamole. The meal weighs 12.7 oz. and is enough for one adult. To prepare, peel one corner of the plastic covering and remove the guacamole. You have the option to heat it in the microwave or oven. Once heated, remove the cover entirely and top with guacamole.
It smelled so good while I was heating it! The taste didn't disappoint either. Packed with protein-rich turkey, veggies, rice, and Southwestern-style spices, this meal's rich flavor explodes in the mouth. I like the kick of heat brought by the jalapeno!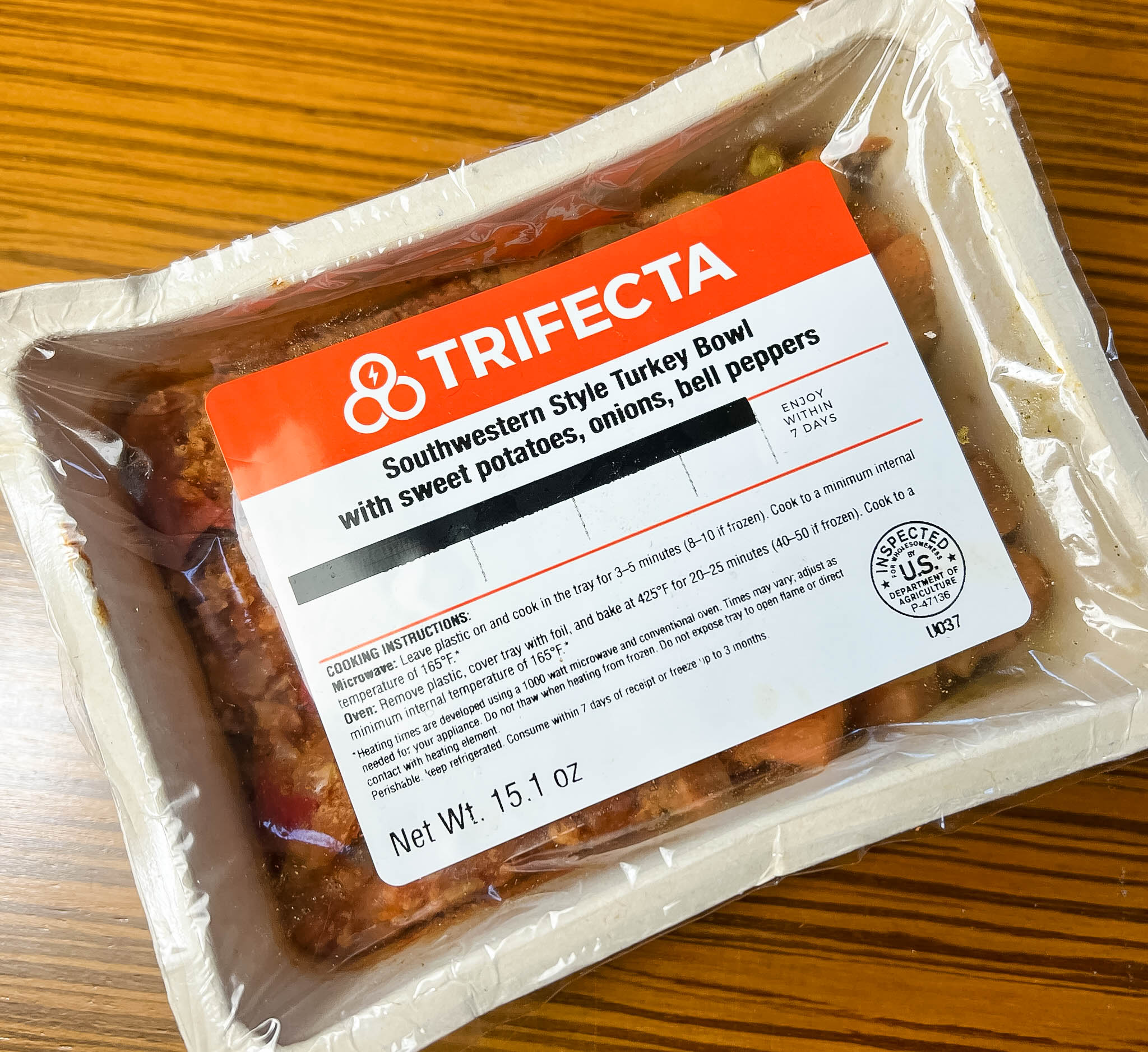 Next is the Southwestern Style Turkey Bowl, which is slightly similar to the previous dish, but this time, it contains fire-roasted diced tomatoes in juice. It isn't as spicy, but the flavors brought by the combination of diced green chiles, chili spice blend, black pepper, lime juice, ground makrut lime leaves, and Mexican oregano were amazing. Just like the turkey skillet, this turkey bowl was a filling dinner choice!
Another delicious but guilt-free meal is Jambalaya Spiced Rice with white meat chicken and pork andouille sausage. There were three big chunks of sausage that are tasty and protein-rich! It's portioned-controlled, so you can stay loyal to your diet without compromising flavor. Similar to paella, this recipe is a hearty mix of rice, spices, protein, and aromatic veggies, like bell pepper and celery.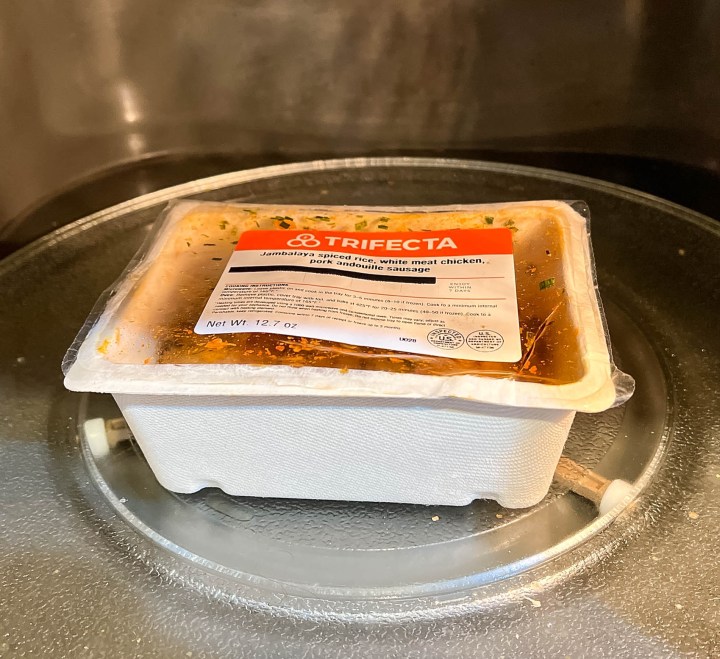 Depending on where you heat it, preparation differs. If you're using a microwave, leave the plastic on and heat it for 3-5 minutes (8-10 if frozen). But if you're using the oven, remove the plastic and cover it with foil instead. I was excited to taste the dish, so I decided to use the microwave for faster heating. Not being biased here, but it's incredibly flavorful! You can taste loads of spices that made this whole dish delicious.
Let's try another one! Shrimp Etouffee is a hearty and healthy meal and aside from shrimp, this recipe includes green peppers, Creole seasonings, and brown rice. The tender shrimp is smothered in a rich sauce and served over rice. The subtle heat and deep flavor make this recipe a comforting meal.
Like the Jambalaya, you can prepare or heat this meal in a microwave or oven. The heating time depends if the meal is frozen or not. The smell is mouth-watering, everything is tender, and the taste is impeccable!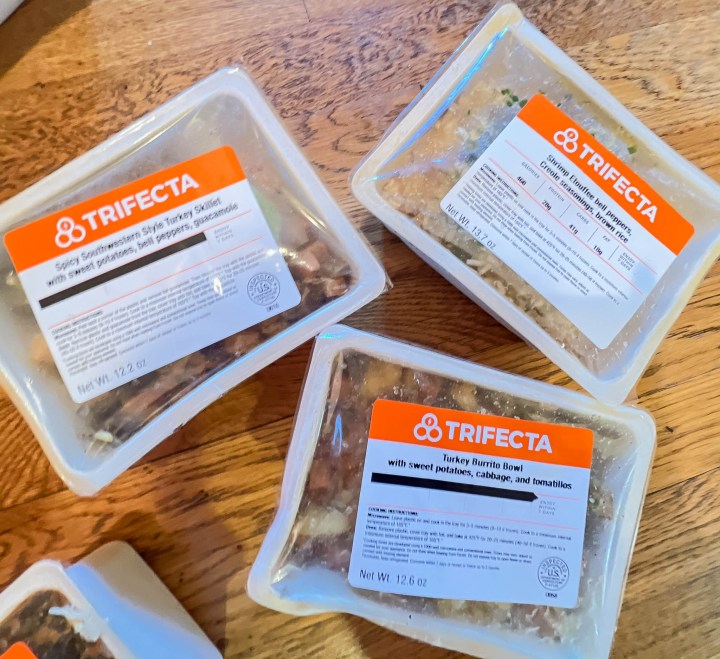 Other meals we received in the box are Pollo Guisado and Turkey Burrito Bowl. Pollo Guisado is a stew made with white meat chicken, tomatoes, pumpkin seeds, and citrus. It's a protein-rich dish and it also makes a great comfort food. Meanwhile, the Turkey Burrito Bowl comes with sweet potatoes, cabbage, and tomatillos. The hearty serving kept me full!
Is Trifecta Worth It?
Overall, my Trifecta experience was great! As a busy individual, I find it hard to plan what to eat next and to do all the shopping and cooking. Trifecta omits all these steps by bringing prepped meals, and all I have to do is to keep them in the refrigerator and heat them up when it's time to eat. Meals rotate weekly, so subscribers don't have to stick with the same old recipes. So far, I liked all the meals I've received. Everything was fresh, and I enjoyed every bite knowing it's made only with wholesome ingredients! They didn't skimp on flavors either!
If you follow a structured diet, you'll benefit from Trifecta because they offer individual meal plans for clean eating, paleo, keto, vegan, and vegetarian. You will only receive meals that match your diet, a huge convenience compared to searching for healthy ingredient substitutes or alternatives on your own. Aside from busy people, fitness enthusiasts and athletes may also benefit from Trifecta's pre-portioned meals. You don't have to measure every single thing you eat because they've already done it for you, and there's no need to worry about overeating either! However, to achieve your health goals, it's still important to maintain a good exercise regimen along with a proper diet.
Trifecta proves that it's possible to eat ready-made meals without sacrificing your diet and your nutritional intake. It might be on the expensive side, but the quality of the meals and the overall convenience makes up for it.
Are you ready to reap the benefits of Trifecta's healthy & delicious meals?