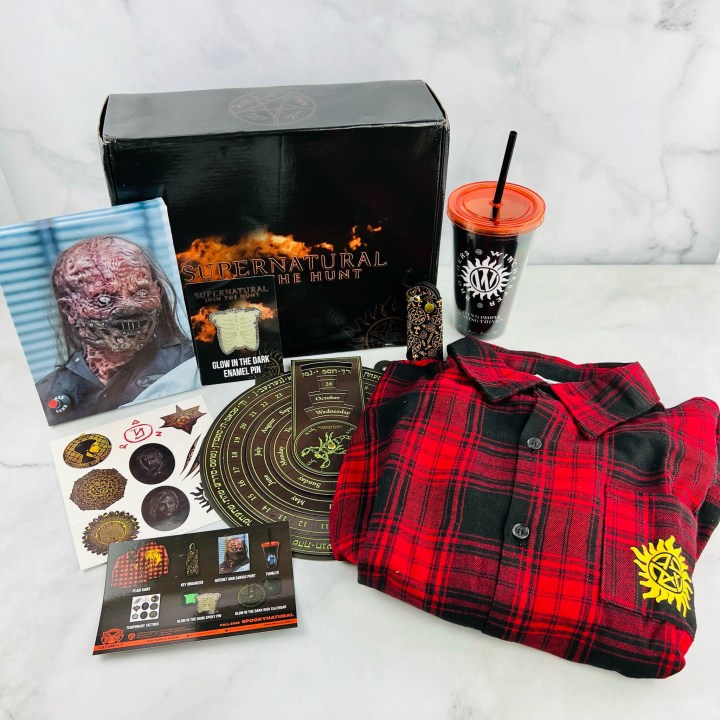 Supernatural Box delivers licensed Supernatural merchandise straight to your door and for this quarter, it's mixed with a good scare! The Fall 2022 box was themed SPOOKYNATURAL, with 7 items that gave us a dose of horror while reminding us of Sam and Dean's thrilling journeys. To see what's inside, scroll down and continue reading our review.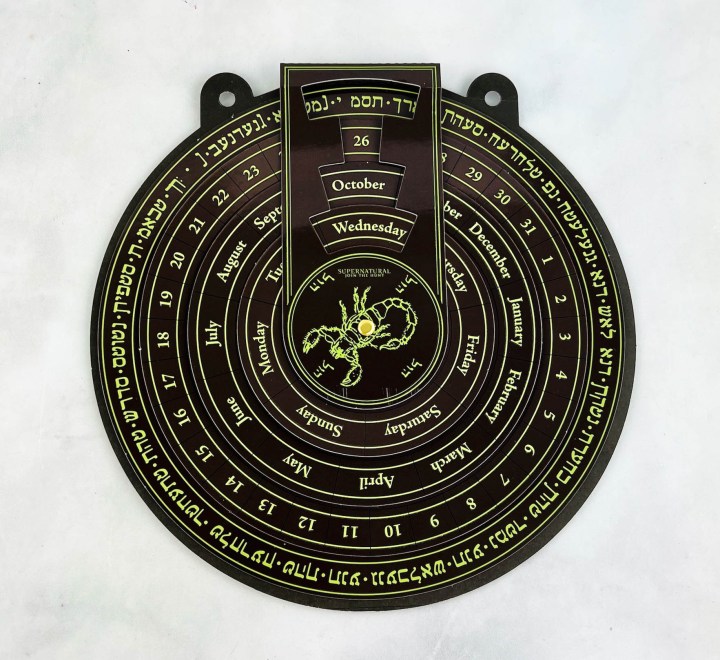 The Glow-In-The-Dark Disc Calendar is a rotary perpetual wall calendar to help you keep track of the day. It's a bit flimsy since the material used is paper or thin cardboard. The illustration in the middle features a scorpion. You can change the day of the week, month, and exact date by rotating the wheels or discs one by one.
I get chills just by looking at this Hatchet Man Canvas Print. It looks really creepy, but the print quality is great! The back portion also has a saw tooth hook installed. Although perfect for Halloween, I'm not sure if this is a great item to display at home. I can't even look at it straight!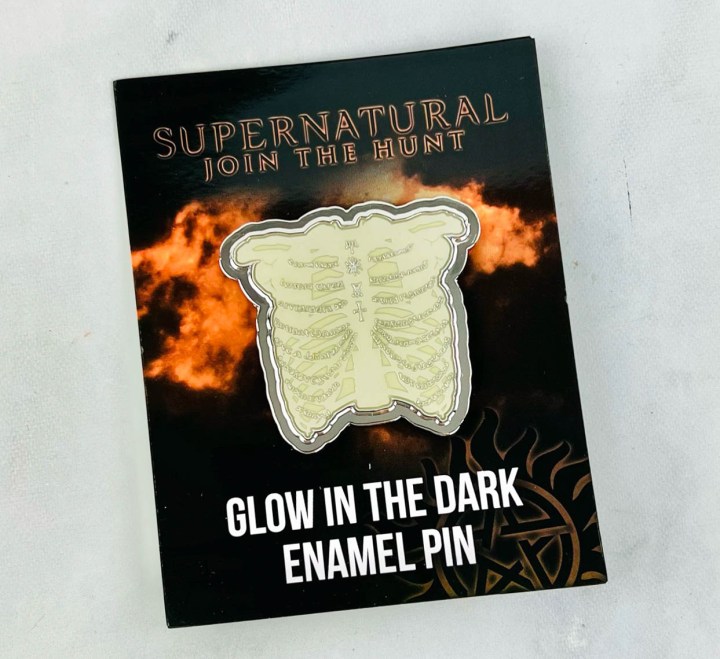 The box also includes a Glow-In-The-Dark Enamel Pin. This one's huge! It took inspiration from Sam and Dean's ribcage carved with Enochian Sigils. It's larger than most pins, and it's of good quality as well. You can attach it to denim, a backpack, or wherever you can easily see it when it glows in the dark!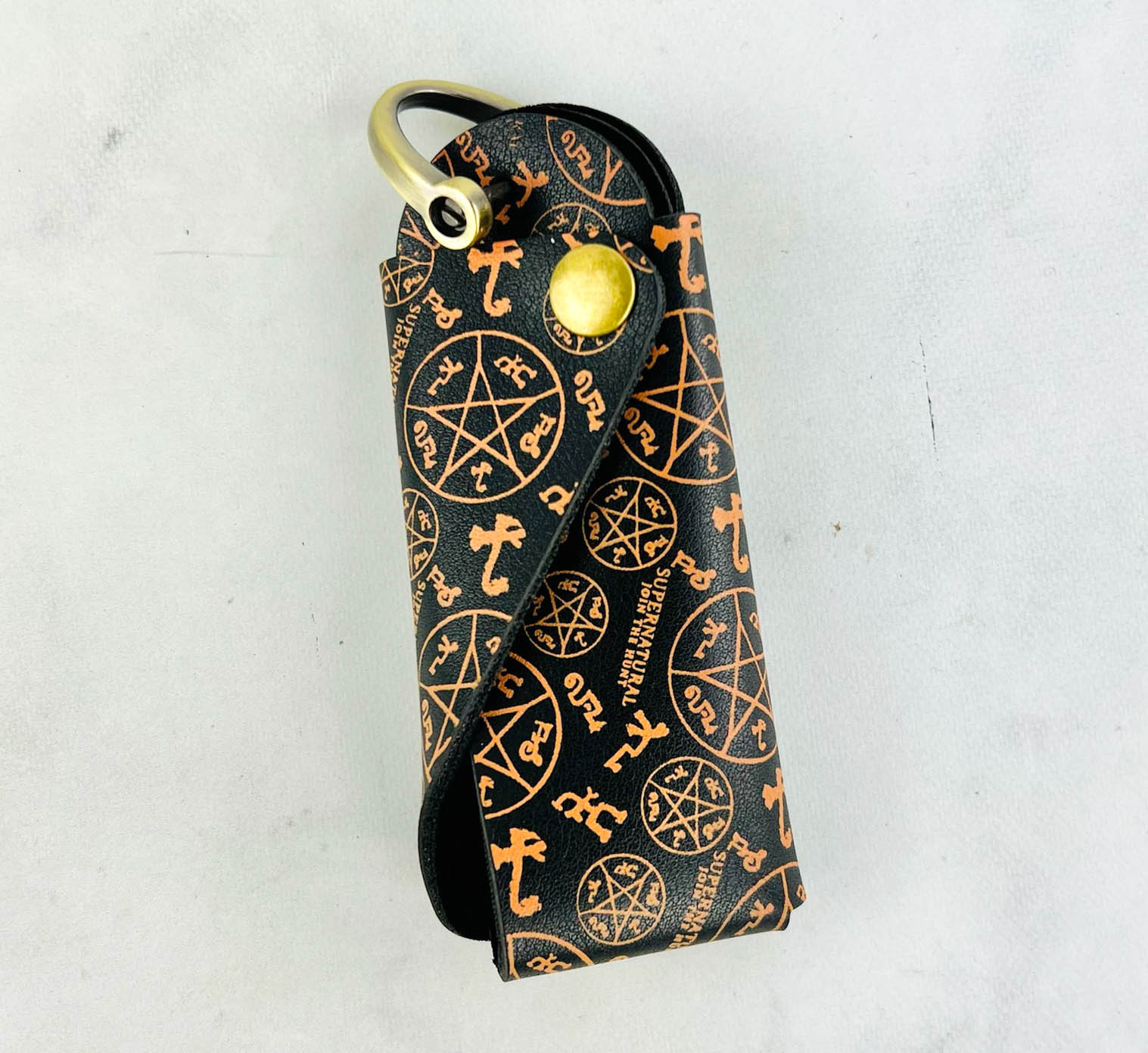 It looks like a lighter case of some type, but it's actually a Key Organizer! It has a snap closure to keep keys safe inside and prevent them from rattling and jiggling too much. The black jacket is designed all over with a devil's trap print. Meanwhile, the inside feels soft and velvety. It's cool, and I hope it will last.
These Temporary Tattoos are amazing! There were 9 in all, with designs revolving around the Winchester brothers and the series. There's Dean and Sam in the middle, Queen of Hell Abbadon, an anti-possession logo, and more. They all look great! Aside from sporting them during Halloween, these temporary tattoos can be used if you want to cosplay a character from Supernatural or just any day when you feel like geeking over the show.
To keep us hydrated while rewatching our favorite Supernatural episodes, the box included a Tumbler. It has a black base with white prints. The front has a W logo, which represents Supernatural's Winchester brothers. The other side features the ghost of the demented doctor, which I believe is from Season 13, Episode 5 – Advanced Thanatology. The tumbler came with a red lid and a black straw. It's recommended to be hand-washed only.
I'm pretty excited to use it for my fave drink but disheartened seeing the crack. I honestly didn't notice it at first, but upon closer inspection, I discovered that the lid has some damage, which is disappointing.
Here's the final item in the box: a Plaid Shirt. This one just rocks! It's oversized, and I can wear it over a shirt. I love the combination of red and black mixed with yellow prints. The back print looks terrifying but awesome! The anti-possession logo on the left chest pocket added a wow factor. It's pretty thick, so it will be warm when worn.
The Supernatural Fall 2022 box was perfect for Halloween. Some of my favorites from this curation are the plaid shirt (of course), the enamel pin, and the temporary tattoos. The tumbler would have been great if not for the crack. I find the canvas print too creepy, but it fits the theme well. If you're a fan of Supernatural, this subscription makes it easy to expand your merch collection!
The Supernatural Box is a quarterly subscription box filled to the brim(stone) with exclusive gear featuring characters and moments from the Supernatural TV series. Each premium box delivers over $100 worth of collectibles, apparel, accessories, and more. The box costs $49.99 per quarter, or $44.99 a quarter when an annual subscription is purchased in advance. This box is produced by Culturefly and contains items licensed and produced exclusively for this box – you can check out all of Culturefly's other fandom boxes here!
What do you think of the Supernatural Box?