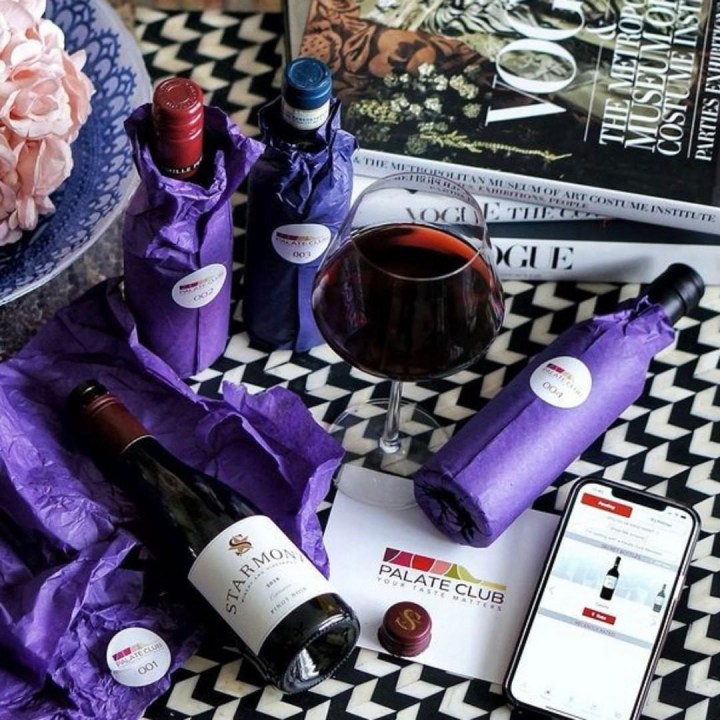 Here's everything you need to know about this monthly wine subscription
Palate Club Subscription Box Review
The world of wine has evolved over time, and there are many wine varieties waiting to be discovered! The beauty of the modern world is that you don't have to go far to do so. Wine subscriptions and clubs deliver fine wines straight from the vineyards to your door!
With Palate Club, your wine preferences matter. This wine club ends your quest of finding the best wines for your taste buds. It's also a great option if you're not sure what you want, as it gives you more accurate wine choices that your palate will definitely enjoy. They're on a mission to make it easy for anyone to share and discover delicious, sustainable wines perfectly tailored to their tastes. It just gets better every time! In this review, we've compiled all the important details about this monthly wine subscription to help you get a good grasp of what it's all about. Read on to know more!
Get $10 off your first wine-tasting kit! Deal applies automatically, just VISIT AND SUBSCRIBE.
Palate Club Benefits & Drawbacks
Before we go any further, let's weigh the advantages and disadvantages of Palate Club:
Palate Club Benefits
Customized profile
Affordable; price depends on your budget
Flexibility
AI-based algorithm
The blind tasting method is fun and unique
Satisfaction guarantee
An app for easy reviewing and rating your wines
Palate Club Drawbacks
No international shipping
Palate Club Review
Summary
Palate Club sends you wines based on your personal preferences. Get a blind tasting kit to rate wines without bias, or take a quiz to enjoy full-sized bottles immediately. Rate your bottles on the app to help them further improve wine selections. It also comes with a satisfaction guarantee, where they will replace or refund your bottle if it's not up to your liking. No commitment and cancellation is easy!

All About Palate Club
The Palate Club wine subscription removes the overwhelming feeling of what wines you should be trying. It's a great way to explore new bottles, helping you expand your palate and discover producers and varieties you've never tried before, still curated to your taste. It's an amazing trip somewhere with every bottle of wine you pop open!
How does Palate Club work?
To begin your journey of discovering fine bottles of wine, you must first signup. Get a Blind Tasting Kit (red or white) to get a baseline of your palate without the influence of labels. Hiding the labels is part of the experience, so you can taste objectively and without bias. Each tasting kit includes four half-bottle (325ml) of premium wine. When your wines arrive, taste each one and rate them on the Palate Club app – available for Android and iOS. Palate Club experts, wine pros, and scientists build out your personal wine algorithm. Then, they'll generate wine selections based on your ratings to send you wines you'll love.
Or, you can take a Taste Matching Quiz to help them better choose what's up to your liking so you can start enjoying full bottles right away. It only takes less than a minute for you to complete the quiz, and it includes questions about your wine preference, price range, and taste. Once done, choose your plan – 3 shipments, 6 shipments, or an ongoing subscription. They'll also show you your wine cluster based on the quiz and pair you with unique sommelier-selected wines from across the world based on your answers and AI.
Since it's a flexible subscription, you can choose your plan, the type of wines you love most, your preferred budget, how many bottles to include in each shipment, and how often you want them delivered. Rate every shipment to improve your wine profile, so they can further enhance wine selections. It's a sommelier in your pocket!
There also offer a satisfaction guarantee, where they replace or refund any bottle that doesn't suit your taste. You can also cancel your subscription at any time – no commitment!
How much does Palate Club cost?
There are four plans to choose from! A Blind Tasting Kit costs $59 per box. You can also get a Tasting Kit + 3 shipments starting at $200 or a Tasting Kit + 6 shipments starting at $341. Another option is to go with the custom subscription for recurring deliveries of wines. The cost of this subscription plan varies based on whether you want a blind tasting kit or not, types of wine, price per bottle, number of bottles, and frequency of delivery. It's your call on how much you're willing to spend on each bottle of wine.
They offer a 5% discount for half-case orders and a 10% discount for full-case orders. Shipping is free for orders of 8 bottles and more.
Where can I buy Palate Club?
No more searching through wine aisles! To discover new wines – whether you're a novice or a seasoned wine drinker – you can purchase a subscription on Palate Club's official website or through the Palate Club app. It's easy to access, giving you a convenient way to get wines tailored to your tastes, all in the comfort of your home. To taste fine-tasting wines matched to your palate, start by choosing a Blind Tasting Kit or taking a Taste Matching Quiz.
Where and how does Palate Club ship?
Palate Club is available in 42 states (AZ, AR, CA, CO, CT, FL, GA, ID, IL, IN, IA, KS, LA, ME, MD, MA, MI, MN, MO, MT, NE, NV, NH, NJ, NM, NY, NC, ND, OH, OK, OR, PA, SC, SD, TN, TX, VT, VA, WA, WV, WI, WY). It doesn't ship to Alabama, Alaska, Delaware, Hawaii, Kentucky, Mississippi, Rhode Island, and Utah. Wines from Palate Club are shipped by ground, and fulfillment is provided by WineShipping LLC. They'll also send you an email with a tracking number, so you can track where your shipment is.
How is Palate Club packaged?
Blind Tasting Kits come in mailer boxes with partitions. Bottles are neatly tucked inside, wrapped with tissue paper, and sealed with Palate Club number stickers for easy identification in rating your wines. It also includes a card with instructions on how it works and how to unlock your profile, plus tips for hosting a blind tasting party. On the other hand, regular shipments are packaged in a cardboard box with pulp wine trays to protect each bottle from damage.
What products does Palate Club sell?
Palate Club is a monthly wine subscription offering bottles of wine tailored to your tastes and preferences. These wines were selected by sommeliers from artisan winemakers and sustainable boutique wineries from all over the world! As of the moment, they offer red wines, white wines, sparkling wines, and rose wines only.
Can you give Palate Club as a gift?
Palate Club is a great gift choice too! Their gifting option is as flexible as the subscription. You can send a Blind Tasting Kit to kickstart their wine journey, add extra shipments (if desired), or customize a subscription. You can customize your gift to include how many bottles you want to send and even set the average price per bottle. Your gift recipient will be notified by email on the date you choose. You can also include a custom message for a more personalized gift experience!
My Palate Club Subscription Review
You no longer have to guess which wine would match your palate most because Palate Wine Club will help you discover your taste. As mentioned above, this wine subscription sends a blind tasting kit straight to your doorstep. It's a new and convenient way to track down new artisan wines matched to your taste profile without leaving the comforts of your home.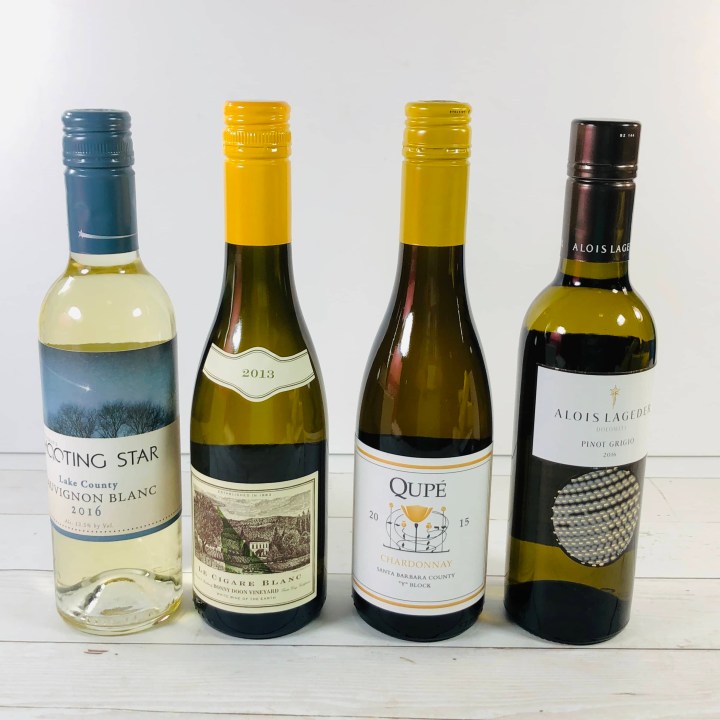 Palate Club travels to different boutique wineries to give satisfaction to your palate. Their team of sommeliers does rigorous tasting and picks only the best of the best. All quality wines are sourced from unique and sustainable wineries that are a master of their craft. Palate Club is that monthly subscription that provides a stepping stone so you can slowly but surely discover your wine favorites. Whether you prefer white over red (or rosé) or vice versa, their team of sommeliers will learn which specific combinations match your profile. Selections are new and may haven't crossed your path yet, so it's a fun way to find a favorite too!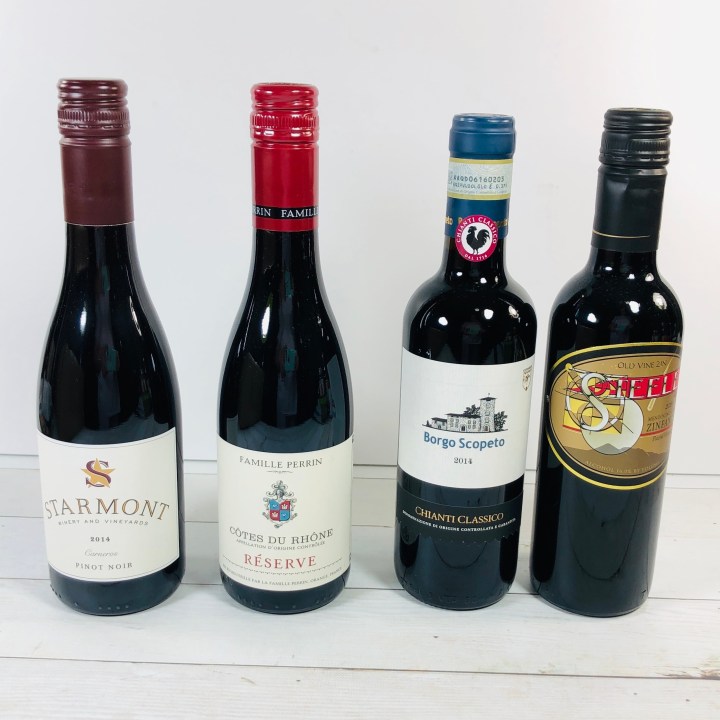 We've tried both the Red tasting kit and White tasting kit in the past, and it's such an amazing wine experience! In each kit, you'll receive four premium 375ml wines (reds or whites), wrapped and labeled with number stickers. The good thing about Palate Wine Club is you can rate and review your wines without being biased. The more you rate, the more they'll learn about your taste buds. It's the most accurate way to know what your true preferences are!
Is Palate Club Worth It?
Palate Club is a fun and convenient way to explore the world of wines, and that makes it worth every penny spent. You can discover new wines that match your palate whether you're a newbie or a connoisseur – which would be otherwise too costly. Curating the wines on your own and buying them at retail without knowing if you will actually like them is a big risk. Also, club members have many things to look forward to, including blind tasting wines, rating them on the app, and receiving recurring shipments tailored to their preferences!
Another thing that makes it a great wine subscription is its flexibility and customizability. You can choose how many bottles you want in your shipment and how often you want them delivered. You also don't have to go and read labels at liquor/wine stores to know which bottles to purchase. They guarantee that you will have the best wine experience possible, one that suits not just your drinking preferences but also your palate! This subscription is ideal for someone new to wine and can't figure out what they like, as well as for wine lovers who want to explore more beyond their horizons.
Will you be subscribing to Palate Club?