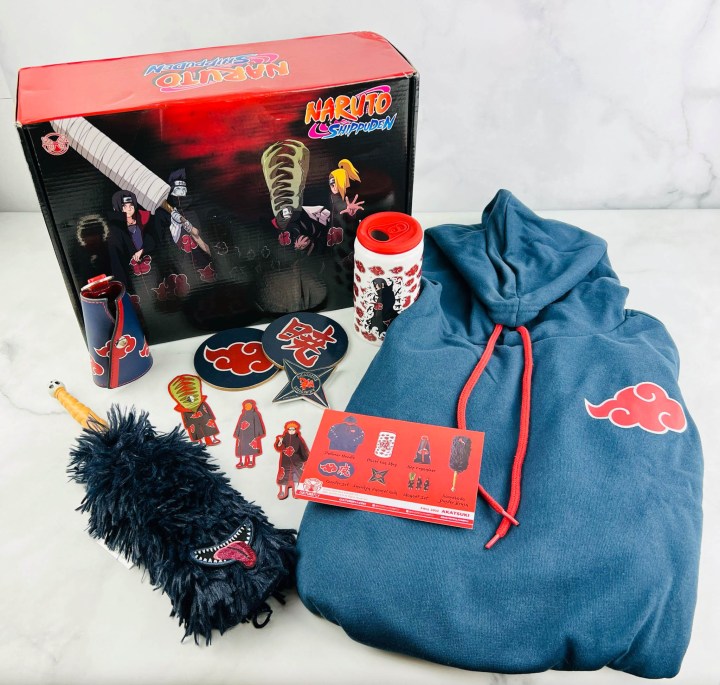 Naruto Shippuden Box delivers a jam-packed box every quarter, a great way for fans to collect licensed merch. The Fall 2022 box included 7 items designed, inspired, and centered on THE AKATSUKI! Expect to see Zetsu, Tobi, Pain, and more Akatsuki members as we go through each product. If you're just as excited, scroll down to see what's in the box.
Let's start with this set of Desk Magnets. There are three in the pack, each featuring an Akatsuki member. There's Zetsu with the Venus flytrap extension, Pain in the center, and Tobi in a Rinne-Sharingan-shaped mask. You can easily stick these magnets on the fridge!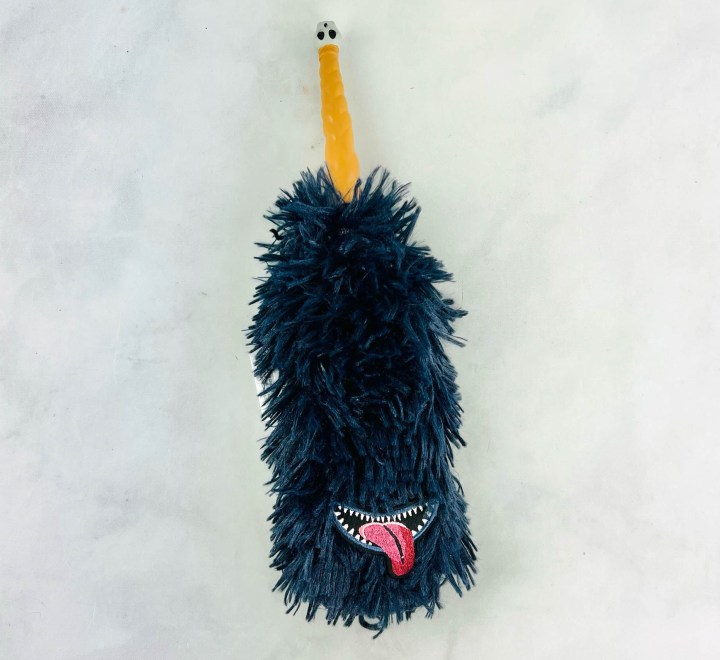 Samehada Desk Duster Brush features a miniature version of Kisame's sword, described as the most terrifying sword out of the seven swordsmen's blades. The details look great on the handle, especially with the skull tip and Samehada's wide mouth. It feels fluffy. You can use it as a duster or add it to your display shelf instead.
Another cool addition to the box that you may haven't seen elsewhere is this Shuriken Shaped Enamel Coin. It's solid and quite heavy. Unlike the shuriken, this enamel coin doesn't have sharp edges and is safe to have around. The center features an Akatsuki cloud bounded by the word Akatsuki. It can be used for cosplay or just displayed along with your other Naruto collectibles. True fans would totally love this item. It's hard to beat!
This Key Organizer looks like an Akatsuki cloak at first glance! It has a snap lock and is meant to hold your keys and keep them secure. The top part has a ring where you can insert all your keys. This item will prevent the keys to rattle around and avoid bumping or scratching other things inside your bag or purse. The faux leather jacket features Akatsuki clouds over a blue base. It's simple and cool!
Next up is a Coaster Set! There were two in the box, made with cork board. The side of the coasters are smooth (probably because of the sealant), and they're supposed to be hand-washed only. One coaster has the Akatsuki cloud, and the other has Japanese writing, which actually means Akatsuki. They're functional and can be used to rest your drink on the table and prevent marks. Or better yet, keep them as displays on your collection nook!
This Handless Ceramic Can Mug with Silicon Cover looks insanely cool! It looks like a can of soda but is made with ceramic material and can be used for hot and cold drinks. It has a white base with Akatsuki clouds design all over. There's Itachi in the middle and the Japanese word Akatsuki in the other. I appreciate how it arrived covered in styrofoam to protect the item while en route. The silicone lid has a hole where you can insert a straw, and it looks like a soda can cover too!
This season, they've included an Akatsuki Hoodie to help with the chilly breeze of fall. There are Akatsuki symbols printed along both sleeves and an Akatsuki cloud on the left chest part. The back features a print that spells out Akatsuki. The inner lining of the hood and the drawstring cord is red, which added a fiery effect to the hoodie. It has an overall soft feel, and the kangaroo pocket in front added character to it. It is very cozy, and I could wear it all day when strolling outside. The color is nice!
This box was all about Akatsuki, with most items exclusive to the box. The enamel coin is the perfect piece to collect, while the duster brush is both functional and amazing! The ceramic can mug is also a nice addition. With the coasters, I can have my fave drink by my side. Of course, my favorite item is the hoodie because it is so comfortable! If you're a fan who wants to grow collection of licensed Naruto merchandise, this subscription is the perfect pick!
Naruto Shippuden Box is a new Culturefly subscription for Naruto fans. Shipping quarterly, this box comes with 7-10 official Naruto Shippuden exclusive merchandise, including new apparel, accessories, stationery, collectibles, and more. Subscriptions start at $44.99 per box.
Are you subscribing to the Naruto Shippuden Box?