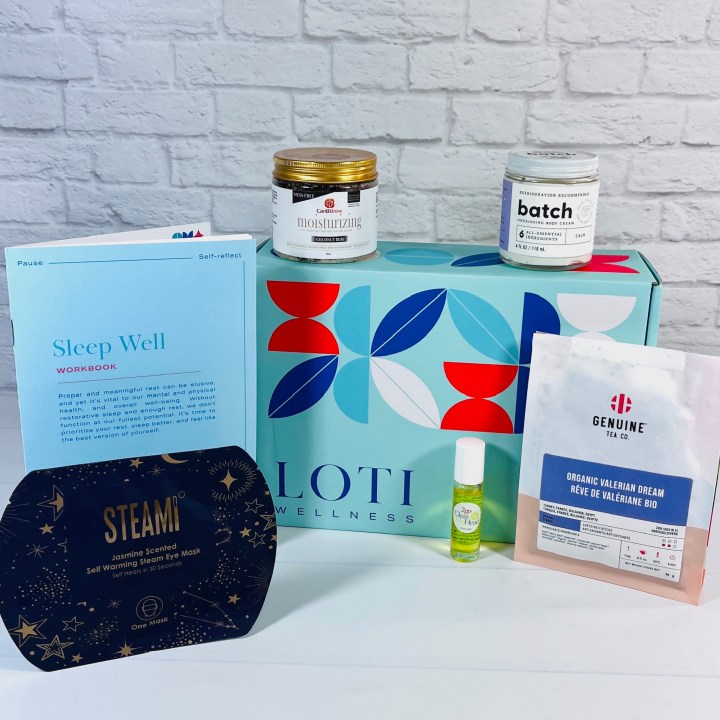 It's time to see what came in my Loti Wellness box for this month! November's theme was SLEEP WELL and came filled with pampering products and tips to help me get the rest I need to stay healthy this season. Read on to see the full review of the Loti Wellness box plus grab a coupon!
DEAL: Save 10% on your first box! Just use this link and coupon code SUBSCRIBE10.
Sleep Well Workbook We recently had a time change and my body clock is off so this box came at the perfect time. The goal is to help get some rest as we move into what is sometimes a hectic time of year, and we need to prioritize slumber for our best health. The workbook has some ideas to help me get a good night's sleep and includes charts and activity suggestions. There are 14 pages total.
Clear My Head Sinus Blend Roll-On ($14) Mmm, this box had so many nicely scented products, like this rollerball blend that may help ease congestion. It has a base of jojoba oil and a blend of 7 essential oils: rosemary, eucalyptus, lavender, peppermint, tea tree, red thyme, and ravensara. I rolled it under my nose and could feel a cool tingle and the scent wafted up into my sinuses. Even though it has no citrus it kind of smelled like sunny lemon, but whatever it is, it sure is lovely.
Steami Night Self Warming Steam Eye Mask (Around $7 USD) I understand the self-warming part of this product but to say it is "steamy" doesn't make sense, as that would involve some moisture, which this doesn't have. It is a mask that you can place over your eyes and it gets and stays warm for about 30 minutes. Heat increases circulation, so a cool compress is my choice when I need relief but perhaps others find comfort in warmth. It's supposed to smell like jasmine but I didn't detect any scent. This pretty much just warmed my eyebrows.
Genuine Tea Organic Valerian Dream Tea ($9.95) Valerian is an herb that may help one fall asleep faster and it may promote better sleep. This herbal tea (or tisane) also has chamomile (another relaxing herb) plus apple, lemon balm, spearmint, and passion flower. It was very tasty, no sugar needed, and mainly tasted of mint. I liked it and if it helps me sleep better, then that's a welcome bonus.
Batch Skincare Calm Nourishing Body Cream ($20) I apply body lotion every morning and even though this is a calming type of scent I sure enjoyed using it before starting a busy day. This brand has a production date along with the expiration date and they even suggest placing it in the fridge to help it last longer. It has stuff like water, avocado oil, oat milk, and cocoa butter and is scented with essential oils such as lavender. It was easy to apply and left my skin soft but not greasy and I thoroughly enjoyed the scent, which had notes of citrus and wasn't heavily in the lavender territory.
CaribBrew Coconut Rum Moisturizing Coffee Scrub ($15) This sugar and coffee scrub was true to its name and left my skin moisturized, no need to use an after shower body lotion. Besides the two obvious ingredients you can also find shea butter, coconut oil, and fragrance oils inside. I didn't find any runny oils in here, and I didn't need to stir it up before using either. I just scooped some into my hands and rubbed it over my arms and legs until it was mostly dissolved, then rinsed. It smelled delicious, like a fancy coffee drink with a hint of some kind of adult beverage added.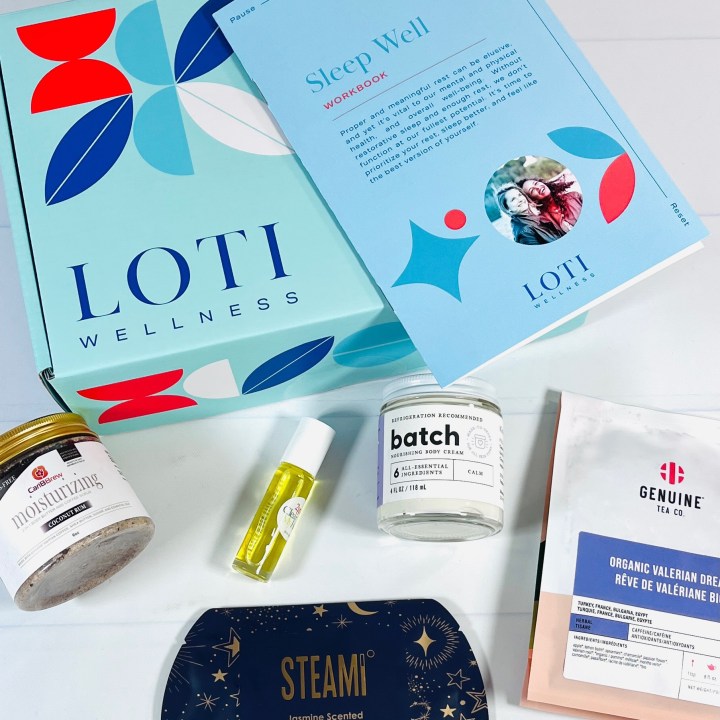 I thoroughly enjoyed my latest Loti Wellness Box, it was one of the best I've received! I especially liked the SLEEP WELL theme and believe it or not, I actually slept very well after trying the valerian herbal tea before bed. All of the other products can be used at any time of day. Most of these brands were new to me and seemed of good quality, I wouldn't mind receiving them in future boxes or exploring more of their products on my own (and there were some discount codes inside for me to apply at their websites). We are moving into the end of the year and rest is so important, especially with flu on the rise, and I appreciate that this box is helping me get closer to 8 hours of rest a night.
Below you will find the product info pamphlet and box opening pictures!
DEAL: Save 10% on your first box! Just use this link and coupon code SUBSCRIBE10.
Loti Wellness is a subscription box with a focus on self-care. The box has a monthly theme curated by therapists to focus on items and rituals to promote positivity and improve one's self. Loti Wellness works with local brands and small businesses whenever they can, and choose cruelty-free and natural products. The box will have 5-7 products for self-care and wellness. The box is $45.95 USD with lower prices on multi-month subscriptions and drops to as low as $37.95 USD when you sign up for 12 months. Shipping is $10.95 USD.
What do you think of Loti Wellness' self-care subscription?