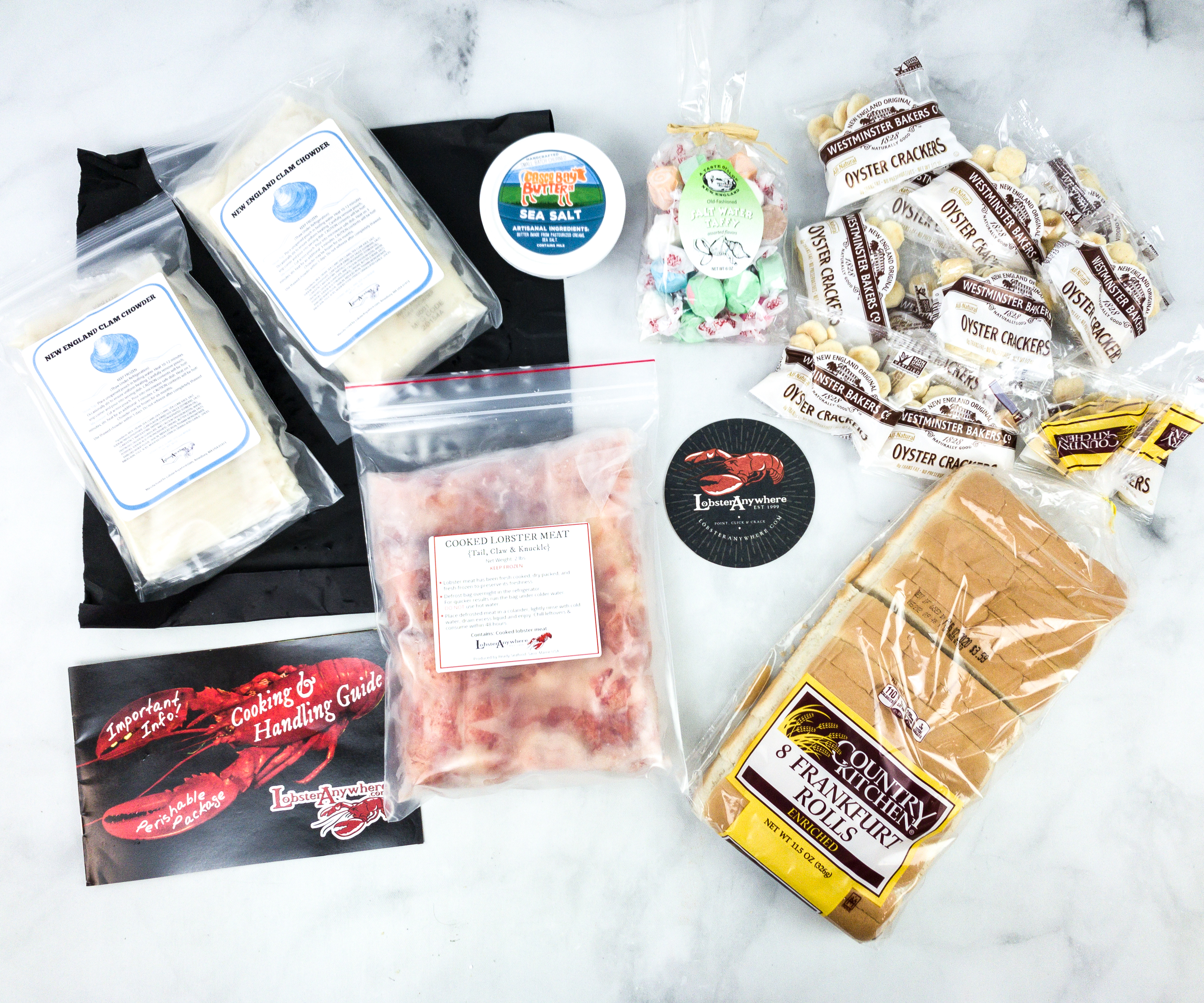 Lobster Anywhere Review
The naturally sweet taste of fresh lobster and other seafood like shrimp and scallops is pure pleasure! While not everybody has access to fresh and delicious seafood from where they live, there's already a sea of options for ordering your favorite seafood online!
Seafood delivery services like Lobster Anywhere are changing the way we shop for seafood. They eliminate the need to drive to fish markets located miles away or grocery stores, where lobsters and seafood are mostly frozen, for we don't know how many days already. Lobster Anywhere is a convenient way to get the best seafood even while you're just at home. Aside from Maine lobsters, they deliver fresh scallops, shrimp, and even chowder & bisque to your door, so you don't have to step outside!
If you're a seafood lover and interested to know more about this delivery service, read our full review below!
Lobster Anywhere Benefits & Drawbacks
Before anything else, let's look into the advantages and disadvantages of Lobster Anywhere:
Lobster Anywhere Benefits
Delivers premium, live, fresh Maine lobster
Offers scallops, shrimp, chowder, bisque, and soups
Offers surf & turf dinner choices
Ethically and sustainably caught in the wild
Rewards program – earn sand dollars
No minimum or maximum orders
Lobster Anywhere Drawbacks
Price varies depending on availability and season
Limited choices for seafood
Free shipping is not available for all orders
Delivery fee varies depending on your order total and chosen shipping method
Lobster Anywhere Review
Summary
Lobster Anywhere delivers fresh Maine lobster to your door, so you can serve delicious seafood dishes and enjoy a feast at home! Everything they offer is wild-caught and sustainably sourced in Maine waters by independent lobstermen and women. Customize a seafood box and fill it with your favorite seafood offerings – no order minimum or limits. Aside from Maine lobster, they also offer scallops, shrimp, chowder, bisque, soups, and even surf & turf dinners. Receive your seafood box on your preferred date and enjoy a delightful seafood feast!

All About Lobster Anywhere
Whether you like your seafood steamed, grilled, or baked, there are many seafood options from Lobster Anywhere. They deliver trap-to-table Maine lobsters, scallops, shrimp, and more for you to cook at home and enjoy with the whole family!
How does Lobster Anywhere work?
Although this is not a subscription, Lobster Anywhere makes Maine lobster and other seafood easily accessible to all. They conveniently deliver fresh, live lobsters to your door, so you don't have to drive to fish markets. Simply add everything you like to your cart and checkout. Plus, you can pick your delivery date and the shipping method. Once you checkout, they'll box your order and rush it to your door with a free cooking guide so you can enjoy your favorite seafood items.
All lobster and seafood from Lobster Anywhere are sustainably sourced and wild-caught on the rocky coast of Maine. There are over 3 million environmentally friendly lobster traps in Maine waters. Lobsters are then brought to the docks by independent lobstermen and women who are committed to sustainable fishing practices, and Lobster Anywhere buys only the best live lobsters from them.
Also, each order made from Lobster Anywhere earns you 100 sand dollars for every $1 spent. These points can be used as discounts on your future purchases to save bucks off your total. Every 5,000 sand dollars is equivalent to $2, 10,000 sand dollars is $4, 25,000 sand dollars is $10, and so on.
How much does Lobster Anywhere cost?
As of now, the price for live lobster ranges from $38 to $129.50. Below is a breakdown of live lobster pricing:
1.25 lbs – $38
1.5 lbs – $44.95
2 lbs – $64
3 lbs – $79.95
5-6 lbs giant lobster – $129.50
Lobster tails and frozen lobster meat are priced from $29.95 to $619, depending on how many lbs. you order. You can also purchase one kit of lobster rolls for $188.95 or two kits for $359. Lobster Dinners are also offered with prices ranging from $139 to $489. Shrimp are available starting at $28 per lb. and scallops for $39.95 per lb. Lobster Anywhere also offers quantity discounts. The more you buy, the more you save!
Meanwhile, the shipping fee depends on your total order and chosen shipping method. For example, your box's total is $24.99 and below. You'll pay $29 for 2nd-day shipping, $33 the next day, $39 for priority, and $49 for Saturday. The bigger your total gets, the more you'll pay for shipping.
*The price written above is grabbed from their website this Sept 02, 2022.
Where can I buy Lobster Anywhere?
You can purchase Maine's fresh lobster and other seafood from Lobster Anywhere's official website. Navigating the website is easy and you can find exactly what you're looking for. There's a navigation tab at the top of the page categorized into Lobster, Seafood, Chowder & Bisque, Specials, Gifts, and products with free shipping.
Shop by category and add what you like to your cart. Pick a delivery date (from Tuesdays to Saturdays) and choose your shipping method preference. Then, checkout and your order is complete.
Where and how does Lobster Anywhere ship?
Lobster Anywhere ships trap-to-table seafood to the contiguous 48 US states, plus some areas in Alaska and Hawaii. Due to customs laws, they do not ship to international locations and US territories, including Puerto Rico and US Virgin Islands. Since the products are perishable, they do not deliver to P.O. boxes and strictly suggest that addresses entered on the checkout page must be physical addresses.
They use FedEx to ship orders and deliver from Tuesday to Saturday only. Live lobsters are shipped overnight, and you can expect deliveries by the end of the day or later, depending on your shipping method. Once your order is shipped, you'll receive an email with tracking information so you can see exactly where your order is.
How is Lobster Anywhere packaged?
Live lobsters are picked fresh and packed in reusable, extra-thick shipping coolers. They're tucked inside with frozen gel packs, a thirsty pad on the bottom, and seawater-soaked newspapers or rock seaweed to keep them moist and cool during transit. Frozen items, on the other hand, are packaged with dry ice. The coolers are then packed in a corrugated box with Lobster Anywhere branding. Each box also includes a step-by-step cooking and handling guide so you can get the most out of your lobster and seafood experience.
What products does Lobster Anywhere sell?
Lobster Anywhere's main product is live lobster, but they also offer lobster tails, frozen lobster meat, lobster rolls, and lobster dinners. Fresh shrimp and fresh sea scallops are also included in their product line. In case you want a steaming bowl of Maine's authentic lobster chowder or bisque, you can fulfill your cravings with chef-made, cryovac frozen chowder, bisque, and soup that are ready to heat and eat.
Another amazing offering is Surf & Turf, which gives everyone the chance to taste and enjoy the best of both land and sea. These dinner kits are fresh and prepped, so you can turn them around easily. They even sell seafood tools to help you enjoy the experience with zero hassle!
Is it possible to gift Lobster Anywhere?
Yes, it is! Lobster Anywhere offers gift certificates so you can give the gift of choice. The available gift card options are an Email Gift Card (sent electronically to your gift recipient) and a Seafood Gift Card (physical gift card). As the gift giver, you can decide the gift card amount – from $25 to $500 and up. You can also include a personal message for the recipient!
My Lobster Anywhere Review
Lobster Anywhere makes it easy for seafood lovers like us to get our hands on our seafood favorites. In this review, we're trying the Lobster Roll Kit and the Clam Chowder Kit!
They included a card with the Lobster Anywhere logo. At the back, there's a coupon code that entitles us to a FREE Clam Chowder for 2 with a purchase of $50 or more! Just use this link and coupon code CHOWDERTIME!
There's also a cooking and handling guide so we can properly enjoy our lobsters.
It's definitely a good read! There's a list of tips for proper food handling, like ensuring that your hands are clean before and after handling seafood and that you should marinate seafood only in the refrigerator. They also mentioned how our orders were packed to give us a further look at how they take this seriously.
There's even a DOs and DON'Ts section, and I think it's really helpful as well.
DO
Refrigerate when I arrive
Cook me as soon as possible
Cook me even I appear motionless. After cooking, my tail should curl under me and my meat should be firm.
Pick me up by the body, not the claws or tail.
DON'T
Don't remove the rubber bands around my claws until after cooking.
Don't put me in fresh or salt water, your freezer, in plastic bags (I need to breathe), or let me sit in melted ice.
Lobster Anywhere Clam Chowder Kit
First up is the Clam Chowder set. It includes 2 packs of New England Clam Chowder and 11 small packs of Oyster Crackers. You can get Clam Chowder in two servings for $12.95, all the way up to a 20-serving chowder pack!
The Clam Chowder is already prepared, frozen, and sealed. Just make sure to thaw it before heating up. The instructions were clear and simple. There are two ways to reheat this, either via stovetop or microwave, so just choose the one that's most convenient for you. Clam Chowder ingredients include milk, cream, sea clams, onions, butter, and spices.
It was pretty easy to heat up! Once it has completely thawed, I transferred the contents into a microwave-safe bowl and popped it into the microwave for 6 minutes, stopping halfway to give it a little stir. You can add salt and pepper to adjust the flavor to your taste but I'm good with it as it is. I love how creamy and filling this is – I could actually eat this all day! Just top it off with some of those yummy oyster crackers for some added texture.
The salty oyster crackers go really well with the hot and creamy clam chowder. It melts in your mouth and has a very satisfying savory flavor. There are chunks of clams and potatoes that I can make out from the chowder and the harmony of textures in my mouth is satisfying. Also, I'm so happy about how fast and convenient the preparation is!
Lobster Anywhere Lobster Roll Kit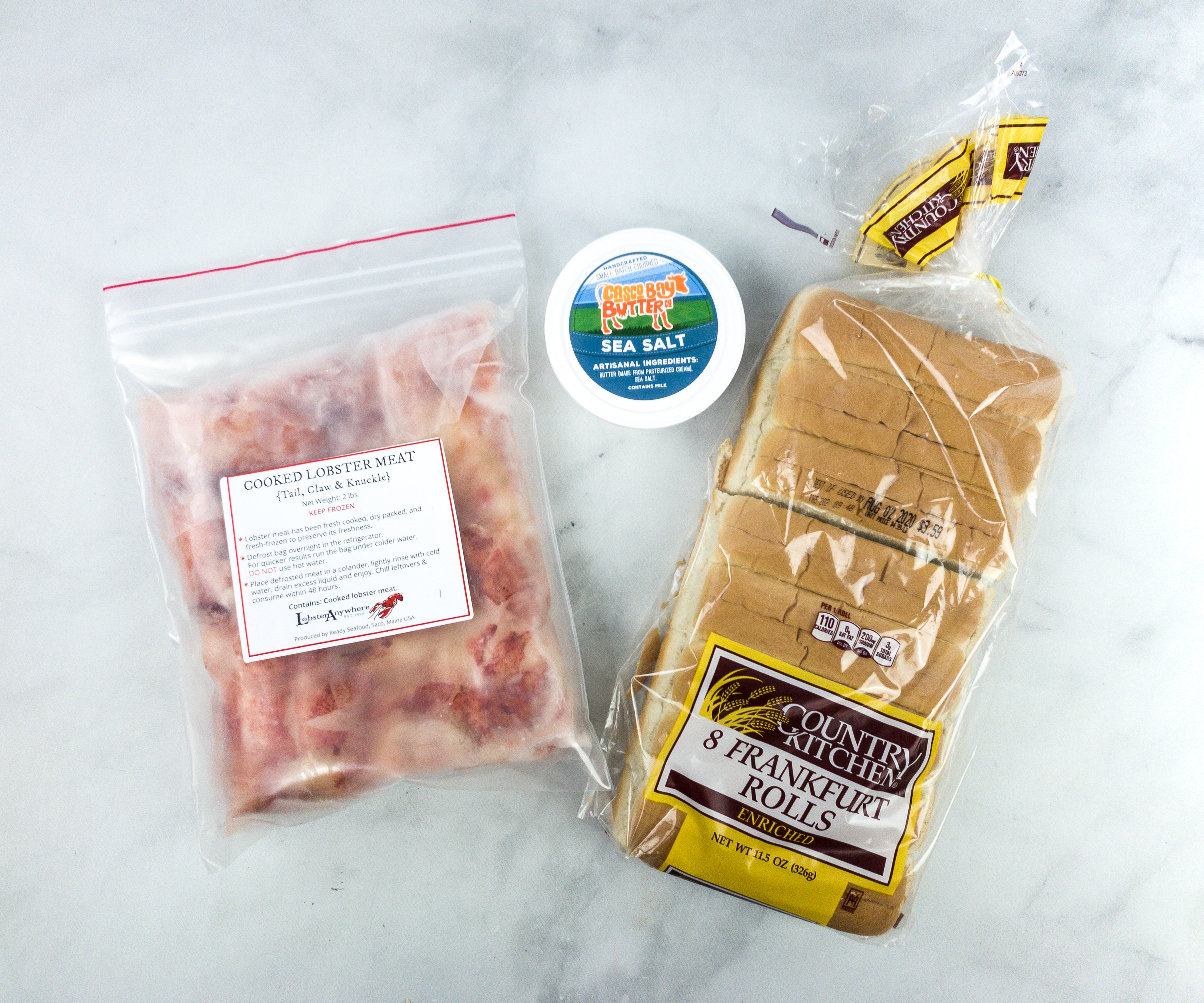 Next, we have ingredients for making a lobster roll!
They included 8 pieces of Frankfurt rolls. I like how soft these were, and they are split top, which is necessary for the PERFECT lobstah roll!
There's also a tub of butter, and it's so rich and creamy. It's made with pasteurized cream and sea salt, which will add more flavor to our dish.
Here's the highlight of the recipe: the lobster meat! We received 2 lbs. of lobster, and they were pre-cooked and then frozen to ensure maximum quality. To prepare, just thaw it overnight, toss in a colander, and lightly rinse with cold water. Drain off any excess liquids, then it's ready to assemble!
This pack includes a lobster's tail, claws, and knuckles. They were all tender, and since these were already pre-cooked, it's easier for us to make our own lobster rolls.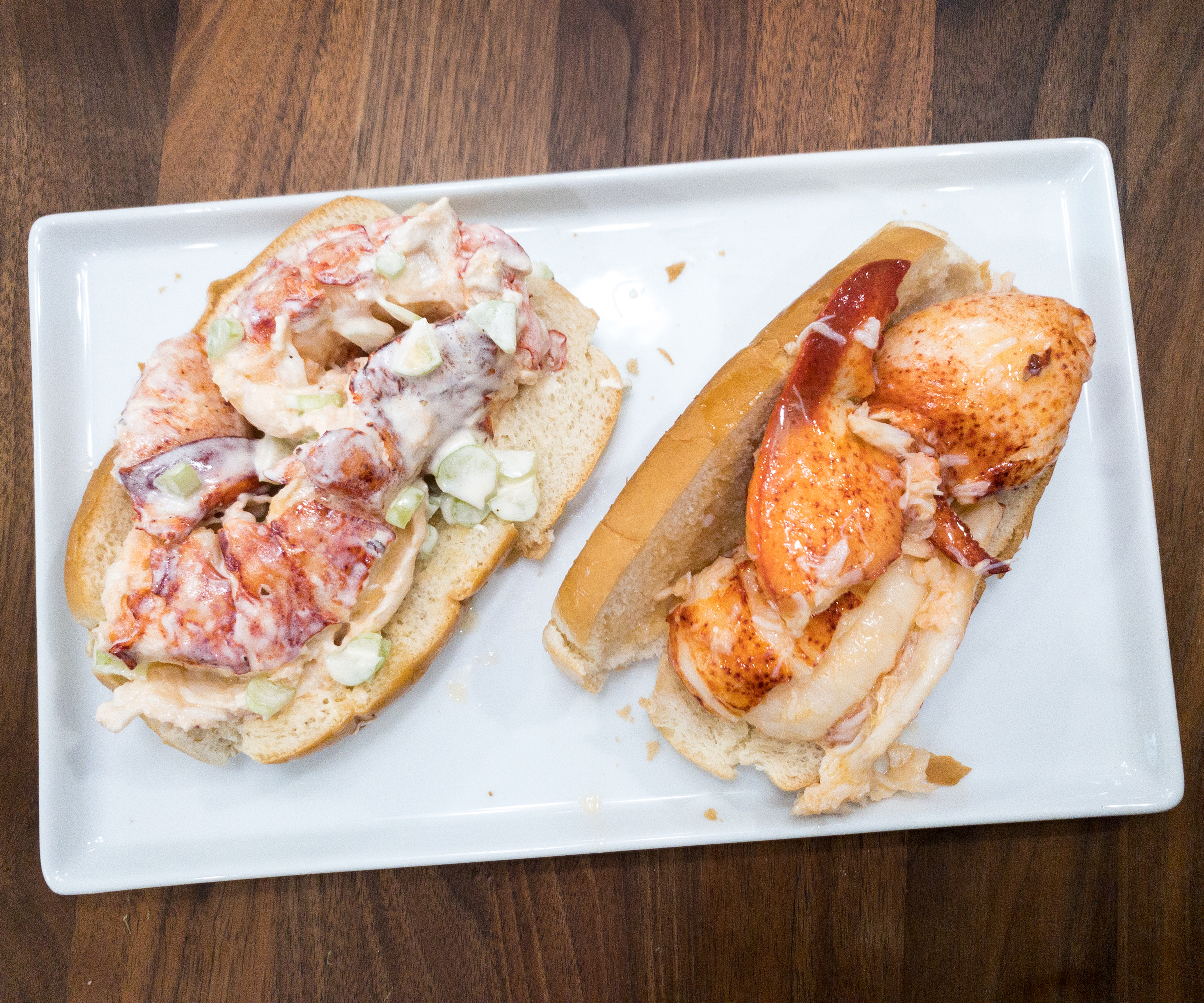 We made two recipes for the lobster roll!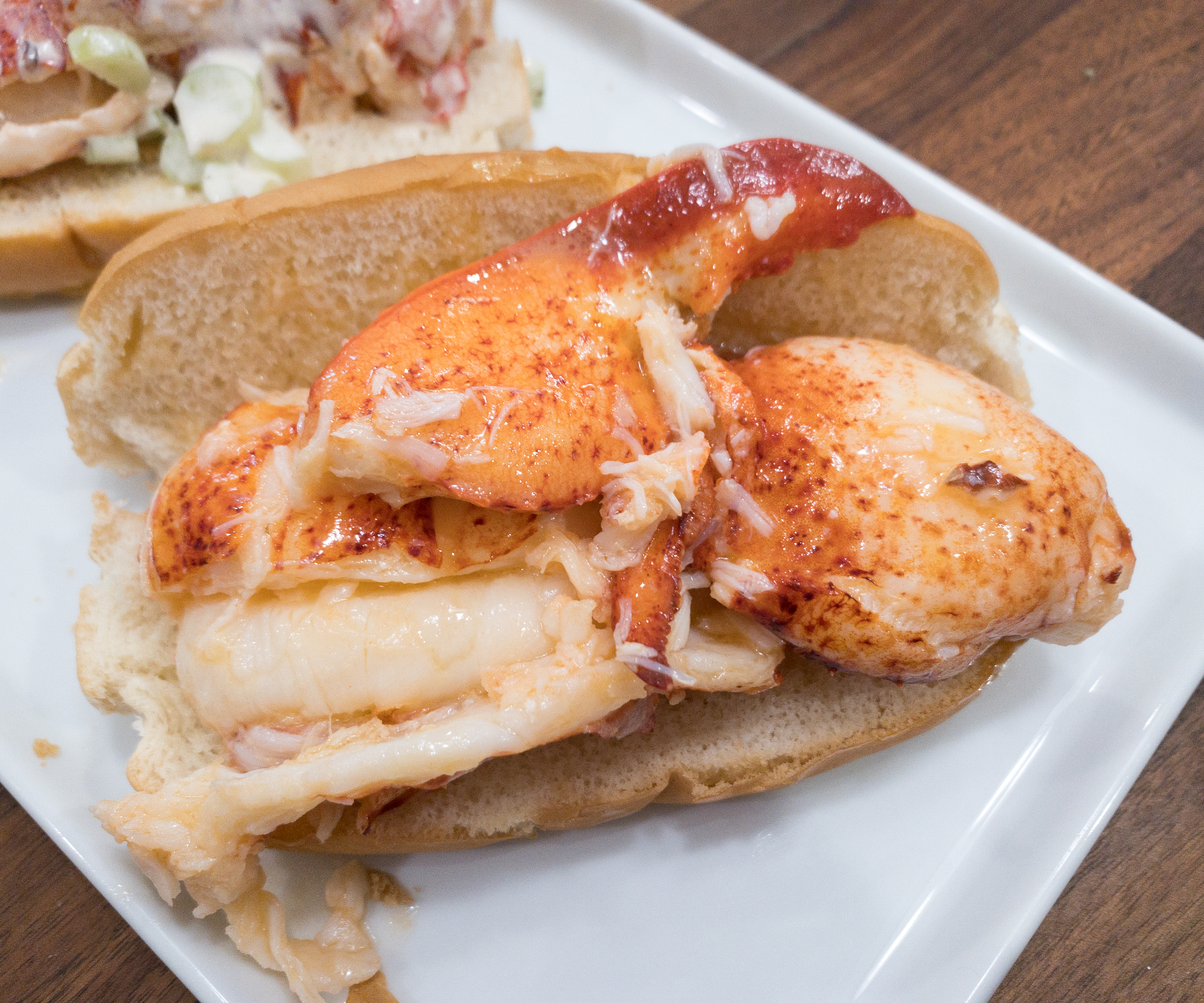 We kept this recipe classic and simple by adding only the sea salt butter to the lobster meat. Look at the absolute MONSTER size of those chunks. This is not some sort of chopped leftover lobster – this was made for the roll, and it is oh so good!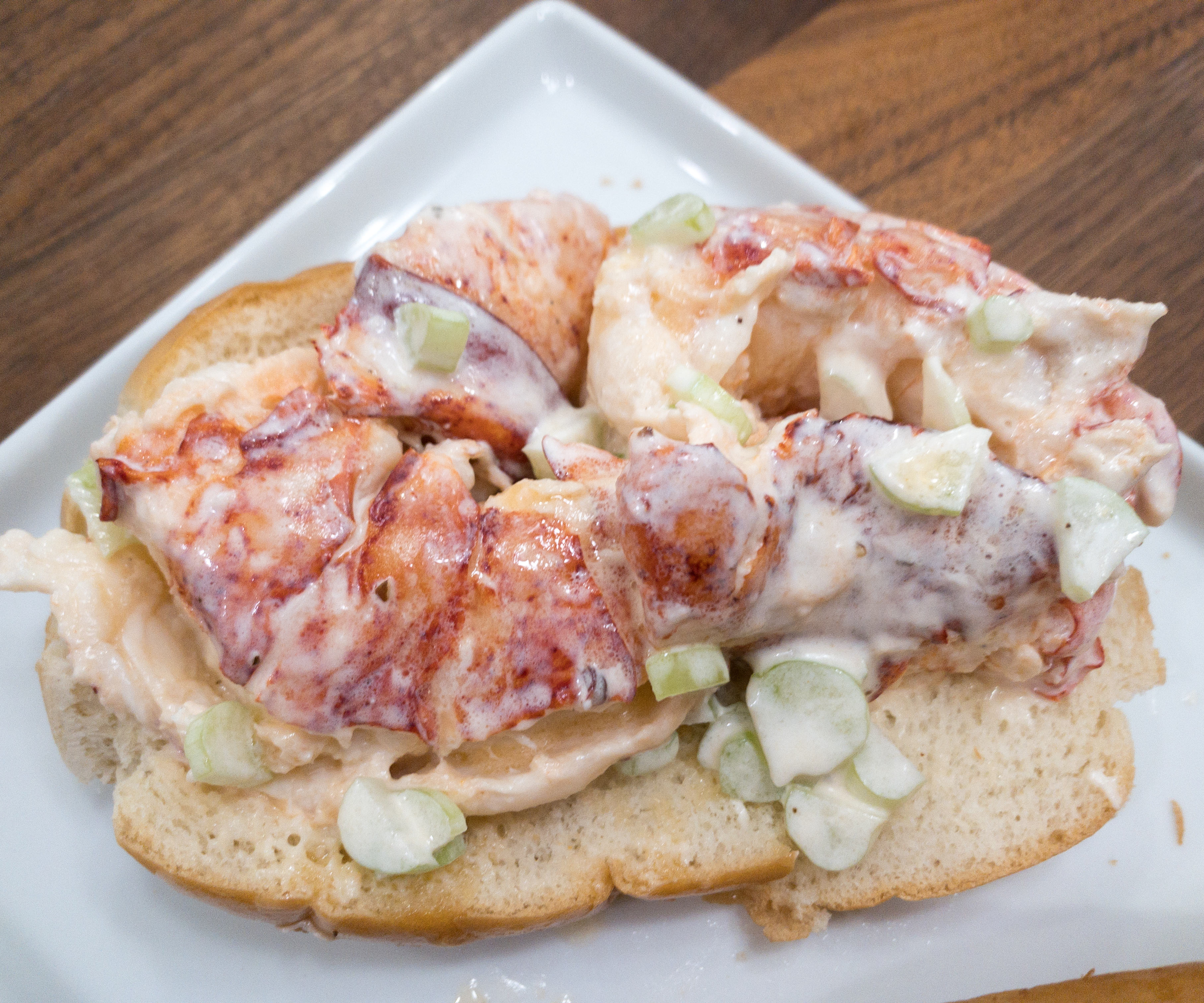 For the second roll, we wanted to change it up a little bit so we combined some lobster meat with mayonnaise, butter, cucumber, salt, pepper, and a splash of lemon juice for our take on this classic recipe.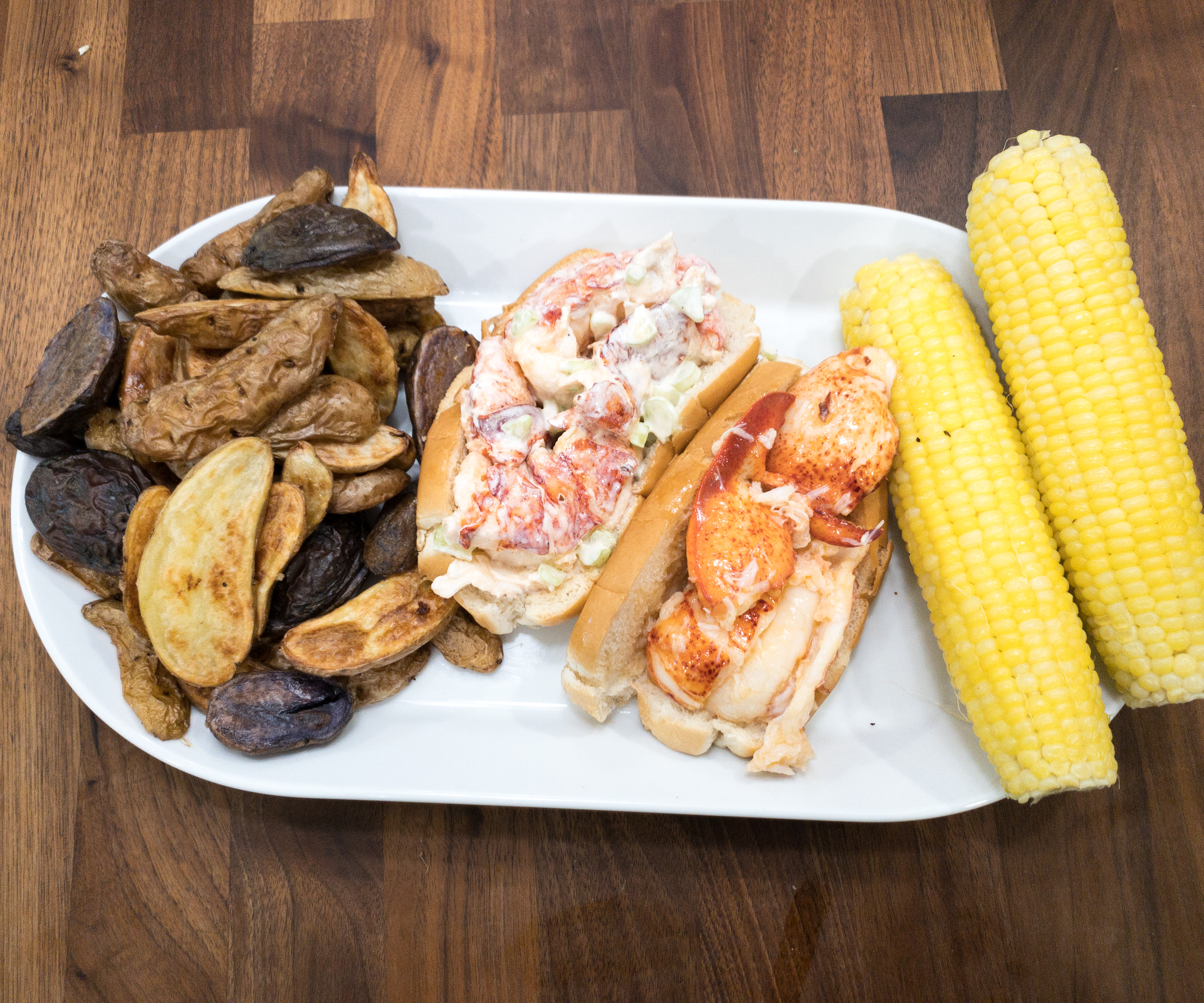 We threw in some sides like potatoes and corn, and everything was perfect and delicious! The lobster rolls were nothing short of fantastic. The meat itself is so juicy and flavorful that I seriously could not stop eating it. Paired with toasted buttery bread, this filling meal left a great impression on my family!
Lastly, we have a bag of Old-Fashioned Salt Water Taffy, which is a bonus in the Lobster Roll Kit! These are the perfect dessert treats. We received them in different flavors, and the kid in me is giddy with excitement. The candies were sticky, chewy, and yummy!
Is Lobster Anywhere Worth It?
Lobster Anywhere makes it easy for us to enjoy delicious Maine lobsters at home! We loved everything from the clam chowder to the lobster rolls, down to the last bit of saltwater taffy. I love that the meals were easy to prepare. This is perfect if you want to have an amazing lobster meal at home or when there's a special occasion. The convenience of the meals is awesome, and it really is as fresh as you can get it. You will really feel that they were prepared and cooked with love. Also, each bite is just bursting with flavor! If you're looking for fresh seafood delivered straight to your home, Lobster Anywhere has plenty of options to choose from. Everything in this kit made my displaced, New Englander heart happy – from the premium lobster and chowder to the Maine butter to the Vermont oyster crackers!
What do you think of the offerings from Lobster Anywhere?