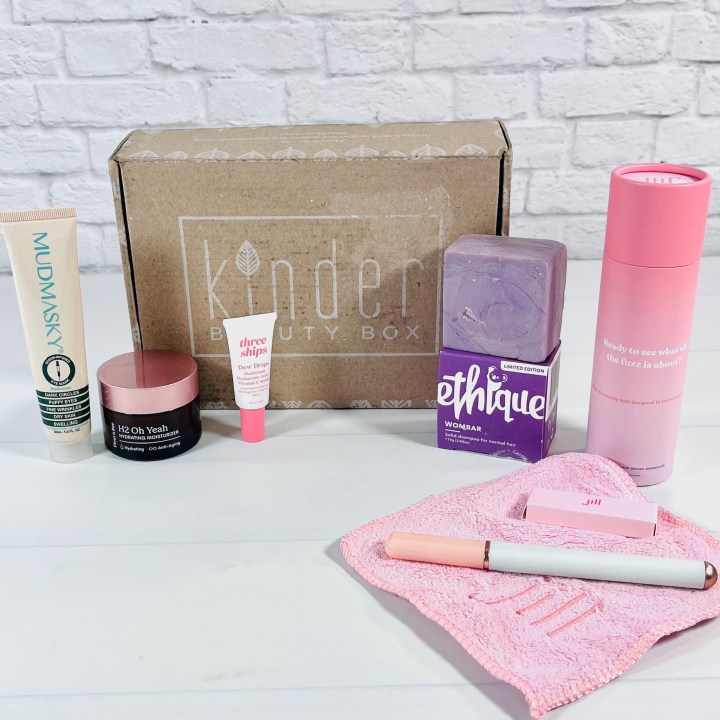 Kinder Beauty Box is a vegan beauty subscription box. This subscription sends out two variations every month and I received the OH YEAH BOX for October (the other box was called the YOUR HIGHNESS BOX). I received a razor meant for a woman's face, a huge shampoo bar, and more! The difference between the OH YEAH box and the YOUR HIGHNESS box is that there is a conditioner bar and a charcoal mask instead of a shampoo bar and hydrating moisturizer, but they come from the same brands.
DEAL: Use coupon code HELLO5 for $5 off your first order!
Jill Razor Face Razor Glow Kit ($24.99) This is a wand with replaceable heads that are designed to remove dead skin cells and fine hair from a woman's face. I need look no further than my husband's face to know that we have different facial hair, and I can tell you that I had no 5 o'clock shadow at the end of the day (although I felt peach fuzz almost immediately). I know that there are many glowing reports about how this is supposed to boost radiance and enhance collagen and all of that but if that were the case shouldn't my legs look younger, I shave them all the time! All kidding aside, I would suggest checking out the Kinder Instagram channel for a tutorial by Danielle Monet. I watched several videos on JILL's account and the women removed thick layers of oil or makeup or something, which I didn't experience. This felt no different than the results I get from the less expensive razors from my grocery store.
Ethique Shampoo Bar ($15 for a similar item) I didn't see this particular "flavor" on the Ethique website – the box says "limited edition" and states that it is for normal hair. I appreciate that it has no added parfum but it is lightly scented with lavender and eucalyptus. I passed it over my wet hair several times and it had some good sudsing action. I rinsed, applied my usual conditioner, and felt like my hair was easier to comb out afterward. It didn't weigh my hair down either. It is supposed to replace 3 plastic bottles worth of shampoo.
Fleur & Bee H2 Oh Yeah Hydrating Moisturizer ($28) Fleur & Bee has such pretty packaging, with amber glass containers and pink caps. Inside I found a yellow creamy moisturizer that quickly soaked into my skin and that didn't make it greasy. There's not much scent and I like that there were no irritating citrus oils for fragrance. It has hyaluronic acid, niacinamide, and green tea extract and overall I'm pretty pleased with this product!
Mudmasky Serum-Infused Eye Mask ($49.37) I thought at first that this was an under-eye cream but when dark pieces came out I took a second look and discovered it was an eye mask. The pieces are possibly from the blueberry or goji in the ingredients, which also include glycerin, green tea, and sodium hyaluronate. Apply a thin layer, leave it on for 8 minutes, then rinse it off. It didn't have much smell and didn't seem to do much for the area.
Three Ships Beauty Dew Drops Mushroom Hyaluronic Acid + Vitamin C Serum ($8.17) This watery serum has hyaluronic acid to draw water to the skin – it's supposed to be a sort of sponge, grabbing that water and holding it in there. You are supposed to apply a couple of drops after cleansing and before using moisturizer. It also has glycerin, kakadu plum, aloe, coconut juice, red algae, and more, and doesn't really have any scent. It dries quickly to a non-sticky finish.
I liked the assortment I received in my Kinder Beauty OH YEAH box! I don't mind shaving my face, I find there is more hair there now that I'm older and while I don't think it exfoliates as much as a professional treatment (and a scalpel, which is what is used by an esthetician) I think it helps somewhat. I liked the lather from the shampoo bar and was so thankful that it didn't have an artificial scent, a no-no for my sensitive scalp. The hyaluronic serum and under-eye serum were nice treats and the moisturizer was especially welcome, I liked the formula and results!
Below is the product info card and box opening pics!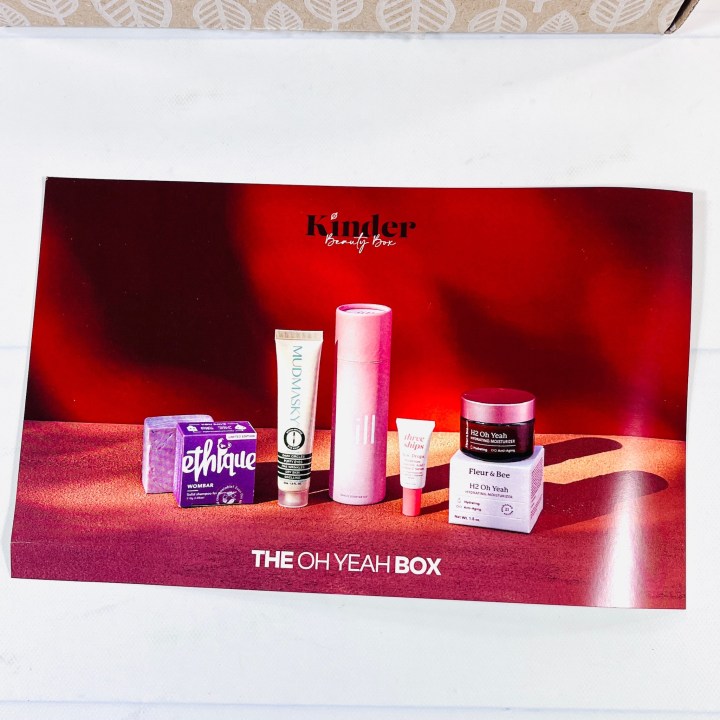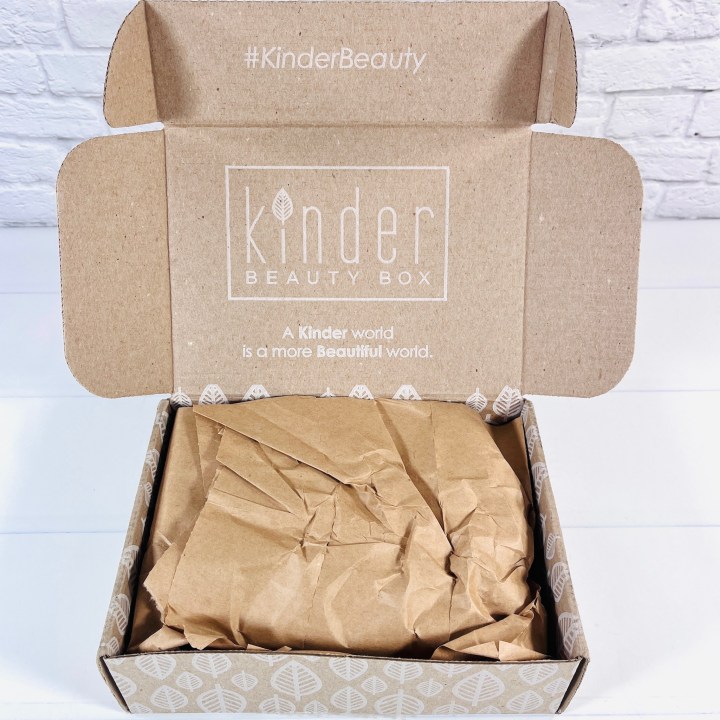 Kinder Beauty Box is a vegan and cruelty-free subscription box that sends skincare, haircare, makeup, and accessories. Each month you will receive more than $85 worth of products. The items are compassionately curated by Daniella Monet and Evanna Lynch. All Kinder Beauty Box products are guaranteed to be 100% vegan and cruelty-free. Kinder Beauty Box is $26 a month, with free shipping to the US, $5.95 elsewhere. Price drops to as low as $23 a box with a prepaid 6-month plan. Buy a multi-month plan to receive a free bonus box and to pick out which of the two monthly boxes you prefer (after the first box). A portion of all sales will go towards benefiting the founder's favorite animal rights and environmental causes.
Kinder Beauty's subscription box made the list in our 2022 readers' choice picks of best skincare subscription boxes!
What do you think of Kinder Beauty Box?