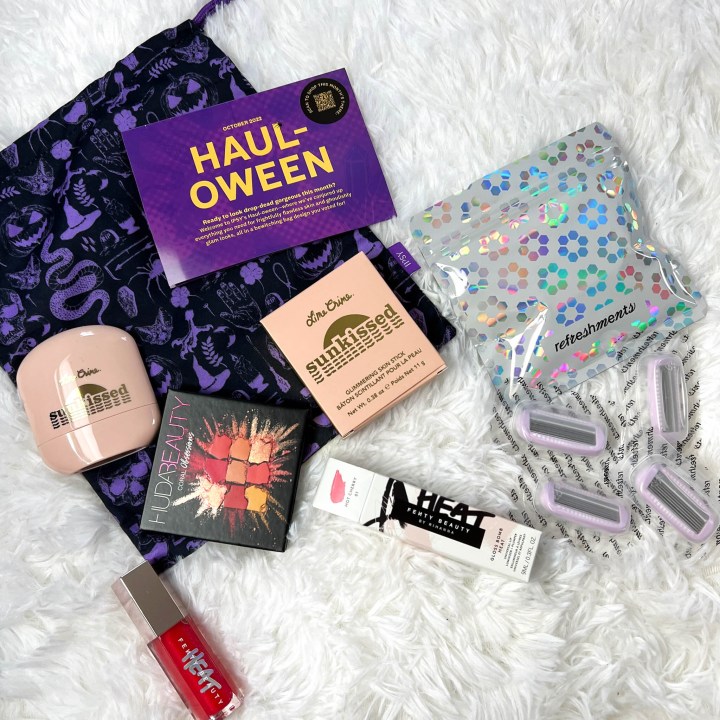 Ipsy Glam Bag Plus has arrived again to bring us new beauty must-haves! Themed HAUL-LOWEEN, the October 2022 Glambag included fang-tastic items ideal for creating head-turning looks this season, including a palette, a highlighter, and more. To learn more about this Halloween curation, continue reading our review.
Ipsy Glambag Plus subscribers get to choose three items for their bag and Ipsy selects two.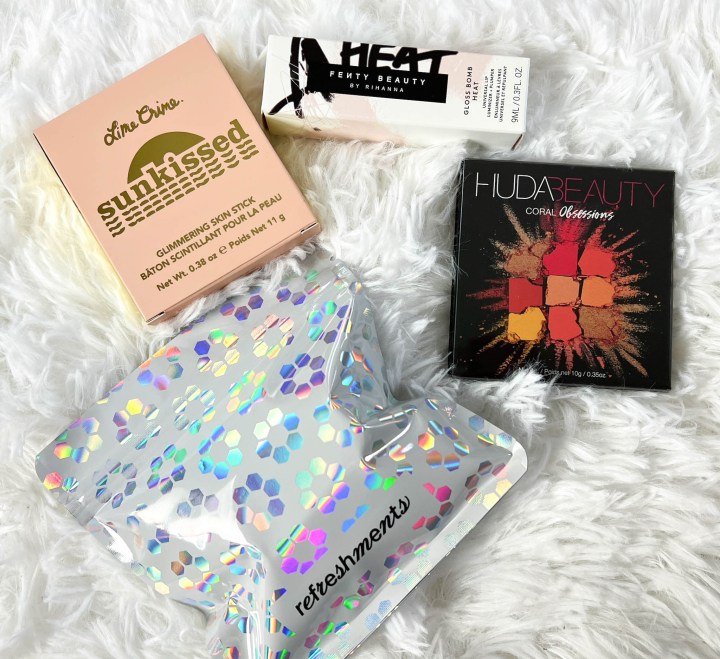 Here's a quick snap of what's in my glam bag this month. I received 4 different beauty products, which quite raised my brows. But I'm giving it the benefit of the doubt!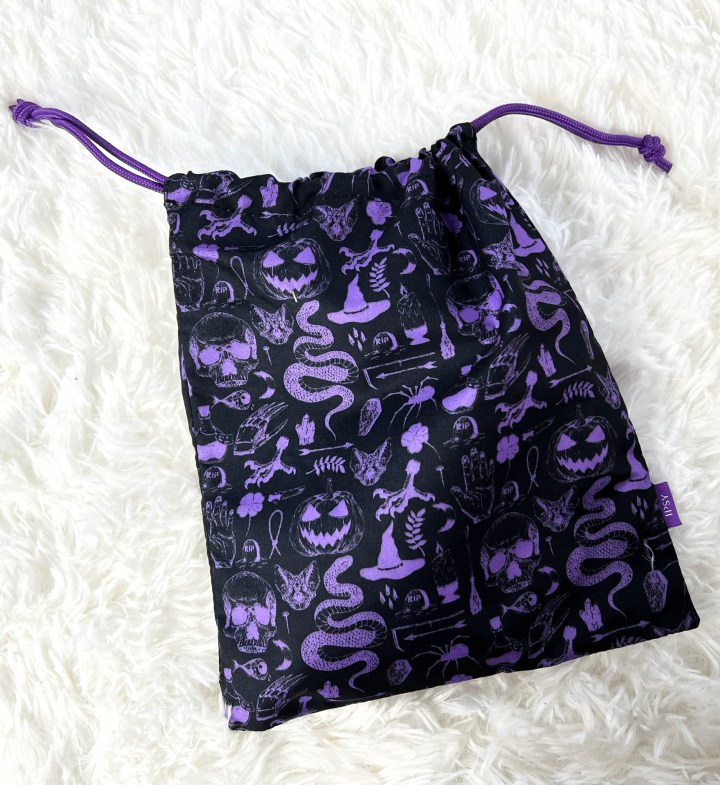 Also, before anything else, let me show you the fear-inspiring, bewitching Ipsy Glambag for October. Made with black microfiber fabric and a purple drawstring cord, it looks very Halloweenish, especially with the pattern! It features spiders, snakes, skull heads, witch hats, tombstones, and more that you wouldn't want to encounter. It is mystically cute!
Ipsy's Picks
I received Refreshments Dazzling Razor Cartridge Refills (approx. $13.5) as one of Ipsy's picks. What came in are 4 cartridge refills from Ipsy's personal care subscription line. Each cartridge has 5 triple-coated steel blades to help achieve a close shave. It also features a built-in soothing strip that helps prevent bumps and burns when shaving. Although it's a good product, I don't understand why Ipsy sent me these cartridge refills when in fact, I don't have a Refreshments subscription nor own a razor handle.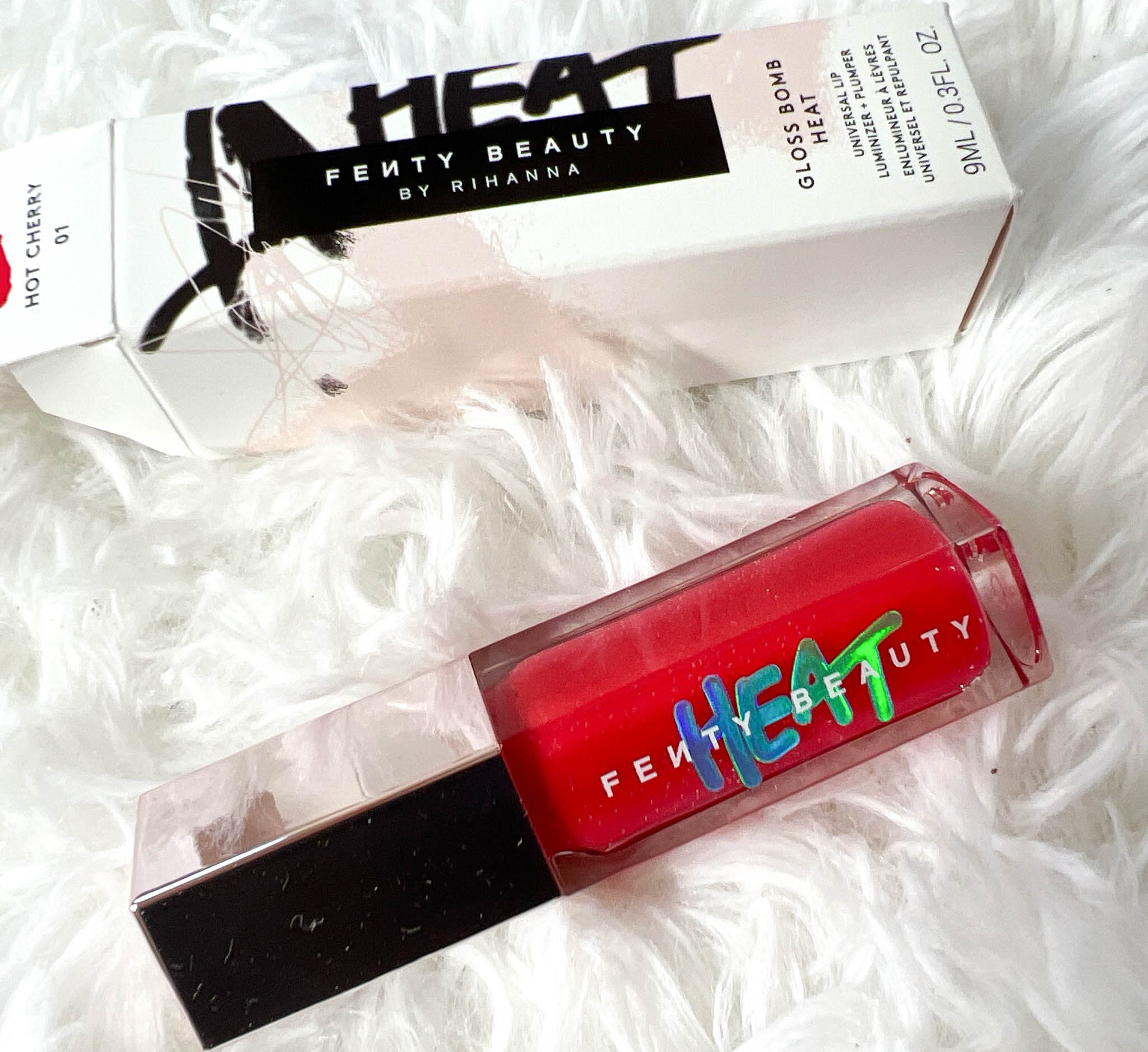 Ipsy's second choice is Fenty Beauty Gloss Bomb Heat ($24). It's fiery, it's pretty, and it's spooky-licious! This lip product helps you achieve a full pout look with its plumping effect and irresistible shine. Made with vegan ingredients like ginger root oil and capsicum fruit extract, you'll feel good creating boo-tiful fuller-looking lips. It also has shea butter and vitamin E that locks in moisture in the lips. This luminizer and plumper hybrid has a hint of tint that you can wear alone or layer with your favorite lippie. It smells a bit peachy as well!
Another beauty product in the box is Huda Beauty Coral Obsessions Palette ($24.88). There were nine shades in all, with a mix of mattes and shimmers. I love the fall-inspired colors of this palette, and they don't fall out. Each shade has a creamy/buttery texture that applies well to the lids and creases. You can use your fingertips or brushes to apply. It is compact and comes with a mirror inside, allowing you to retouch on the go or carry it anywhere with you. Use one color for a simple everyday look, or layer multiple to achieve an autumn-inspired glam look!
My Choices
For my pick, here's LIME CRIME Sunkissed Glimmering Skin Sticks in Tidal ($9)! This multi-use highlighter in a champagne-pink shade provides a beautiful glow on my skin when applied. It contains prickly pear extract and jojoba oil that provides maximum hydration while leaving a dewy finish. It also has light-reflecting, luminous micro pearls, which are responsible for giving the skin a kissed-by-the-sun glow. You can use your fingers or makeup brush to blend it out. Wear alone or layer for a maximum beautiful sheen. The packaging is also unique! Just twist the small knob on the bottom part like deodorant sticks to get the product out without being messy.
I actually don't know what to feel with this month's bag. Although I received several good beauty items, I'm still wondering why I got razor cartridge refills when I don't even have a Refreshments subscription or a razor handle. Comparing what's in my glam bag versus what is shown in my account, I'm missing two products, which is why I feel bummed. I guess I was tricked this month. I already reached out to them and waiting for a response. I'm still happy with the plumper/luminizer, palette, and highlighter stick though. It would have been a great Haul-Loween bag without these mix-ups. All the items came to a total of over $70.
Also, the package includes a card with a QR code that leads you to this month's theme. Here's a closer look:
Ipsy Glambag Plus is the upgraded version of the monthly Ipsy Glambag. For $28 a month, it contains 5 full-size products from brands you love, plus a deluxe makeup bag with every shipment. The promised retail value of each box is $120 worth of products. It will contain variations, but there are far fewer compared to the regular Ipsy Glambag. Be sure to continue to rate and review your bag to help personalize it to your needs. Check out our Ipsy Glambag Plus FAQs to find out every detail about this subscription! Glambag Plus is definitely a Hello Subscription reader fave – it's on five different lists in our readers' selections for the best subscription boxes!
What were your choices for this month's Ipsy Glambag Plus? Let me know in the comments!