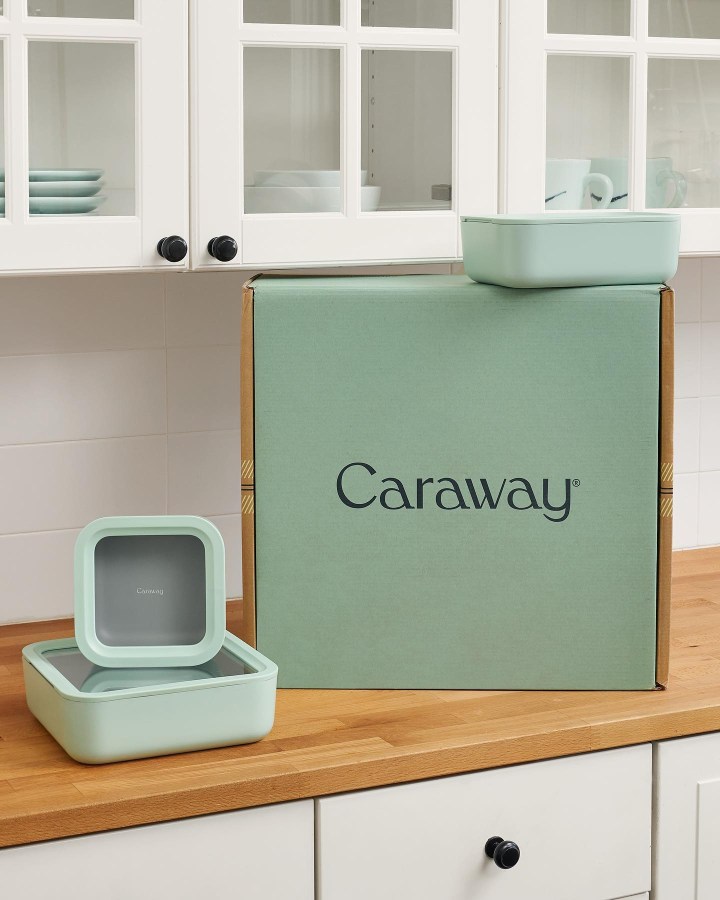 Bored of giving the same gift over and over again? Well, it's time to think outside of the box! If you're planning to splurge on gifts this year, why not choose something unique? Caraway is a great choice – this brand offers well-designed, safe-to-use ceramic-coated kitchenware that looks aesthetically pleasing in any kitchen.
No matter how experienced your gift recipient is in the kitchen, Caraway wants to make life a little easier and healthier. That's why they've introduced good-looking, clean-cooking kitchenware that raises the standards of cooking and inspire home cooks. They have a cookware set, bakeware set, food storage set, a tea kettle, and linens for a complete and unique kitchen experience!
Gift modern and sleek kitchenware without the chemicals. These kitchenware pieces were designed with health in mind, in addition to their elegant appeal. All of Caraway's cookware is made with safe materials and none of the harmful chemicals you can't pronounce. Whether it's pots, pans, or baking dishes – they use naturally smooth ceramic and non-synthetic materials like PFAS, PTFE, and PFOA (such as Teflon) that can leak toxic substances into the food you cook and the air you breathe.
The products come in different colors too! Your gift recipient will be delighted with these kitchenwares, available in original gray, cream, navy, sage, perracotta, marigold, black, white, rose quartz, and sapphire. Because these items are non-stick, they need only a minimal amount of oil or butter when cooking. Everything is easy to clean and organize with the pot and lid holders that come with them.
Not sure which of these kitchenwares to pick? You have the option of sending a digital gift card instead, with a value ranging from $25 to $395. It will immediately be sent to your recipient's email with instructions on how to redeem it.
Caraway is the perfect choice for hard-to-gift home cooks, anyone who wants a cleaner lifestyle, or someone who just wants to tweak their kitchen by adding a touch of style!
Will you be giving the gift of Caraway?
Looking for subscription box gift ideas? See our full subscription box gift guide!