Kids who are fascinated with the wonders of the kitchen and beyond deserve a delicious surprise! Whether birthdays, recognitions, or just because, there's no better gift to give except a box filled with culinary curiosities. It will, beyond a doubt, allow their imagination to sail through the world while expanding their palate and gastronomical horizons!
A better fit for this description is Little Passports Kitchen Adventures. This monthly subscription for children 7 years old and above lets them savor a global culinary adventure, all while at home. Everything in it is kid-tested and kid-approved, so it makes one of the best gift choices for aspiring little chefs.
A gift shouldn't just be a gift – Little Passports Kitchen Adventures extends to more than a surprise. This new subscription line takes culinary aspirants to places around the globe by giving them fun knowledge of world cultures and traditions, especially food!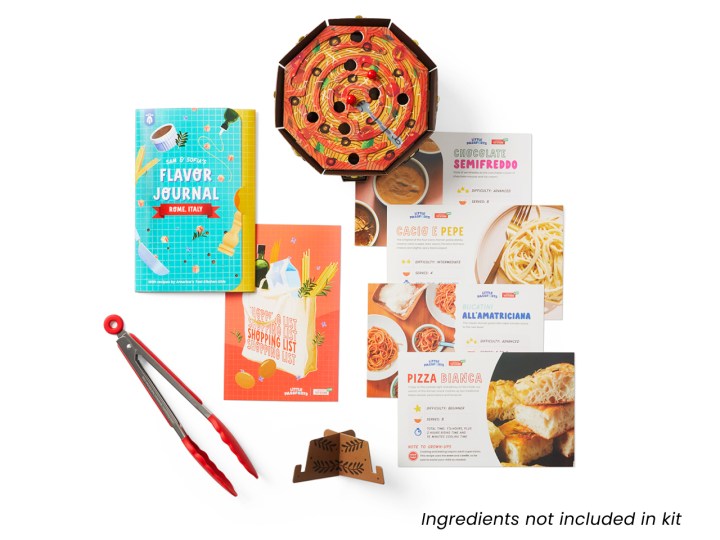 Give the gift of culinary fun to kids! These subscription boxes encourage junior chefs to play, cook, and connect all at the same time. They can explore cooking traditions from around the world and enjoy a tasty treat after. Kitchen Adventures creates 12 months of flavor discoveries, starting with Rome, Italy.
A delicious destination awaits in every box and includes 4-5 culturally relevant family-friendly recipes from America's Test Kitchen Kids, fun and exciting hands-on activities and games, cultural information, a shopping list, a flavor journal from characters Sam & Sofia, plus additional resources. The flavor journal has a letter detailing the adventure, fun food facts, and a space for kiddos to write their own recipe notes. The box also comes with a useful kitchen tool to make it more inspiring for kids to cook, learn, and play all together!
To start gifting, add Kitchen Adventures to your cart and click the "this is a gift" checkbox. Gift givers can leave a gift message, and Little Passports will print a card and include it in the gift box. You can also send an email or print a gift card to mail or hand deliver to let them know that a gift is on the way. A box costs $29.95 + free shipping.
This gift subscription will help young cooking enthusiasts to explore world cultures, discover new flavors, build practical skills, and bond with family!
Are you gifting Little Passports Kitchen Adventures?
Looking for more subscription box gift ideas? See our full subscription box gift guide!