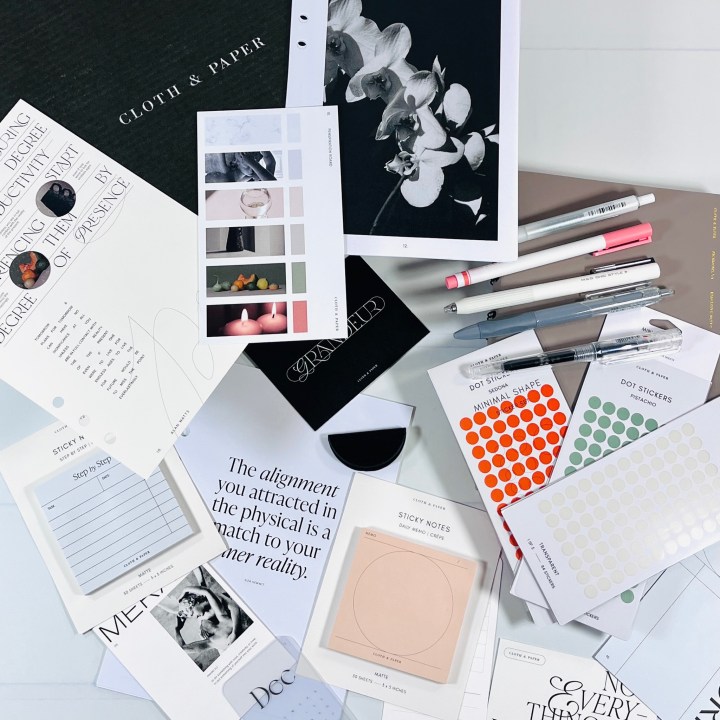 According to the website, the October 2022 Cloth & Paper continues with yet another month on the theme of Self-Discovery! If you are new to this box then know that they have a few different subscription options, and you can choose planner sizes based on the planner you use at home or work. This is a review of their Penspiration AND Planning + Stationery combo, which is $54.99 a month and drops to as low as $49.99 a month when you choose the 6-month term. This is the October box, and they send calendar cards etc. two months in advance, so you're never behind or have to worry about getting those supplies late. (Please note that the picture above is of BOTH boxes combined!)
DEAL: Want to try Penspiration Box, Planning + Stationery Box, OR Penspiration & Planning + Stationery Box? Get 10% off your first box! Use the coupon code HELLOSUB10 at checkout!
Planning + Stationery Box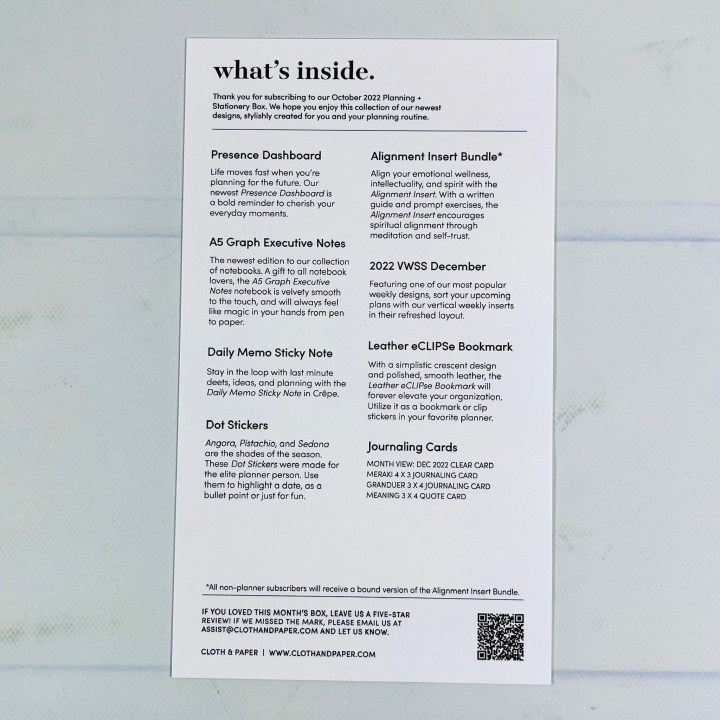 The card shows all of the items in the Planning + Stationery Box and has a picture of the items on the other side.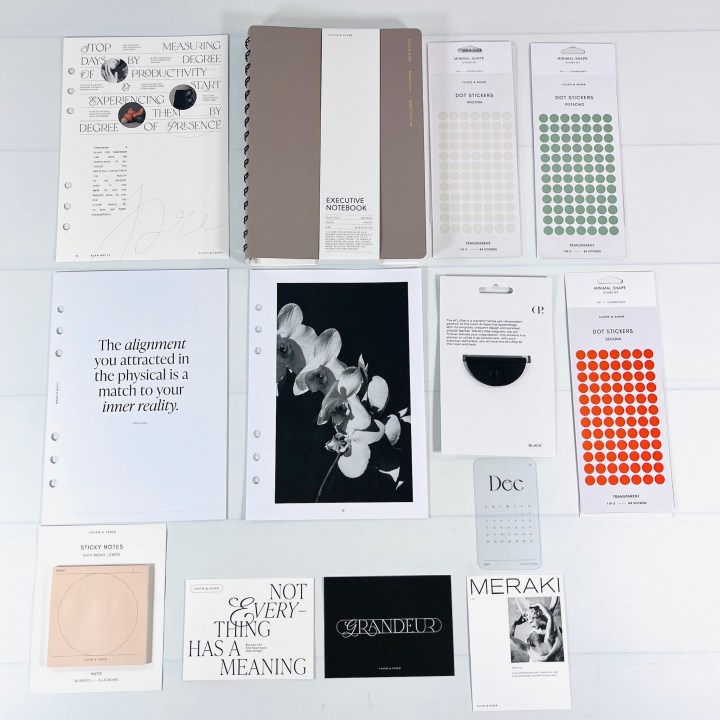 Here's all the items in the Planning + Stationery Box!
2022 Vertical Weekly, Sunday Start December In the past few months we have received a monthly insert, so it will be interesting to see what we receive next month (will it continue or will there be something else?). This insert has space for goals and intentions, a month-at-a-view, and daily spaces in the weekly spreads. There are 8 pages in this set.
Alignment Insert Bundle The idea behind this bundle is to align your mind, body, and spirit and to me it's a cross between a journal and a planning guide for inner peace. There are 8 pages in this set.
Presence Dashboard The dashboard reminds us to enjoy the here and now while planning for the future. It's printed on sturdy cardstock.
Executive Notebook This notebook is A5 in size and has 268 pages. It has graph paper on each page so it can be customized for notes, tracking, lists, or however you wish to put it to use. The cover is so smooth!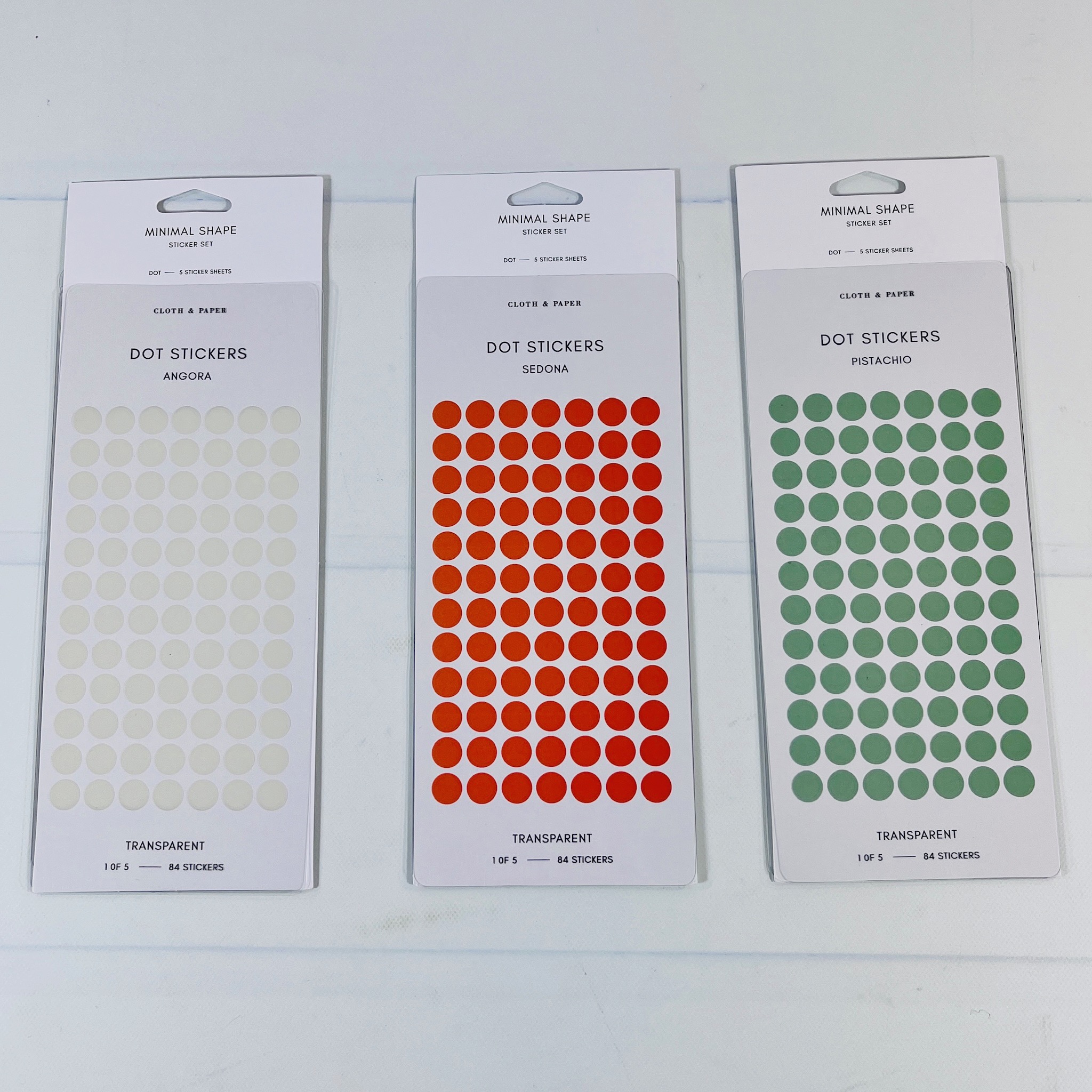 Dot Stickers We received 3 different colors of these dot stickers, and each color has 5 sheets in three different sizes: 126 small, 75 medium, and 27 large. That's a total of 684 stickers!
Leather eCLIPSe Bookmark This bookmark can be used as a page holder or to hold something onto your page! I've used it to attach a card to the Executive Notebook.
Clockwise from the top left, we have the December Calendar Card, Meaning Quote Card, Meraki Journaling Card, and Grandeur Journaling Card. These can be attached to your planner or placed in a mini frame for desk art.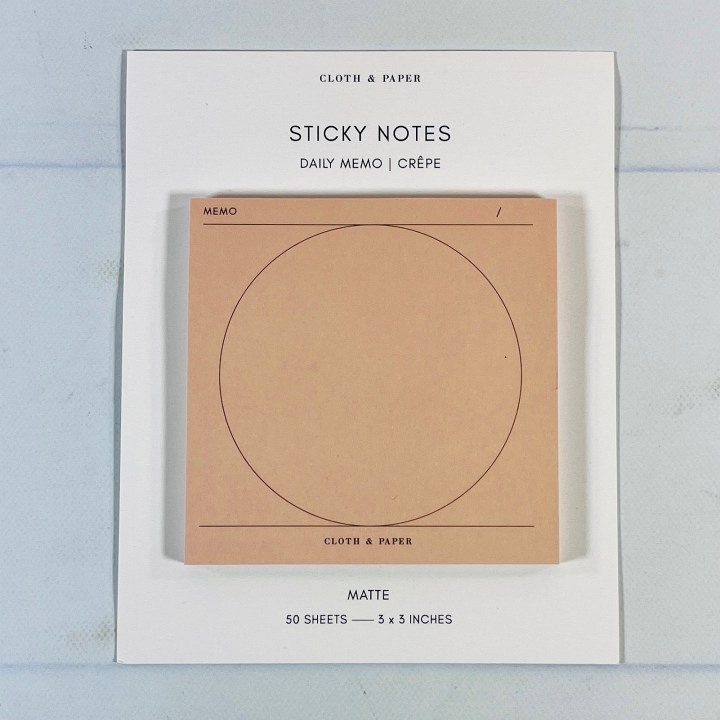 Daily Memo Sticky Notes Is it even a stationery box without sticky notes? This month (or week or day) you can keep your #1 goal in sight with this reminder.
Penspiration Box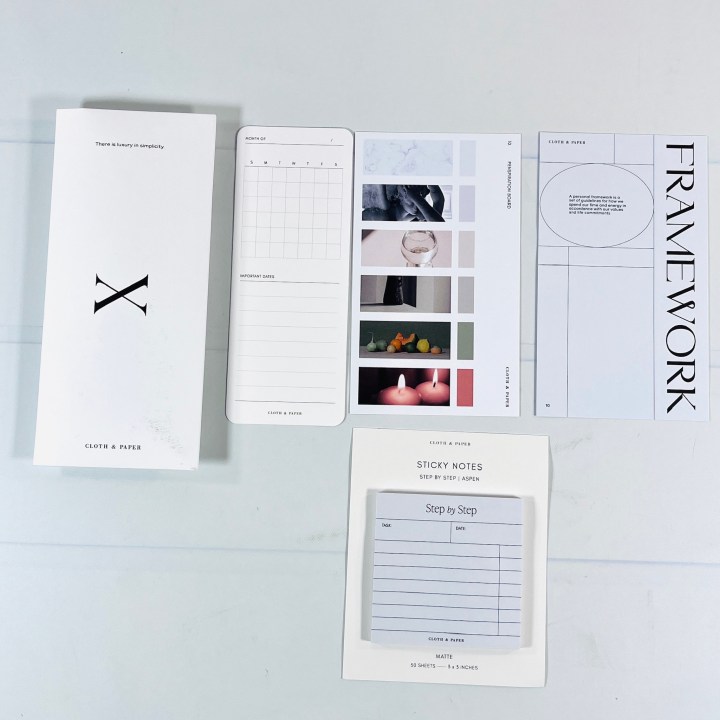 Here's all of the items in the Penspiration Box!
The Penspiration Board doubles as a pen test sheet. The Prompt Card has a journaling idea on the back.
Undated Calendar Card can be used whenever and however you like.
Step by Step Sticky Notes I sometimes need to break down tasks into small, do-able parts and this is perfect for my needs!
The pens come in this cool pack.
Pen Set You can find additional details about these pens at the Cloth & Paper website, they have a handy unboxing section with all of the details (brand, nib sizes, variations, etc.). They send amazing pens and I feel like even mundane writing assignments are more fun with fancy pens.
Cloth & Paper sure knows how to put together a wonderful assortment of planning and stationery supplies that look cool but that are also minimalistic and fairly neutral. I enjoy filling out sticky notes and the calendar with tasks and to-do's and it's a relaxing activity to sit down out on Sunday evening and fill in my planner for the week ahead. Having a monthly box show up adds a fun surprise element to what is a necessary task.
Below you will find some more box opening pictures.
Cloth & Paper offers a monthly subscription box of their planner supplies, inserts, and writing instruments. The items look sleek and Cloth & Paper believes "there is luxury in simplicity". The Planning + Stationery box is $39.99 a month but drops to as low as $36.99 a month when you sign up for a 6-month term. The Penspiration box is $21.99 a month but drops to $19.99 a month for the 3-month plan. The Penspiration AND Planning + Stationery combo is $54.99 a month and drops to as low as $49.99 a month when you choose the 6-month term. Our readers love this subscription – Cloth & Paper was voted as the top pick for the best stationery subscription this year!
Visit CLOTH & PAPER to subscribe and find out more about this subscription!