The November 2022 BOXYCHARM theme was IT'S GIVING…GIFTABLE GLAM and I received 5 items including a colorful lip scrub, a mini heat brush, and more. I thought the assortment was good — there was a hair tool, a couple of products for my lips, and two other makeup items. See all of my products below!
Keep in mind that BOXYCHARM sends many box combos so your box items and value may be different than mine. There are variations to the box – see them here.
Please note that BOXYCHARM recently announced the addition of a $1.99 handling fee to all subscriptions per monthly billing cycle, starting in October. All Annual Subscribers who renew will also see a $9.99 handling fee charge. You can read more about it here.
DEAL: Subscribe now and get a FREE gift: SUTRA Mini Ceramic Curling Iron, ACE BEAUTE Violet Sage Eyeshadow Palette, OR ILLAMASQUA Eyeshadow Palette, PLUS $10 credit to November Drop Shop!
Use this link and pick your FREE gift at checkout AND get your exclusive $10 Mega Drop Shop code via email within 24 hours of subscribing.
Soleil Mini Heat Brush ($150) Oh my, sometimes I have to laugh at the retail values given for some items, like this mini brush that has no instructions included or even available on the brand's website. There was an insert inside that said save 55% off a purchase and yet it expired in 2020. My hair is naturally sleek and straight so from what I can tell this did nothing for me, but maybe my daughter will get some use out of it so I will gift it to her (she's away at college right now and unavailable to test it for me presently). It came with a soft cover case.
AMINAH SKINCARE Macaron Lip Scrub ($18) This brand has pretty products, like this pink and purple lip scrub. It has a couple of softening plant butters and sugar plus colorant (mica) and flavor oil. Just a tiny bit is needed so this should last a long time – a pea sized amount is plenty. It smells sweet, with maybe a hint of vanilla? I rubbed it onto my damp lips then wiped it off with tissue, followed by a washcloth soaked in warm water. My lips were soft afterwards.
OFRA COSMETICS Signature Face It Midi Palette – Medium ($35) Sometimes when you receive a box for review, it comes in shades that may not be quite right, like this palette meant for those who have a medium skin tone (I am fair to light). I still managed to use the highlighter though, and paired it with a fluffy brush that wasn't very dense so I could apply it with a light hand. OFRA is a brand that I am ok with receiving in a subscription box.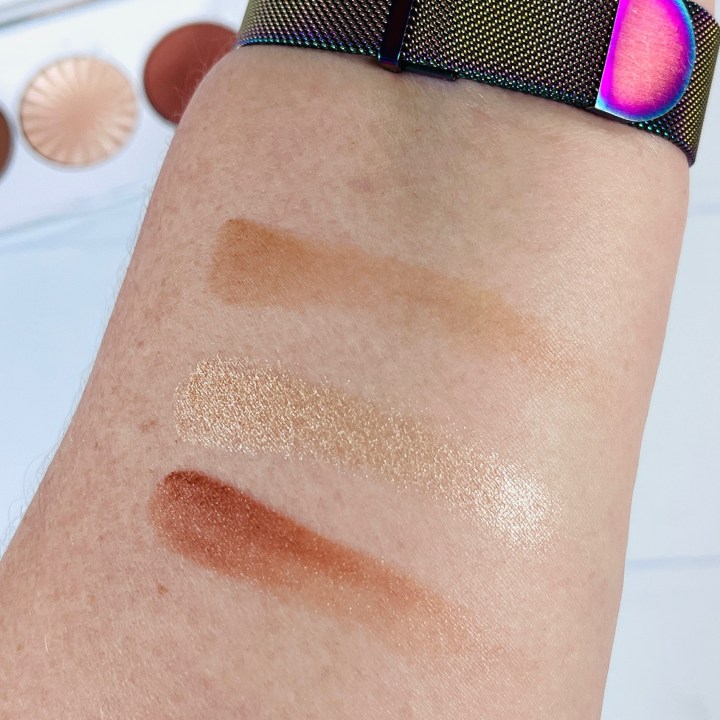 Here's the swatch of the OFRA Midi Palette in Medium.
BELLE EN ARGENT Reframing Brow Gel Clear ($19) I couldn't find this clear version on the brand's website but BOXY has it listed for $9 (but it also says sold out). It has a teeny brush head on a long wand and I used it to comb my brow hairs into place. It didn't leave my brows feeling crunchy so I wasn't sure it even had product inside but when I wiped the brush on my hand I found a quick-drying gel that left no sticky feeling behind.
SOPHIA + MABELLE Lip Slick Fruit Lip Oil Yuzu ($22) If you are a sticky lip gloss then go ahead and call yourself that, don't try to pretend you are a lip oil because you are not. This product went on clear and is scented with citrus fragrance but this did nothing to soften my lips. If you have wispy hair then beware, it will get stuck on your lips. Fruit oil pssht.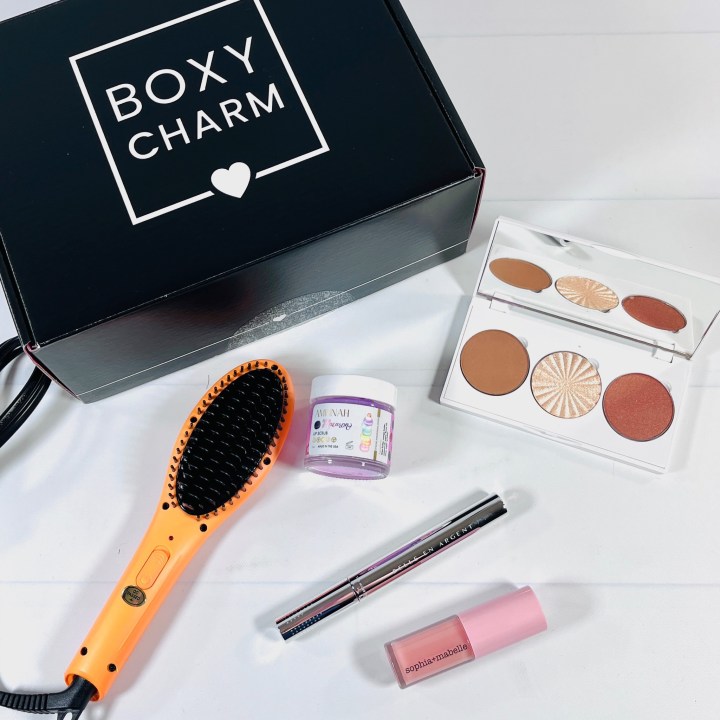 Well, generally I'm pretty pleased with my BOXYCHARM but this month felt off for me, beauty-wise. I have no use for the brush and have a hard time believing anyone would pay $150 for it (it's like $10 on Poshmark and eBay). The palette was too dark for my skin tone. I am still wondering how a sticky lip gloss could be called a fruit lip oil. The brow tamer was fine and I can always use a lip scrub even though sugar and olive oil or coconut oil work well too and can probably be found in most home kitchens. None of these items/brands are sold at Sephora, although Ulta carries a different version of the OFRA palette, so the brands' websites can set any price they want and usually come with pop ups that offer some type of discount. I liked the assortment of products at least, and I'm not expecting Dyson or Drybar in a subscription box but c'mon, $150 for a mini heat brush?!? Overall this box had a value of $244 but certainly didn't feel like it.
Below is a box opening photo as well as the product info card.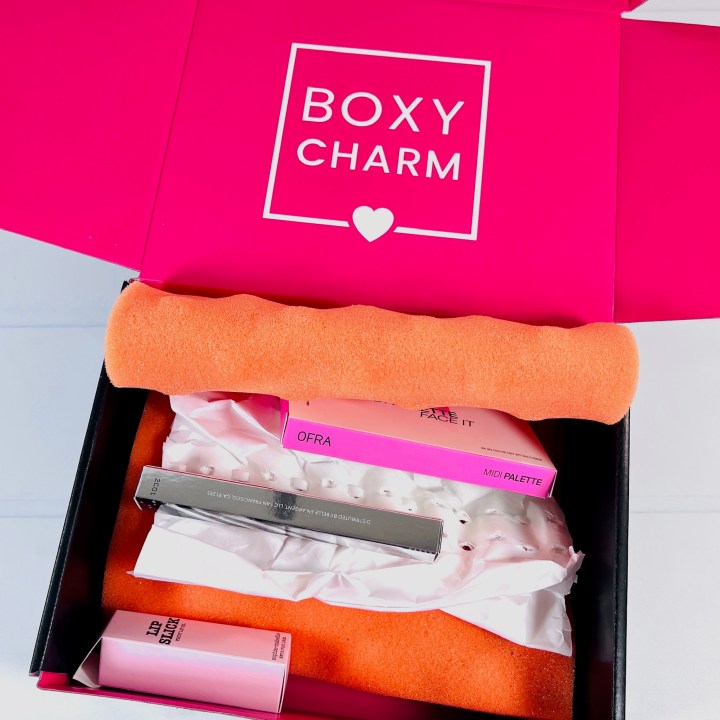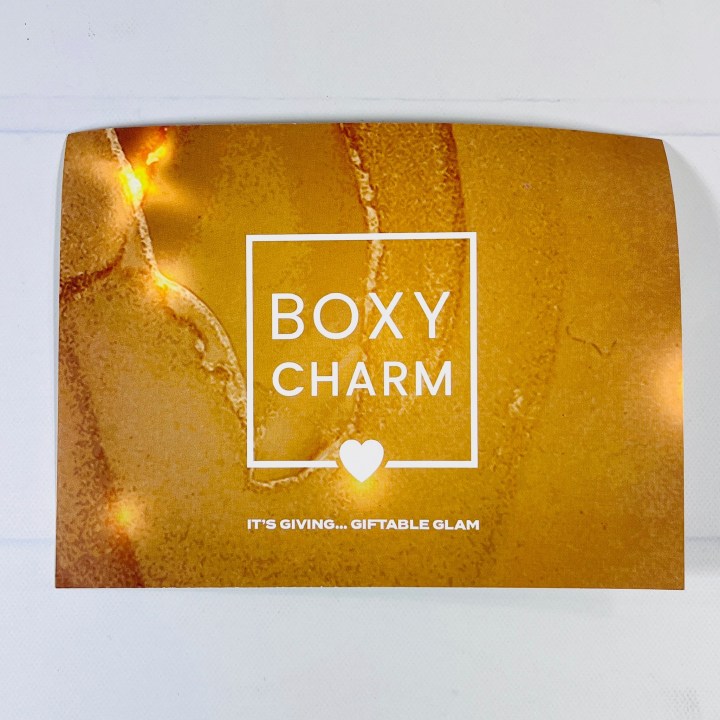 BOXYCHARM is a makeup and beauty subscription box that sends out 5 full-size items every month. Products include makeup, skincare, and beauty tools and each box has an average value of around $175. BOXYCHARM is $27.99 a month with discounts for those who prepay for longer terms. This subscription was the top pick of our subscribers for the best makeup subscription boxes in 2022!
What's your favorite item in this month's BOXYCHARM?